More students to stay home across Vietnam as Covid-19 worsens
Vietnam calls for more students to stay home as the Covid-19 pandemic spreads to 26 localities with 333 community transmissions reported since April 27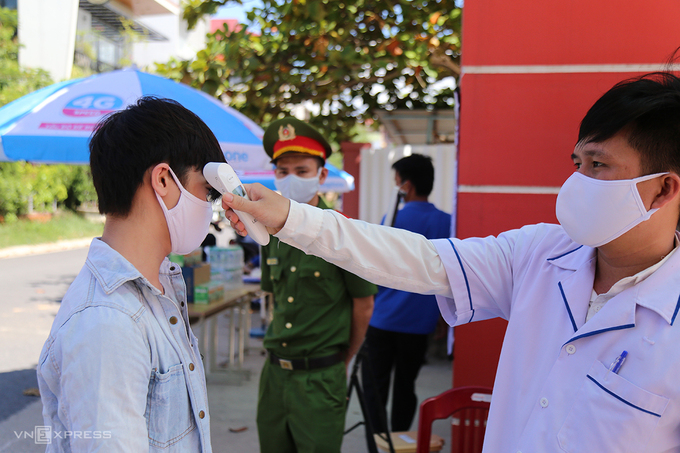 More provinces, cities allow students to stay home as Covid-19 worsens. Photo: VnExpress
Quang Tri Department of Education and Training on May 9 has ordered 170,000 students from kindergarten to high-school level to stay home starting May 10 until further notice. Schools that have not finished final exams permitted students to stay home from May 12, VnExpress reported.
The 12th graders, who need to take the graduation exam, can study offline or online. If studying in person, each class must have a maximum of 25 students and strictly adhere to regulations on Covid-19 prevention and control.
During the break, schools need to clean up and disinfect areas and learning facilities.
Director of the Provincial Department of Education and Training Le Thi Huong said face-to-face learning was only applied for students in disadvantaged areas, while students with convenient conditions were encouraged to study online.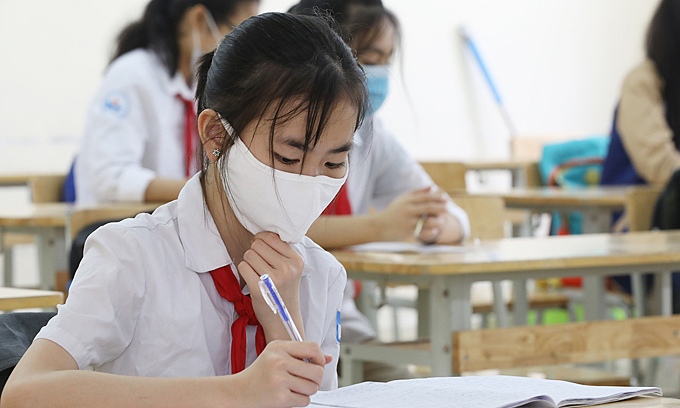 Students at the Nguyen Du Secondary School in Hanoi wear masks to school as a coronavirus prevention measure in 2020. Photo by VnExpress/Ngoc Thanh.
Two communes in Quang Tri Province -- Hai Chanh and Hai Son -- have implemented social distancing under the government directive No.15 after a Covid-19 case visited two communes.
Students from kindergartens to universities, colleges, and vocational training centers in southern Lam Dong Province have been asked to stay home from May 10 amid rising coronavirus concerns.
The decision was made after Da Lat, Lam Dong's capital, recorded 179 F1 cases linked to a Covid-19 patient in Thuan Thanh District in the Northern Bac Ninh Province.
Students in Bac Giang, Can Tho, Thai Nguyen, and Dien Bien have also required students to switch to distance learning.
Between May 4-9, students in 24 provinces and localities were ordered to stay home. As planned, schools will finish their final exams by May 22 and school-year by May 31.
Schools in localities that have not been hit by the pandemic have rushed to complete their final exams.
Eighty new Covid-19 cases were confirmed on the morning of May 10, including 78 domestic infections and two imported, the Ministry of Health said.
The new infections took to the total number of coronavirus cases in Vietnam to 3,412, including 411 domestic infections detected since the latest outbreak hit the country on April 27.
The local transmissions were detected in Bac Ninh (27), Vinh Phuc (19), Da Nang (13), Bac Giang (5), Hanoi (9), Hoa Binh (2), Dak Lak (1), Dien Bien (1) and Lang Son (1).
The two imported cases are a Vietnamese citizen returning from France and an Indian expert who arrived in the country from Qatar. Both were immediately quarantined on arrival.
Of the 13 new cases in Da Nang city, eight of the patients, including seven women, work at Amida Beauty Salon.
In Hanoi, six of the new cases are either patients at the Dong Anh District National Hospital for Tropical Diseases or their relatives.
According to the health ministry's Medical Service Administration, 2,602 patients had been given the all-clear from coronavirus SARS-CoV-2.
Among active patients undergoing treatment, 25 tested negative to the virus once, 22 twice, and 17 three times.
As of the morning of May 10, the total number of people quarantined is 59,198, including 991 in hospitals, 25,804 in state-designated establishments, and the remainder at their place of residence.
Up to 42,943 people were vaccinated against Covid-19 on May 9, raising the total to 851,513, mostly medical workers, members of steering committees for Covid-19 prevention and control, and members of the police and military.