Vietnam's private sector supports battle against COVID-19
Vietnamese conglomerate Vingroup on July 10 completed the first stage of transferring "made in Vietnam" intrusion ventilators to Russia and Ukraine, as well as complete the donation to the embassy of Singapore, with the aim of assisting people in the three countries in the fight against the COVID-19 epidemic.
The remaining 1,600 VFS-410 ventilators will be handed over in the second stage of the plan before August 30, following previous agreements reached between Vingroup and the two countries in May.
Vsmart VFS-410 and VFS-510 - two "made in Vietnam" intrusion ventilators have been completed and manufactured entirely from the Vingroup ecosystem. This is the Vingroup's gratitude expressed to the two countries taken the Group's development source from as well as close attachments to Vietnam and many Vietnamese generations.
Vsmart VFS-510 is the first "Made-in-Vietnam" ventilator model to be officially recognised by the Ministry of Health. They help meet medical facilities' increasing demand for ventilators to treat critically ill patients.
VFS-410 and VFS-510's international standard performance is able to timely meet both immediate needs of COVID-19 treatment and continue to be used in emergency resuscitation departments (ICU) providing long-term value and effectiveness.
The embassies have drawn up plans to ship the ventilators back to their countries so that they can be immediately put into use to meet the demand for COVID-19 treatment facilities.
The successful production of "Made-in-Vietnam" ventilators in record time and proactively given to countries facing the COVID-19 pandemic's complex difficulties are evidence of the close and growing ties between Vietnam and international friends.
More than 228,000 confirmed cases of the novel coronavirus infection were registered worldwide on July 10, with the overall number of such cases exceeding 12.1 million, the World Health Organization (WHO) said in its daily bulletin on July 10.
South and North America accounted for the majority of confirmed coronavirus cases - 6,264,626. In the past 24 hours, the number of cases grew by 138,824 and the number of deaths - by 3,764 and reached 276,370.
The number confirmed COVID-2019 cases in Europe amounts to 2,868,080 and the number of fatalities is 202,341. In the past 24 hours, the number of cases grew by 20,193 and the number of deaths - by 488.
The East Mediterranean region has 1,238,779 cases and 29,690 fatalities as of July 10. In the past 24 hours, the number of cases grew by 16,709 and the number of deaths - by 563.
As many as 12,102,328 novel coronavirus cases and 551,046 coronavirus-associated deaths were registered across the globe. The number of confirmed cases grew by 228,102 in the past 24 hours and the number of fatalities increased by 5,565.
The biggest number of coronavirus cases was reported from the United States (3,038,325), Brazil (1,713,160), India (793,802), Russia (713,936), Peru (312,911), Chile (306,216), the United Kingdom (287,625), Mexico (275,003), Spain (253,056), and Iran (250,458).
At the same time, Vietnam has gone through 86 days in a row without new locally transmitted infections, leaving the total number of confirmed cases at 369. However, several Vietnamese returnees from coronavirus-hit countries had carried the virus at concentrated quarantine facilities.
A total of 13,322 people who had close contact with infected cases or returned Vietnam from pandemic-hit countries and territories remained under quarantine, of whom 95 are quarantined at hospitals, 12,807 at other concentrated quarantine facilities and 420 at home./.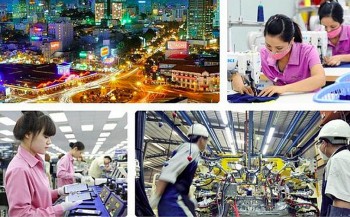 National
Vietnam News Today (Jan. 17): Vietnam records 15,643 new Covid cases; Northern region to turn severely cold from January 17; 'New normal' adaptation leads to positive forecast for Vietnamese economy in 2022; Vietnam-China clash tickets open for sale in two days.