Vingroup to donate 1,700 invasive ventilators and sponsor chemicals for 56,000 COVID-19 tests 
Vingroup conglomerate has handed 1,700 ventilators to the Ministry of Health and donated enough chemicals for 56,000 COVID-19 PCR tests for the three provinces of Da Nang, Hai Phong and Bac Ninh.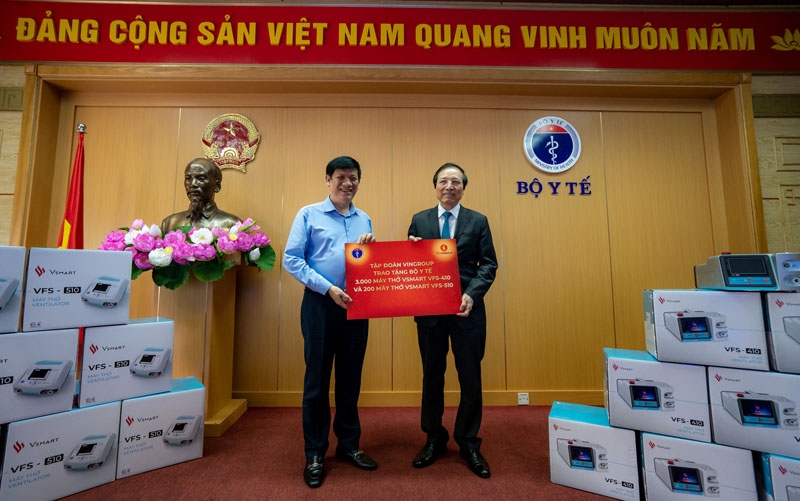 Prof. Do Tat Cuong, Deputy General Director of Vinmec Health System, representative of Vingroup Group presenting a ventilator to acting Minister of Health Nguyen Thanh Long (Photo: Bao Da Nang)
The first batch of 1,700 invasive ventilators, including 1,500 VFS-410 and 200 VFS-510 ventilators are gradually handed over to the Ministry of Health as of August 7.
Both VFS-410 and VFS-510 are completely manufactured within the Vingroup ecosystem with a localization rate of up to 70 percent. The two made-in-Vietnam ventilators both meet international standards and have been issued a registration number by the Ministry of Health for circulation in Vietnam.
With the function and quality of international standards, VFS-410 and VFS-510 can not only timely respond to the immediate needs of the COVID-19 epidemic treatment but can also be used in the Intensive Care Unit (ICU), providing long-term value and effectiveness. In particular, with its compact and compact advantages, the VFS-410 can be equipped for ambulances or emergencies in the field, hospitals, according to Bao Da Nang.
The biggest conglomerate in Vietnam also proposed to donate chemicals to perform 50,000 diagnostic tests to detect COVID-19 cases by the PRC technique to Da Nang, the now hardest-hit province in the country, and another 6,000 to Bac Ninh and Hai Phong, northern Vietnam.
On top of that, Vinmec Hospital in Da Nang, which belongs to Vingroup, also commits to receive samples from CDC Da Nang to perform testing with a maximum capacity of 500 tests per day. The implementation time is from August 8-22.
Addressing a donation reception ceremony on Friday, Acting Minister of Health Nguyen Thanh Long sincerely thanked Vingroup for its support to help the country tackle the Covid-19 outbreak.
He singled out the group as a pioneer in Viet Nam that has successfully researched and developed ventilator models to replace imported ones when supply chains have been disrupted globally due to the impact of the Covid-19 pandemic.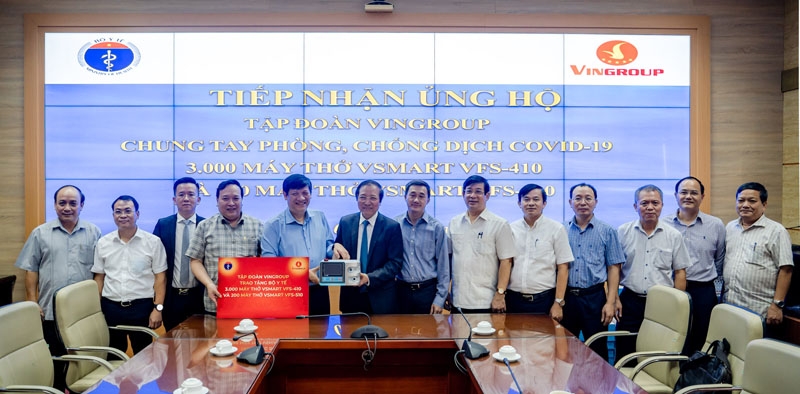 A scene of the donation reception ceremony in progress (Photo: Bao Da Nang)
Vingroup is one of the pioneering enterprises to act, drastically support the community since the inception of Covid-19. Up to now, the Group has sponsored the health sector, localities, and partners more than VND 900 billion (US$38.729) to help Vietnam repel the novel coronavirus.
Vingroup conglomerate also makes a name for itself on a global scale by donating 2,400 ventilators to Russia and Singapore back in July. It has been touted by international presses as an outstanding representative among major global enterprises that have taken drastic action against COVID-19 and is among the two groups with the most prominent contributions in Asia.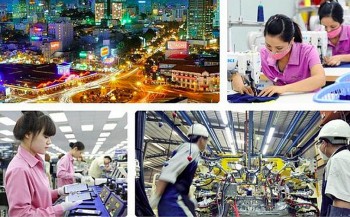 National
Vietnam News Today (Jan. 17): Vietnam records 15,643 new Covid cases; Northern region to turn severely cold from January 17; 'New normal' adaptation leads to positive forecast for Vietnamese economy in 2022; Vietnam-China clash tickets open for sale in two days.