Volunteers at Ukraine border: 'Because we are compatriots'
During the evacuations from Kharkiv, Odessa and Kyiv, Vietnamese volunteers have been likened to "living milestones" of peace and hope for Vietnamese people affected by the instability in Ukraine.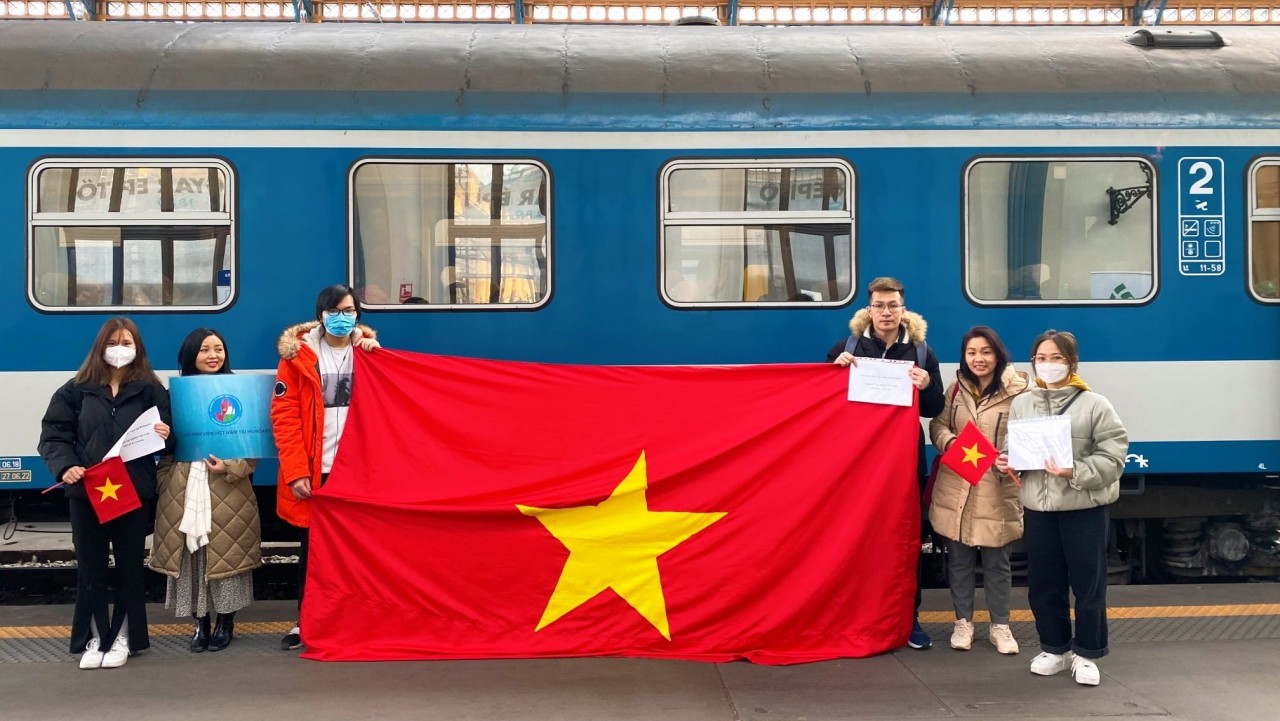 The sacred national flag becomes a "converging point" for all Vietnamese people away from home. (Photo: VSAH/ via NDO)
"We burst into tears upon seeing them"
Nguyen Thien Thanh is studying at Corvinus University of Budapest (Hungary). In the past two weeks, Thanh and many other members of the Vietnamese Students Association in Hungary have been involved in activities to help Vietnamese people who fled from Ukraine to Budapest, NDO reported.
Thanh's mission is to wait at bus and train stations to welcome the evacuees, help them with food and shelter, and support them in buying tickets for transit to neighbouring countries such as Germany, Poland and the Czech Republic.
"When getting off the train and seeing us, they seemed to burst into tears. They told us of their arduous journeys to make it to Budapest. Most had to leave all their belongings behind and could carry only a few pieces of clothing and some money", the student from Hanoi recalled.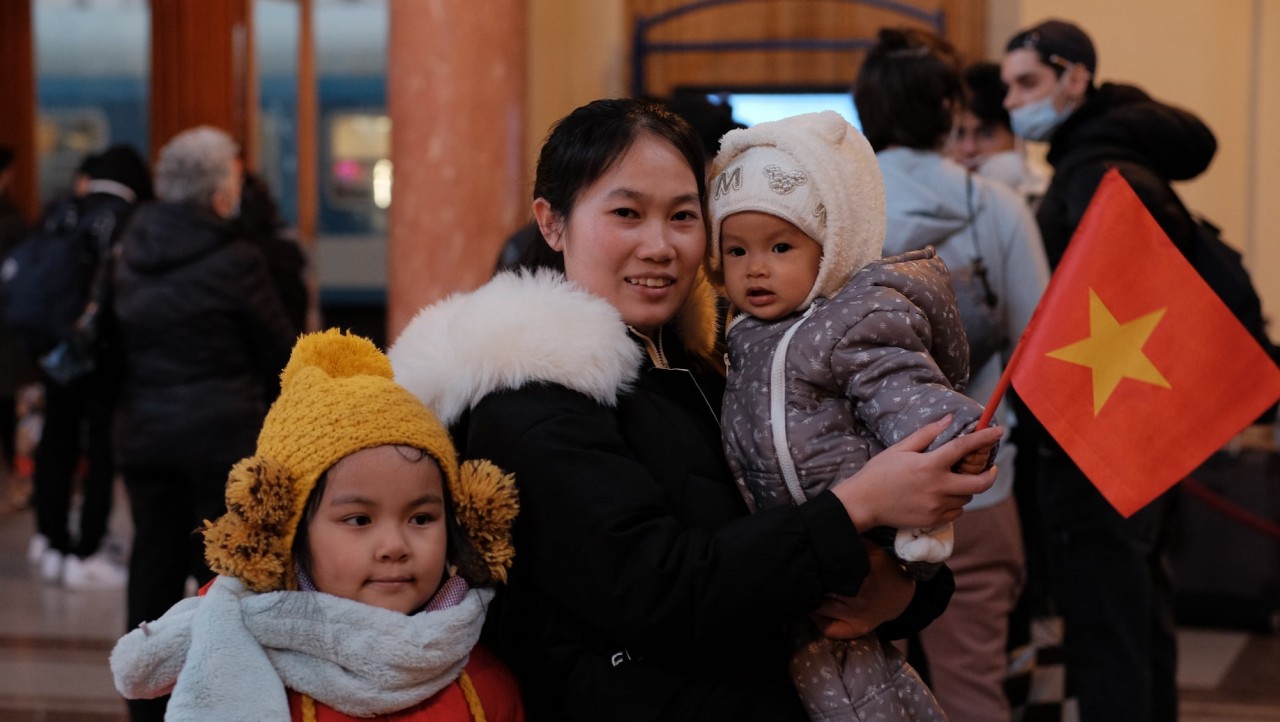 Happiness when receiving support from compatriots. (Photo: VSAH/ via NDO)
Thanh said many volunteers burst into tears. They cried in sympathy for the families who had to continue the journey having barely finished their meals, and for the kids who were still smiling without knowing that they were in the most brutal days of their lives. There were infant babies held within the arms of their mothers to protect them from the chilly winds in a foreign land.
Having been in Hungary since September 2021, it was the first time that Bui Ta Hoang Anh, deputy head of a student group in Budapest, has seen so many Vietnamese people flocking from Ukraine to her city. Upon hearing the news, Anh proactively took part in the support activities organised by the Vietnamese Embassy.
"The student association has the mission of working with the Embassy and the Vietnamese Association in Hungary to welcome the evacuees and provide support according to their needs. We also provide them with SIM cards, food and water," said the student of the Balassi Institute.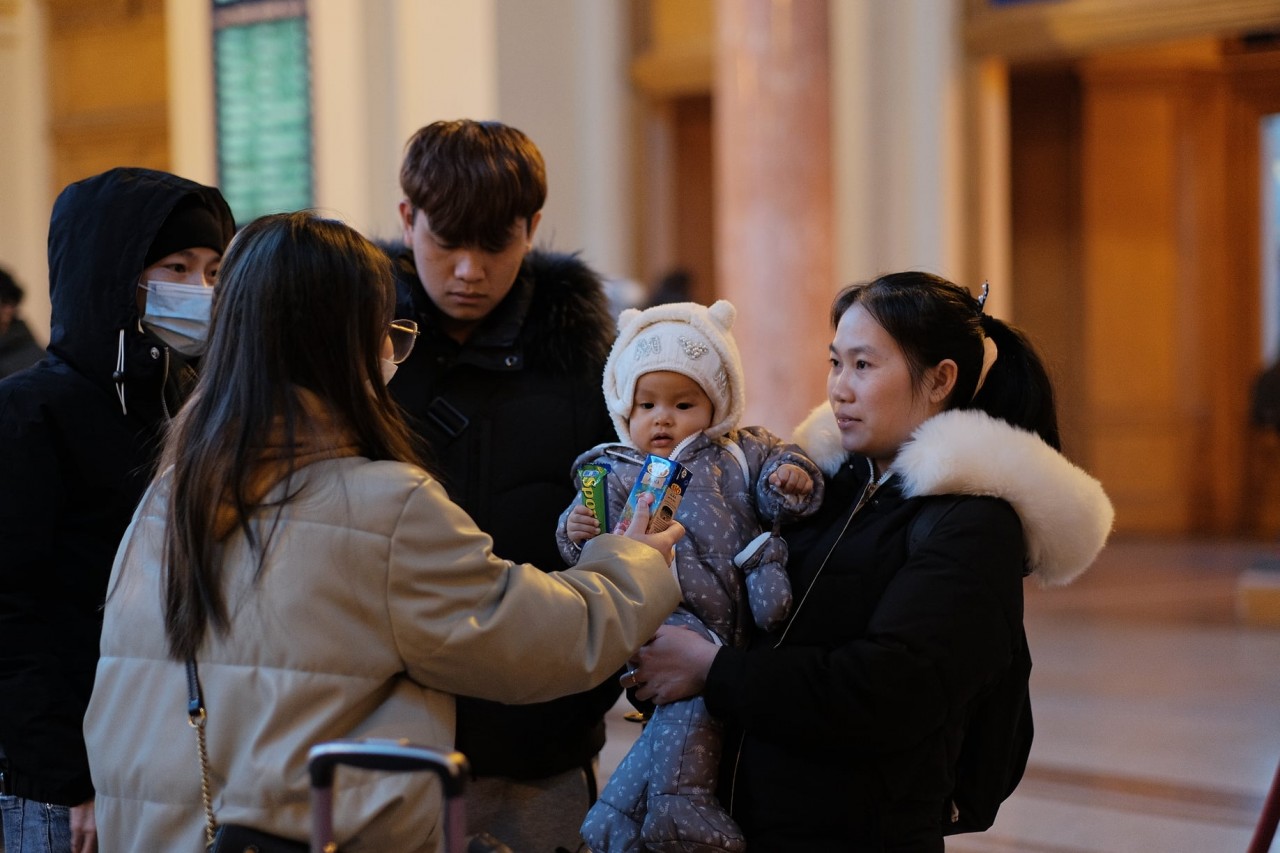 "We are always ready to support the evacuees in all circumstances." (Photo: VSAH/ via NDO)
As Anh must still attend classes, and he usually begins his voluntary work at 7 p.m. local time and finishes very late.
He said: "There were days when I had to stand at the train platform for hours, my legs got tired and my whole body was shivering, but the thought of helping those in need made me forget the tiredness."
Currently, there are about 4-50 students in the support group, who divided themselves into different shifts. "We are always ready to support the evacuees in all circumstances," said Anh.
Similarly in Romania, for the past 10 years, Vietnamese volunteers have been working at full capacity. Since the political tensions broke out in Ukraine, Tran Luc, a PhD candidate at the University of Bucharest, proactively put aside his work in order to support the evacuees.
Like Thanh and Anh in Hungary, his job is to act as a translator and guide the newcomers in contacting the Embassy and travelling to temporary shelters.
"In the early days, there were so many evacuees, and the train stations were always crowded. The temperatures were consistently below zero, making it even more difficult for them. I could not forget the image of a family who were carrying a 1-2 month-old baby and had to stand for 18 hours to reach Bucharest. It was really miserable" Luc recalled.
Because we are compatriots
During the evacuation days, the thousands of Vietnamese people from Ukraine have always felt warmth upon seeing the volunteers at the border. From Romania, Poland and Hungary to Slovakia, they have become "milestones" of peace and hope for the evacuees.
In Hungary, student volunteers are carrying a large national flag and boards with the words "Vietnam" for overseas Vietnamese from Ukraine to easily see. In this way, the sacred national flag has become the "gathering point" for all Vietnamese living abroad.
Meanwhile, in Slovakia, Than Trung Son, one of the first to participate in the support programme, recalls that around the end of February, when the situation in Ukraine became more complicated, he and his two friends decided they had to "do something."
The group went directly to the border and saw that social organisations such as the Red Cross and the Church had set up tents to guide the flow of people coming from Ukraine.
"We contacted some other Vietnamese friends. It is great that after only a few phone calls, all agreed. Each person went their separate ways towards the border, including a mother with three children," Son recalled.
On the evening of February 27, the whole group returned to shake hands with the volunteer groups to set up camps. At this time, there are no Vietnamese people from Ukraine to move over.
After learning that the Polish border had fallen into a traffic jam, with some people having to queue for three to four days and nights to pass, "the group wrote notices on the community pages of overseas Vietnamese in Slovakia, Poland, instructing them to choose the Slovakia border gate to receive support. We will collect them right at the border," according to Son.
During the following days, Son and his friends almost stopped all theur work to become "navigators" in Slovakia. To date, through this channel more than 100 overseas Vietnamese from Ukraine have received help and reached Slovakia. They received food, water and a safe place to stay.
"What makes us most happy is that our community in Slovakia, after learning about this activity, called and asked to join us. Many people used their own houses to serve as temporary shelters for compatriots in the difficult days," Son shared.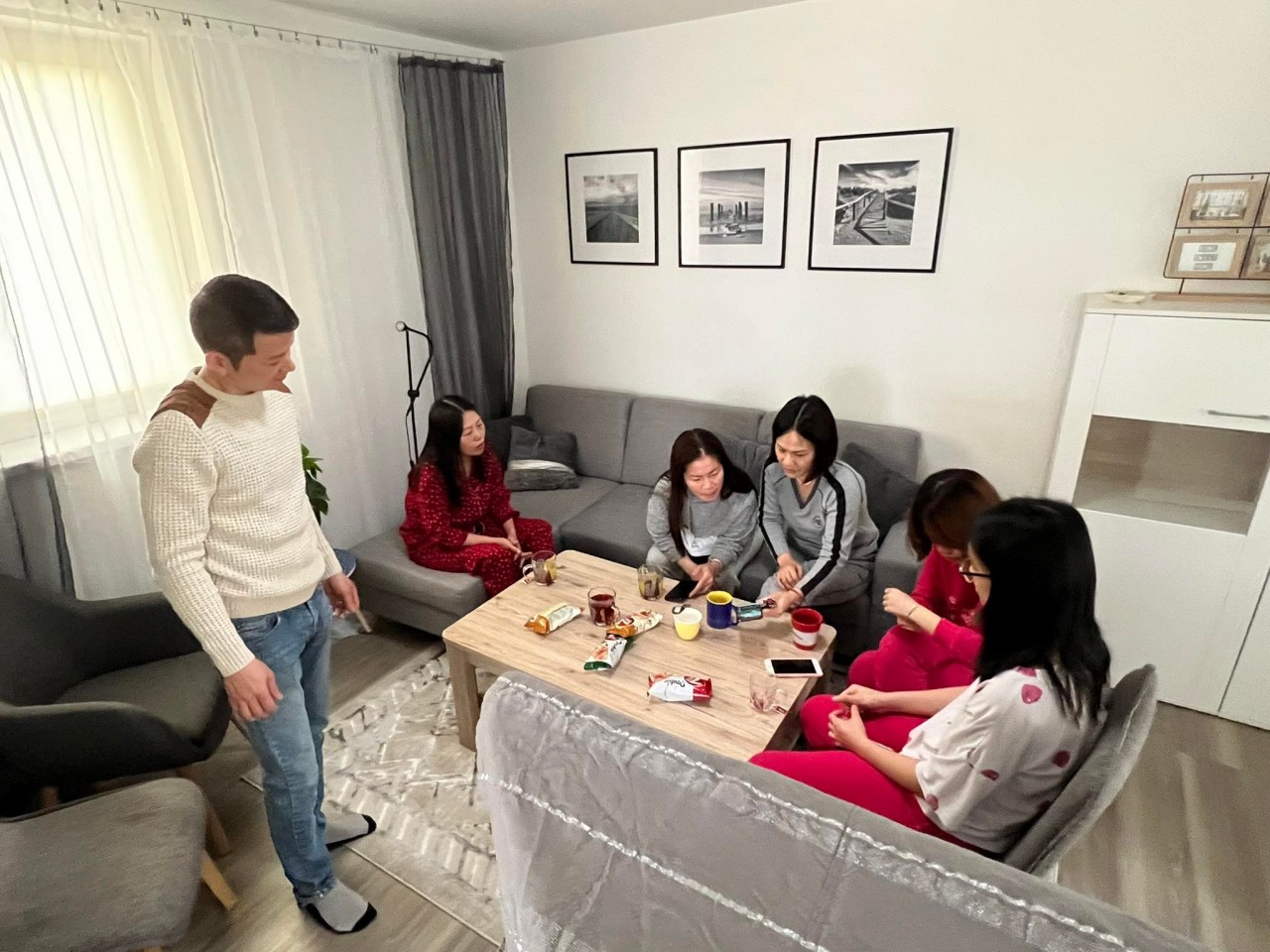 A Vietnamese man in Slovakia has "lent" his newly bought house as a temporary residence. Right now, there are still seven people here who are waiting to return to Vietnam or will decide if they want to stay in Slovakia for a long time. (Photo: Than Trung Son/ via NDO)
Duong Quynh Chi, a member of the Executive Committee of the Vietnamese Women's Club in Romania, told Nhan Dan Newspaper, that in recent days, there have been at least 20 households in the Vietnamese community in Romania who have welcomed nearly 200 overseas Vietnamese from Ukraine into their homes for support and care, including many young children, the sick, the elderly and pregnant women.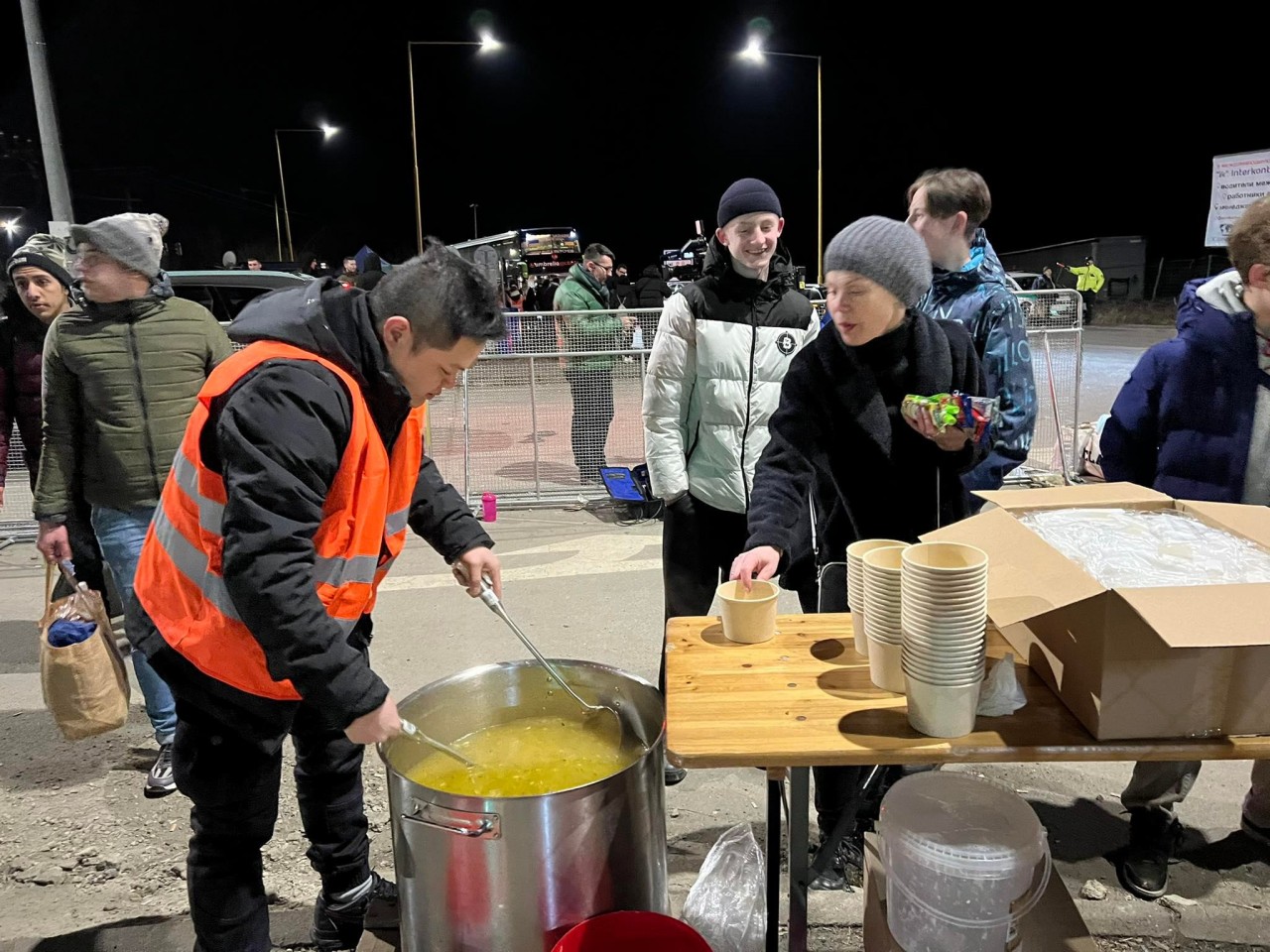 Volunteers in Slovakia cook for overseas Vietnamese from Ukraine at the border. (Photo: Than Trung Son/ via NDO)
Thanks to the selfless help of volunteers, nearly 600 Vietnamese citizens in Ukraine returned home in the first two evacuation flights on March 8 and 10.
Nguyen Thi Thu Phuong, 31, Odessa, of the lucky people and could not hide her emotion when remembering the feelings of her compatriots.
"I still vividly remember the welcoming and the words of the representative of the Vietnamese embassy when I met the group: 'Welcome overseas Vietnamese, from here we have to take responsibility to bring you back the homeland'. Actually, when I heard that sentence, I was very moved. I feel like I have returned to my homeland rather than taking refuge in another country," Phuong said.
At this time, in the faraway country of Hungary, Nguyen Thien Thanh - a young student born in 2002 - texted: "I am waiting for the last train of the day from Ukraine to Bucharest. Today, the number of Vietnamese people coming is much less. I just hope all my compatriots soon find peace. For us, seeing the smiles on everyone's faces is great happiness. After all, we are all compatriots."
On March 10, a flight organized by ministries, branches and representative agencies of Vietnam to bring Vietnamese people and their families evacuated from Ukraine to Warsaw (Poland) returned home and landed safely at Noi Bai airport.
On Bamboo Airways flight QH 9066, there were 300 citizens, including 48 elderly people, 18 babies under 2 years old, two pregnant women and many people with health problems.
This was the second evacuation flight jointly organized by Vietnamese ministries, branches and representative agencies free of charge, in the spirit of the Party and State's highest priority for citizen protection.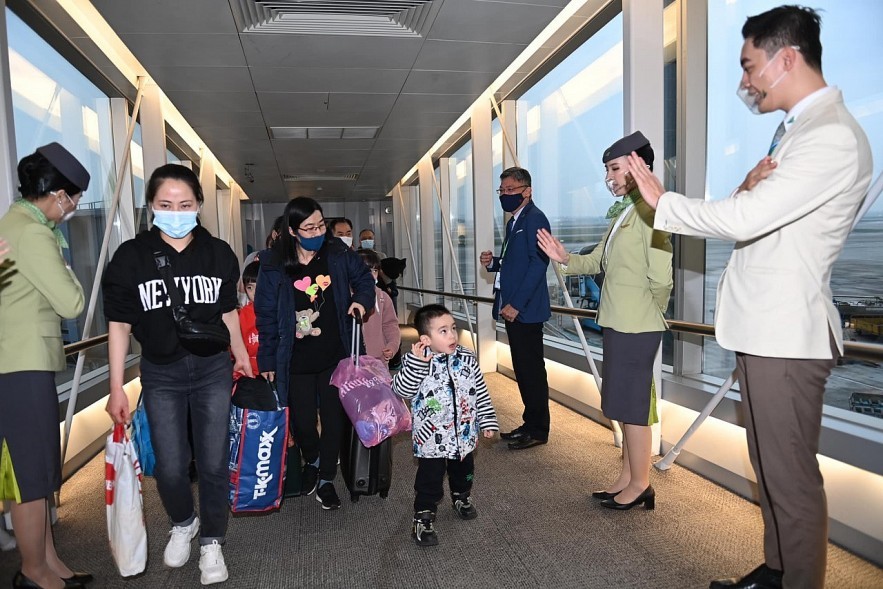 300 Vietnamese citizens living in Ukraine landed at Noi Bai International Airport (Hanoi), after more than 9 hours on a direct flight. Photo: Thoi dai
At a meeting with the Chargé d'affaires of the Polish Embassy in Hanoi Maciej Duszynski, Foreign Minister Bui Thanh Son asked the Polish side to support and provide temporary shelters for the workers on March 7.
Chargé d'Affaires Maciej Duszynski affirmed that the Polish Government has been creating conditions for citizens of other countries, including Vietnamese citizens, to go to Poland from Ukraine and provide maximum support to the Vietnamese side in organizing evacuation flights to Vietnam.
According to information from Vietnamese representative agencies in other countries, by the morning of March 10, there were still nearly 600 citizens in Romania and about 400 in Poland having registered their wish to return home. Representative missions in Poland and Romania continue to receive registration lists of citizens wishing to return home for the next flights.
Nhandan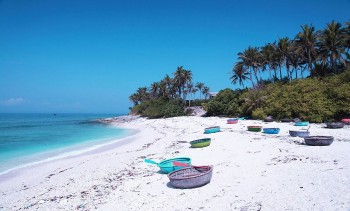 Travel
With more than 2000 miles of coastline, Vietnam brims with secluded coves, white sands, and waters fit for snorkeling. Crystal blue water, sandy beach, and bright sunshine, Vung Tau, and Nha Trang are voted among the most beautiful beaches by TikTok users.