More Overseas Vietnamese Return from Ukraine
The Vietnamese returning from Ukraine on the special flight to Hanoi were happy to be being in their homeland.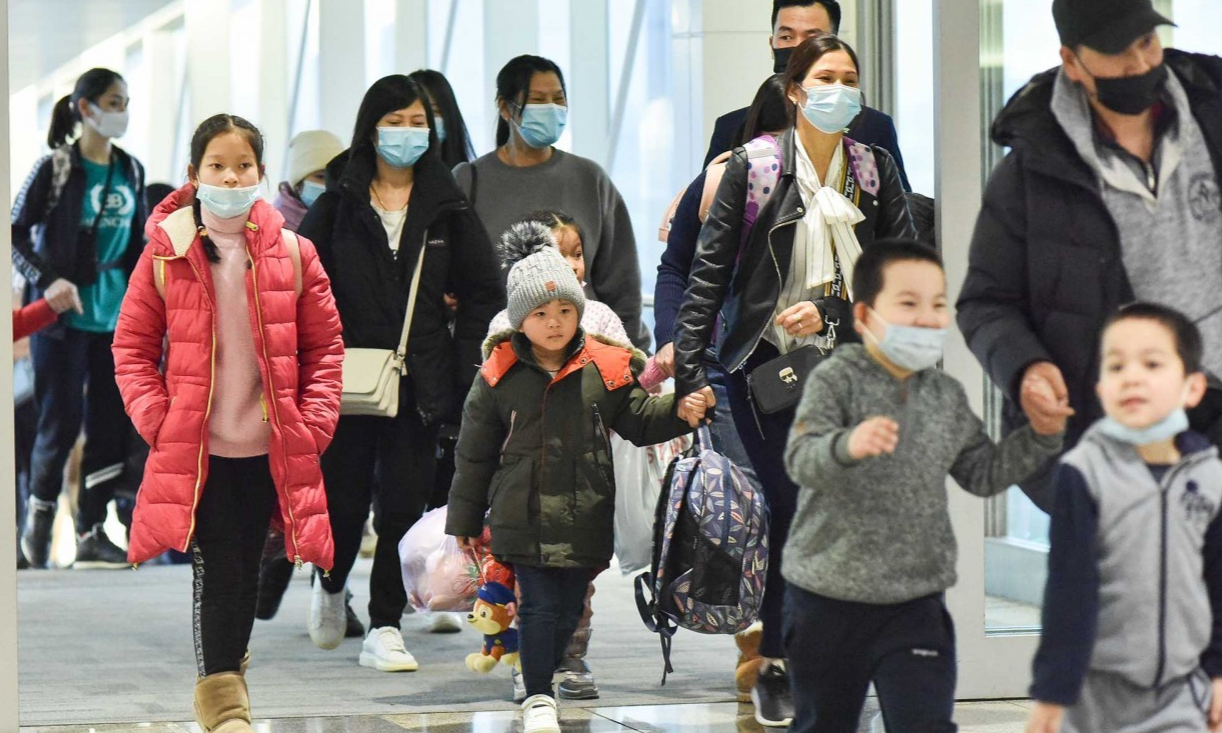 Photo: Bao Quoc Te
On the morning of March 10, flight QH9066 bringing 300 citizens from Warsaw, Poland to flee Ukraine landed safely at Noi Bai International Airport,
There were 300 people on this flight: 48 elderly people, 18 children under 2 years old and 21 people with underlying diseases, and pregnant women.
After a long flight, even though they were very tired, all 300 passengers were all in an elated mood when they returned to their homeland and could not hide their emotions.
Flying a distance of more than 10,000 km from Warsaw Airport (Poland) to Hanoi, flight QH9066 was delayed for more than two hours. Still, overseas Vietnamese thanked the State for the care and help on their journey to return home.
Traumatic evacuation memories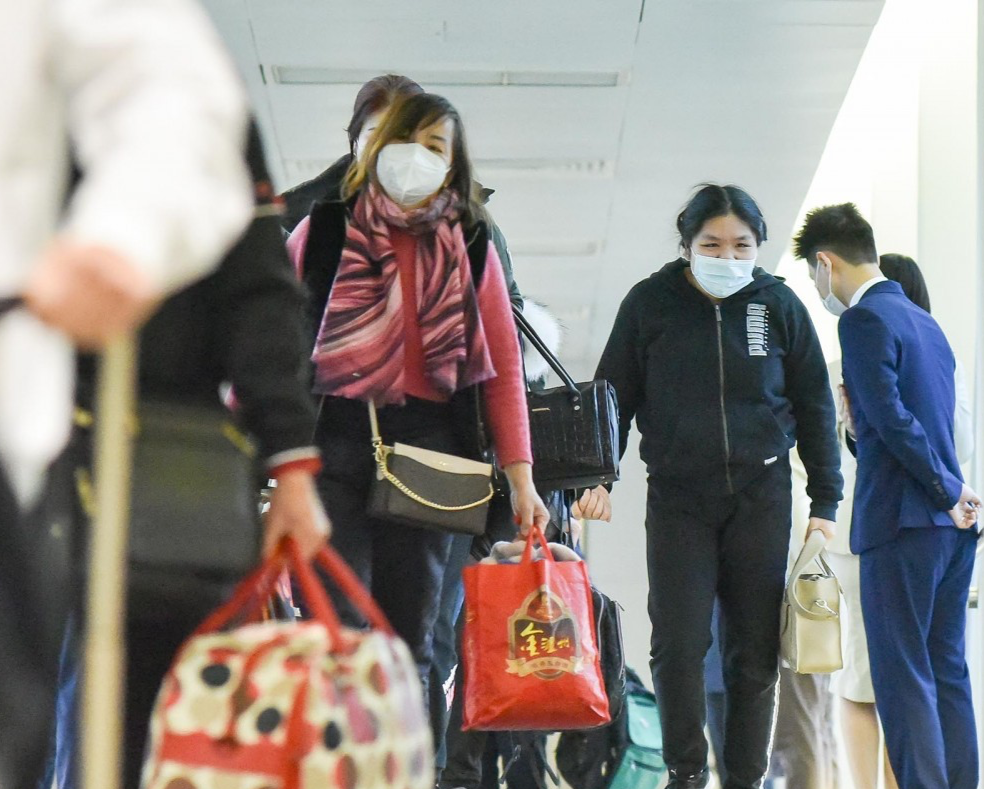 Photo: Bao Quoc Te
Passenger Do Nhu Tuyen and passenger Nguyen Thi Hue (Hai Duong) said that they have lived in Kharkov (Ukraine) - one of the two most heavily fought areas today for more than 30 years.
When the war broke out, they and many other Vietnamese families began their evacuation journey from the city of Kharkov.
All assets were left in Ukraine, they brought only a suitcase with a few clothes and personal belongings picked up in a hurry.
"It was a long time, probably the most terrible moment of my life. The warplane was flying overhead, the mood was bewildered, I was just hoping to get on the train quickly. But few trains and there are many evacuees, the longer I waited the more difficulty piled up," said Tuyen, recalling his evacuation journey.
As for Hue - Tuyen's wife, she shared "The scene of bombs falling and firecrackers instilled terrible fears in my mind. We tried to run as fast as we could to get on the train and continued on for 3 days and 3 nights to cross the Polish border. During the journey from Kharkov (Ukraine) to Warsaw (Poland), we really didn't dare to think of the day we could return to Vietnam like today. For us at that time, we must survive the difficulties caused by the snowfall, the plane flew overhead to get to Poland, etc."
After receiving the help of the Vietnamese community in Poland and the embassy staff here, Tuyen - Hue family were able to return home.
"We are extremely grateful to the Party of Vietnam, the Government, Embassy of Vietnam in Poland and Vietnamese expatriates living in Poland for their interest and help in providing us with food, shelter and creating a safe environment for us, help us return home, especially, during the difficult time of war, "said Tuyen.
Experiencing difficult times caused by conflicts and turmoil, each person understands the value of peace. "I hope that the Russia-Ukraine conflict will soon end so that the world will soon be at peace, the people will be at peace, we can return to our previous lives, return to Ukraine - our second homeland. and so that their children and grandchildren can continue to go to school," said Mrs. Hue.
Happy reunion tears
The day before flight QH9066 landed at Noi Bai International Airport, Le Thi Ha traveled the long distance from Thanh Hoa to Hanoi to pick up her close friend and neighbor returning from Ukraine, Vu Thi Hong Quyen.
Ha (right) is holding a bouquet of roses and has been at the airport since it was still early morning. Ha choked many times when she mentioned the fate of the whole family when the Russia-Ukraine conflict occurred. Photo: Bao Quoc Te
Recalling the times of the former Soviet Union, in 1987, Ha and her friends started working and settling in Ukraine. When the Soviet Union broke up, her family became residents of the Kharkov region (Ukraine).
Ha and her family have lived in Ukraine for more than 35 years, considering this place as a second homeland and together building a stable property.
Before Tet, Ha returned home alone for the family business while her husband and 2 children stayed behind. She was scheduled to return to Ukraine on March 29. However, the Russian-Ukrainian conflict occurred and lasted for many days, causing Ha's family to separate.
Ha said, due to lack of preparation, unable to store food in time, her husband and children were forced to evacuate to Germany to ask for help from relatives. The evacuation journey started from the evening of February 28 and the early morning of March 1. Because they are all adults, during the day, they are not allowed to board the train. At night, it is their turn to board the train. Therefore, it took 5 days for her husband and children to reach Germany.
Hence, Ha worried day and night for the safety of her husband and children, "I panicked when I heard my husband tell me that a rocket flew past the house, the sound of bombs falling and bullets exploding right next to the house".
The new she heard that her husband, children and best friend had escaped from Ukraine and came to Poland cure her depression, "I came back to life, at midnight I shouted for joy when my husband called to inform me that they arrived safely", said Ha emotionally. .
After coming to Germany, understanding the mutual support between the Vietnamese community living abroad, her two children volunteered to work as volunteer interpreters to support refugees from Ukraine to Germany, while her husband tries to find a job to make ends meet.
Quyen, Ha's friend, finally arrived at the gate. Ha ran to hug her soulmate tightly and burst into tears. The two soulmates has reunited.
"I wish that my family reunites in Vietnam, but that will have to wait. Right now, I just hope that Ukraine - our second home, will soon return to peace," Ha shared.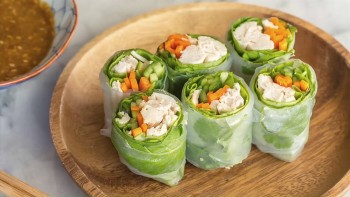 Travel
Rolls are a easy-to-make dish that is loved by many Vietnamese diners as well as Korean stars.