VUFO summaries its 10 successful achievements in 2020
Vietnam Union of Friendship Organizations (VUFO) held a Conference to summarize the work in 2020 on January 8, in Hanoi.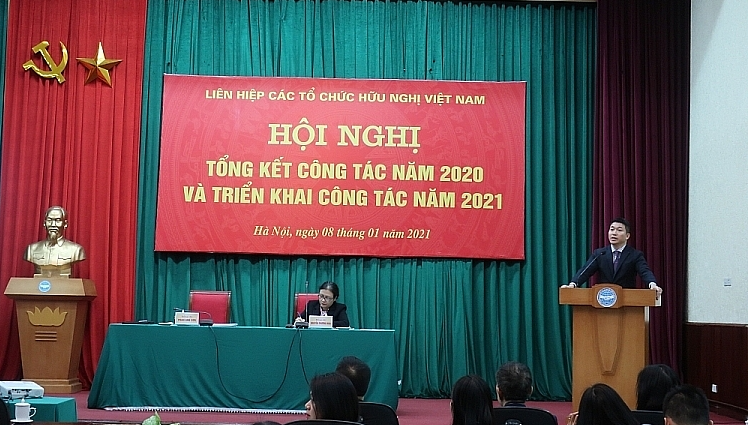 Vietnam Union of Friendship Organizations (VUFO) held a Conference to summarize the work in 2020 on January 8, in Hanoi.
According to Ms. Nguyen Phuong Nga, VUFO President, 2020 is the peak year of difficulties for Vietnam due to the COVID-19 pandemic and natural disasters, but at the same time, a year of achievement when the bravery and qualities of the Vietnamese people shine.
In that context, VUFO has completed a large amount of high-quality work.
First, VUFO has rapidly reformed its operation method to cope with COVID-19, shifting from normal meetings and exchanges to virtual form. At the same time, VUFO timely provided support to international friends, leaving imprints in the general picture of Vietnam, affirming that the Vietnamese cherish friendly and solidarity nature. Through this achievement, Vietnam's national morality has been promoted through the channel of people-to-people diplomacy.
Second, VUFO has also successfully held numerous external political events such as the 70th anniversary of Vietnam-China diplomatic relations, the 70th anniversary of the Vietnam-Russia Friendship Association, the 25th anniversary of the Vietnam-US diplomatic relations, the 60th anniversary of the establishment of the Vietnam - Cuba diplomatic relations ...
Third, VUFO has successfully held its own major events such as The 70th Anniversary of VUFO traditional day and the Patriotic Emulation Congress. Delegates attending these events were all impressed by meticulous, methodical, solemn yet warm and hospitable preparation, in harmony with people-to-people diplomacy style.
Fourth, VUFO gained thriving results on the organization of the party committee and cells' congress in a spirit of dignity, high-quality, and frankness.
Fifth, VUFO auspiciously organized the ASEAN People's Forum 2020 (APF 2020). The forum has brought into play the intrinsic strength of Vietnamese people's organizations based on the belief and solidarity of the whole system. This is the first time APF has been organized virtually. With the participation of 986 international delegates, 255 Vietnamese delegates, the event received high appreciation from international friends.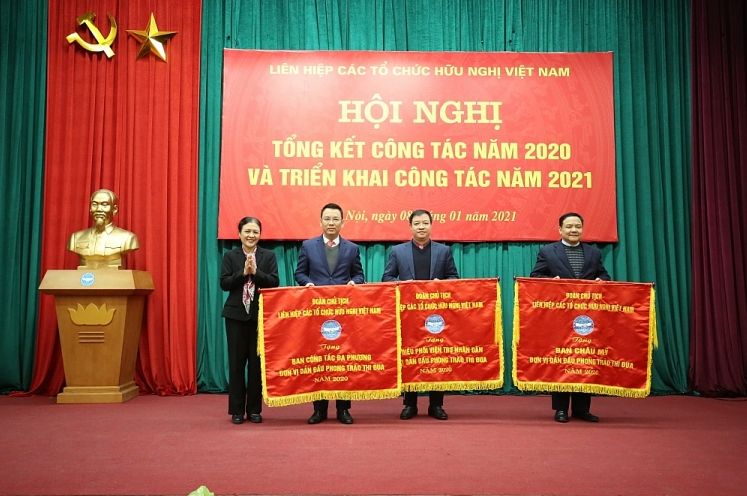 VUFO awarded certificates of merit and emulation flags to organizations and individuals with outstanding achievements in 2020.
Sixth, foreign non-governmental work in 2020 has a marked great change in quality. The People's Aid Coordinating Committee - PACCOM successfully persuaded foreign non-governmental organizations (NGOs) to support COVID-19 prevention and control in Vietnam. 78 organizations including 77 NGOs and the INGOs Data Center sent letters to Vietnamese leaders and related agencies expressing their gratitude, appreciation, and support for effective anti-pandemic measures and policies of the Government of Vietnam in its fight against the pandemic. At the same time, within a short time, PACCOM called on international friends to join hands and support over VND 250 billion in disaster recovery in Vietnam.
Seventh, VUFO has completed 3 documentary films on Vietnam - US, Vietnam - Cuba relations, and 70 years of VUFO Traditional Day. These films are highly appreciated by agencies and partners. Many works relating to the propaganda of Vietnam's seas and islands are also highly appreciated.
Eighth, the work of capacity building, the apparatus of the entire VUFO key staff has been thrivingly accomplished.
Ninth, great progress has been recorded in maintaining innovation in agency building. The life of VUFO staff has been improved. VUFO has also organized a trip to report its achievement to Uncle Ho, which is a very meaningful political activity.
Tenth, in 2020, VUFO has brought into full play the strength of its member organizations. Local organizations' strengths, creativity, and resilience are shown when responding to the COVID-19 control, supporting international friends in the pandemic, celebrating the 70th anniversary of VUFO's Traditional Day.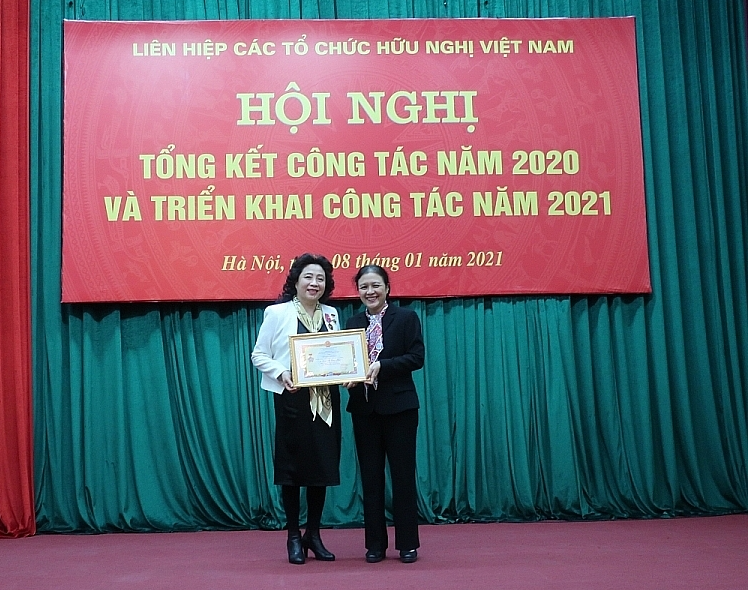 VUFO President Nguyen Phuong Nga on behalf of the Party and State leaders awarded the Second Class Labor Medal and the Medal for Peace and Friendship between ethnic groups to Ms. Doan Thi Xuan Hien, former Head of the Local Department and Former Ambassador of Vietnam to Kazakhstan.
According to the Conference's report, in 2020, VUFO's standing agency, associations, and member organizations have called for and directly contributed and supported international friends with 700,000 medical masks, 500 medical protective clothing, and more than 3,000 bottles of antiseptic hand sanitizer and VND 8 billion in cash.
When the Central region and the Central Highlands were severely damaged by floods and droughts, VUFO also called on international organizations to grant about 251 billion VND and 5.5 billion VND for floods and droughts recovery, respectively. 2020 is also the first year VUFO implemented the National Program to strengthen cooperation and called for foreign non-governmental aid for the period of 2019-2025. The program has been deployed across the country. Currently, 53/63 provinces and cities have built a database system to support the mobilization of aid.
VUFO President Nguyen Phuong Nga pointed out that, in addition to achievement, VUFO faced difficulties that need to be overcome in 2021. In the new year, VUFO proposed a number of main operating directions such as staying cautious in the fight against COVID-19, respond to the pandemic by continuing to effectively function through virtual approaches.
President Nguyen Phuong Nga emphasized: "If in 2020, VUFO focus lied on renewing the standing body, then 2021 will be the year to build and connect member organizations and local unions. The standing agency needs to take the lead, to be a powerful and rapidly-responsive locomotive. Otherwise, each train car will be separated, leading to disruption. Therefore, VUFO needs to build a strong standing body and also a cohesive system so that the whole train can effectively operate".