What is Vietnamese EV Maker VinFast's Future in USA?
Vietnamese EV Maker VinFast is eager to enter the American market. But how will Vinfast company face off with giants like Tesla?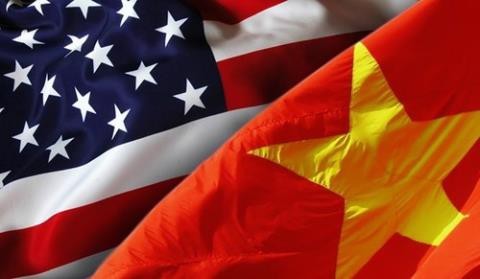 As Vietnam and the USA further relations, Vinfast's new strategy might be beneficial to both nations. Photo by VOV.
Americans are set to be driving Vinfast vehicles by the end of the year
In January, the Vietnamese super company Vingroup reported its first ever pre-tax loss of 1.05 billion USD (23.9 trillion VND). The poor results follow a grim year marred by the pandemic and several stalls on global trade. During this time, Vingroup spent over 300 million USD (6,099 VND) on Vietnam's crusade against the worsening coronavirus.
Additionally, last year Vingroup's car manufacturing company, Vinfast, made the bold decision to stop producing gasoline-powered cars and focus their efforts on electric cars. In the global fight against climate change, the move should be applauded for reducing the carbon footprint. Yet, this substantial reorientation will take time and money, therefore contributing to the conglomerate's massive loss.
However, Vinfast remains undaunted and has their sights set on the American and European markets. In fact, there are some positive signs. The company has started receiving pre-orders for their all-electric premium SUVs from American consumers. Currently, the company is preparing showrooms in the US and Canada for their sharply-designed vehicles. There is no hesitation as Vinfast fully commits to consumers abroad.
Commencing on the same day as the Super Bowl, Vinfast began a roadshow tour of their products. For three weeks, Vietnamese electric cars zoomed beside the sunny Californian coastline as a promotional event. If all goes well, Americans are set to be driving Vinfast vehicles by the end of the year. Despite a troubled beginning, Vinfast is anticipating better days ahead.
Vinfast's switch to greener energy and expansion to international markets is difficult a task but company leaders are confident with their decision. Vinfast GlobalCEO Michael Lohscheller explained the company's dramatic changes in an interview with CNN .
"We want to become a global brand and if you want to become a global brand, you have to come to the US," said Lohscheller. The German businessman has helped the Vietnamese company make headway in the United States, making for a smoother transition. While deeply experienced himself, Lohscheller works with a team of foreign experts, designers, and engineers to successfully introduce Vietnamese auto-manufacturing to the Western world.
Lohscheller is quite confident in Vinfast's switch to only producing electric cars, saying that is where the company sees the largest opportunity for growth.
"The entire market is completely disrupted," said Lohscheller. "So we're going immediately to EV only, and with that we think that the market potential is growing significant."
Vinfast has made a second home for itself in the US. In 2021, the company opened its headquarters in Los Angeles. While manufacturing still happens in Vietnam, Vinfast hopes to open a second manufacturing plant on American soil in late 2024.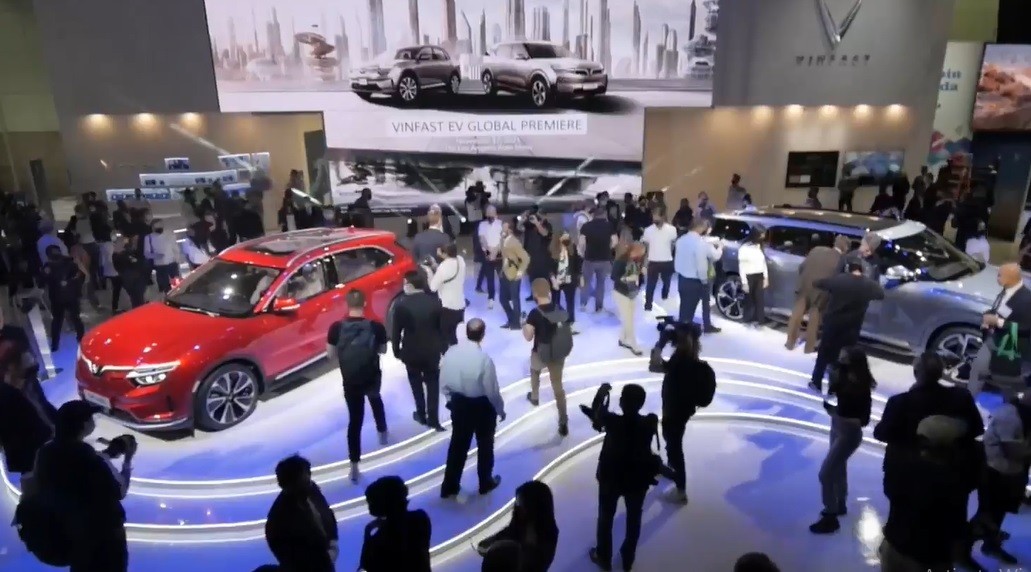 Vinfast unveils new electric cars in Los Angeles. Photo by Nhan Dan.
"I found that Vinfast vehicles seem like they are an adequate alternative to Teslas"
The Vietnam Times reached out to a few Americans who are familiar with the Vinfast brand and asked them their thoughts on the company's ambitious strategy.
"I'm happy with Vinfast's commitment to the electric car," said Katy Henkle-Kriek, an American ESL teacher currently in Hanoi. "I think other car manufacturers should follow their lead." American expats of Vietnam are certainly familiar with the Vinfast brand. The company's rising popularity in Vietnam guarantees a sighting of a Vinfast vehicle during their daily motorbike commutes. For these Americans, seeing Vinfast enter the American marketplace is something special.
"As an American who considers Vietnam my second home, I would love to see Vinfast become an international electric vehicle competitor," said Harry Holland, an American living in Hanoi. "However, considering that Tesla is an established, international EV manufacturer from America, the competition could be the biggest challenge for Vinfast. Especially considering Tesla's cult-like following. I would be happy to see Vinfast succeed in the long run. After all, Vietnam is a manufacturing powerhouse. I think they may face an initial challenge upon entering the market, but will likely be successful.
Other news outlets label Vinfast as a "Tesla wannabe," a small company overshadowed by CEO Elon Musk's futuristic brand. However, Vinfast is in a unique position to provide more variety for American consumers and better access to greener vehicles. The more electric cars on the market will drive down the base price for electric cars, making them more accessible and creating a world without need of fossil fuels.
Yet, some have reservations about the cost. Currently prices for Vinfast's vehicles ranges from $41,000 USD to $61,000 USD, not including the battery.
"I know plenty of young Americans who are environmentally conscious and would be happy to buy an electric car. Yet, at those prices, many can't afford that," said Henkle-Kriek.
Henkle-Kriek's South African husband, Nico Kriek, plans to become an American citizen within the next few months, just in time for Vinfast's American launch. As a car enthusiast, Kriek has spent a lot of time deciding what is the best car for traveling stateside. Although hailing from the same country as Musk, Kriek is still partial to the Vietnamese brand.
"After looking at and comparing Vinfast vehicles to alternatives like Teslas and the more affordable alternative EV's, I found that Vinfast vehicles seem like they are an adequate alternative to Teslas, should they be able to hold up to what Vinfast claims the vehicles can do," said Kriek. "That being said, depending on reviews over the next 1-3 years, I would consider buying a Vinfast vehicle."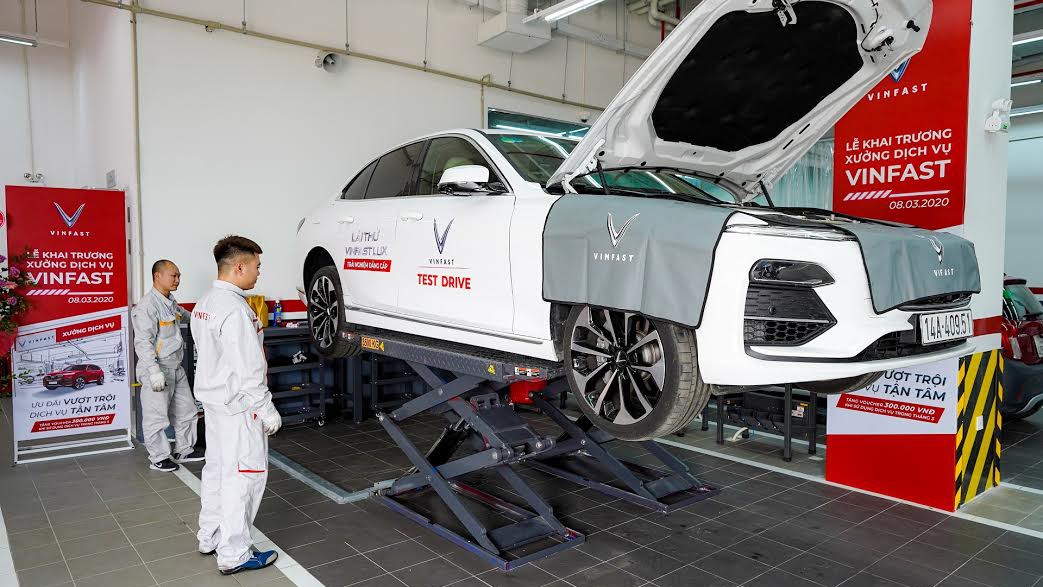 Vinfast engineers begin making electric cars for the American market. Photo by VOV.
It will take some time for American consumers to warm up to Vinfast's electric cars, especially with Tesla currently dominating the market.
John Durso, a Chicago native currently residing in Hanoi, is not going to buy a Vinfast car any time soon. "As a consumer I like how there is another option, but unless the price is more competitive or the reviews from experts are astonishing, I'd probably look to Vinfast as a third or fourth option when buying an EV simply because it's a new manufacturer in America. It's going to take time for Vinfast to build up its brand loyalty."
There are certainly many obstacles in the way for Vinfast but their mission is not impossible. Former ESL teacher Rob Packer recently returned to the USA after teaching in Vietnam for two years. While dealing with reverse culture shock, Packer welcomes Vinfast vehicles on American roads. Regardless of the company's hardships, Packer also believes Vinfast could possibly be a success in the States.
"I think Americans are so focused on brands and labeling, that it takes a massive effort before something gets a foothold," said Packer. "Look at Kia and Hyundai, for example. They used to be punchlines here, and now they're very common and considered to be reliable cars."
Entering the American electric car market may seem like an insurmountable task, yet Vinfast remains confident as many Americans yearn for more competition against the monopolizing Tesla brand. Time will tell if the company's risky venture will prove to be a favorable outcome for the Vietnamese underdogs.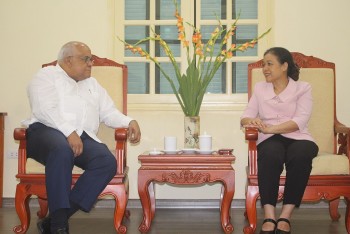 Friendship
Ambassador Nguyen Phuong Nga - President of the Vietnam Union of Friendship Organizations had a meeting and worked with Cuban Ambassador Extraordinary and Plenipotentiary to Vietnam Orlando Nicolas Hernandez Guillen. The two Ambassadors agreed to work closely in organizing solidarity and friendship activities.