What Is Vietnam's Largest Province?
Vietnam is divided into 58 provinces and 5 municipalities existing at the same level as provinces. Have you ever wonder which province in Vietnam is the largest? Find out more below.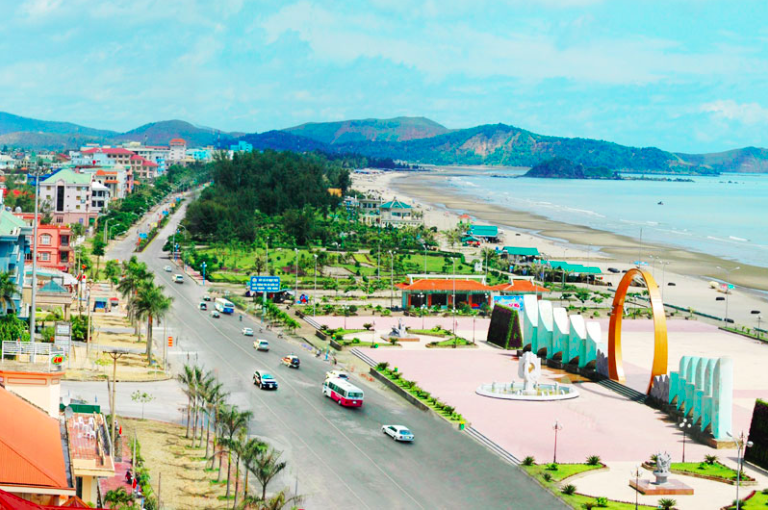 Nghe An Province. Photo: Lotussia
Vietnam is situated in Southeast Asia, it is the easternmost country on the Indochinese peninsula. The country's shape reminds of an S, it has a long coast along South China Sea, it borders China in north, and it has a long border with Laos and borders Cambodia in southwest. Vietnam shares maritime borders with Indonesia, Malaysia, Philippines, and Thailand. With an area of 331,689 square kilometers it is about the size of Finland or slightly larger than the U.S. state of New Mexico.
Spoken language is Vietnamese, English is increasingly favored as a second language, and there are still people speak some French, cited nationsonline.
Vietnam is divided into 58 provinces and 5 municipalities existing at the same level as provinces.
The provinces are divided into districts, provincial cities, and county-level towns, which are subdivided into commune-level towns or communes.
The municipalities are divided into rural districts and urban districts, which are subdivided into wards, according to travelvietnam.
In land area, the largest province is Nghe An, which runs from the city of Vinh up the wide Song Ca valley.
What are the Facts & Figures of Nghe An Province?
Total area: 16,481.56 square kilometers - the largest province in Vietnam.
Population: 3.3 million people
Workforce: 2.0 million people
Population's growth rate: 0.87%
Export Turnover: US$780 million
Import Turnover: US$569 million
Enterprises: 10,685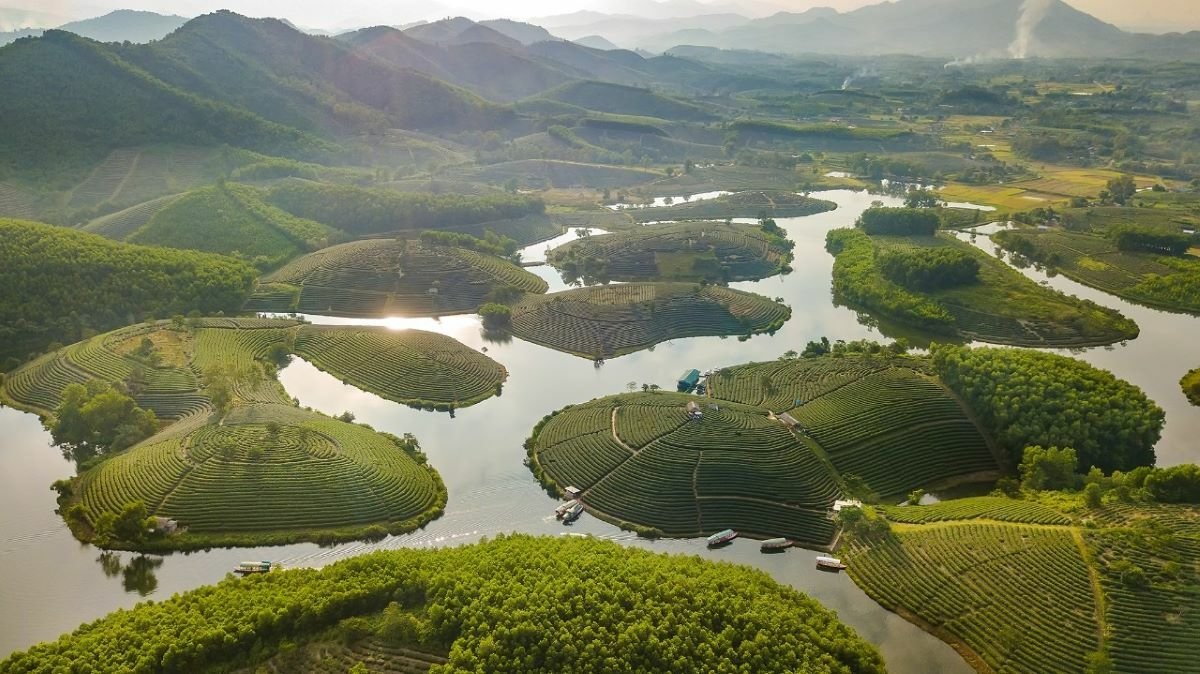 The Thanh Chuong tea hills in Thanh Chuong District, Nghe An province, 330 kilometers south of Hanoi. Photo: Nguyen Canh Hung
What are the Key Facts of Nghe An Province?
Nghe An province is:
#1 Largest Province
By land area (16,481.56 square kilometers)
#4 High Polulated
3.3 million people
2.0 million Labor Force
8.77% Provincial GDP Growth
(Higher than Nation's Average)
What is Nghe An's Geographical Location?
Nghe An province lies between 180 33' and 200 01' north latitude, and from 1030 52' to 1050 48' east longitude, which is in the center of the northern part of Central Vietnam.
It is located between Thanh Hoa and Ha Tinh, bordered to the West by Laos and to the East by the East Sea.
Lying on the East-West economic corridor connecting Myanmar – Thailand – Laos – Vietnam by the ASEAN Highway 7 to Cua Lo seaport, Nghe An has a grade 1 city, 3 towns and 17 districts, of which Vinh city is the economic and cultural centre of the province and of the North Central Region, cited Nghean.gov.
What is Nghe An's Climate and Hydrology?
Climate: Nghe An is in the tropical monsoon region, directly affected by dry, hot Southern - West monsoon (from April to August) and cool, wet northern East monsoon (from November to March of the following year). The average temperature ranges around 23 and 24,20 degree Celsius. The annual rainfall is 1,200 – 2,000 millimeters. The average humudity fluctuates between 80% and 90%. The province receives an annual average of 1,460 sunshine hours, cited Nghean.gov.
Hydrology: Nghe An has 7 river basins (with separate estuaries) with the total length of river being 9,828 km, the average density is 0,7 kilometer/square kilometer, the largest river is the Ca (the Lam river), originating from Muong Pec District (Xieng Khoang Province of Laos) with the length of 522 kilometers (361 kilometers in Nghe An province), a basin of 27,200 square kilometers (of which 15,346 square kilometers is in Nghe An province).
Nghe An's Population and Labour
With more than 3,3 million people, Nghe An is Vietnam's fourth largest province in population (after Ha Noi, Ho Chi Minh city and Thanh Hoa). The urban dwellers account for 13.1%; women account for 50.32%; the population not involving in agricultural production accounts for 31.3%. The average population density is 178 people/square kilometers. The natural population growth rate is 1.0%.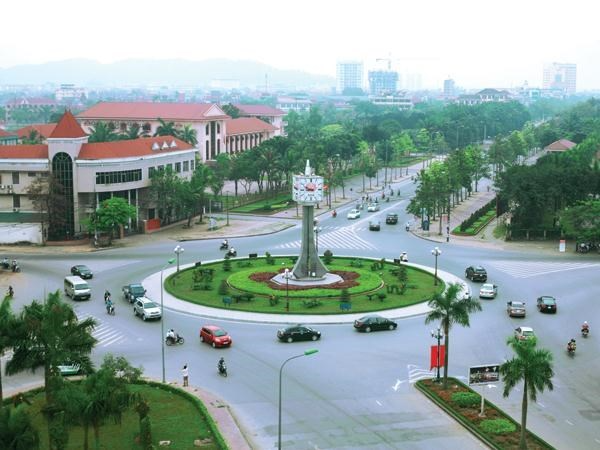 A corner of Vinh city, Nghe An province. Photo: vinhcity.gov.vn
Nghe An is the native land of President Ho Chi Minh, the world cultural celebrity. It has a fond-of-learning tradition and is famous for its excellent, diligent and creative people. It is the educational and training centre for the North Central Region with 5 universities, 11 colleges offering various programs such as economics, technology, vocational skills, teachers, medical care, culture and arts. Particularly, professional and vocational schools in the province are able to meet the investors' demand for human resources.
The total labor force is about 1.8 million people, of whom professionally trained workers account for 44%, skill-trained laborers account for 36%.
What about Nghe An's Tourism?
Nghe An has enjoyed favorable conditions in terms of geographical location. The province has the national highways and railway, as well as the Cua Lo International Port and Vinh Airport. Nghe An marks the starting point of the Heritage route in the central part, and the legendary Ho Chi Minh Trail. In addition, it is also the starting point of the tourist route following the east-west corridor, connecting Vinh - Laos - Thailand through Highway No. 8.
Two thirds of its area is forested. Nature has endowed Nghe An with beautiful landscapes for tourism development. Among them include its long seaside with pristine beaches, especially Cua Lo which is considered one of the best in Vietnam, and Pu Mat National Park, which is home to diverse flora and fauna, apart from breath-taking landscapes, cited Vietnamtourism.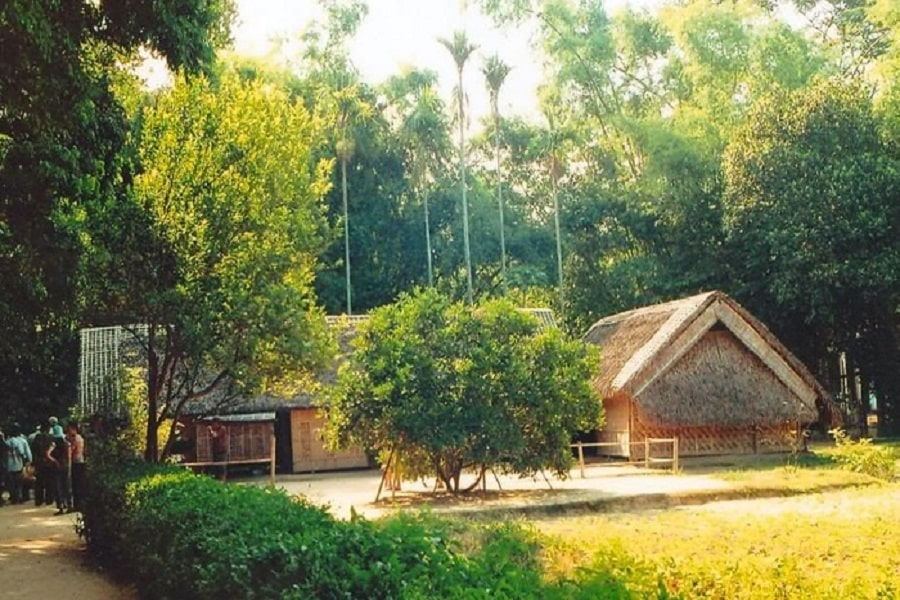 The House of President Ho Chi Minh - Nghe An province. Photo: dulichkhatvongviet
Nghe An takes pride in its tradition in the building and defence of the nation. One hundred and thirty-one historical-cultural sites have been recognized as national treasures. The Kim Lien historical-cultural site, the native village of President Ho Chi Minh, World Cultural Celebrity and National Liberation Hero, is one among those.
Nghe An people have won kudos for their intelligence, diligence, eagerness to study and their hospitality, cultural traditional imbued with national identity. Nghe An is fast changing with every passing days. It will be a highlighted destination for tourists near and far.
Top 10 Best Dishes in Vietnam - Video

When talking Vietnamese cuisine abroad, people mention phở and bánh mì, however, the full spectrum of Vietnamese food is a symphony of delightfully textured, bright ...
Top 10 must-try tea types in Vietnam

For thousands of years, authentic Vietnamese tea has increasingly been preferred by consumers thanks to its delicious taste, good quality and great variety. Like Chinese ...