When Covid-19 comes to an end?
Although scientists are racing to find a cure for the virus, there's a chance COVID-19 will never fully go away — with or without a vaccine.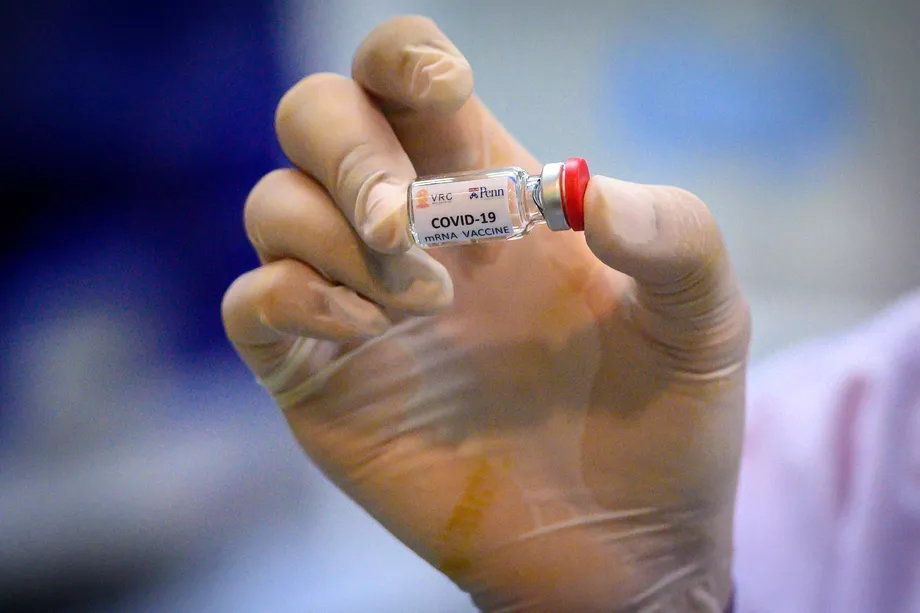 There are dozens of Covid-19 coronavirus vaccines being tested right now, but no guarantee any of them will succeed. Photo: AFP via Getty Images
Although scientists are racing to find a cure for the virus, there's a chance COVID-19 will never fully go away — with or without a vaccine. But that doesn't mean everyone will have to self-isolate forever.
Vineet Menachery, a coronavirus researcher at the University of Texas Medical Branch, told NPR's Weekend Edition that one of the more likely scenarios is that the spread of COVID-19 will eventually be slowed as a result of herd immunity.
He said that he'd be surprised "if we're still wearing masks and 6-feet distancing in two or three years" and that in time, the virus could become no more serious than the common cold.
According to the researcher, humans haven't been successful at eradicating many viruses at all. Really the lone exception is smallpox, but many of these viruses exist not only in the human population but in animal populations. So coronaviruses may be removed from the human population, like SARS coronavirus in 2002, but those viruses or viruses that are similar to it still exist in nature and at any time they may gain the tools to reemerge in humans again.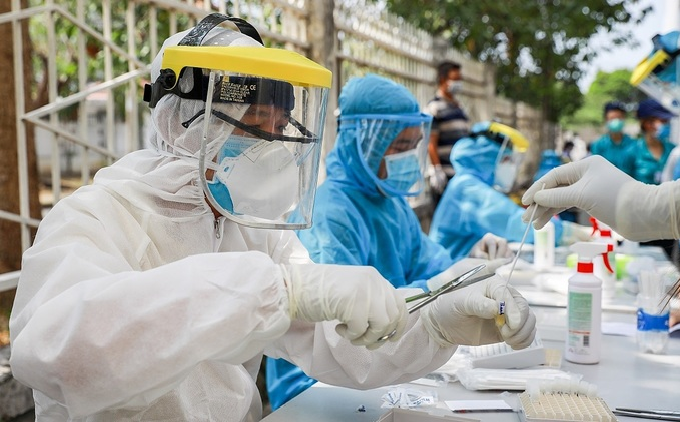 Medical staff take samples from workers at an industrial park in Vietnam's HCMC for COVID-19 tests, April 20, 2020. Photo: VnExpress
The novel coronavirus isn't going away
No matter what we do to curb the novel coronavirus—whether through social distancing, wearing masks, or developing a vaccine—one thing is "almost certain: This virus is never going away," The Atlantic reports.
The Atlantic reports that public health officials were optimistic when the virus first hit that countries could eradicate the pathogen, given its similarity to the coronavirus that causes SARS—which emerged in 2002 and was "snuffed out" among humans, although not animals, by 2004. But unlike the coronavirus that causes SARS, the new coronavirus, SARS-CoV-2, spreads more easily and can spread asymptomatically—meaning that a lot of the strategies used to curb SARS are ineffective against the novel coronavirus, The Atlantic reports.
Ultimately, according to Stephen Morse, an epidemiologist at Columbia University, "It's very unlikely we're going to be able to declare the kind of victory we did over SARS."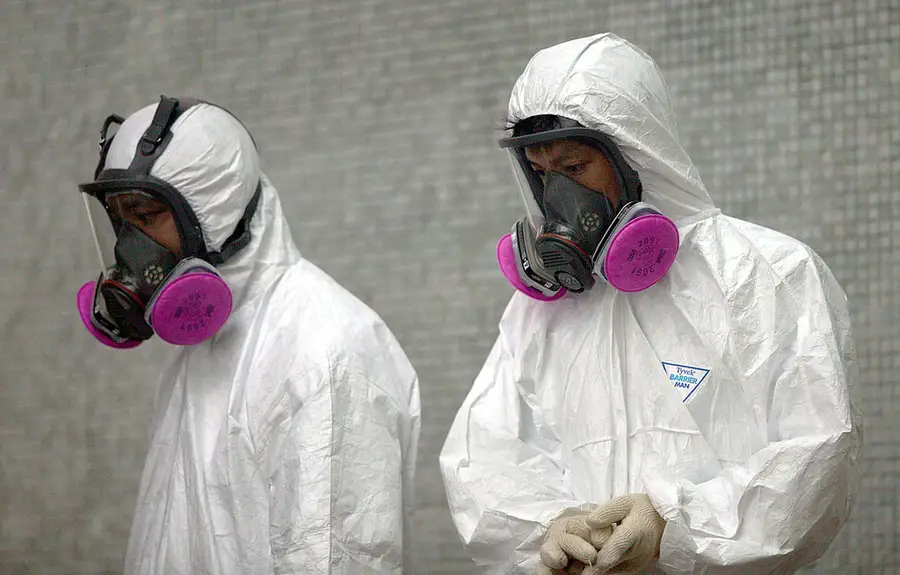 Health workers wear full protective clothing during cleanup operations at Amoy Gardens, where over 200 residents were infected with the SARS (Severe Acute Respiratory Syndrome) virus, April 4, 2003 in Hong Kong. Christian Keenan/Getty Images
Outlook for COVID-19 immunity
So it's still up in the air. COVID-19 is really unique in a couple of different ways. One, like the common cold coronaviruses, it spreads very easily, but unlike those, this causes this severe disease.
"What we know about the common cold coronaviruses is that the immunity to those don't actually stay that long. So what is not clear is if immunity will wane over time and that in two or three years you could be exposed and get this virus again. Similar to how you could get the common cold coronavirus every few years," Menachery said.
"On the other end of that, viruses like SARS and MERS, if you get those infections and you overcome them and you recover, generally your immune response lasts a long time. So what we don't know with COVID-19 is which of these two poles it may end up at."
Future for COVID-19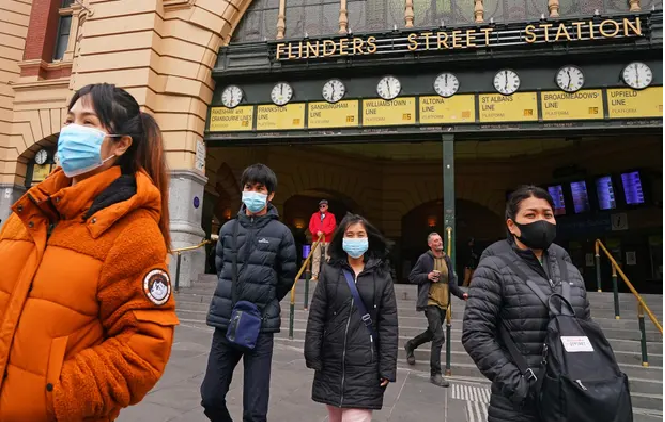 People leave Flinders Street Station on 21 June. Australia has updated its COVID face mask position in response to rising coronavirus cases in Melbourne, with new rules making face masks mandatory across Victoria. Photograph: AAP
Menacherys aid the most likely outcome is that humans will eventually get to herd immunity. The best way to get to herd immunity is through a vaccine and some certain populations who have already been exposed or will be exposed.
He said he expects that this virus will actually become the next common cold coronavirus. "What we don't know with these common cold coronaviruses is if they went through a similar transition period."
So, say something like OC43, which is a common cold coronavirus that was originally from cows. It's been historically reported that there was an outbreak associated with the transition of this virus from cows to humans that was very severe disease, and then after a few years, the virus became just the common cold.
So in three to five years it may be that you're still getting COVID-19 in certain populations of people or every few years, but the expectation is hopefully that it'll just be a common cold and it's something that we can just each deal with and it won't lead to hospitalization and the shutting down of society.
Health experts say it's likely that enough people will become infected with or vaccinated against the novel coronavirus to end the global pandemic, but that the virus will probably continue to infect people at lower rates.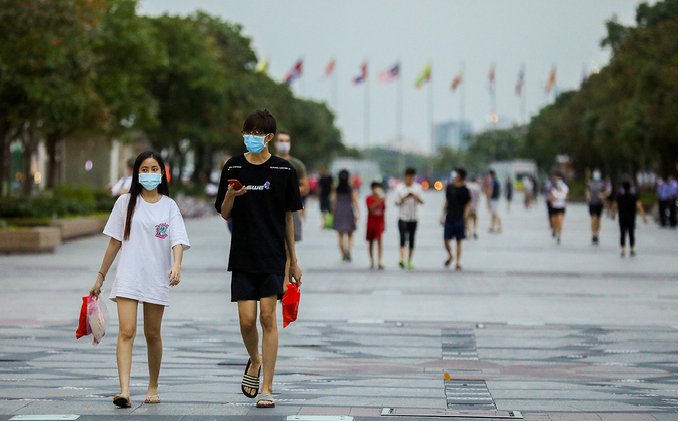 People in HCMC during the social distancing period in April 2020. Photo: VnExpress
Ultimately, the "future" of the novel coronavirus will depend largely on the duration and strength of immunity against the virus, according to Yonatan Grad, an infectious disease researcher at Harvard University.
According to models generated by Grad and his colleagues, if immunity against the virus lasts a few months, we could experience another SARS-CoV-2pandemic accompanied by smaller outbreaks of the virus each year. If immunity lasts two years, infection rates for the virus could peak every other year, according to Grad. Grad explained, "The faster protection goes away, the more difficult for any project to try to move toward eradication."
The same calculations apply to a potential vaccine as well, The Atlantic reports. A vaccine that provides short-term immunity could require booster shots over time, like the flu shot. (And while there are several vaccines in development, World Health Organization Director-General Tedros Adhanom Ghebreyesus cautioned that "there's no silver bullet at the moment and there might never be," adding that countries should continue contact tracing, hand washing, and social distancing to slow the novel coronavirus' spread.)
Moreover, even if the world did manage to eliminate the virus from the human population, "it could keep circulating in animals—and spread to humans again," according to The Atlantic. So far, tigers and minks have caught the novel coronavirus from humans, The Atlantic reports, and research indicates the minks were able to pass the virus back to humans.
But the most likely, best-case scenario, a vaccine would make the new coronavirus "a much less dangerous and less disruptive" threat, such as the flu or other seasonal respiratory viruses, The Atlantic reports. In this scenario, SARS-CoV-2 would become the fifth coronavirus—joining four other coronaviruses that cause a considerable proportion of common colds—that circulates among humans regularly and seasonally.
"I think this virus is with us to the future," said Ruth Karron, a vaccine researcher at Johns Hopkins. "But so is influenza with us, and for the most part, flu doesn't shut down our societies. We manage it."/.