Deputy PM: Vietnam's COVD-19 testing capacity improved
Vietnam's COVID-19 testing capacity has much been improved comparing to that of previous time in terms of both test kit production and medical machinery.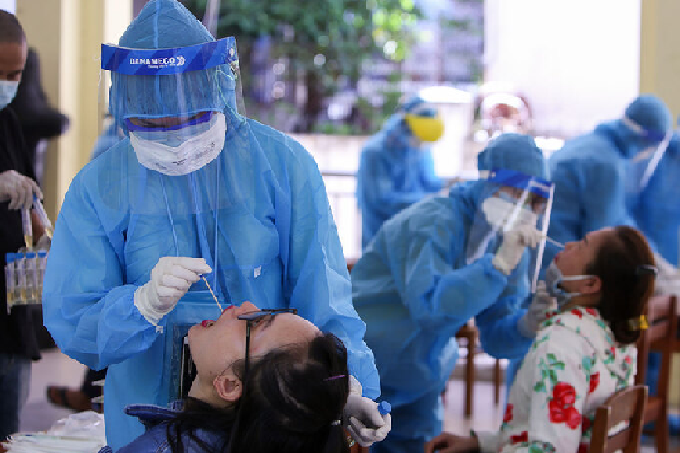 COVID-19 testing in central Da Nang city. Photo: VnExpress
Deputy Prime Minister Vu Duc Dam made the affirmation at a meeting of the National Steering Committee for COVID-19 Prevention and Control on August 9, where he said Vietnam has stepped up testing under the instructions of the Health Ministry, including rapid tests and PCR tests.
However, it is hard to conduct tests for the entire population, even a province, in a short time, he stressed. "Therefore, the most effective solution to the pandemic still lies with early detection, fast contact tracing and group testing."
According to the Deputy PM, locally-transmitted COVID-19 cases have resurfaced in some localities, mostly linked to the outbreak in the central city of Da Nang.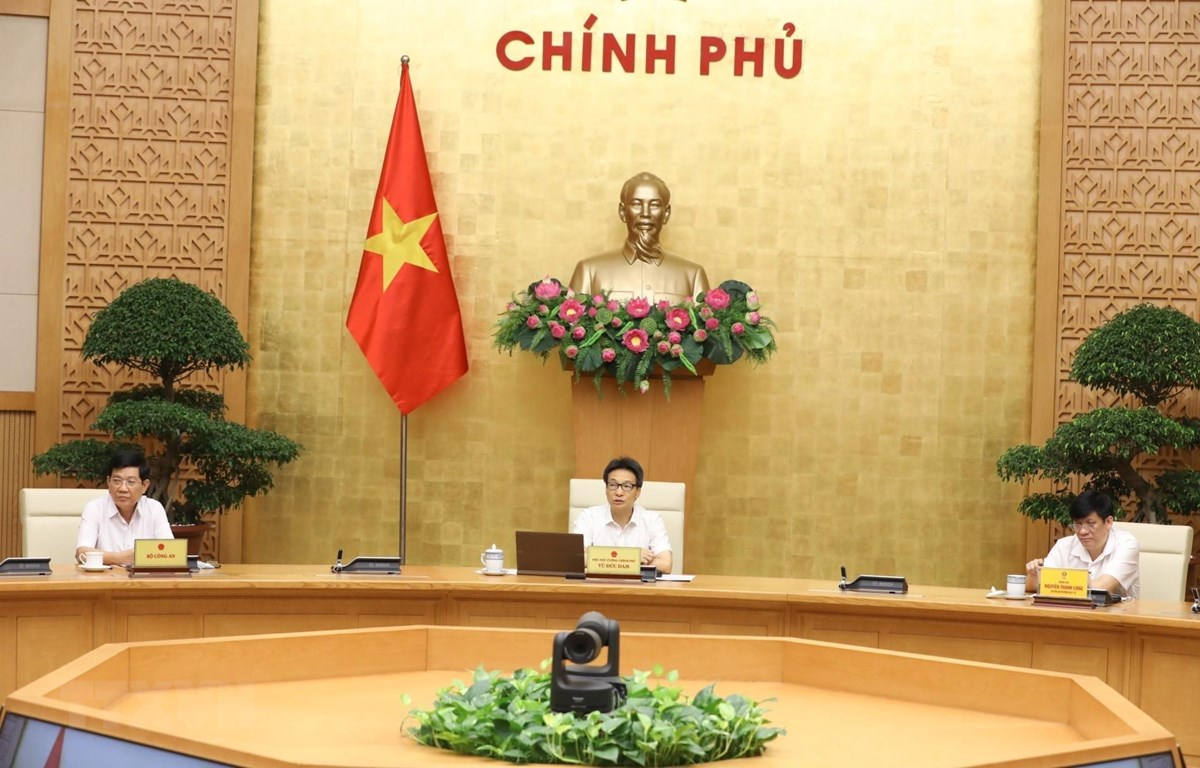 Deputy PM Vu Duc Dam speaks at the meeting of the National Steering Committee for COVID-19 Prevention and Control. (Photo: VNA)
"Therefore, if we continue with the set countermeasures, especially those tightened one week ago, we would believe that the pandemic will not spread widely," Dam said.
Reviewing the fight against COVID-19 in Da Nang and nearby Quang Nam province over the past days, Dam ordered compiling a handbook on experience in this regard, guiding other localities to roll out prevention and control measures following the detection of infections in urban areas, hospitals and the community.
Acting Health Minister Nguyen Thanh Long reported that the testing strategy has been adjusted for three times, towards expanding the subjects to testing and speeding up the work.
A medical worker is taking sample of a baby for COVID-19 testing. (Photo: VNA)
The strategy has helped to protect the groups at the high risk of infections, while promptly spotting COVID-19 cases for quarantine and treatment, the official continued.
Private health facilities have also been asked to participate in testing, Long added.
Tran Dac Phu, former Director of the General Department of Preventive Medicine under the Health Ministry, commended the effective pandemic combat in Da Nang city.
He, however, warned of the complexity of the pandemic at home and abroad in the time to come, and urged localities, especially tourism cities and provinces, to stay vigilant against the disease.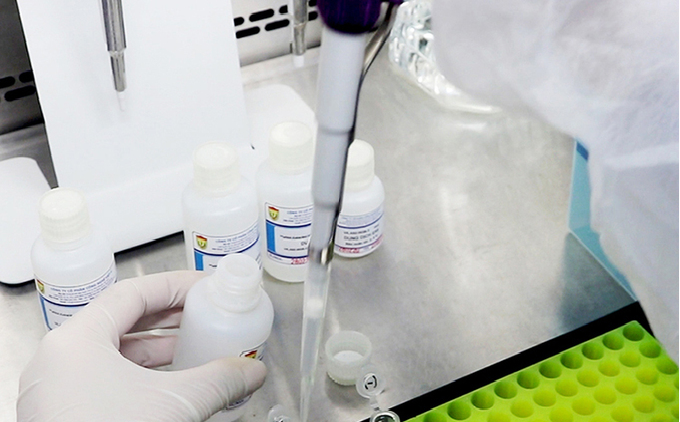 A medical staff extracts a pER 1 solution from the test kit as part of a coronavirus test. Photo: VnExpress.
Vietnam to use TB test for COVID-19
The Ministry of Health has approved the use of GeneXpert, a tuberculosis test, for Covid-19 screening, VnExpress reported.
It is a real-time polymerase chain reaction (RT-PCR) test that has been used in Vietnam since 2012.
Nguyen Viet Nhung, director of the National Lung Hospital in Hanoi, said the test is similar to RT-PCR, gives accurate results for both COVID-19 and tuberculosis and could be automated to a great degree.
The results are available in 35-45 minutes, he said.
Rapid tests on the other hand need to be done at the right time, when the body has enough antibodies, to get the correct result, he added.
A medical worker performs Covid-19 test at a laboratory in Nghe An Province, central Vietnam, April 2020. Photo: VnExpress
Vietnam is currently using both RT-PCR and rapid tests for COVID-19 screening.
The country has around 200 GeneXpert testing machines at 28 laboratories. Da Nang, now a COVID-19 hotspot, has three, but can get more from Hanoi if needed.
The National Lung Hospital is set to procure 16,000 GeneXpert test kits from Sweden by August 15.
It will distribute them first to COVID-19 hotspots such as Da Nang, Hanoi and Ho Chi Minh City and the provinces of Quang Nam, Thanh Hoa and Dak Lak.
Medical personnel at all localities have been trained to perform this test.
Hanoi ran out of COVID-19 rapid test kits earlier this week after screening over 88,000 people who had returned from Da Nang since July 8.
While waiting for the new test kits, authorities encouraged people to monitor themselves for symptoms, strictly adhere to 14-day quarantine procedures and take all recommended protective measures./.
As of August 10 morning, Vietnam had reported 841 COVID-19 cases, of which 317 are imported and were quarantined upon arrival. There have been 11 fatalities so far.
There are currently 178,695 people who had close contact with COVID-19 patients or came from pandemic-hit regions are being quarantined nationwide, including 5,252 at hospitals, 27,798 at other concentrated quarantine facilities, and 145,645 at home.
As many as 395 of the total cases have made full recovery. Among the active patients, nine have tested negative for SARS-CoV-2 that causes the disease once, and 37 others at least twice./.