WHO boss thanks Vietnam for USD50,000 contribution to COVID-19 response fund
General Director of the World Health Organization Tedros Adhanom Ghebreyesus on April 27 sent thanks to Vietnam for contribution to WHO's COVID-19 response fund.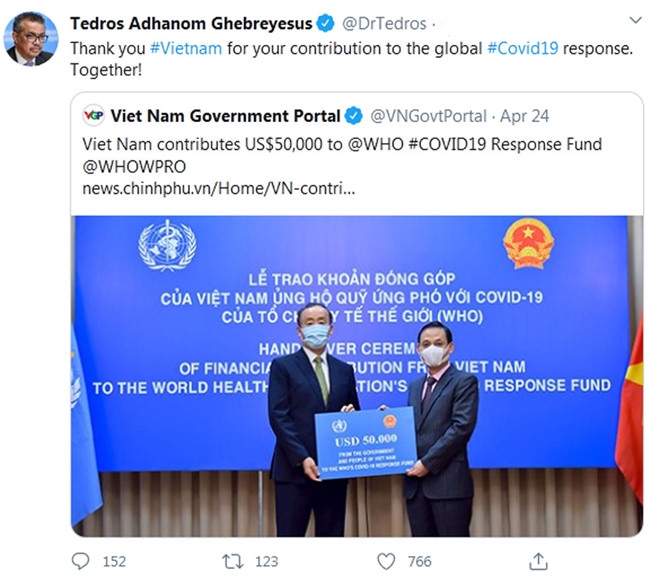 WHO General Director tweets thanks Vietnam
"Thank you Vietnam for your contribution to the global COVID-19 response. Together", he tweeted.
Earlier, authorized by the Prime Minister, Deputy Minister of Foreign Affairs Le Hoai Trung on April 24 handed over USD50,000 contribution from Vietnam to the WHO's COVID-19 response fund.
Vietnam expressed its desire that WHO continue to play a central role in coordinating international efforts, to meet expectations of members countries.
WHO Representative in Vietnam Kidong Park assessed Vietnam as the leading country in health diplomacy, and expressed gratitude to the Government and people of Vietnam for their sincere and valuable contribution to the WHO's COVID-19 response fund.
At the same time, the WHO Representative congratulated the achievements of the Government and people of Vietnam in controlling and preventing the COVID-19, exemplified by over 80% of recovery, no deaths. That is thanks to the drastic actions of the Government and ministries combined with the solidarity of the people, he said.
Although Vietnam also has to deal with the COVID-19, the country has donated medical supplies globaly to help other countries fight against the pandemic.
Vietnam has not only succeeded in preventing and treating COVID-19 patients, but also has sent masks and medical supplies to various countries such as the US, France, Germany, Italy, Spain, England, Japan, Laos and Cambodia.
The country has received the appreciation of countries around the world.
US President Donald Trump on April 9 thanked Vietnam for supporting the country in the fight against the COVID-19 pandemic, confirming that 450,000 'Made-in-Vietnam' protective suits had arrived in the US.
On April 27, Myanmar Times reported that Myanmar State Counsellor Daw Aung San Suu Kyi hoped to copy the success of Vietnam in controlling the spread of COVID-19.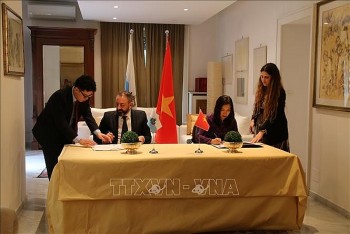 Friendship
The two countries will continue promoting cooperation to enhance growing ties between the two countries based on the good friendship since they established diplomatic relations in 2007.