Health Ministry warns of Covid-19 outbreaks in Southwestern border provinces
With long border lines, three provinces Soc Trang, Bac Lieu, Ca Mau are running a high risk of a widespread Covid-19 outbreak at any time.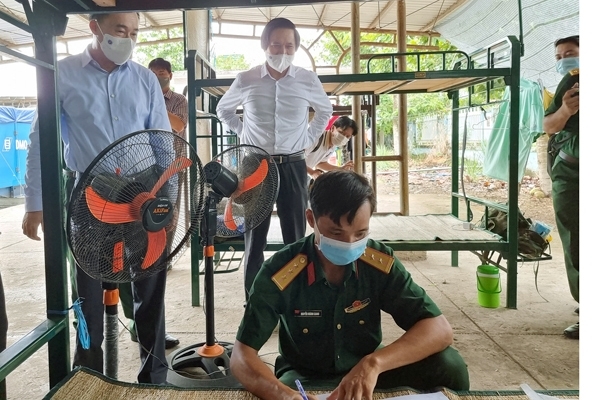 Deputy Minister Tran Van Thuan checking Covid-19 control in Bac Lieu (Photo: VTC News)
Since last week, Health Minister Nguyen Thanh Long and 4 Health Deputy Ministers have made four trips to the Southwest to examine how Covid-19 control practice is done. Southwestern region is considered one potential Covid-19 hotspot in Vietnam given its long land and sea borders with neighboring countries. On top of that, the large number of fishing grounds and diverse population communities make the localities more vulnerable to imported cases.
These provinces have been well adopting anti-preventive measures and vaccination, strengthening control, patrol to prevent illegal entrants, Deputy Minister Tran Van Thuan said. However, he stressed that localities must raise their alertness to the highest level to no let the country's relentless containment effort go down the drain.
The authorities recommended all localities boost inspection, supervision, and communication about quarantine and self-isolation regulations to minimize cross-infection. Quarantine points must set up surveillance cameras to facilitate investigation and contact-tracing when necessary.
The Deputy Minister emphasized that realizing the pandemic prevention target requires concerted efforts between governmental and local authorities and all residents.
Thuan tasked the Department of Finance to issue guidelines supporting localities to solve financial problems troubling Covid-19 control effort. The Department should also consider funding sources and appropriate programs to finance vulnerable provinces.
Meanwhile, Pasteur Institute of Ho Chi Minh City is assigned to strengthen training and transfer technology to improve local testing capacity.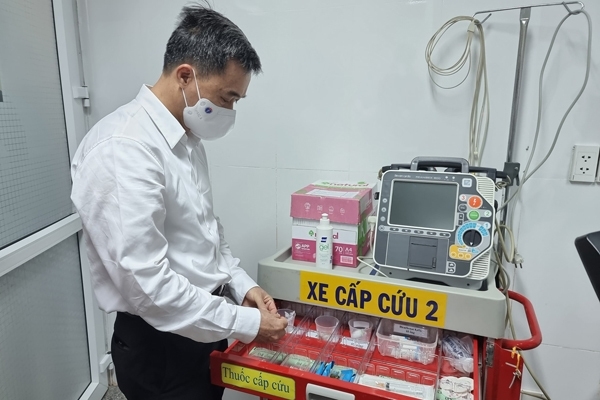 Thuan checking medical equipment at Soc Trang General Hospital (Photo: VTC News)
"The big picture of Covid-19 in the world and in regional areas really concerns us that the novel virus might enter Vietnam once again via imported cases", Health Minister said in a statement on April 25 morning. "Current infection rate in the world shows all latter outbreaks are more widespread and devastating than the previous."
The National Steering Committee for Covid-19 Prevention and Control and the Health Ministry have so far been warning of the 4th wave in Vietnam because, according to Long, the risk of imported infections is very high and many people are letting their guards down.
"The health sector has prepared for all scenarios, including when the epidemic goes widespread, or it recurs in localities, especially the Southwestern region," the Minister stressed.
Long further stressed that one of the lessons learned from Vietnam's successful Covid-19 containment is the country's unanimous effort and activeness. However, as no community infections reported over the past month, many people are letting their guard off. He is calling for all Vietnamese people to strictly abide by anti-pandemic regulations, especially the mask mandate and hand sanitizing.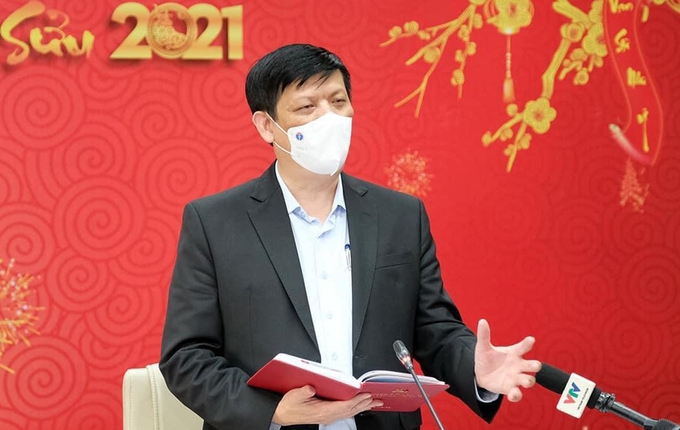 Health Minister Nguyen Thanh Long (Photo: VNE)
The Health Ministry is quickly implementing vaccination, calling for those on the prioritized list to get fully vaccinated. All localities are tasked to strengthen surveillance to early detect new cases.
Authorities also ordered the functional forces to strictly crackdown on those who breach the regulations on Covid-19 prevention and control.
The organization of events and activities with a large number of people should also be restricted, PM required. In case such events are held, anti-epidemic measures must be adopted.
The Health Ministry was assigned to review and finalize plans on the epidemic prevention and control on the national scale, prepare scenarios to timely respond to the possible outbreak as well as accelerate to implement the Government's Resolution on the purchase and use of Covid-19 vaccines.
The Ministries of National Defense and Public Security and the People's Committees of provinces and cities were tasked to tighten the control of the exit and entry at the border areas.
PM asked ministries, ministry-level, and Government agencies, People's Committees of the centrally-run cities and provinces to stay vigilant, promote the responsibility of leaders while carrying out drastic, concerted, and effective measures with the principles of active prevention, early discovery, quick quarantine, effective treatment and rapid stabilization of the situation.