World breaking news today (June 2): Xi Jinping wants China's image to be 'trustworthy, lovable and respectable'
World breaking news today (June 2): Xi Jinping wants China's image to be 'trustworthy, lovable and respectable'. Meanwhile, WHO approves China's Sinovac Covid-19 vaccine, Sri Lanka ship fire extinguished after 13 days and gold price also make headlines today.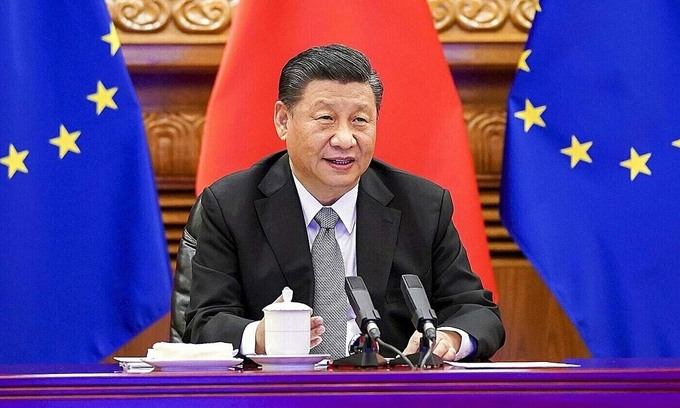 President Xi Jinping (Photo: AP)
Xi Jinping wants China's image to be 'trustworthy, lovable and respectable'
President Xi Jinping urged Chinese officials to create a "trustworthy, lovable and respectable" image for the country, in a sign that Beijing may be looking to smooth its hard-edged diplomatic approach, according to The Print.
Xi told senior Communist Party leaders Monday that the country must "make friends extensively, unite the majority and continuously expand its circle of friends with those who understand and are friendly to China," according to the official Xinhua News Agency. Beijing needed "a grip on tone" in its communication with the world, and should "be open and confident, but also modest and humble."
The remarks suggest that Xi may be rethinking his communication strategy on the global stage as President Joe Biden works to bolster U.S. relationships weakened under his predecessor's "America First" policies. Xi has cast aside the party's decades-old "hide-and-bide" strategy of keeping a low international profile in favor of a "big country diplomacy."
Wang Wen, executive dean of Renmin University's Chongyang Institute for Financial Studies and an adviser to the government, said it was the first such session held by the 25-member Politburo. He said that Beijing would continue to defend its interests overseas.
"Chinese leaders see that misrepresentations of China's image have led to negative impacts to core interests," Wang Wen said. "The leaders hope that every layer of the government will pay attention to international communication and take an active role to communicate internationally."
WHO approves China's Sinovac Covid-19 vaccine
The World Health Organization (WHO) has approved a COVID-19 vaccine made by Sinovac Biotech for emergency use listing, the second Chinese-produced shot to get its endorsement, a WHO statement said on Tuesday.
A WHO emergency listing is a signal to national regulators on a product's safety and efficacy. It will also allow the shot to be included in COVAX, the global programme to provide vaccines mainly for poor countries, which faces major supply problems due to an Indian export suspension.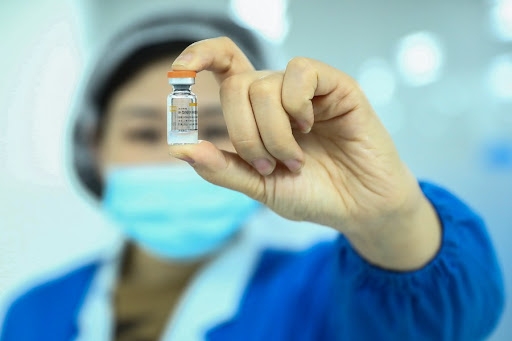 (Photo: Xinhua)
The independent panel of experts said in a statement it recommended Sinovac's vaccine for adults over 18, with a second dose 2-4 weeks later. There was no upper age limit as data suggested it is likely to have a protective effect in older people.
The WHO's technical advisory group, which began meeting on May 5, took the decision after reviewing the latest clinical data on the Sinovac vaccine's safety and efficacy as well as the company's manufacturing practices.
Branded CoronaVac in some regions, it is the second Chinese developed vaccine to win such WHO listing to combat COVID-19, after the May 7 approval of a shot developed by state-backed Sinopharm.
A third Chinese vaccine, produced by CanSino Biologics, has submitted clinical trial data, but no WHO review has been scheduled.
Sinovac said that it had supplied more than 600 million doses of its vaccine at home and abroad as of end-May and over 430 million doses have been administered, as reported by France 24.
Chinese transport groups close to Malaysian airspace
16 Mechanical transport IL-76 and Y-20 China appeared from the Malaysian coast of 60 nautical miles, forcing the water to fighter to monitor.
The Malaysian Air Force today said that this Chinese military transport aircraft team after being discovered suspicious activities on the East Sea on May 31, was close and almost invaded in Malaysia.
Malaysia is forced to deploy Hawk 208 from Labuan base to monitor and confirm the presence of this transport group, when they are from Sarawak State Coast, Borneo Island, about 60 nautical miles at 11:53.
China Y-20 transport is taken from Malaysian fighter cockpit.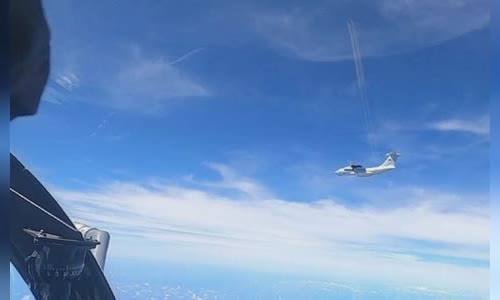 (Photo: FMT)
The incident is a serious threat to the national sovereignty and aviation safety because the area has dense flight routes, the Malaysian Air Force said in the statement.
The Malaysian Air Force said the Chinese transportation group included the Ilyushin IL-76 and Xian Y-20 aircraft moved according to the tactical squad at a height of 7,000 - 8,200 m.
The Malaysian Air Force said the Chinese transportation group included the Ilyushin IL-76 and Xian Y-20 aircraft moved according to the tactical squad at a height of 7,000 - 8,200 m, Stream News reported.
Sri Lanka ship fire extinguished after 13 days
A fire aboard a cargo ship off Sri Lanka carrying hundreds of tonnes of chemicals, plastics and cosmetics was finally extinguished Tuesday after a 13-day international operation, the navy said.
In Sri Lanka's worst marine ecological disaster, huge volumes of microplastic granules from the ship's containers have inundated beaches, forcing a fishing ban and a major clean-up involving thousands of troops, France 24 reported.
Experts from Dutch salvage company SMIT boarded the MV X-Press Pearl and reported massive flooding of the engine rooms.
The Singapore-registered vessel caught fire on May 20 when it was about to enter the Colombo port.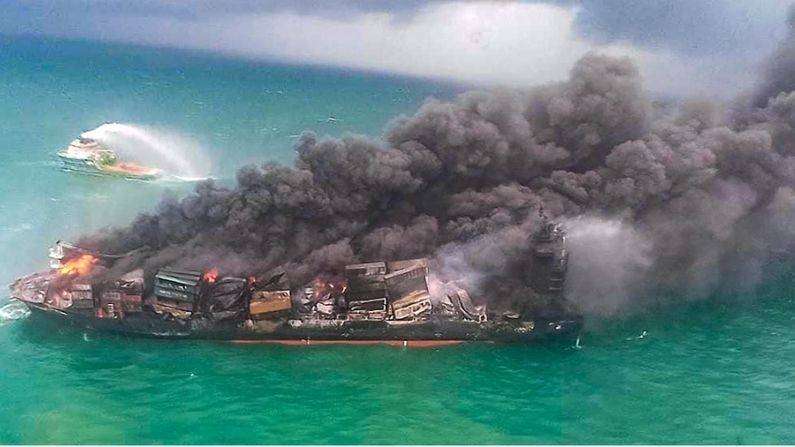 (Photo: Business Khabar)
Navy spokesman Captain Indika de Silva said the stern of the 186-metre (610-feet) long container carrier had gone down by about a metre because of the flooding.
"It is not unusual for the vessel to trim by aft (tilt to the rear) when water sprayed on deck settles in the engine room," Silva told AFP.
He said the spraying of water was stopped to prevent further flooding, but some areas of the ship were still too hot to carry out a complete examination of the vessel.
However, navy divers were carrying out examinations under the water line to ensure that there were no cracks in the hull to undermine the integrity of the ship, which is also carrying 278 tonnes of bunker oil and 50 tonnes of gasoil.
Sri Lanka's navy was joined by India's coastguard and tugs brought in by SMIT to battle the flames which destroyed most of the nearly 1,500 containers the vessel was carrying.
The three-month-old ship had 25 tonnes of nitric acid and other chemicals as well as 28 containers of plastic raw material, much of which fell into the sea.
Gold price forecast – gold markets continue to show choppiness
Gold markets have initially tried to rally during the day on Tuesday but give back the gains as we continue to hover around the $1900 level.
Gold markets initially rally during the trading session on Tuesday but gave back the gains as we have broken back down below the $1900 level. As you can see on the chart, I have made a purple circle showing the general area where we should be trading. With this being the case, I think that the market is likely to see a lot of noisy behavior, as we try to figure out whether or not the breakout is going to stick. Furthermore, the $1900 level is important, so you should be paying close attention to it overall.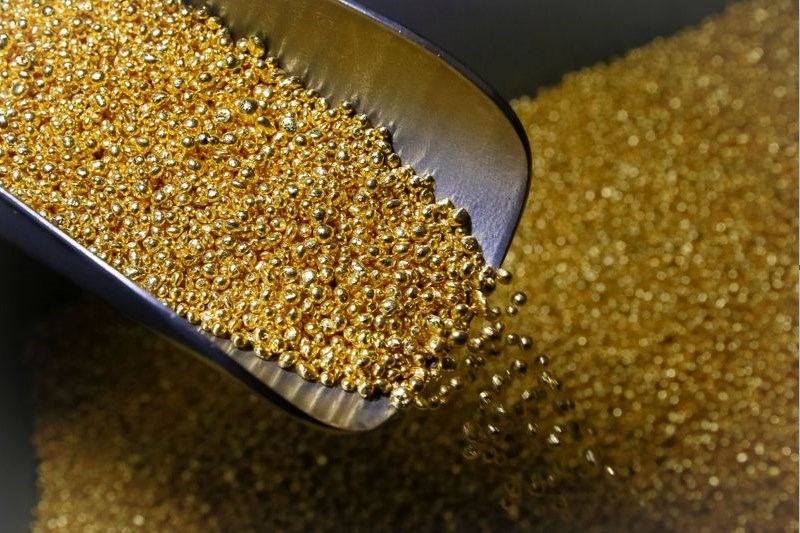 (Photo: Investing)
If we can break above the highs at $1919, then the market is likely to go looking towards the $1950 level, which of course is an area where we have seen quite a bit of resistance previously. Ultimately, the market is going to continue to see a lot of noisy behavior and will have to make a significant decision. If we do break down from here it is likely that the $1850 level could be support, just as the downtrend line underneath that could be. Further compounding that is that the 50 day EMA is reaching towards that area, according to FX Empire.