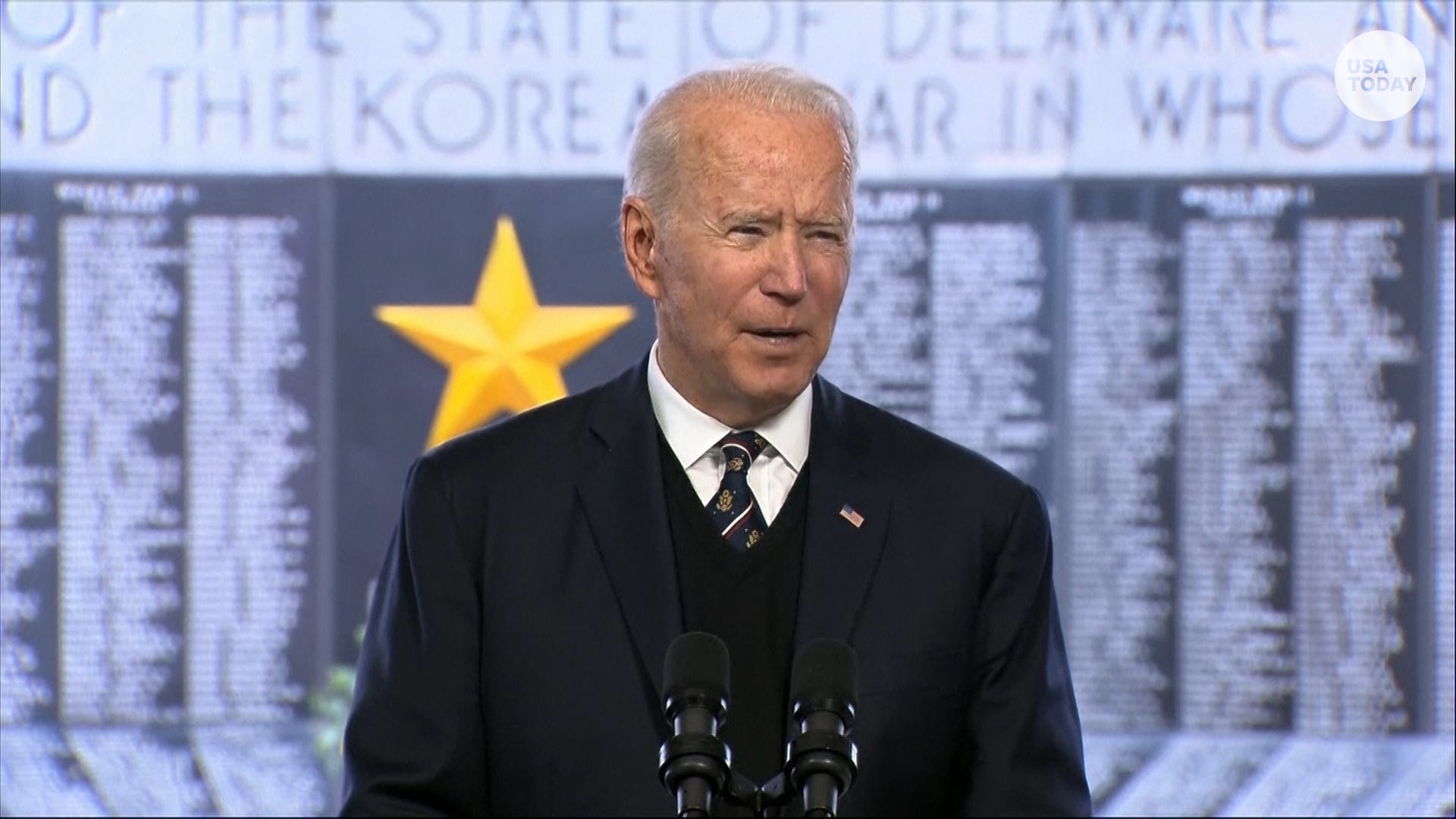 (Photo: USA Today)
President Biden honors late son Beu on 6th death anniversary
President Joe Biden commended armed service members in Memorial Day remarks Sunday, calling those in uniform the "solid spine of this country."
"As a nation, we must always remember, always remember. We must remember the price that was paid for our liberties. We must remember the debt we owe those who have paid it and the families left behind," Biden said at an event at Veterans Memorial Park at the Delaware Memorial Bridge.
Memorial Day, celebrated the last Monday of the month of May, commemorates the lives of military personnel who have died while in service. Biden, whose son, Beau, was an Iraq War combat veteran and died after battling brain cancer in 2015, referenced loss in his address.
"I know how much the loss hurts," Biden said. "I know the black hole it leaves in the middle of your chest; it feels like you may get sucked into it and not come out."
Biden also referenced his upcoming June 16 summit with Russian President Vladimir Putin and a recent conversation with Chinese President Xi Jinping, telling those present that he'd continue to stress the importance of human rights to both leaders, as reported by USA Today.
Ukraine's ambassador to Thailand dies suddenly in hotel room at resort
Ukraine's 44-year-old ambassador to Thailand suddenly collapsed and died from an apparent heart attack in his hotel room at a resort on a paradise island Sunday, authorities said.
Andrii Beshta had arrived on Thailand's idyllic isle of Koh Lipe on Friday with his 17-year-old son to bid farewell to a tourism buddy before the ambassador left his job to return home, the Bangkok Post reported.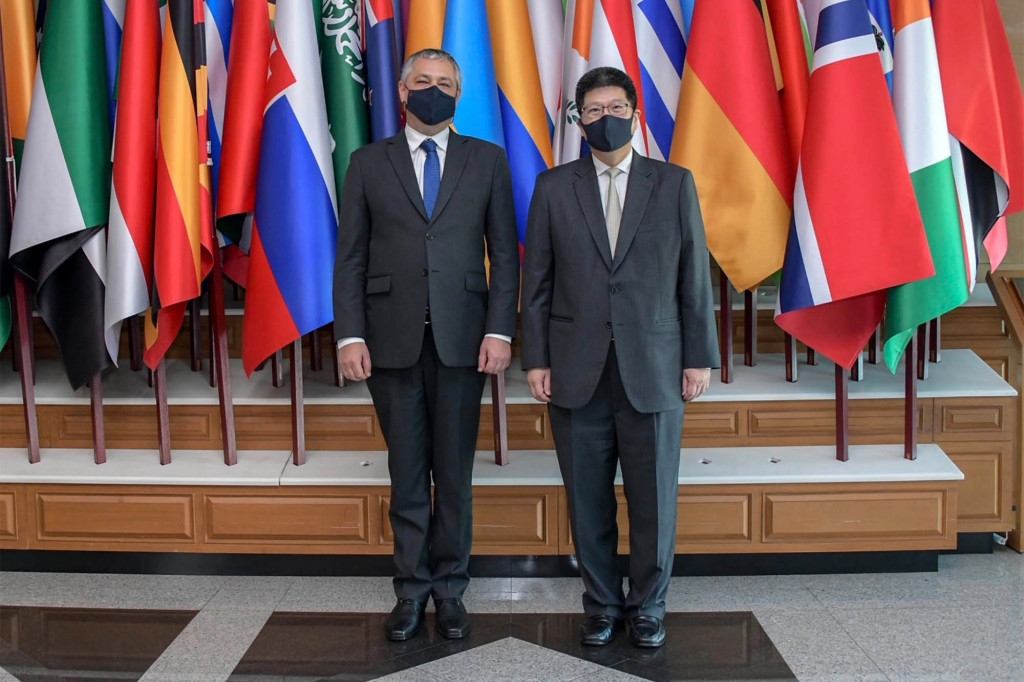 Ukraine's ambassador to Thailand Andriy Beshta (Left) is seen attending a meeting with an official from the Ministry of Foreign Affairs of Thailand. (Photo: NY Post)
Beshta's son told island cops that his ambassador dad went to sleep around 11 p.m. Saturday, then woke up at 4:30 a.m. violently ill.
The ambassador vomited until he lost consciousness and died soon after.
A preliminary hospital autopsy "concluded he died from a heart attack," said Ekkarat Leesen, governor of Thailand's Satun province, where the island is located, to the outlet, NY Post reported.
"We ruled out 100 percent that he died of Covid," the government official said.
Emergency declared as New Zealand floods threaten thousands of homes
New Zealand authorities declared a state of emergency in the province of Canterbury on Sunday (May 30), as the region was pounded by heavy rain that could force thousands of people to abandon their homes.
Acting Emergency Management Minister Kris Faafoi, who visited the hardest-hit southern parts of the area, said about 3,000 homes were at risk and the army had been mobilised to assist with evacuations if necessary.
"The rain is going to stick around until at least tomorrow. It will be heavy and the authorities will be watching those river levels tonight," Faafoi said.
The New Zealand Meteorological Service has issued a rare "red" warning for the area, with up to 300mm of rain expected to fall in inland areas.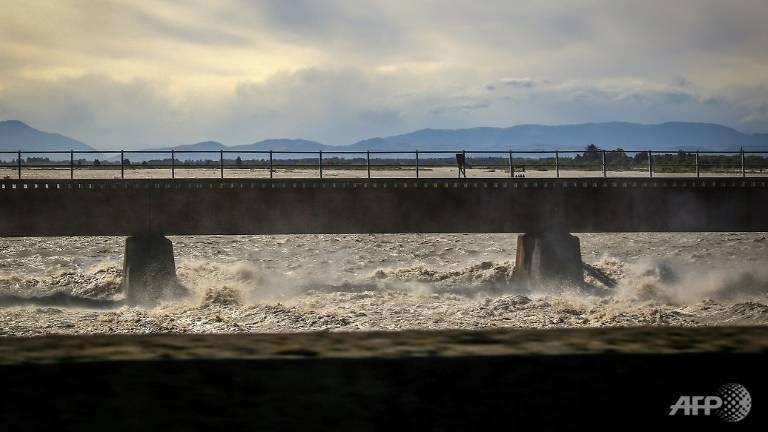 The Ashburton River flows under a railway bridge south of Christchurch, New Zealand. (Photo: AFP)
In coastal Christchurch, the main city in Canterbury, forecasters expected about 100mm to fall, well above the monthly total average for May.
Canterbury Civil Defence emergency management group controller Neville Reilly told the New Zealand Herald that the state of emergency was declared because authorities could not afford to take chances.
Neil Brown, the mayor of Ashburton, said about 4,000 people in the town could be forced to evacuate if the Ashburton River breaks its banks, AFP reported.
UFOs seen swarming US Navy Ship
A video of ship radar posted by filmmaker Jeremy Corbell, showing over 14 unidentified flying objects (UFOs), is doing rounds on social media platforms.
A video of ship radar showing over 14 unidentified flying objects (UFOs) is doing rounds on social media platforms. The video was shared by filmmaker Jeremy Corbell, who had released another footage earlier, and claims that both the footages are from the same incident that happened in July 2019.
The filmmaker claims that the visuals were recorded almost two years ago when the US Navy ship, namely, USS Ohama, was near the coast of San Diego.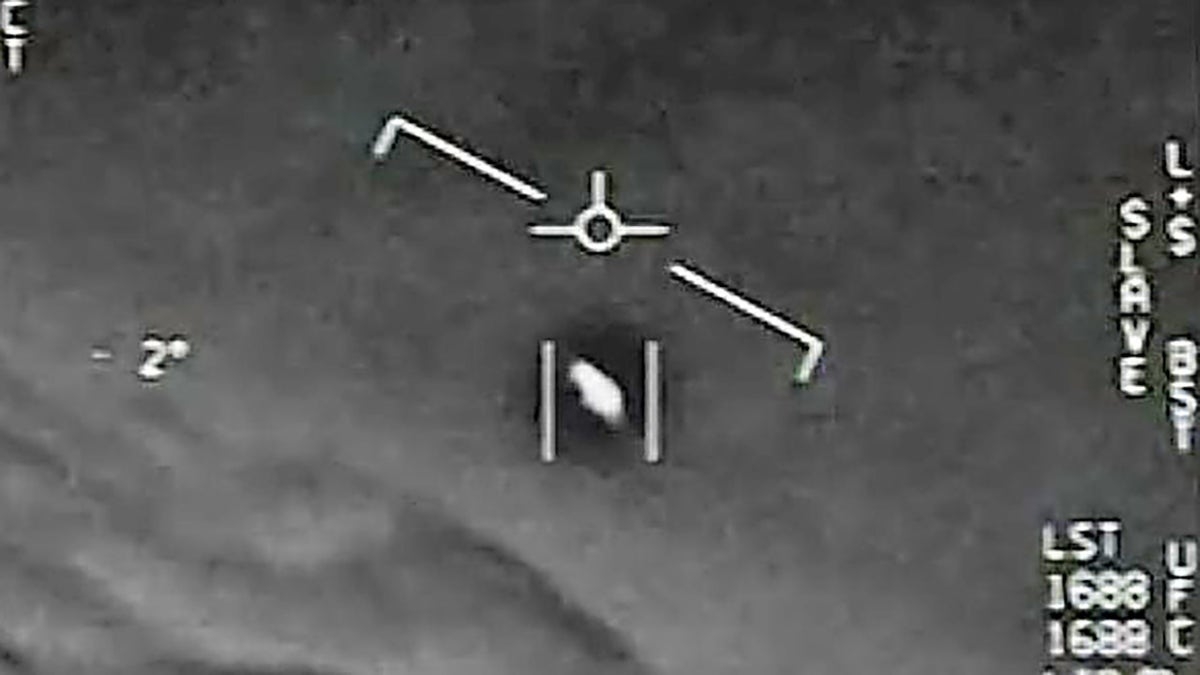 (Photo: Fox News)
As per the post on social media by Jeremy Corbell, the speed of the UFOs was between 70 to 250 kilometers per hour, according to Zee News.
While sharing the footage on social media platforms, including Twitter and Instagram, Jeremy Corbell wrote, "This footage was filmed in the Combat Information Center of the USS Omaha on July 15, 2019 in a warning area off San Diego. This RADAR data release shows four clips; multiple unknown targets. Some of the unknown targets drop off RADAR in this footage. At the height of the contacts - there were at least fourteen unknowns observed at one time. The event series reached a crescendo with one of the unknown targets entering the water at 11 pm. No wreckage found. None of the unidentified craft was recovered."
Gold price forecast – gold markets recover after early sellfoff
Gold markets initially fell during the trading session on Friday but found buyers near the $1880 level to turn things around and form a supportive looking candlestick.
Gold markets initially fell during the course of the trading session on Friday but found quite a bit of support near the $1880 level. At this point time, the market is likely to continue to see buyers on these dips, but I believe that we could fall closer towards the $1850 level. All things being equal, the 50 day EMA is starting to race towards that area so that could tie together quite nicely in that general vicinity.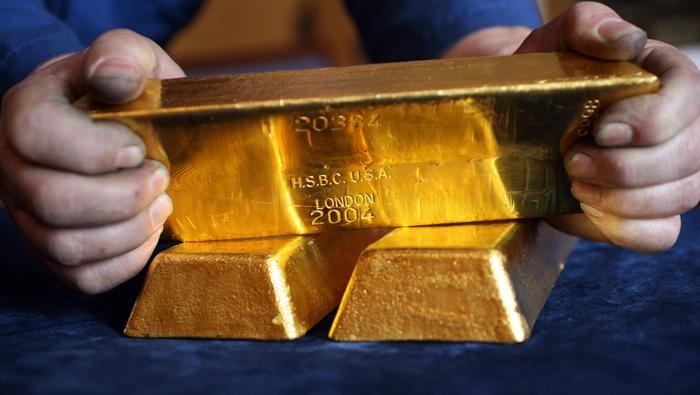 (Photo: Daily FX)
On the other hand, if we break above the top of the candlestick for the Wednesday session, then it is likely that we could go looking towards the $1950 level, and even towards the $2100 level for quite some time, FX Empire reported.
Jasmine Le