World news today: Italian bridge collapse, UK needs more ventilators for coronavirus crisis, Pink Moon seen around the world
World news today: A road bridge has collapsed in Aulla, northern Italy but fortunately, no one dies. The NHS is scrambling to get foreign-made ventilators into hospital ahead of coronavirus peak.      
World news today: Bridge collapse in Italy, two drivers survive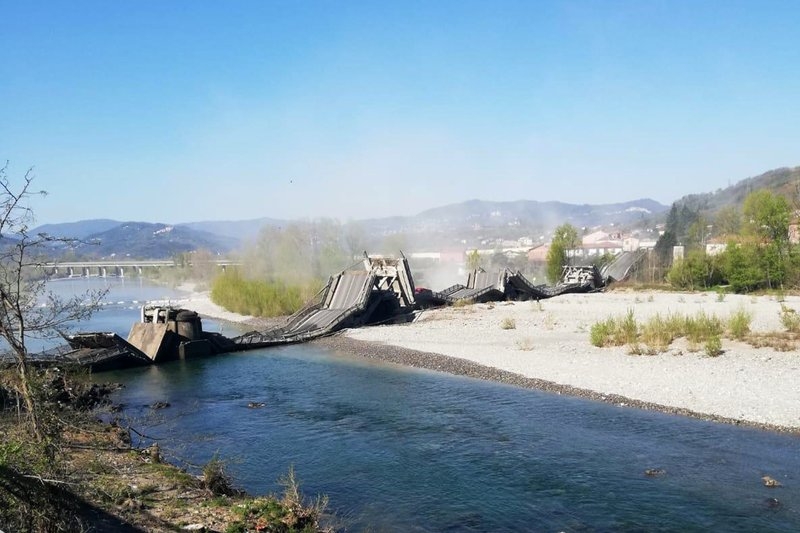 Photo: Tano Pecoraro/LaPresss via AFP
A road bridge has collapsed in Aulla, northern Italy but fortunately, no one dies.
Reports say there were two vans in transit when the bridge broken into several sections and fell onto the banks of the river Magra.
Because of the country's nationwide coronavirus lockdown, only two vehicles were crossing the bridge at the time.
One man was taken to hospital via helicopter with minor injuries, while a second individual escaped unharmed from his vehicle, Euro News reports.
The bridge collapsed on itself," said the Mayor of Aulla, Roberto Valentini, who carried out an inspection on site.
"In normal times it's a very busy bridge, but with the coronavirus lockdown this morning when the failure occurred, only the two vans were involved," said an executive for local traffic police.
In 2018, the collapse of the Morandi Bridge in Genoa killed 43 people.
Word news today: UK needs more ventilators for coronavirus crisis
The NHS is scrambling to get foreign-made ventilators into hospital ahead of coronavirus peak.
As the Guardian reports, there are around 10,000 ventilators available to the NHS at present but the health secretary, Matt Hancock, has said the UK needs 18,000 to be sure of dealing with the rising numbers of cases – prompting intense efforts to get more.
US President Donald Trump says the UK contacted his administration asking for 200 ventilators which it 'desperately' needs to get through the coronavirus pandemic, cited Business Insider.
The President on Tuesday told reporters: "The UK called today and they wanted to know would it be possible to get 200 and we're going to work it out, we've got to work it out.
Ventilators are the most vital tool in helping those worse affected by coronavirus, and work by taking over the patient's breathing function.
Downing Street said that the NHS had ordered ventilators from suppliers in several countries in the race to be prepared. "We have been sourcing ventilators from around the world and that includes the US," the prime minister's spokesman said.
World news today: Trump thanks Vietnam for COVID-19 protective suits
U.S. President Donald Trump expressed his gratitude to Vietnam Thursday for sending 450,000 protective suits to help frontline healthcare professionals fight the Covid-19 pandemic.
This morning, 450,000 protective suits landed in Dallas, Texas. This was made possible because of the partnership of two great American companies—DuPont and FedEx—and our friends in Vietnam. Thank you!" he wrote on his Twitter account.
The tweet received over 40,000 'likes' and 9,000 'shares' after it was posted.
The US and Vietnamese governments have cooperated extensively in the fight against Covid-19. Since the crisis, the Centers for Disease Control and Prevention (CDC) and the United States Agency for International Development (USAID) have been working with Vietnamese officials to monitor and respond to the COVID-19 outbreaks.
"The United States has invested more than $706 million over the past 20 years in health assistance in Vietnam and has provided substantial technical and financial support over the last decade to prevent, detect and respond to emerging and serious infectious disease", US Ambassador to Vietnam Dan Kritenbrink said.
Most recently, the US Department State on its website that the U.S would aid Vietnam with nearly $3 billion in health assistance to help fight the ongoing COVID-19 pandemic. Specifically, the aid would help Vietnam prepare laboratory systems, activate case-finding and event-based surveillance, support technical experts in response and preparedness, risk communication, infection prevention and control.
World news today: Japan graduation uses robot wearing tablet to replace students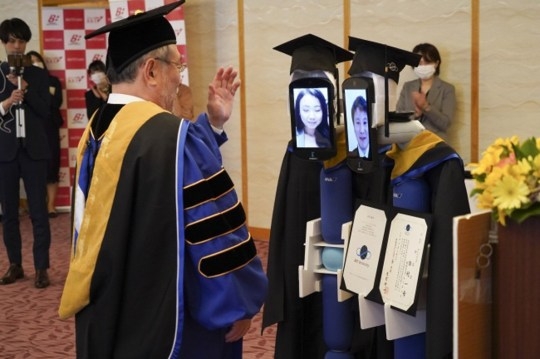 Photo: Business Breakthrough University
Students in Tokyo's Business Breakthrough University weren't able to have a traditional ceremony due to coronavirus. However, the university came up with an innovative ideal so that their students would not miss this important milestone.
Using Newme robots, also known as avatar robots, graduates were able to use iPads to virtually graduate and "walk" across the stage to receive their diplomas.
They also had arms to accept their degrees and were remotely operated by a small number of students with experience in handling them.
The students operating the 'newme' robots from their homes had their faces on the tablet screen as they went up to collect degrees on behalf of their graduate mates.
The remaining graduates watched online from Zoom as their names were called out.
The university hopes its approach can be adopted by other schools looking to avoid mass gatherings.
"I think this is truly a novel experience to receive a certificate in a public area while I am in a private space," Kazuki Tamura said via his computer avatar when receiving his master's degree diploma.
World news today: Super Pink Moon seen around the world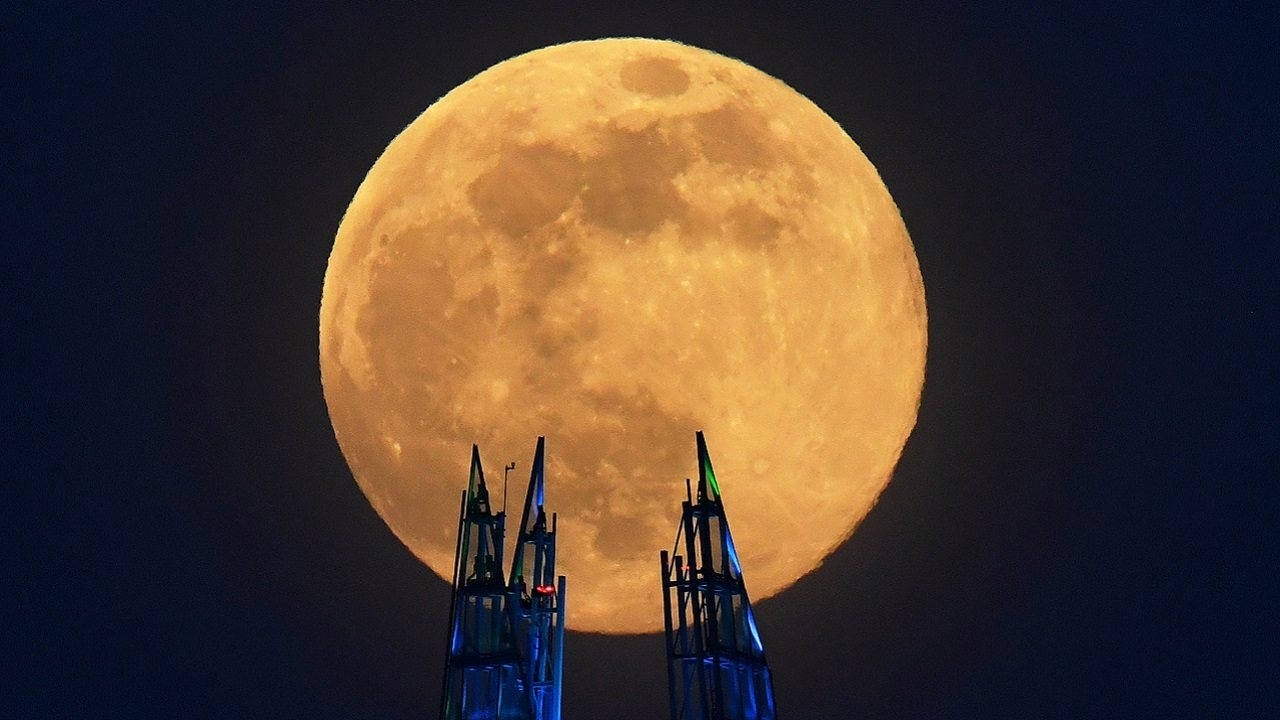 The Pink Supermoon rises over the Shard skyscraper in London in an astronomical event that occurs when the moon is closest to the Earth in its orbit, making it appear much larger and brighter than usual, in London, Britain, April 7, 2020. (Photo: Reuters)
April's super pink moon, the largest and brightest supermoon of 2020, was seen in the skies around the world on April 7, 2020.
According to LiveScience, April pink moon is a supermoon. It has also been known as the "sprouting grass moon" or "egg moon," heralding other first signs of spring.
The full moon is about 0.1% closer to Earth than the March full moon was, making it the most super of the supermoons for 2020, NASA reported. Moreover, this pink supermoon will appear 7% larger than an average full moon.
The moon itself won't look pink, but it may appear more golden as it rises above the horizon and covered by an opaque pink cloud or haze. That's due to an effect caused by our atmosphere, similar to how the sun can appear more red as it rises and sets.
So, why does it get a pink moniker? It's named for the pink wildflower Phlox subulata, which blossoms in eastern North America in the early springtime, Space.com reported. If you're unfamiliar with its scientific name, perhaps you'll recognize it by the common names of wild ground phlox, the creeping phlox, moss phlox and the herb moss pink.