World news today: Wuhan screens nearly 10 million people in citywide COVID-19 tests
World news today June 3: Mass COVID-19 testing in China's city of Wuhan, Russia's plan to spend $70 billion on revamping the country post-pandemic, US Secretary of State rebukes China for aggressive behaviour on Sino-India border and East Sea, massive queues as McDonald reopens, and gold prices are making headlines today (June 1).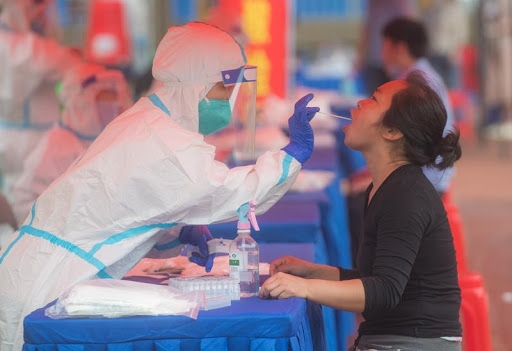 A resident takes nucleic acid test at a testing site in Dongxihu District in Wuhan, central China's Hubei Province, May 15, 2020 (Photo: Xinhua)
Wuhan screens nearly 10 million people in citywide
COVID-19 tests
Wuhan, in central China's Hubei Province, tested nearly 10 million residents in a 19-day drive to screen for novel coronavirus infections, with officials hailing the effort as ending "psychological lockdown" for the virus-ravaged city.
The city tested 9,899,828 people between May 14 and June 1. No confirmed COVID-19 cases were found in the process, 300 asymptomatic cases were found and quarantined. All the tracked 1,174 close contacts tested negative for COVID-19 and were also quarantined, Xinhuanet reported.
On May 14, the city launched a campaign to offer nucleic acid tests to those not tested before.
Residents queued up across the city at makeshift sites set up under tents in parking lots, parks and residential communities to give nucleic acid test samples — with roughly half a million such medical checks conducted every day during the period, according to The Hindu.
Executive Deputy Mayor Hu Yabo said the city spent 900 million yuan (126 million U.S. dollars) on the tests, which was "totally worthwhile" as it reassured Wuhan residents, as well as the whole nation, and will help the city bring its social and economic activities back on track.
The city's health commission said the tests were voluntary and free, with all costs borne by the government.
"Wuhan is now safe, and Wuhan people are safe," Li Lanjuan, a renowned Chinese epidemiologist told Xinhua Net.
The official death toll in the country of 1.4 billion people stands at 4,634 — most in Wuhan, and well below the number of fatalities in much smaller countries.
However, doubt has been cast on the reliability of China's numbers and the United States has led the charge in questioning how much information Beijing has shared with the international community.
Russia to spend over $70 billion on virus recovery plan
The programme to boost employment, incomes and economic growth "contains over 500 measures, its cost over two years will be about five trillion rubles," Mishustin told President Vladimir Putin in a televised meeting.
Putin described the plan as a "foundation" for repairing the economy and for "long-term structural change."
Putin said the epidemic had "seriously impacted all spheres of life" and added that he expected to launch the recovery plan next month.
(Photo: The Penisular Quatar)
Russia has already introduced targeted tax cuts and provided some emergency aid for families, children and people...
Large sections of the economy were inactive for weeks, with some regions only recently beginning to ease anti-virus measures. Labour Minister Anton Kotyakov said this week that over two million people in the country were registered as unemployed.
Analysts at the Boston Consulting Group last week predicted unemployment could triple from the pre-crisis figure of 4.6 percent, based on in its projections for the worst-case scenario. The government's forecast predicts the economy will shrink by 9.5 percent in the second quarter and up to six percent for the current year.
The lockdown compounded existing problems for the Russian economy, ranging from effects of sanctions following the 2014 Crimea annexation, to the oil price crash this year, deccanherald reported.
US Secretary of State rebukes China for aggressive behavior on Sino-India border and East Sea
US Secretary of State Mike Pompeo accused China of using 'tactical situation' to threaten others on the Sino-India border and the South China Sea which Vietnam calls the East Sea (Bien Dong Sea).
"General Secretary Xi (Jinping) is intent on building out his military capabilities. Our Department of Defence is doing everything it can to make sure it understands this threat,'' he said during a recent interview with Fox News.
Currently there are more than 60 bills in Congress, a majority of whom are bipartisan, against China, Pompeo said.
Pompeo was referring to Trump's remarks from the White House rose garden on May 29, in which he called out China for a variety of actions that he said were against US interests, including allegedly covering up details surrounding the coronavirus outbreak, stealing intellectual property, and actions in the South China Sea.
"The list is long, whether it's stealing American intellectual property, destroying hundreds and millions of jobs here in the US, or their efforts to put at risk sea lanes in the South China Sea, denying commercial traffic the opportunity to move through, armed encampments in places that China has no right to be," Pompeo said.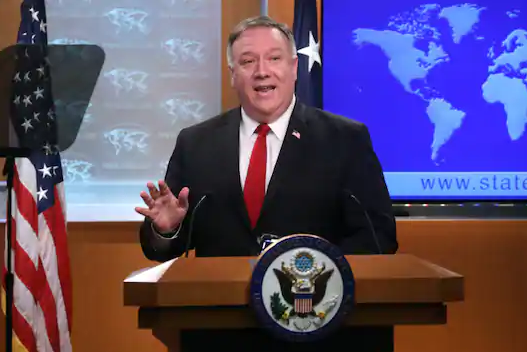 U.S. Secretary of State Mike Pompeo addresses a news conference at the State Department in Washington, U.S., April 7, 2020. REUTERS/Leah Millis/Pool
China is engaged in both the South China Sea and the East China Sea. Beijing has built up and militarised many of the islands and reefs it controls in the region. Both areas are stated to be rich in minerals, oil and other natural resources and are vital to global trade.
"They (the Chinese Communist Party) have become more aggressive in their efforts to do disinformation campaigns like we saw when the coronavirus was moving around the world, when they closed down their own province but allowed travel around the world, infecting hundreds of thousands of people. We saw the disinformation of that campaign trying to deflect attention," he alleged.
Also, in comments released by the State Department, Pompeo told the American Enterprise Institute thinktank, according to Reuters, China's moving of troops to the line of control echoed similarly heavy-handed behaviour over the coronavirus, the South China Sea...
Along with Pompeo, a senior congressional leader have reprimanded China for bullying behaviour towards India during a military standoff on their disputed border.
The chairman of the US House Committee on Foreign Affairs, Eliot Engel, said China should respect norms and use diplomacy to settle the border issue with India.
Massive queues as McDonald's reopens Scottish drive-thru restaurants
The fast-food giant closed all of its outlets more than 10 weeks ago as lockdown restrictions came into force.
The company said it was now aiming to reopen 1,000 of its drive-thru or delivery outlets by Thursday.
McDonald's said Perspex screens, face coverings, gloves and social distancing measures were in place.
Last week the company said that it would reveal the locations of the restaurants that were to open their doors on the day of each reopening to help manage demand. They said they were also working with police and local authorities.
Police could be seen monitoring the queue at the Pollokshaws branch in Glasgow on Tuesday morning, BBC reported.
Staff were also seen directing traffic at the restaurant in Bucksburn, Aberdeen as drive-thru lanes reopened and traffic backed up.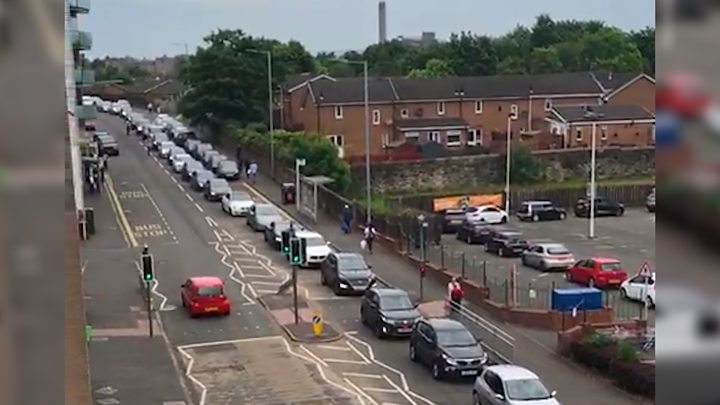 Cars line up outside the store (Photo: BBC)
For the moment, McDonald said it was offering a limited menu only and was capping spending at £25.
Rivals, including Subway, Burger King, Pret A Manger, Nando's and Wagamama, have recently laid out plans to rapidly open more sites as restaurant chains get to grips with social distancing
A McDonald's spokeswoman said: "This is only possible following the hard work of the teams in our 44 pilot restaurants."
She added: "With fewer employees working in our kitchens and service areas, our teams will still need your patience and support as they continue to adjust to the new ways of working."
Gold prices finish lower for a second session
Gold futures relinquished modest early gains on Tuesday to end lower for a second straight session, as buoyancy in global stock markets pressured prices for the metal.
Jim Wyckoff, senior analyst at Kitco.com, attributed the turn lower to "just normal profit taking by the shorter-term futures traders in an overall price uptrend."
Gold for August delivery GCQ20, -0.08% on Comex lost $16.30, or 0.9%, to settle at $1,734 an ounce after declining by less than 0.1% on Monday. July silver SIN20, +0.02% dropped 57 cents, or 3%, to $18.26 an ounce, more than erasing the 1.8% rise it scored a day earlier.
"Gold has been steady through protests turning into riots around the country, U.S.-China tensions are still rising, not getting better," Jim told MarketWatch.
Investors remain wary of rising Sino-American trade tensions even as the economies reopening from forced closures due to the COVID-19 pandemic have dulled some of the safe-haven luster from the commodity.
Dollar-pegged commodities have been buttressed from a weaker greenback, which precious metals are priced in. The ICE Dollar Index DXY, -0.20%, a gauge of the buck against a half-dozen currencies, was down 0.1% on Tuesday and has declined 0.7% over the past two sessions to 97.72. A weaker buck can make assets priced in the currency more appealing to buyers using other monetary units.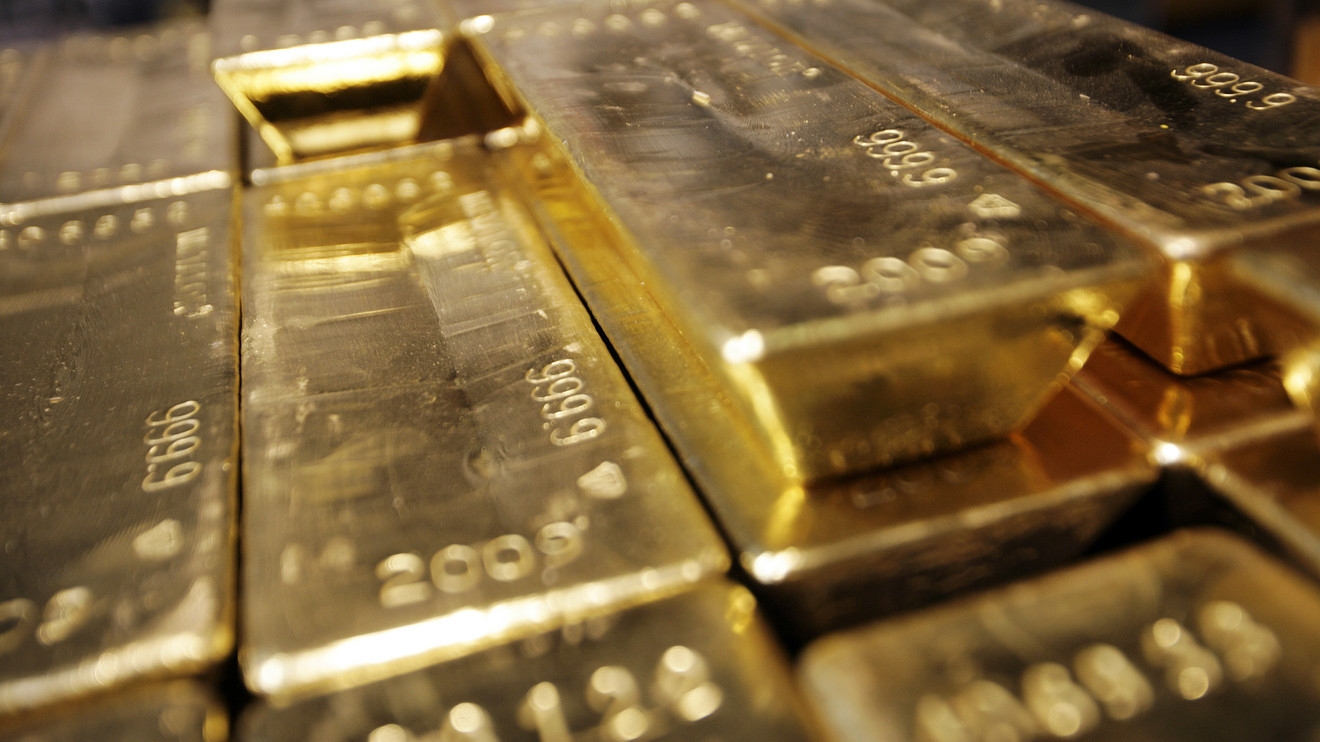 (Photo: Market Watch)
Bullion prices were facing some headwinds from a continued revival in investor appetite for stocks as they climb back from a March rout induced by fears about the dire economic implications of the spread of the novel strain of coronavirus and the effects of measures to curtail the infection.
Global equity markets climbed Tuesday and U.S. benchmark stock indexes were higher as gold futures settled, undercutting some demand for the metal.
Meanwhile, economic stimulus measures enacted by the Federal Reserve, including near-zero interest rates, and fiscal stimulus around the globe have, overall, supported bullion buying, experts said.
Meanwhile, economic stimulus measures enacted by the Federal Reserve, including near-zero interest rates, and fiscal stimulus around the globe have, overall, supported bullion buying, experts said.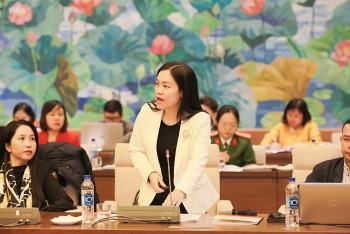 Friendship
Doan Thu Huyen, Vietnam Country Director for Campaign for Tobacco-Free Kids, made the statement at the "Child Downing Prevention" seminar.