WSJ outlet: Vietnam among of the countries conquer Coronavirus curve
The New York-based newspaper Wall Street Journal has released an article, in which Vietnam's success in containing the COVID-19 pandemic was hailed, saying the country's prompt response is likely to boost the country's credibility among global manufacturers.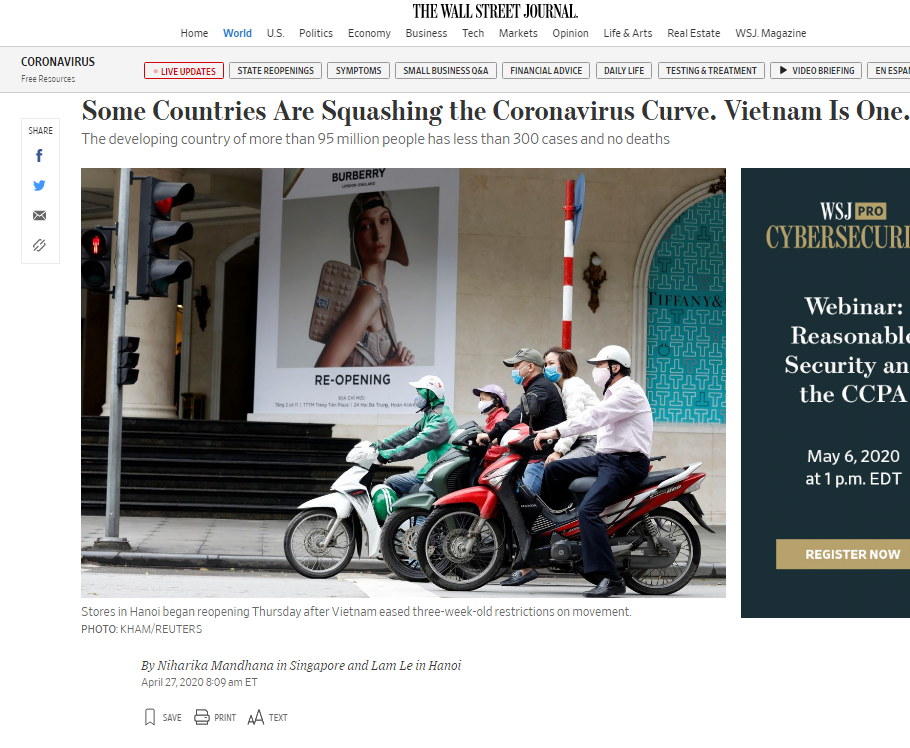 Wall Street Journal hails Vietnam's response to COVID-19 pandemic (Photo: captured)
"The developing country of more than 95 million people has less than 300 cases and no deaths", the article titled "Some Countries Are Squashing the Coronavirus Curve. Vietnam Is One" begins.
Vietnam's leader is reported to have likened the novelcoronavirusto an enemy the nation must fight since the dawn of the outbreak.
"We should not forget that we have only won individual battles, not the whole fight," Deputy Prime Minister Vu Duc Dam was quoted as saying last Friday after some restrictions order was gradually eased across the country, while some countries, including Singapore in the region, confront new waves of infection after early successes.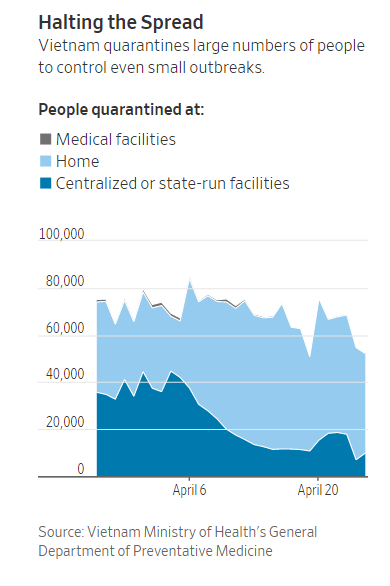 Line graph showing the number of people under quarantine from April 6-20 (Source: Vietnam Ministry of Health's General Department of Preventive Medicine)
"Three months after its first case was detected, the Southeast Asian country appears to have beaten back the virus, at least for now", which, according to the article, was attributed to "timely, aggressive quarantine regime that involved housing tens of thousands of people in military barracks, university dormitories and other state-run centers and social distancing order", adding that contact tracing is a crucial method Vietnamese government relies on.
Accordingly, the article said Vietnamese health authorities publish widely-read details of the person's activities on government websites, newspapers and social media, for instance, which restaurant they visited and how much time they spent at a market, urging people to come forward if they think they may have come into contact.
Vietnam's prompt response to numbers of cases linked to Hanoi's Bach Mai Hospital, with mass testing and the facility's two-week lockdown was also mentioned.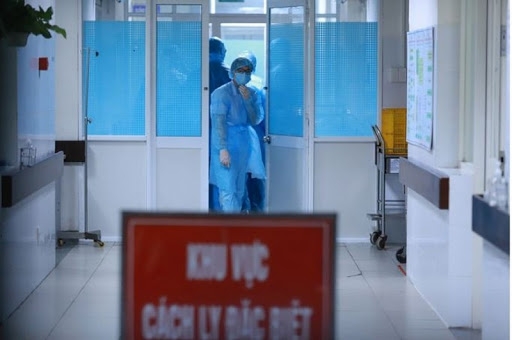 One corner at quarantine zone in Vietnam (Photo: Lao Dong Thu Do)
Julien Brun, Ho Chi Minh City-based managing partner at CEL, which advises multinationals on emerging-market investments claims Vietnam's response to the pandemic so far is likely to further boost its credibility, given the fact that the country is already a top choice for global manufacturers looking to diversify out of China.
Although factories in the country exporting clothes and shoes are currently reeling from massive cancellations of orders, more production across different sectors could move to Vietnam longer term, Julien commented.
On top of that, Niharika Mandhana, the Singaporean journalist contributing to the article also lauded Vietnam's efforts in conducting mass sample testing during the past months.
"The developing country—lacking Singapore or South Korea's resources—has tested more than 210,000 samples. That is a moderate number in relation to its population but high in the context of the size of its outbreak. Vietnam has conducted more than 780 tests per confirmed case, a higher figure than New Zealand or Taiwan, showing a vast proportion of its tests are coming back negative", it said.
"Vietnam took very early and drastic actions," Le Hong Hiep, a fellow at the Singapore-based ISEAS-Yusof Ishak Institute told WSJ. The reason, he said, was that Vietnam, a one-party state similar to China, better understands the workings of its neighbor's political system and suspected early on that the coronavirus outbreak may be severe.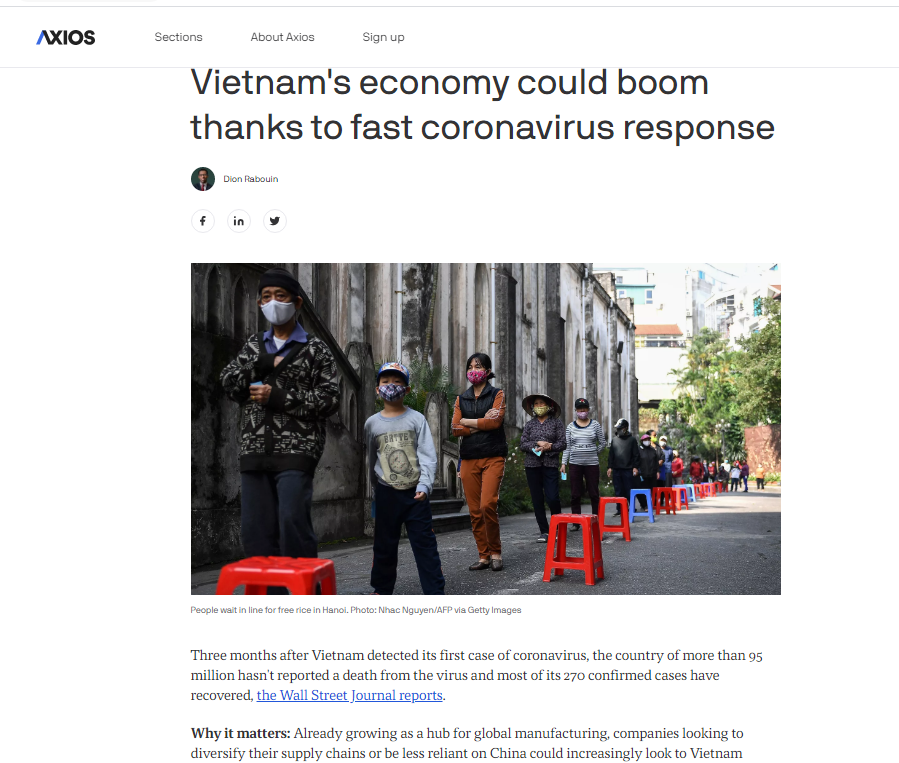 Another American news website AXIOS thinks of a positive outlook for Vietnam's economy after the epidemic (Photo: captured)
The article is also republished on other international media outlets, including Newstral, Headtopics, Ritholtz, etc.
The American news website AXIOS, in an article named "Vietnam's economy could boom thanks to fast coronavirus response" also cited this article of WSJ, commenting "aggressive testing and quarantining appear to be the keys to Vietnam's success", and "The country moved fast to contain any outbreak, too".
Economy
Organized by Informa Markets Jewellery since 2012, the Jewellery World Awards (JWA), formerly known as JNA Awards, unveiled its highly anticipated roster of Honourees for its 2021 edition.