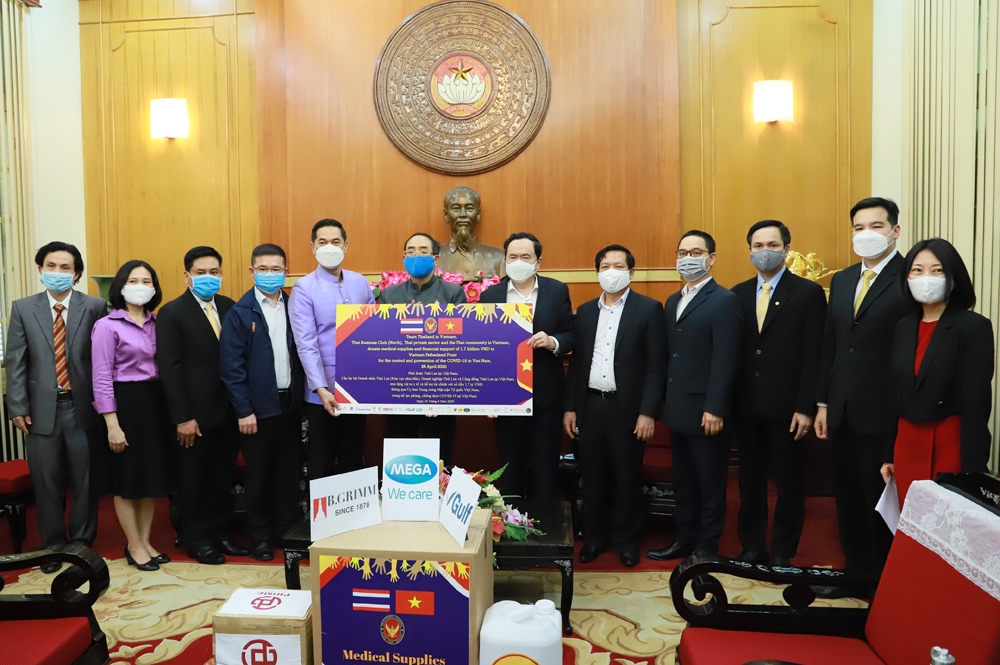 VFF President Tran Thanh Man received VND1.7 billion in cash and some medical supplies from Thai Embassy and Thai business community in Vietnam. Photo: Daidoanket
On the afternoon of April 28 in Hanoi, the Ambassador of the Kingdom of Thailand to Vietnam Tanee Sangrat, President of the Thai Entrepreneurs' Club and representatives of Thai businesses and community in Vietnam handed over a number of medical supplies to help Vietnam fight against the COVID-19 pandemic.
Besides these supplies, they also donated VND1.7 billion in cash to the fund for COVID-19 prevention and control managed by the Vietnam Fatherland Front (VFF) Central Committee.
Speaking at the hand-over ceremony, Thai Ambassador Tanee Sangrat said: "This support demonstrates the spirit of the Thai community in Vietnam. We also consider ourselves as Vietnamese."
The Ambassador also congratulated Vietnam's success in the COVID-19 prevention and control. He hoped that both countries will soon overcome the epidemic.
VFF President Tran Thanh Man expressed his appreciation to the meaningful gift from the Thai Business community.
The timely support from the Thai Embassy and business will greatly contribute to help Vietnam in the fight against the coronavirus. It also shows the friendly and deep ties between the two countries, Man said.
As of April 28, Vietnam has not reported any new cases of COVID-19 infection for 12 consecutive days. Out of 270 cases of COVID-19 infection, 222 have successfully recovered, 48 are under treatment.
Jennifer Tran