Yearly Horoscope 2021: Astrological Prediction for Sagittarius
Yearly Horoscope 2021 for Sagittarius: What an absolute turning point kind of the year 2021 will be for you, Sagittarius! There is miraculous energy all around you that is quite refreshing for your benevolent sign of the Centaur.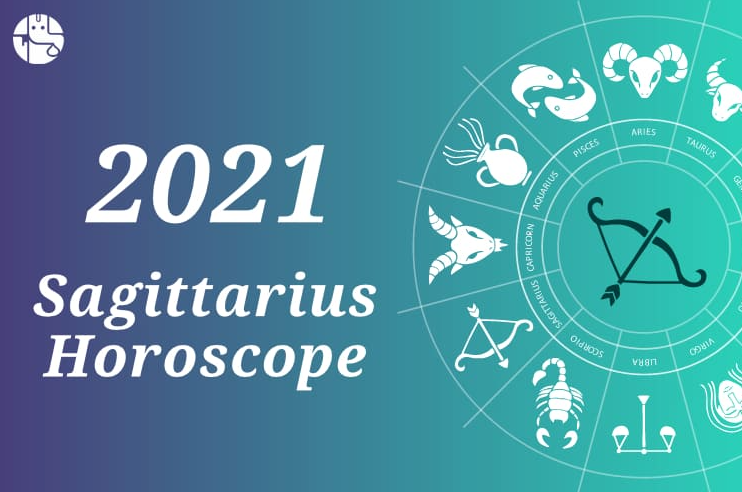 Photo: Ganeshaspeaks
Sagittarius Horoscope 2021 Overview
This year may be favorable to expand your social circle. You are likely to be in a spree to meet new people and even new friends. Business and professional excellence may come in a delayed fashion. However, you will see positive results with the help of your hard work and determination. There are chances that your education and higher studies may be impressive and fulfilling.
It is impossible to keep you down for too long! The year 2021 begins with many wonderful opportunities and auspicious events – marriage, educational pursuits and new career options are plentiful. You will also enjoy a fair degree of financial decadence – saving is advised! Ultimately, this is a wonderful time and you will be very expansive and positive, but it is also possible that something is worrying you, says Astroyogi.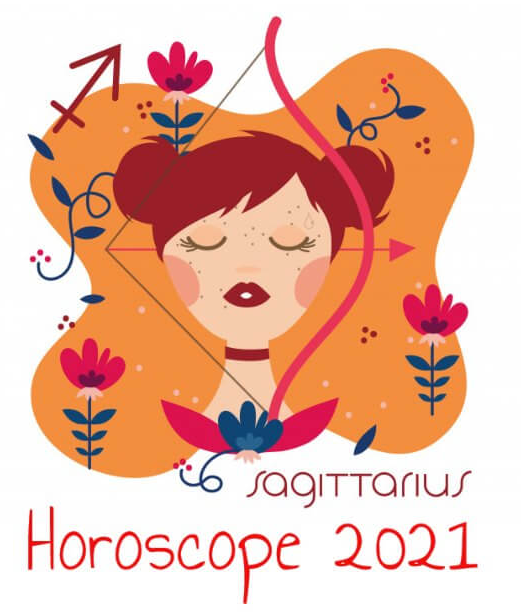 Photo: Yearly-Horoscope
Sagittarius Love Horoscope 2021
In 2021, listening skills and careful communication are needed to keep the romance alive! If you're in a relationship, the year brings your partnership many gifts of honor, respect, and luck. The eclipse cycles overall are going to be potent zones of change. Couples are going to have to go through the doorway together with in some capacity, especially between mid-May and through early July. This is just a turning point where you are asked to face your destiny whether you are prepared or not! It's a time where teamwork really holds true to everyone involved whether your partnership has a large family connected or it's just the two of you.
For those Sagittarians seeking partnership, you are going on a quest for love this year! The eclipse cycles of the year are going to bring you every scenario you can think about. There's a lot to really dive into psychologically, and you might even need a little help from a relationship counselor during this cycle. Remember that this is a theme for the next twelve months ahead, even as you are met with May, June, November, and December lunar eclipses! So, getting ready for the shits and changes in early January will be the best method of keeping yourself centered throughout the entirety of 2021.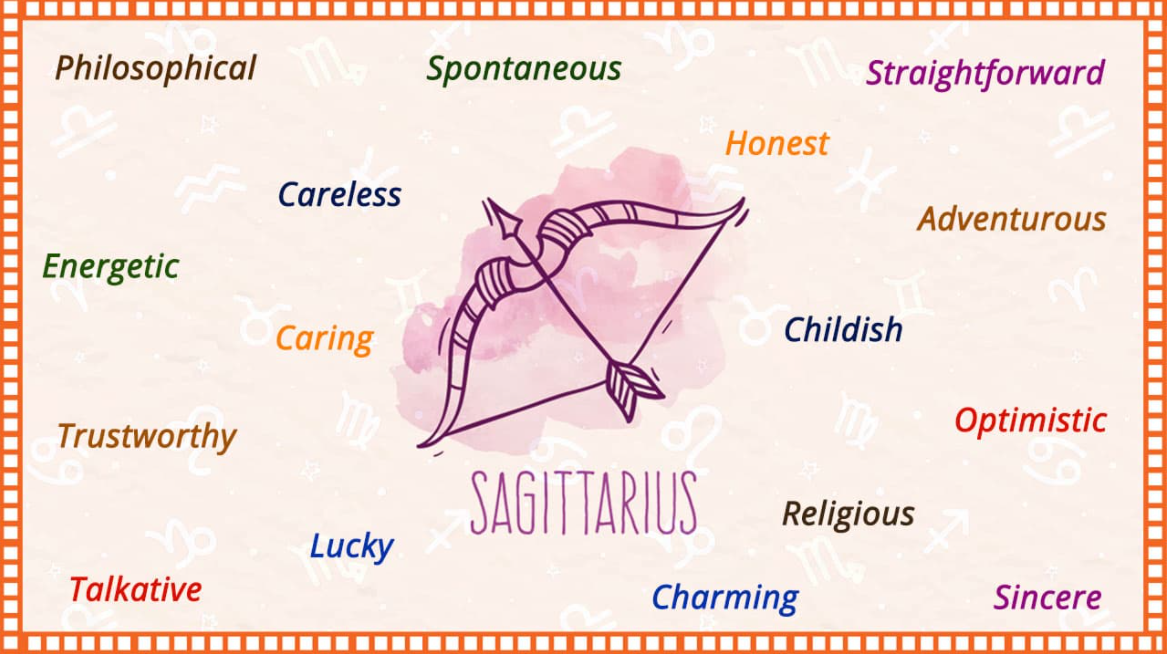 Photo: AstroSage
Sagittarius Horoscope 2021 - Favorable year for Careers
According to Sagittarius astrology prediction 2021, the year 2021 is likely to bring many surprises for you. There are chances that your education and higher studies may be impressive and fulfilling, says Sagittarius 2021 horoscope. As the year will progress, you may also realize that luck and divine grace is here to stay.
The year 2021 begins with many wonderful opportunities and auspicious events – marriage, educational pursuits, and new career options are plentiful. The initial four months of the year are likely to be spent on planning your activities. Energy levels will be high and so is your enthusiasm. There is a high possibility of being meticulous in your action and may also try to leave no stone unturned. The effects of good planning and execution will be seen for the rest of the eight months of the year 2021, according to Ganeshaspeaks.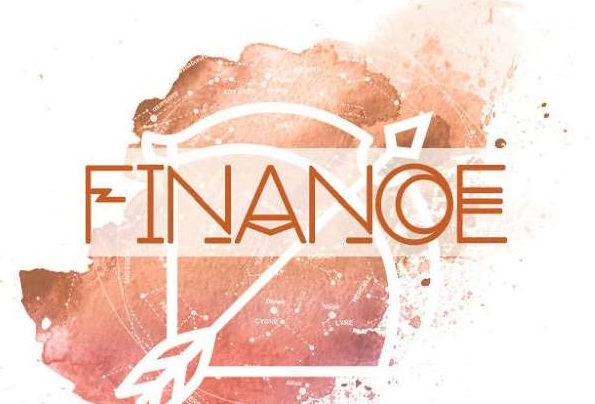 Photo: MSN
Horoscope 2021 - Sagittarius' Finance Situation
The start of this year is very financially successful and you are in a very comfortable position. It's easy for you to save, seek advice, and make wise investments. You have to guard against a tendency to have a very relaxed attitude to money – you tend to be very content about the fact that money can come and go and this may cause you to trigger plenty of financial feasts and famines.
By February, as Mercury heads into Capricorn on the 4th, you'll start tapping into your own instincts regarding money. You idealize freedom and therefore if you can earn without feeling tied to a company, boss or organization. In spring there may be a gentle financial downturn and your financial rewards may not reflect your hard work.
This is only temporary though so don't be concerned. By July, high expenses begin to die down and you get your footing again thanks to Mars moving into motivated Leo on the 20th. August sees your finances grow and blossom and the correlation between how hard you work and what you earn is undeniable with Mercury's move into Virgo on the 26th making your next steps obvious. You end this year with some final brilliant ideas on how to add to your finances.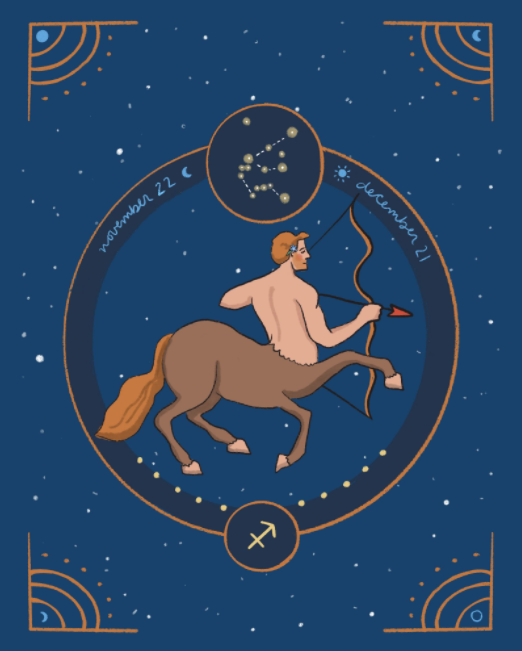 Photo: Martha Stewart
Sagittarius Health Horoscope 2021
From the health point of view, year 2021 proves to be better for Sagittarius natives. However, small troubles may arise, but they won't be as serious as expected. Sagittarius Health Horoscope 2021 predicts that this year, due to the sudden placement of Ketu in the twelfth house of your zodiac sign, some natives are also likely to suffer from fever, boils or minor injuries. However, it will not be serious. In addition, some people may also catch cold, cough, or suffer from any lung related problems.
Apart from this, your year is going to be much better in terms of health. You just need to stay a little cautious. Try and inhale clean air and drink clean water, as doing so will benefit you in the long run.
You are likely to be free from the affiliation of the nodes (Rahu and Ketu). Additionally, the year will be more progressive with regard to health and fitness. You are likely to be conscious of your diet and fitness and this will be visible in your routine activities. Good sleep will reduce mental stress and will make you emotionally more stable and fit.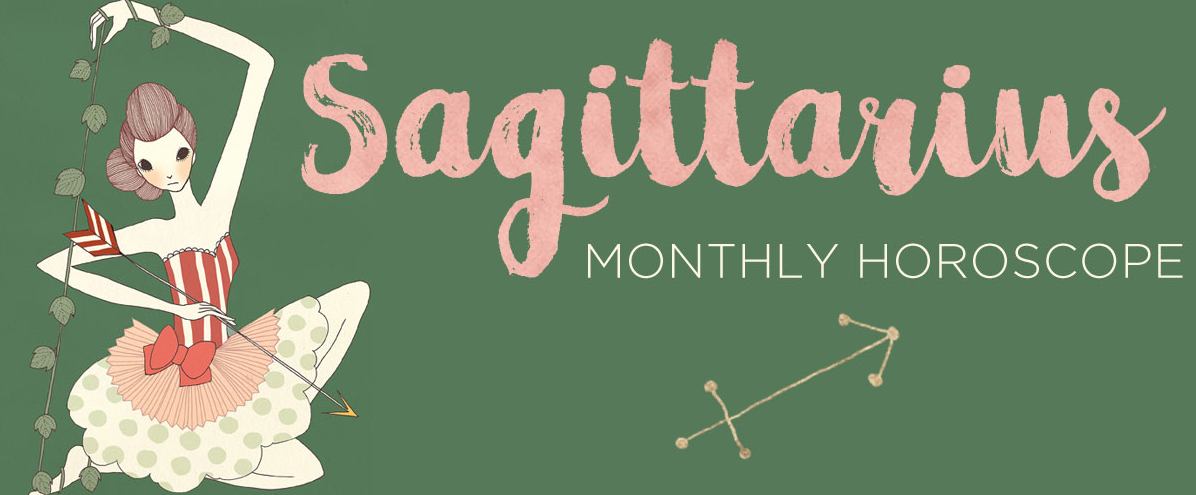 Photo: Prosvet
Sagittarius 2021 Monthly Horoscopes
January: With Venus in Sagittarius from the 4th of January, your faith in life and yourself keeps you strong in times of difficulty and accelerates periods of plenty. Whenever in doubt, just look within and remind yourself of your innate capabilities.
February: There is harmony between family members, children and friends. Your connections with people will work very well during this period. This will also be a time for mending and healing.
March: You will easily get what you want -- especially financially -- with Venus in Pisces motivating you from the 17th. Lingering worries may still need attention and resolution.
April: Jupiter moves into Capricorn on the 6th, and there may be undue demands on your wallet. You may be somewhat volatile with those that caused friction in your close relationships. Fate supports you and helps your dreams come true, so there is little to fear.
May: The May 26 total lunar eclipse in your sign, provides a massive release in your personal life that is both purifying and strengthening. You may feel more exposed than normal, but that is the point of these shifts.
June: As an illuminating annular solar eclipse in Gemini galvanizes your personal seventh house of partnerships on June 10, there is no place to hide. You are out and proud of whatever you believe in.
July: This month encourages you to focus on your mental and physical health. This will be a productive time for studies and for personal introspection.
August: There is pressure at work but nothing that dampens your spirits too much. As Venus moves into Virgo on the 11th, you will be primed to tackle whatever comes up.
September: With Mars in intelligent Virgo from the 6th, you will find that ideas come easily. The pressure at work may be heightened, so make sure you balance your professional and personal lives. Loved ones will bring plenty of relief from stressful situations.
October: October will be relaxing for the first half of the month but become busy in the second. It is during the second half of the month where your work relationships need to be put into focus. This may affect your personal life slightly, but it will be beneficial to your career.
November: When Mars enters Pisceslets, you can slow down for the first half of the month, only to pick back up around the middle of the month, Try to work consistently through this time. It will pay off in the end.
December: Ending the year on a romantic note is a great stroke of luck, isn't it! You begin to think positively about your situation and enjoy plenty of popularity and creativity. You end the year believing that anything is possible, with Venus in Sagittarius from December 30th.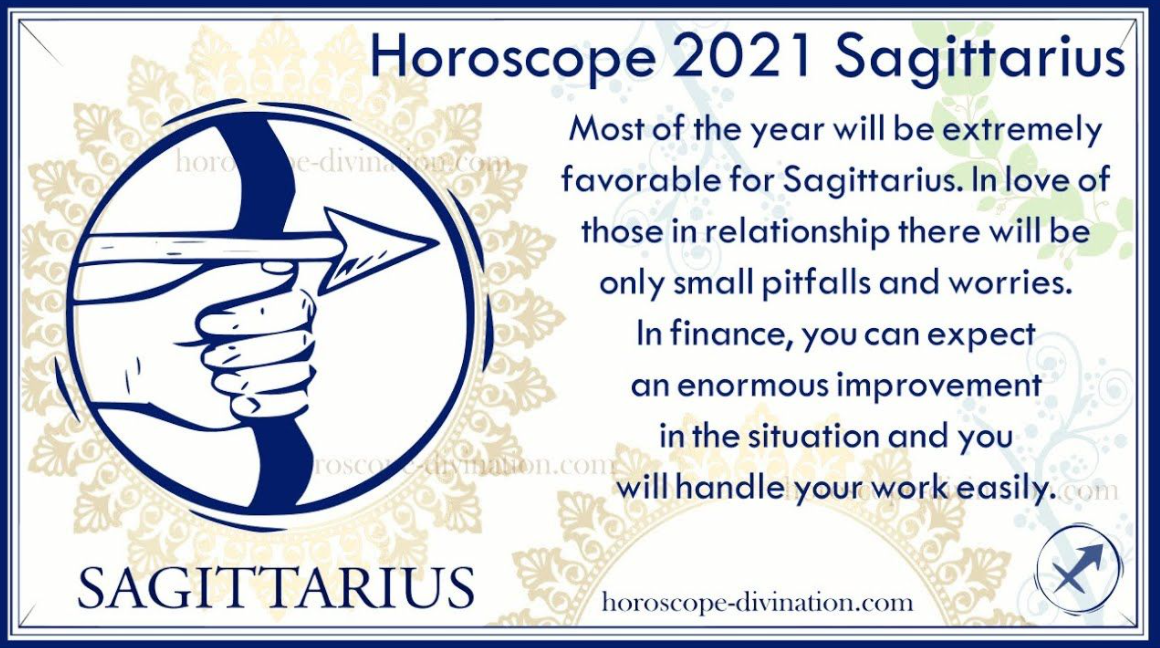 Photo: Horoscope Divination
Conclusion
The yearly 2021 Sagittarius horoscope predicts both ups and downs, but luckily, more ups than downs. This relatively peaceful year brings luck to your finances, career, and social life. However, you still need to put in some hard work. The stars are trying to guide you towards success, but you still need to take the steps to get there yourself!
Lucky months and days for Sagittarius in 2021
During the spring, your ruling planet Jupiter (planet of good luck himself) will move into dreamy Pisces, lighting up your emotional life and bringing comfort and good fortune to your living situation. On May 21, just a week after Jupiter's lucky move in your chart, you'll have a boost of energy to your love life, as the creative sun, romantic Venus, and communication-focused Mercury will cluster together in your house of partnerships.
September and October could bring for most Sagittarius a new direction in love, such as a real estate acquisition, changing, or building a house.
Lucky number for Sagittarius in 2021
The lucky numbers for Sagittarius born people is 3. The years 3, 12, 21, 30, 33, 42, 51, 60 are those which hold special significance in their lives.
Sagittarius Horoscope 2021 - Astrological Remedies
1. Planetary movement indicates that you remain in a strong position on the financial front.
2. Short term travel by business person bears heartwarming results.
3. Job holder inclines to change job, can get optional suitable employment opportunity. Here growth prospects are encouraging and pay more than present.
4. You need to keep enough provision for major unexpected expenses.
5. You need to take due care of health for good.