Sagittarius Horoscope 2022: Yearly Predictions for Love, Financial, Career and Health
Sagittarius Horoscope 2022: Sagittarius expects a stable and even period in 2022. The horoscope does not predict big changes, sharp turns or changes in destiny.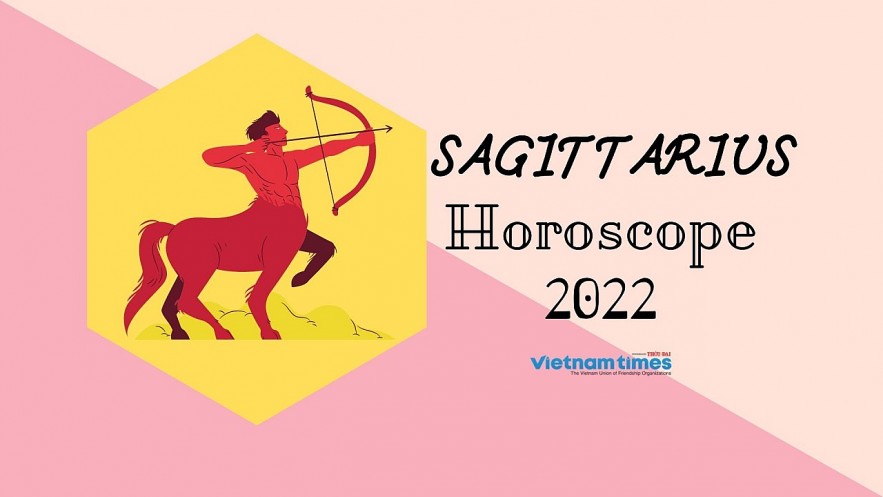 Sagittarius Horoscope 2022: Yearly Predictions for Love, Financial, Career and Health. Photo: vietnamtimes.
Yearly Planetary Horoscope
With 2021 being such an Aquarian year, your 3rd house has been getting a lot of action. This is the place of the Moon's joy. For that reason, last year was likely a year of many fleeting adventures and instability. However, as much as 2022 is still focused on the Fixed Signs, this year makes up for the last with the Greater Benefic Jupiter's ingress into your 4th house. You can be grateful since the many quick journeys of 2021 have all been leading to this year's establishment of your comfort and home.
Before we get to the good news, the year starts on a Venus retrograde that could delay some collaborations for some of the Sagittarius out there. Primarily if you work with many people, this transit happening in the house that represents how you earn money can make things a little rocky. This is especially important for the freelancers who rely on many different people as their source of income. It may be a bit challenging to work out business agreements, so if you can wait, February looks a lot more promising when it comes to the collection of goods. Still, with Jupiter in your 4th house, your home life will make up for any stresses that may arise during the retrograde. This transit that lasts for the first quarter of the year brings good fortune and comfort. Since Pisces is a fellow mutable sign, that means that if you have any planets in your 1st and 7th house, the Great Benefic is more than willing to lend a helping hand when it comes to your personal development and relationships.
According to gotohoroscope, in March, we have the first Uranus and Mars square happening between your 6th and 3rd houses. The long and slow Uranus transit through your 6th house has likely caused some instability when it comes to your health and general well-being, so this transit will be one to pay attention to. It would be best to avoid any trips during the month since combining these two planets can make you prone to accidents. However, the 3rd house is the house of short trips, so if you're planning on going on a distant voyage, you'd likely be unaffected by the transit. Still, it would be wise to reschedule any trips to your friend's place in the neighbouring state or province.
All that doom and gloom doesn't last for long, however. Jupiter and Venus will be conjunct in Venus' degree of exaltation. That's perhaps the most auspicious transit we've had in quite a while, so it will come to remediate any of your sorrows, Sagittarius. This is happening in your 4th house, still, so the idea of comfort will be magnified to an extreme in April. With both of these luxurious planets coming in together, it would be a great time to through a house party and maybe even a house warming party. The chances for a new home never looked better. Since Jupiter is also the planet of monetary abundance, it could also be a good time to invest in real estate. In April, the world is your oyster, Sagittarius.
After leaving Pisces with a bang, Jupiter will continue to track along and arrive at your 5th house in Aries. In ancient astrology, this specific house is known as the right place. This is where parties, excitement, and new life begin. This is a transit that will bring a considerable amount of good times to your life. It lasts all the way into the earlier half of 2023, so you know you're in for an exhilarating journey. This will be the year to start new projects. Aries as the first sign of the zodiac is excellent for new beginnings, so don't be shy and go for your loftiest dreams.
After such a glorious month, the ebb and flow of life take us back to a challenging late summer and fall. We start with triple conjunction between Mars, Uranus, and the North Node happening in your 6th house. Like mentioned before, this is the house of health, and like so, you should be extra careful during this transit. August is definitely not the month for recklessness. This can also pose some challenges at work, especially when it comes to being recognized for your efforts. If you have Jupiter or Venus in your 2nd house in your Natal Chart, the effects of this transit could be considerably alleviated. However, it's still good to be careful and mentally prepare yourself for a somewhat rough month.
The bad astrological weather continues with the final Uranus and Saturn square for the next few decades. This was the transit responsible for much of the challenges of 2021. But, with this one being the last, it's likely coming to tend to unfinished business from last year. Since this is happening with a focus in your third house, it could mean some issues with your education or the release of a new project. This house also deals with fraternal relationships, so if you had any problems with your siblings in the year that just passed, some of those themes could come back for a re-run. This is not the most extended transit, so it only presents a few days of discomfort and power struggles.
However, after all of that commotion, things do calm down considerably for the latter quarter of the year. The one major transit is the Jupiter retrograde that sends the benefic back into your 4th house. This is a transit that brings forth a great sense of nostalgia, especially since it lines up almost perfectly with the time when Jupiter first ingressed into your 4th house. Jupiter will give you a nice break from all of the drama from the fall, and it will likely bless you with a good holiday season, with minimal to no family drama. This sums up the year rather nicely as we ready to go into 2023, which will be a whole new territory compared to '21 and '22. No more Saturn and Uranus to cause tragedy and a world of opportunities ahead. With that in mind, make the best out of 2022. It won't be coming back anytime soon.
Luckiest day: November 23, 2022
After a year and a half of eclipses hitting your zodiac sign's axis, Sagittarius, 2022 will bring an auspicious chance to gently integrate the upgrades and realignments that took place in your life over that period. And the new moon in your sign on Nov. 23 will be one of the luckiest opportunities of the year for you to manifest your desires and initiate exciting new adventures. During this lunar reset, you'll also have benefic Venus and communicative Mercury in your sign, bestowing you with clarity and grace as you kick off new projects or relationships. The sun and moon will also be harmoniously connecting with Jupiter, your ruling planet, which laces this lunation with even more luck and magic.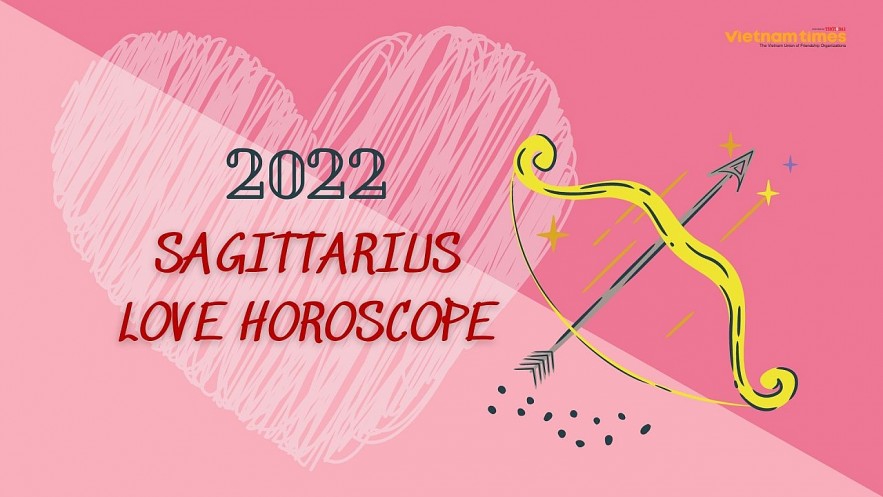 Sagittarius Love Horoscope 2022. Photo: vietnamtimes.
Sagittarius Horoscope 2022 Overview
In the year as per 2022 Horoscope Predictions for Sagittarius natives, On April 13, Jupiter would enter in the Pisces sign in the fourth house, and Rahu would transit in the Aries sign in the fifth house on April 12. On April 29, Saturn would transit in Aquarius sign in the third house, and on July 12, it would again transit into Capricorn sign in the second house after becoming retrograde.
You will have to work hard in your career and from an economic point of view this year will be good for you. Again and again, you will be traveling. The position of planets will be favorable for you. In all kinds of social and religious activities, you will take part with full excitement and enthusiasm. This year you will get the result of your hard work done in the last year. As far as your children are concerned, you will get happiness and you will get the full support of your friends as well. You may have some issues with your family, though you should move forward focusing on your target this year. There will be growth in your career and then a possibility of economic benefit and an increase in salary according to the horoscope 2022.
The month of January then may be unforeseen events for the Sagittarius natives, and hence it is required for them to face them boldly. The month of February could be a good time to write down your creative ideas and to start a new venture.
In the months of March and April, you may be feeling stuck in your career. Be consistent with your performance because it will bring you some benefit like a promotion or salary increase by the end of the month. Try to be more flexible and try to understand the feeling of a partner as this month they will feel the need to be loved and understood.
The months of May and July are months when you need to try to save and stay away from impulsive decisions. The surrounding environment will boost up your morale, and your physical and mental state Will be very good this month.
The month of August and September is also a good time for strengthening your relationship resulting in a more intimate connection in conjugal happiness. The middle of the month of September can bring you great financial expenses.
In the last quarter of the year, it is time to take some time off work and relax. The native will enjoy a good period financially if they spend wisely, and you will enjoy a lot in the last months of 2022. You will find inner peace, and you will feel free during this time.
Overall the year 2022 will be very auspicious for Sagittarius natives as it will be supported by the energy of Jupiter all through the year. However, your career might face some ups and downs this year. Saturn in Aquarius will strive to bring out some stability around, and it will guide you to put in your commitment to getting hold of insecure situations. Saturn restricts your display of love and affection in marriage and relationships as well. This would be quite a realistic period for most of the Sagittarius natives, and you would be able to meet your long-headed goals and ambitions this year.
This year could be much better when you compare to some of the past few years for the Sagittarius natives as you will be very successful in your career pursued for this year. Sagittarius students will do well in their studies, and will reach new heights in profession with the help of their seniors. Overseas travel is also on your cards, and your overall financial standing would be greatly enhanced this year as Saturn will be posted in the second house of Capricorn. The natives will also remain in good health and cheer all through the year.
According to astrology.com, life really is one big adventure for you most of the time, Sag, and 2022 has lots of opportunities for you to laugh, love, learn, explore, and expand your mind in new and meaningful ways!
Your ruler Jupiter has incredibly mind-expanding energy, and it spends an erratic year going back and forth between two very different energies: fluid Pisces at the beginning, aggressive Aries from mid-May to the end of October, back to Pisces until late December, and then back to Aries to close out 2022! These extremes affect your moods as you go from deeply compassionate and spiritual experiences to fast-paced, personally empowering ones, so get ready to enjoy a bit of a roller-coaster ride for much of the year.
With your home planet's retrograde period between the end of July and the end of November, you get a much-needed chance to do some profound self-reflection, which is honestly something you really love to do. Tuning out the distractions of your (sometimes hectic) everyday life allows you to focus on what your inner consciousness has to say as you reflect on the experiences you've had so far this year. You know those deep philosophical questions you like to ponder? This is the time to get some answers.
The sun partners with your cheerful sign from the end of November to the end of December, encouraging you to connect with other people and a greater cause (not that you even really need the extra boost). Looking for charities and ways to make other people's lives a bit richer can really enhance your holiday experience this year, Sagittarius. Spending the holidays in a new city or country is your dream, but there are plenty of wonderful experiences to be had closer to home as well.
Sagittarius Horoscope 2022 for Love
According to astrologyk, significant changes in personal life in 2022 are not expected for Sagittarius. Family representatives of the sign, spending time with the other half, will periodically be frankly bored. According to the horoscope, there will be attempts to look to the side. At the same time, as soon as real offers to enter into a forbidden relationship arise, you will want to return to your loved one. Throughout the year, Sagittarius will be tormented by inconstancy of feelings: from indifference to the second half to a storm of emotions, jealousy and passion. Thus, representatives of the fire sign will either begin to move away from their partner, or they will not be able to spend a single minute alone.
The love horoscope 2022 for single Sagittarius will delight a lot of new acquaintances. At the same time, numerous romantic dates does not guarantee a meeting with a single, close-minded person. Strong feelings are unlikely, but there will be enough partners for a pleasant pastime. The horoscope promises the greatest attention from the opposite sex during the period when Venus is in the constellation Sagittarius, namely from November 16 to December 10. At the same time, the appearance of a person is likely to be capable of providing significant patronage in professional activities and significant sponsorship in the future.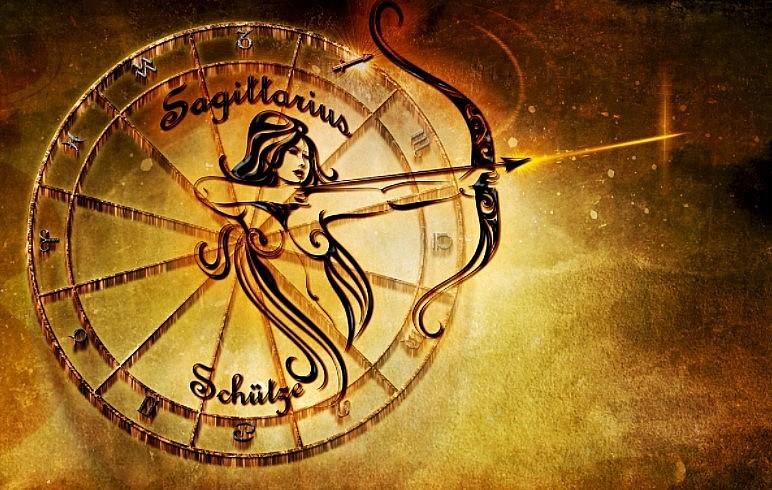 Sagittarius zodiac sign. Photo: horoscope2021.
As per Sagittarius love horoscope 2022, there will not be significant changes in the love life for Sagittarius natives; you will be spending a lot of time with your other half. The native's life will be better, and this year will offer you power, romance, family, and authority. Social status will become shining in 2022. You need to make the right decisions according to the situation before doing anything this year. February is the most favorable month for you to get married.
Some of those Sagittarius may encounter romantic pleasure for the first time in their life, as ganeshaspeaks reported. This is healthy for your relationship, and you should not be afraid to express it.Before you express your love, try to get in touch with your feelings. In case you feel vulnerable, then wait for some time.
Check on your emotions. Understand if it is love or just an infatuation. When you are sure about your feelings and feel strongly about them, it is time to go ahead and propose. Propose in the best way you can, the most unique, fun and charming way. After all, it is the first love you want to make sure is special. Because you never, ever forget your first love. This year has a high potential to meet your new partner. Therefore, proposing in the second half of the year can be a good decision since there are high chances of acceptance.
You may get the approval of elders if you are planning to marry. If you are married and are planning for a child, the year may be a favourable one for you too. Folks who just recently broke up may keep looking for a distraction from their pain and may try to find love again. They may be successful in finding love in 2022. However, we want to advise them not to look out for love to get distracted; instead, look out for love to be in love and have a companion with whom you can share your feelings and life.
Distractions are a temporary thing, and you may be cheating both your partner and yourself as you may not give 100% to the relationship. If you feel you are not ready for love, try to enjoy your single status, do not brood over the breakup for long. Instead, learn from your division, understand what went wrong, and the mistakes that you should not repeat!
2022 for the Sagittarius may be about love that may find its way to happiness and commitment. Try to refrain from getting frustrated with your partner. You may maintain happy relations with your partner. However, times may be a little rough for the ones in love and in a long-term relationship. Nevertheless, the misunderstandings and the bad phase may pass if you spend time with each other.
In the year 2022, you may see a lot of good times in love and may make memories that may stay with you life long. The spark and sensuality in the relationship may be sparked in the relationship, even in a long-distance relationship.
Singles may fall in love again, and some may experience love for the first time. Married folks planning for a child in 2022 may see success. You may also get the approval of elders if you are planning to marry. If planning to propose, try to do it in the second half as there are higher chances of the proposal being accepted. Folks who are looking for a new relationship post their breakup may finally find love.
You would barely miss the targets of love in New Year 2022, Sagittarius folks! Romantic time and immense love are totally on the cards for you. From going on romantic walks to a fancy dinner, you would have a wonderful and happening time with someone special. Sagittarius love horoscope 2022 says that your personality is super appealing and charming. And, with that, you would have the kind of partner you wish for in finger clicks. Possessing similar interests, you would enjoy discussing them all the time. However, you already have someone in your life or have been dating for a long time, a minor suggestion coming from the Sagittarius annual horoscope 2022. You should definitely avoid arguments and conflicts as a slight tinge of separation is there with all happy times and scenarios.
You will often find yourself worrying about whether you are doing enough to maintain your relationship, because usually, it is your partner who does all the work. This is something you should stress yourself with, suggest the love horoscope 2022 for Sagittarius. Your partner will be very happy and satisfied with the bond and connection you have formed. That being said, it wouldn't hurt to put in a little more effort. You should do little things to make them feel special and loved as well. Arrange picnics or movie nights. Surprise them with a well-planned weekend getaway. These small gestures will go a long way.
Sagittarius Horoscope 2022 for Money
The financial horoscope 2022 promises Sagittarius stable cash flows. In periods when personal incomes will decline, material support from a loved one will be sufficient. In the winter months, earnings will not match the expenditure of strength and energy. Hence, there will be a desire to receive additional funds using, albeit legal, but unusual and adventurous methods. However, the implementation of the plans for one reason or another will be impossible. At first, a certain amount of regret and anxiety will be associated with this, but over time, Sagittarius will understand that the probability of making a large profit is always equal to the possibility of losing a lot.
The second half of the year will delight Sagittarius with high incomes. However, the horoscope advises to refrain from large purchases. Investments in precious metals, co-financing programs, and business investments will be more successful. In the event of a deal breakdown, no regrets. The stars in 2022 protect Sagittarius from financial losses, leading away from unprofitable agreements. During the period of the influence of the retrograde motion of Jupiter, the planet of the patron saint of the sign, it is important to control costs. From July 28 to November 23, according to the horoscope, there is a risk of being excessively generous towards an unworthy person or falling under the influence of scammers.
As per Sagittarius finance horoscope 2022, This year will begin with mixed results as the Saturn in the second house will mean that you will continue to acquire wealth. Your financial status will improve as you will continue to save and invest, and you could also invest in gems and jewelry. There is an indication that you may gain ancestral property, and you may also spend money on family functions. You should be cautious while investing in the year 2022 and avoid any risky venture this year.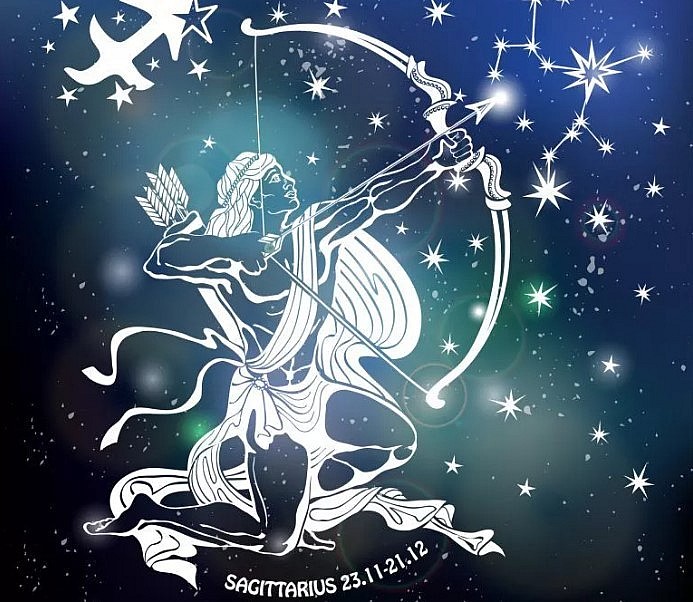 Sagittarius Horoscope. Photo: listland.
According to Astrotalk, the cards say that the year 2022 would be totally your year Sagittarius natives. You would earn and enjoy your earnings without worries. Also, you shall enjoy the fruit of your own efforts tree which you have sown a long time back. Pending money-related issues would be solved. Any trouble would leave their seat, and you will have a blissful time away from "Money Worry". Moreover, the Annual Sagittarius finance horoscope 2022 foretells that the first few months may go all in solving some ongoing crisis. But, that won't be a topic of worry as the rest of the year will fill up for the time you have spent or are involved in the starting few months. Money inflow shall be unstoppable. Some of you can even expect some sudden monetary gains somewhere around the third quarter of the year.
The best time for any kind of speculative investment is after the month of August for Sagittarius. Till then, you may invest in your hobbies and short-term saving schemes. In 2022, the chances of you buying a house are also high. If you are a teenager, you will certainly spend more money this year on traveling. The Sagittarius natives are the ruler of thighs. They like exploring the world and are very outgoing. And happens, long-term captivity is only promoting them to serve their wanderlust this year. As you take on any adventure, make sure you also save up.
The months that will lag in terms of finances for the Sagittarius natives will be the months from April to July. You will have to work extra hard for monetary gains in this period, says your Sagittarius finance horoscope 2022. Any kind of important decisions in these months should be taken together with your spouse and not in a hurry or you may mess up. There are bright prospects of buying a house post-July 2022 as Jupiter will be transiting from your house of land and property during this period. The year-end will also bring good monetary gains, especially in the month of October when Venus will transit from your house of income and gains it will bring abundance in finances.
Sagittarius Horoscope 2022 for Career
At the beginning of the year, Sagittarius is expecting good achievements in work. However, tiredness from constant employment will not allow you to fully enjoy success. The management, appreciating the high results of work, instead of bonuses and bonuses, will impose even more responsibility on the representatives of the mark. Periodically, Sagittarius will feel the urge to drop everything and change the field of activity. With all this, according to the horoscope, in 2022, turning points in a career are not expected. In the spring it will be possible to combine work and good rest, which will have a positive effect on relations in the team and labor productivity.
Sagittarius will remember the second half of the year for its attempts to develop the creative side of the personality. Participation in contests, competitions, musical events is possible. Some representatives of the sign will go to additional courses to develop talents, others will try to make money with the help of art. At the same time, according to the work horoscope, regular creativity will quickly bore many Sagittarius. By the end of the year, you will have to focus on your usual activities. During this period, important negotiations, major deals, lucrative agreements are expected. Finally, zealous representatives of the sign will notice the long-awaited fruits of many days of work.
According to astrosage, as for Sagittarius's career horoscope 2022, it will be an average year for the native. Sagittarius natives looking to start a business should postpone at the beginning of the year as you should avoid making any new or heavy investments, and you should avoid involving yourself in speculative activity. You should also get some help from senior people in your business. Things will improve after April, so you can start up with your venture, especially if you are planning a partnership business, as that looks promising.
From academics to job changing to grabbing a remarkably great job, the time is yours as per the Sagittarius career horoscope 2022. You wish, and you shall have it. In the workplace, you will enjoy appreciation. Some of you may even get promotions or benefits from the work you have done. Newbies in the corporate world would experience a great time learning new things and being better at their work. Business buddies too shall run in profit most of the year. In fact, the cards of the year 2022 for the Sagittarius zodiac sign say that it is the right time for planning an expansion of your business. A little organization would do the trick, and you would enjoy and enjoy and without worries only Enjoy!
Sag folks into the business will have a great opportunity of expanding the business into foreign nations. There will be expenses and multiple investments in case of expansion, you have to make sure that you check all the facts and figures before taking any step. Moreover, the Annual Sagittarius business horoscopes 2022 suggests that before moving forward with any new business plan or expanding the existing one, you clear all past dues and loans you have, else the months from July to September shall go rough on you.
Be careful when dealing with clients and new connections. Also, you must make sure that the current colleagues or employees working with or under you don't get rebellious about you. Moreover, the yearly Sagittarius job horoscope 2022 predicts that you might run into a bit of office politics and disputes with your workmates. However, the year will be full of new and better opportunities, and if you are planning a job change or are a job seeker, you can give the jobs most suitable for you a shot.
Extra efforts are calling you Sagittarius academic natives. You are not enough of yourself. We know you can do better, and the cards for this New Year 2022 are demanding from you. Work on your communication skills, present yourself in the best way possible in front of your mentors and seniors, and be the best version of yourself, as per the Sagittarius academic horoscope 2022. If you are planning high studies and are appearing for the exams of the same, then the months from August to December are best for it, as per the Sagittarius career horoscope 2022.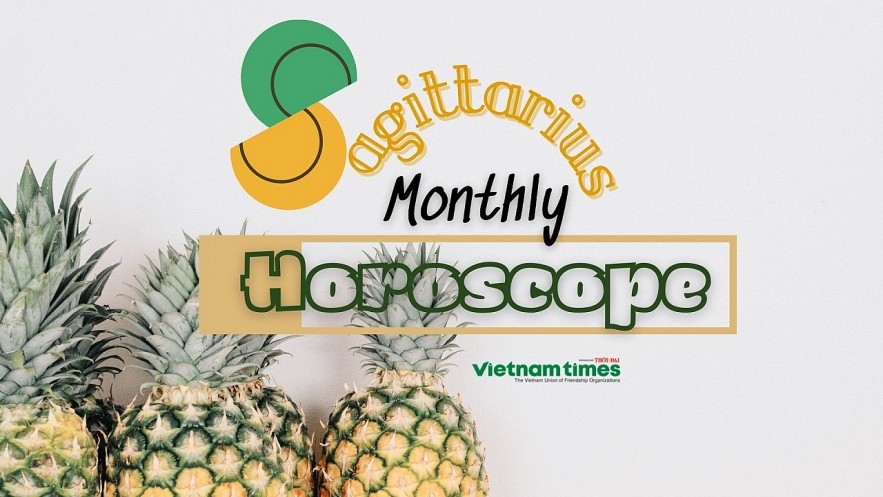 Sagittarius Monthly Horoscope 2022. Photo: vietnamtimes.
Sagittarius Horoscope 2022 for Health
Usually Sagittarius are quite attentive to their health. But in 2022, some representatives of the sign will lose their vigilance. In the winter months, the first signs of an impending disease will appear. A heavy workload will force you to drive away thoughts of poor health. The seasonal decrease in immunity in the spring will not allow you to ignore the symptoms. However, it won't come to going to the doctors. The horoscope warns of the appearance of many advisers who will recommend the means of traditional and traditional medicine or convince Sagittarius of being too suspicious.
In the fall, representatives of the Fire element will still have to pay attention to their health. Fortunately, it will be possible to avoid serious problems by passing the necessary examinations and treatment on time. At the same time, the health horoscope recommends that Sagittarius until the end of the year listen to their feelings, rest more, and regularly play sports in the fresh air. With the arrival of cold weather, the hearing organs and joints will be vulnerable, so it is important not to follow fashion, but to dress according to the weather conditions. In addition, in order to avoid injury, it is advisable to abandon winter activities such as sledding from a high hill.
As per Sagittarius health horoscope 2022, this year would be average for your health. This year because of your prior engagements and social activity, you may not be able to consume your food on time, and this might cause deterioration of your health. You must maintain regularity and punctuality as regards your daily routine and diet. Don't be careless in this regard, as Rahu in the fifth house might pause diseases related to the stomach.
Here is the loophole of your year, Your Health! Sagittarius health horoscope 2022 says that you need to break the chain of your junk food and bring yourself on a healthy track. If gone otherwise, be ready to face the consequences. Stretch yourself a bit, give gym time to yourself and understand the dietary requirements of your body. Sagittarius yearly horoscope 2022 also predicts that you shall have an immense burden of a few things in your life. And, the only key out of this is to meditate, give time to you to relax. Prepare yourself a proper chart, manage and organize your time and seek a doctor if you feel things going the other way round.
Recognize the ailment and pay extra attention to your body. The Sagittarius horoscope 2022 for ill natives predicts that you have to look after your health firmly, losing no ends to worry about. The Sagittarius horoscope 2022 also suggests you release your anxiety and relax. Involve yourself in activities that calm you down and help you distract yourself from your ailment for some time. Patients with diabetes and hypertension must look after themselves properly in the middle months of the year. Make sure you don't stay secretive about your health, and in case of any doubts or symptoms, make an appointment for an immediate evaluation.
There is bliss for you in the New Year 2022 if you are a diet conscious buddy. However, if you have set a bar for yourself and wish to accomplish it, then the annual Sagittarius horoscope 2022 for diet planners suggests you work upon the same since the beginning of the year. There may come some challenges, and you might feel like giving up on your goal of being fit or getting into shape. But, don't lose yourself there. In fact, consider it as a test or hurdle in your way, as per the Sagittarius annual horoscope 2022.
You may not have to do much to keep yourself in line and robust in the year 2022. But, precaution is still a must. The Sagittarius horoscope 2022 for healthy folks says you shall confront some ups and downs in the second half of the year. It could be more accidental than some illnesses. Thus, make sure you are careful around everything! And, the same might bring you some financial troubles and long hospital bills. So, refrain from taking risks this year, according to the yearly horoscope 2022 for Sagittarius zodiac sign.
Will the year 2022 be favorable for Sagittarius students?
For those that work tirelessly, the year 2022 might be tougher but also beneficial. Your efforts will not be in vain. You could see the fruits of your labor.
In 2022, will Saturn be benefic in Sagittarius?
Saturn follows the set rules, whereas Sagittarius does what they think is right in their heart. Saturn in Sagittarius possesses a remarkable capability to examine existing principles when they are brought together.
Will Sagittarians marry in 2022?
Before September will be an ideal time for the natives of Sagittarius sign to marry in the New Year 2022.
When shall Sagittarius be able to find love in 2022?
Sagittarius values individuality and liberty, which is why they won't find their sweetheart unless they are 27 or 28. So if you are around that age in 2022, you will meet your special someone.