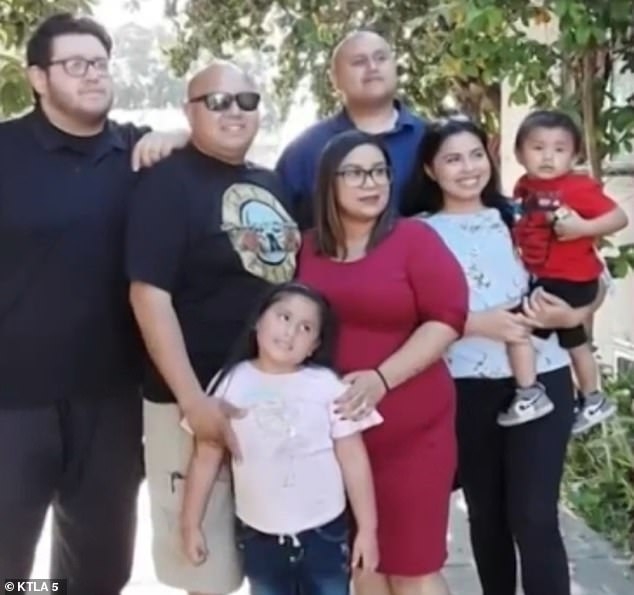 Shortly after Richard Garay's diagnosis, 27 others in his family (pictured), including his 60-year-old father, Vidal Garay, became sick
"My dad couldn't get up to eat," Richard Garay said. "He couldn't even get up to take over-the-counter medication."
Richard, 27, said he started to feel mild symptoms on May 29, but they got progressively worse.
"Within days, our health just deteriorated," he said. "It went from, you know, one day being OK to I can't breathe, I can't get up, I cannot eat."
Richard said he and his dad lost their sense of smell and taste before testing positive for COVID-19 on June 4. The two spent days quarantined together, until one day when Richard woke up in a panic.
"I mean, I woke up gasping for air," he said. "I couldn't breathe."
Richard said his father, who had remained in bed throughout their quarantine, used what energy he had to sit up and ask if he was OK.
"I'm like, 'Dad, I don't think I'm going to make it,'" Richard said. "That was the last thing I told my father, and the last thing my dad saw was his son suffocating."
Richard was taken to the hospital in an ambulance, but has since been released and was recovering at home.
Vidal was also eventually taken the hospital, but died after two weeks of care. He leaves behind his wife, three sons and four grandchildren.
"My father always raised us to be, you know, to be proud of our country, to be proud of our circumstances, regardless of how they are," Richard said. "To embrace life, to have honor, to love people."
Richard said 28 extended family members have tested positive for COVID-19, most recovering at home. The family doesn't know how the they contracted the virus, but think it could have been from a family member who visited in mid-May or from a caretaker who comes to care for Richard's mother.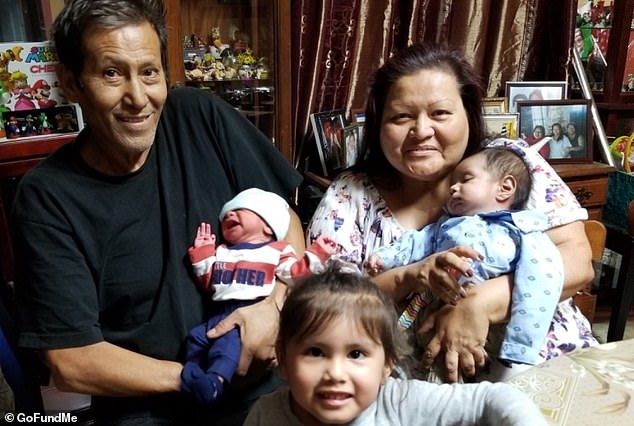 Most of Garay's family members have recovered from the virus. The Garay family is now raising money on GoFundMe to pay for Vidal's funeral expenses. Vidal is pictured with his wife Norma and their three grandchildren
The state of California is one of several states that is seeing an uptick in COVID-19 cases.
California Gov. Gavin Newsom (D) warned this week that the state will pause its reopening process if needed as the state battles a surge of new coronavirus cases.
Hospitalizations due to COVID-19 have risen by 32 percent over the last two weeks.
More than 2,500,000 infections have been recorded in America, making up a quarter of the world's almost 10 million cases, according to a John Hopkins University tally - as fears grow that the worst is yet to come for several states.
The US recorded more than 45,000 new infections Saturday, setting a dismal new daily record for confirmed cases since the outbreak first touched down on US soil.
In Los Angeles County, health officials warned on Saturday that the state is facing a 'critical moment' for the pandemic and that reopening plans could also be in jeopardy if the current trends in cases continue.
'If we can't find it in us to follow these mandates, including wearing face coverings and distancing when around others, we jeopardize our ability to move forward on the recovery journey,' Barbara Ferrer, the county health director, said.
'Our collective responsibility is to take immediate action, as individuals and businesses, to reverse the trends we are experiencing.'
Her remarks came after California reported 2,169 new coronavirus cases.
Jennifer Tran