8 Chinese people illegally enter Ho Chi Minh arrested
The authorities detected 8 Chinese nationals and one Vietnamese illegally entering District 12, then took all of them to quarantine facility in Cu Chi District.
According to the Center for Disease Control (Ho Chi Minh City), in addition to these 9 people, the city has discovered 29 cases of illegal entering since May.
Two days ago, Vice Chairman of Ho Chi Minh City People's Committee Duong Anh Duc issued a document requesting departments and 24 districts to strengthen measures to prevent the spread of COVID-19 in the community.
The police force in Ho Chi Minh has been requested to thoroughly manage temporary residence, temporary absence in localities, mobilize the local citizen to inform the authorities about illegal immigrants as well as strictly handle people bringing foreigners into Vietnam illegally.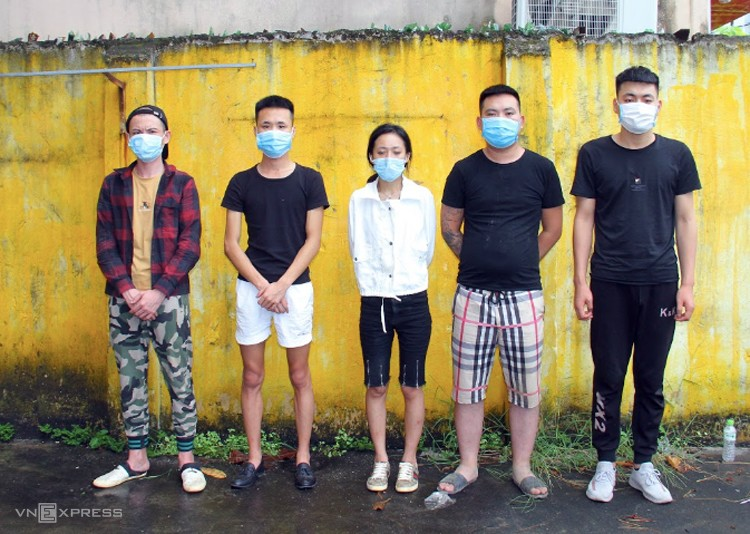 Five of the 10 Chinese nationals arrested in Lao Cai Province for entering Vietnam illegally, July 27, 2020
Photo: VnExpress/Thanh Tuan
A series of cases involving Chinese people illegally entering Vietnam has been discovered recently in Vietnam.
On July 27, authorities in Hanoi found 19 foreign nationals illegally entering the city, luckily, all 19 cases were negative for the SARS-CoV-2 virus.
In the face of the increasingly complicated developments of the COVID-19 epidemic, Chairman of the Hanoi People's Committee Nguyen Duc Chung asked the city authorities to thoroughly follow the Prime Minister's direction, heighten alert, closely monitor and strictly handle any violations.
On the same day, the Traffic Police Bureau discovered a 7-seat car carrying 5 Chinese nationals, who were then affirmed illegally entering Vietnam. Those people came from Guizhou Province, spent nearly 4 hours crossing the border by boat to Lao Cai.
"The aforementioned cases were on the way from Lao Cai to Hanoi. They were discovered while trying to reach the airport to board a flight to Ho Chi Minh City" the representative of the Highway Patrol Team No. 1 said.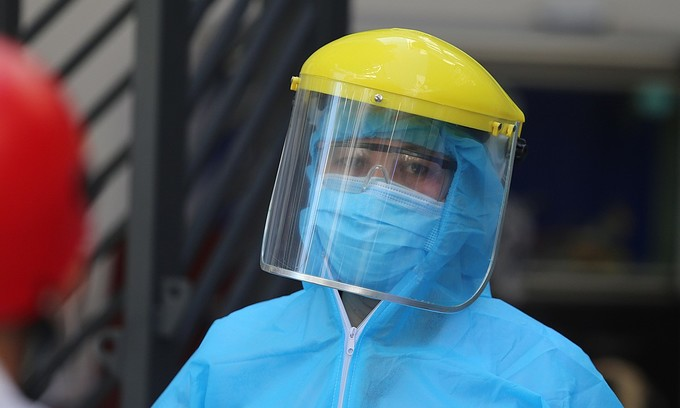 Medical staff in protective gear in Da Nang, July 26, 2020. Photo: VnExpress/Dac Thanh
An administrative inspection at 39 Duong Tu Giang Street in Khue My Ward of Ngu Hanh Son District on July 11 found four Chinese citizens who had illegally entered the country.
On July 16, 24 Chinese citizens who had illegally entered Vietnam were found in another inspection at the East Sea hotel on Loseby Street in Son Tra District, reported Vietnam Insider.
On July 21, Da Nang police arrested a Chinese national and two Vietnamese citizens to question them about their involvement in human trafficking, but the three were granted bail.
Vietnam reported the discovery of a further 11 fresh cases of COVID-19, with all the confirmed cases being related to Da Nang Hospital, raising the national tally of coronavirus infections to 431, the Ministry of Health said in its July 27 update.
With a total of 14 cases diagnosed with the deadly virus so far, Da Nang is currently a coronavirus hot spot in the country.
The government Monday ordered social distancing in Da Nang for at least 14 days, starting Tuesday.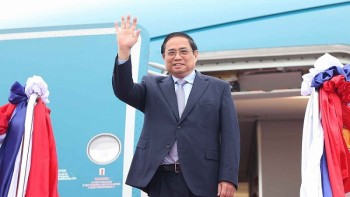 National
Vietnam News Today (Feb. 6): PM Chinh to pay official visits to Singapore, Brunei; Vietnam attends ASEAN+3 Tourism Ministers Meeting; Exports in 2023 and high demands from new generation FTAs; Digital technology to spearhead Vietnam's drive for Industry 4.0.