9M international visitors at nearly 9.5mn
Number up 28.4% year-on-year, while domestic tourists totalled 57.9 million.
Number up 28.4% year-on-year, while domestic tourists totalled 57.9 million.
The latest figures from the General Statistics Office show that 9,448,331 international visitors arrived in Vietnam in the first nine months of this year, up 28.4 per cent year-on-year.
The number in September was 975,952, down 20.6 per cent against August but up 18.6 per cent year-on-year.
The number of domestic tourists reached 57.9 million during the period. Total revenue was estimated at VND376 trillion ($16.5 billion), up 26.5 per cent year-on-year.
The Vietnam National Administration of Tourism (VNAT) has launched a series of promotional programs in important markets for the country's tourism sector this month. In particular, programs were held in four Nordic countries - Denmark, Norway, Finland, and Sweden - from September 25 to 30, and in four Japanese cities - Kanagawa, Tokyo, Sendai, and Nagoya - from September 15 to 23.
From September 25 to 30, VNAT will continue to promote and introduce Vietnam's tourism sector in Indonesia, Malaysia, and Thailand.
Vietnam's tourism sector has also been represented at a number of major international fairs this month, such as the JATA International Travel Fair in Japan and the International Travel Top Resa Fair in France.
With effective promotional programs in key markets, the number of international visitors to Vietnam in the remaining months of the year is expected to continue to grow strongly, contributing to reaching the target of 13 million international visitors in the year as a whole.
International visitors to Vietnam in August reached a record high of 1.2 million, an 18.5 per cent increase against July and up 35.1 per cent year-on-year.
The reason international visitor numbers are increasing dramatically is the tourism industry and travel companies adopting many measures and effectively organizing cultural and tourism activities.
Visa-free policies for citizens from the UK, France, Germany, Spain, and Italy have also been a key factor./.
VNF/Vneconomictimes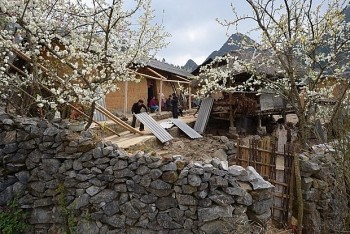 National
Vietnam News Today (Feb. 3): Vietnam and Trinidad & Tobago establish diplomatic ties; Severe cold spells expected to hit northern mountainous provinces late this month; Vietnam among top 10 best places to go for budget honeymoon; Hanoi, HCM City record highest disbursement of public investment capital in January.