A large number of UXOs found in Quang Tri
Nearly 500 explosives were safely destroyed on April 9 by a Norwegian People's Aid/Project RENEW explosive ordnance disposal team at NPA/RENEW's central demolition site in Trieu Trach Commune of the central province of Quang Tri.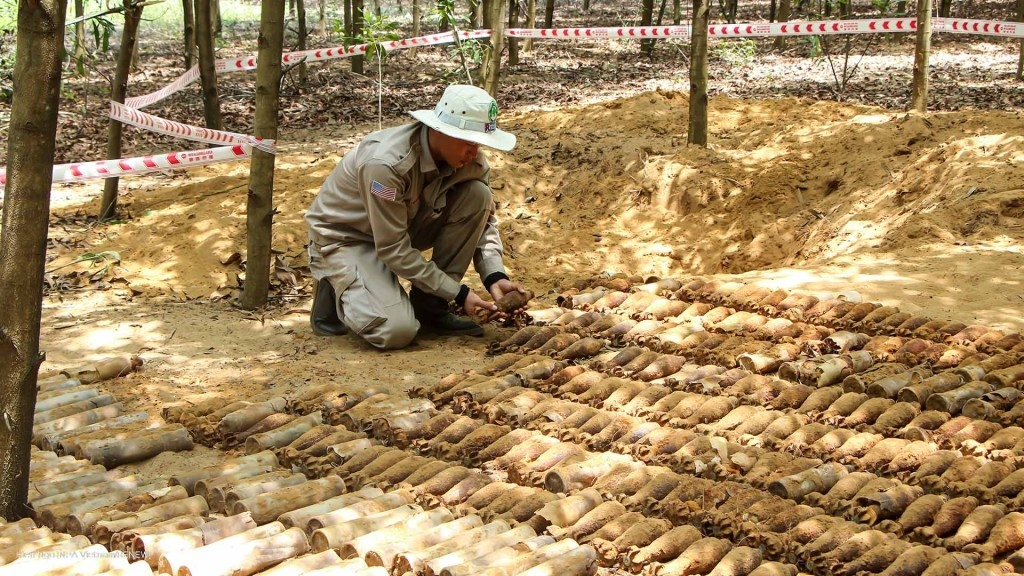 Battle area clearance team leader Tran Minh Hieu carefully moves mortar rounds from the cache and lines them up on the ground. Vinh Tu Commune, 8 April 2021. Photo: Hien Ngo
Accordingly, an NPA/RENEW battle clearance team had detected a cache of explosive ordnance in a plantation while clearing a contaminated area in Vinh Linh District.
On April 8 morning, a total of 490 mortar rounds, four grenades, and one rocket were detected from a cache in a plantation of Huynh Cong Tay Village of Vinh Tu Commune — the highest number of explosives NPA/RENEW teams have ever found in a working day.
They then informed NPA/RENEW operations management team who later deployed an explosive ordnance disposal team to the clearance site for removal of these explosives to the central demolition site for safe disposal.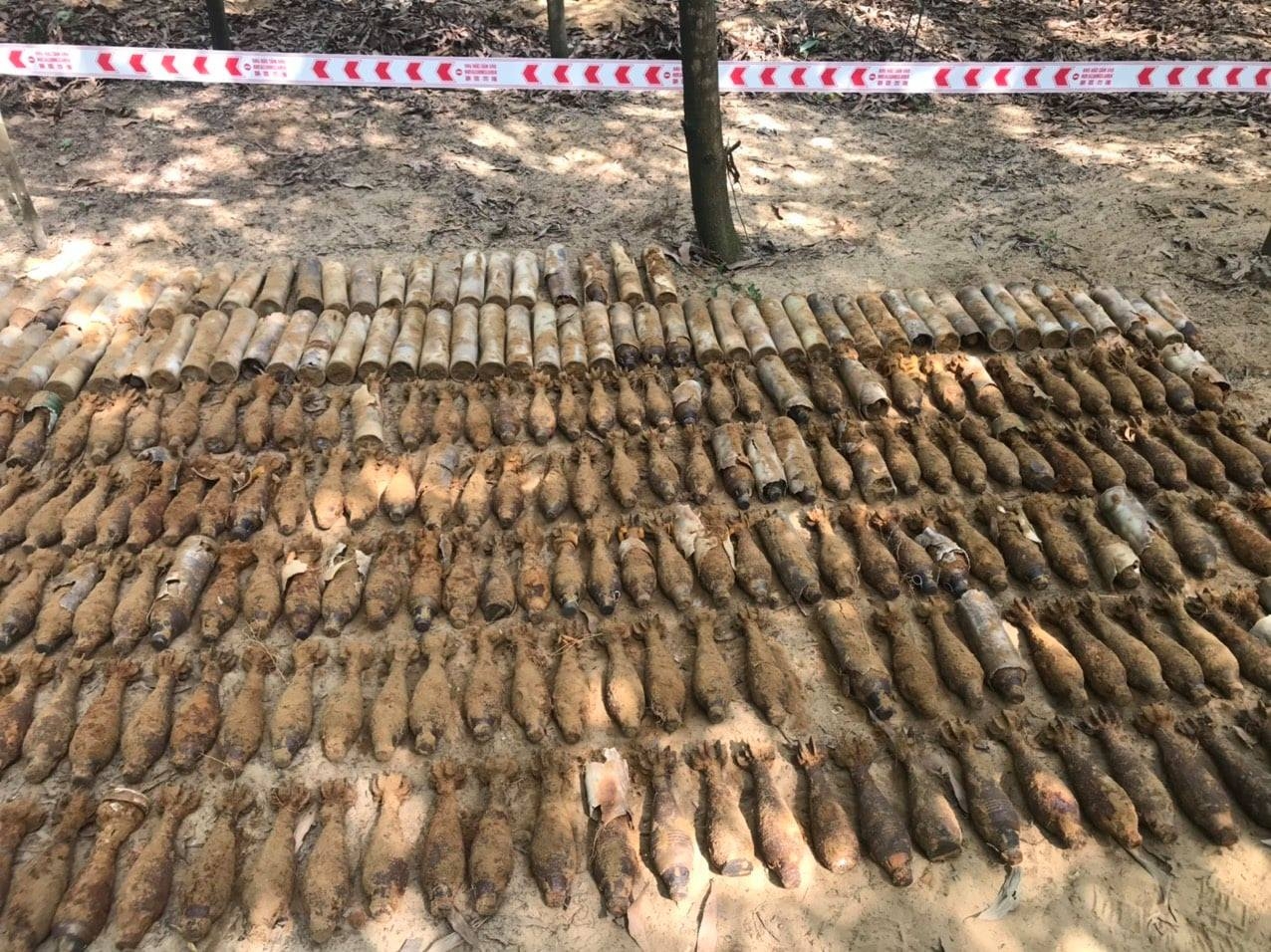 It's the highest number of explosives NPA/RENEW teams have ever found in a working day.
"All of the mortar rounds were identified unfired," said NPA/RENEW battle area clearance team leader Tran Minh Hieu. "Half of the mortar rounds still had plastic coverings, and stacked together under a depth of over one meter."
Since November 2020, six battle area clearance teams of NPA/RENEW have completed clearing over 1.9 million square meters of land in Vinh Tu Commune, found and safely destroyed 596 cluster munitions and 872 other explosives.
Some 875 people of Huynh Cong Tay village who are making their living on acacia plantation and other vegetables will be direct beneficiaries after NPA/RENEW teams complete their task and release safe land to the community in May.
NPA implements survey and clearance activities in Quang Tri province in close cooperation with Project RENEW, under a partnership with the Quang Tri Provincial Department of Foreign Affairs. This work is funded by the US Department of State and the UK Foreign, Commonwealth, and Development Office.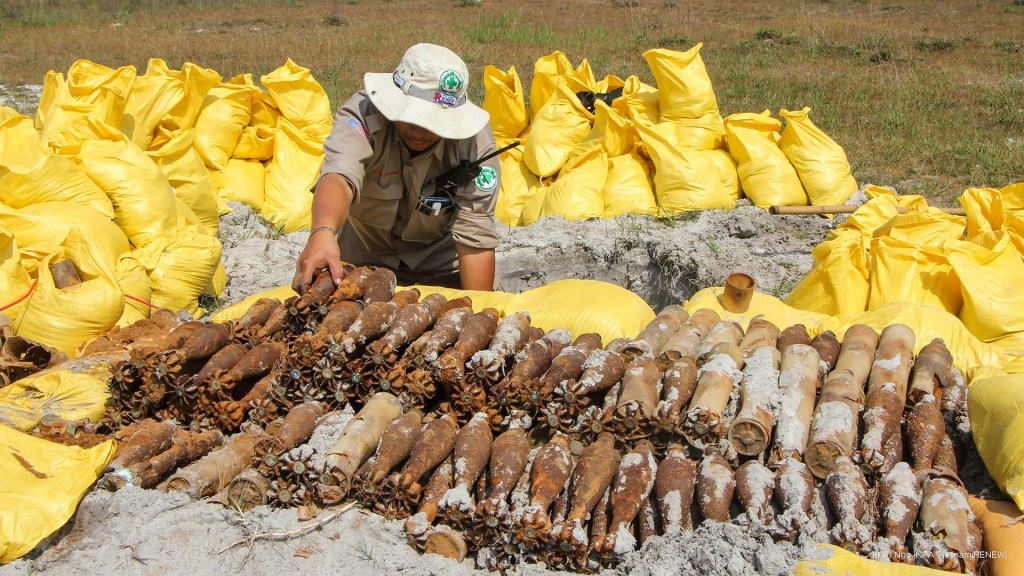 NPA/RENEW explosive ordnance disposal team leader Hoang Duc Long places mortar rounds on the demolition pit for disposal. Trieu Trach Commune, 9 April 2021. Photo: Hien Ngo
On the same day, Vietnam, as the rotating President of the United Nations Security Council (UNSC) for April, held a ministerial open debate on April 8, focusing on "Mine action and sustaining peace: Stronger partnerships for better delivery".
The event, held both virtually and in person under the chair of Vietnamese Minister of Foreign Affairs Bui Thanh Son, was attended by UN Secretary-General Antonio Guterres, along with ministers, deputy ministers, ambassadors, and heads of missions of the UNSC member states.
The open debate has been highly valued by the international community.
Ilene Cohn, Officer-in-Charge of the UN Mine Action Service (UNMAS), told the Vietnam News Agency that Vietnam put forward the issue at the right point of time, expressing her delight at Vietnam, as Council President, choosing the unexploded ordnance (UXO) issue as the topic for one of the main debates in April.
Sudan, one of the countries hit hard by conflicts and UXOs, also spoke highly of Vietnam's selection of the mine action issue for the open debate.
At the meeting, the UNSC adopted a presidential statement viewed as "unprecedented" in four years that stresses the implementation of the existing legal framework, particularly UNSC Resolution 2365, points out new challenges, and sets up new measures the international community needs to take to promote mine action./.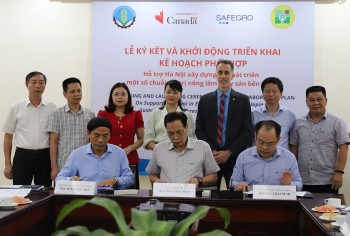 Make in Vietnam
As Vietnam furthers its international intergration, building agro-forestry-fishery high value chains is crucial for the sustainable development of the agriculture sector.