A Perfect Weekend Getaway: Mai Chau
For less than VND2 million, you can have a night staying in a resort by the lake, go kayaking and visit Go Lao Waterfall.
Located about 150km from Hanoi, Mai Chau is a perfect destination for people who are seeking for relaxation with beautiful scenery and plenty of resorts to choose from.
This guide will help you with tips on transport, what to eat, where to stay and things to do in Mai Chau.
How to get to Mai Chau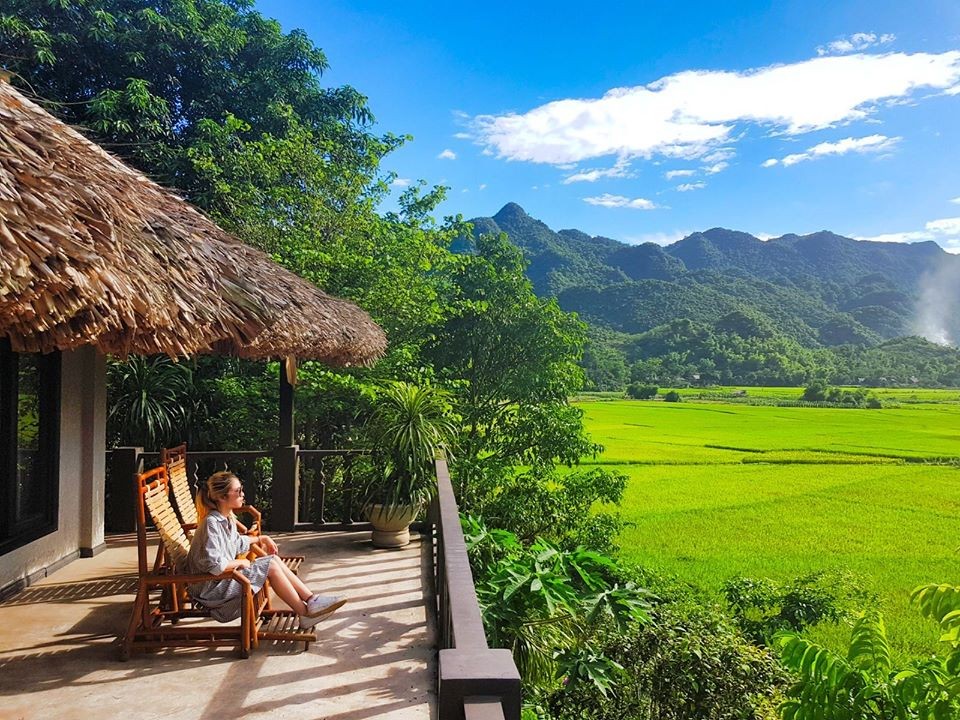 Photo: Cattour.vn
From Hanoi, you can follow the Thang Long Boulevard's and theHoa Lac highway towards Hoa Binh province.
At the Covid-19 checkpoint, file a declaration of medical status and show your Covid-19 vaccination certificate or negative test result.
Drive straight on No.6 Route through Cao Phong town to Dong Bang junction, turn left and go on for about 20km until you reach Mai Chau. The road is easy to drive on, but the thick fog can prevent you from seeing on rainy days.
Where to stay
Mai Chau Hideaway Lake Resort is a beautiful resort located on a peninsula looking over Hoa Binh Lake, which is called "Ha Long Bay on land."
From any corner of the resort, you can see the majestic islands on the clear blue water.
A row of blooming red peony trees along the cobblestone roads have become a favorite spot for tourists to take pictures.
You can also experience kayaking (about US$13 per turn), swimming in the "infinity swimming pool" or a bicycle tour around the village.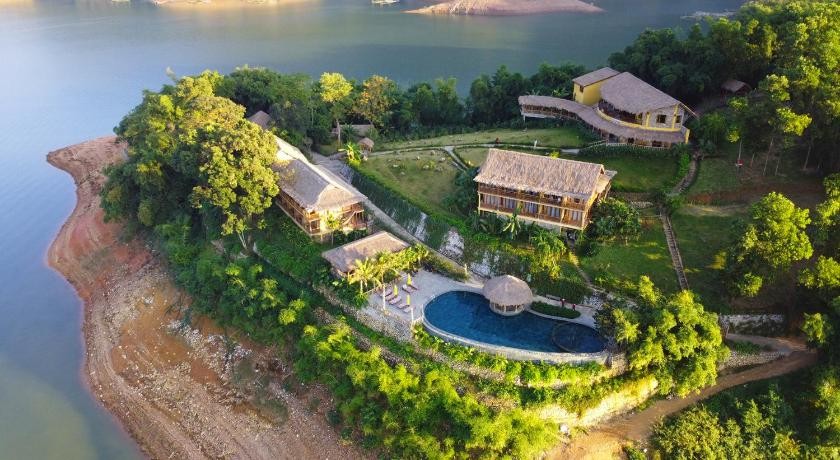 Photo: Agoda
Mai Chau Hideaway Lake Resort has 31 rooms, all well-equipped with simple, rustic design. The price ranges from VND 1.6 million to 3.6 million per night in the week, and VND 2.2 million to 4 million on Friday and Saturday.
Another choice is Bakhan Village Resort, which is located on the mountain slope overlooking green valley and open water of Hoa Binh reservoir. The resort covers an area of 4 hectares of massive natural rock fields, diverse plants and a natural stream that brings a new experience.
The infinity swimming pool looking over the mountains and forests is a favorite spot for visitors who can join several interesting activities such as: cycling, mountain climbing or cave exploring.
Bakhan Village Resort rooms cost about VND1.1 million per night.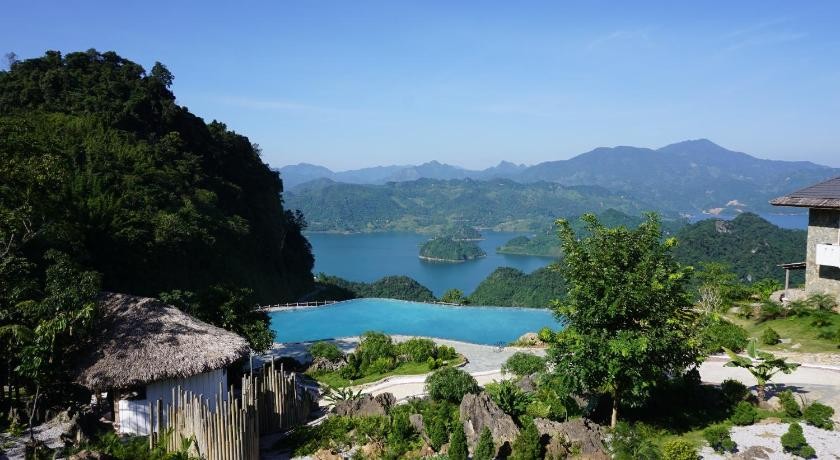 Photo: Agoda
There are also other choices such as Mai Chau Ecolodge or Mai Chau Rustic Home with a more affordable price for a one night stay.
If you choose to stay in these resorts, you need to do book in advance, especially in the weekends.
Mai Chau does not have too many tourism services, so visitors should have their meals at restaurants inside the resorts, and enjoy some of the traditional dishes of the region.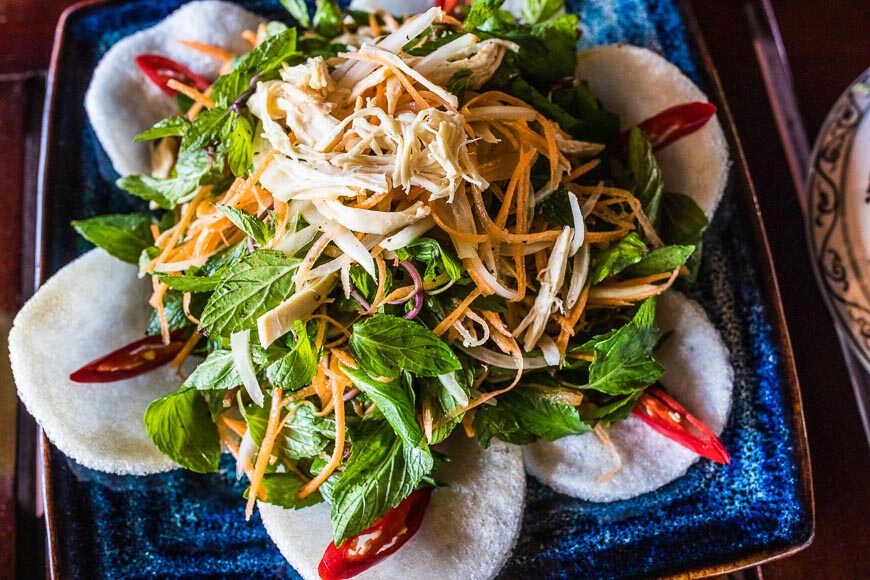 Photo: Vietnam Tourism
Tourist Attractions
The first stop is Thung Khe Pass or Da Trang Pass, located on No.6 Highway, between Tan Lac and Mai Chau.
This used to be a limestone mountain, created by the process of paving the road. It is usually covered by fog, making it look like it is in the middle of winter. The best time to visit is on sunny days, when it is safer to drive and has better photo opportunities.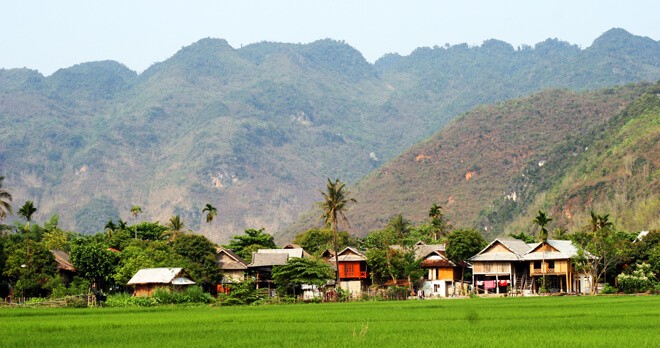 Photo: VnTrip
If you want to learn more about the local culture, you should not miss Lac Village, where there are hundreds of 700-year-old stilted houses.
Lac village is surrounded by gorgeous mountains, pleasant streams and green paddy fields which create pristine rustic scenery, with plenty of homestays to choose from.
Lac Village is located about 3km from Mai Chau Ecolodge, and you can travel there by bicycle.
November sees Hang Kia – Pa Co valley covered in dreamy and thick white clouds.
Go Lao or Go Mu Waterfall, located near Mai Chau Hideaway and Bakhan Village Resort, is 20 metre tall, and has large stones lie at the bottom of the lake.
The weather is getting cold so it might not be a great choice to bathe in the water. Instead, you can take a stroll around the area, enjoy the fresh air and take some beautiful pictures.
Go Mu Waterfall. Photo: Meou Huong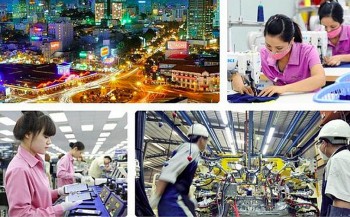 National
Vietnam News Today (Jan. 17): Vietnam records 15,643 new Covid cases; Northern region to turn severely cold from January 17; 'New normal' adaptation leads to positive forecast for Vietnamese economy in 2022; Vietnam-China clash tickets open for sale in two days.