A Profound Lesson In Self-Studying for Vietnamese Youth
The life and achievements of President Ho Chi Minh were a life of fighting for revolutionary cause and strong aspiration for powerful country. Ho made himself an exemplary example of serious learning and self-studying spirit to improve his own capability and have a positive impact on others.
This articles cites the lecture "The self-study path of President Ho Chi Minh: Profound lessons for today's young Vietnamese generations" and was written by Dang Vu Ngoc Mai – Grade 10 of History Specialization, at Hanoi Amsterdam High School for the Gifted under direction and instruction of Dr. Bui Quang Tuyen, Director of Viettel Academy.
It was presented at the Scientific Conference: "The self-study path of President Ho Chi Minh - lessons and personal-relating" organized by the Vietnam Association for Promoting Education in Hanoi on June 30, 2021.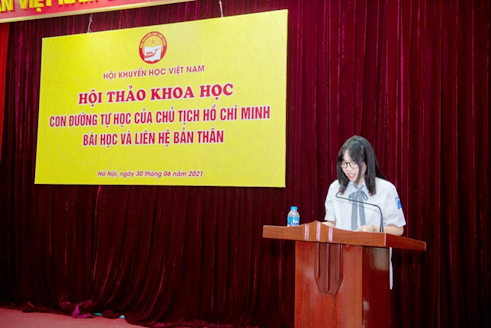 Dang Vu Ngoc Mai – Grade 10 for History Specialization – Ha Noi Amsterdam High School for the Gifted speaking at the workshop: "The self-study path of President Ho Chi Minh – the lesson and personal-relating"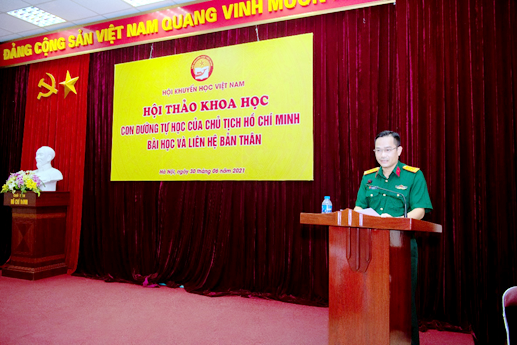 Dr. Bui Quang Tuyen, Director of Viettel Academy made a speech at the Scientific Conference: "The self-study path of President Ho Chi Minh - lessons and personal-relating"
Ho Chi Minh's example of self-study was of not only a diligent attitude and progressive spirit, but also of serious, grounded and scientific thinking; having specific goals and plans, clear modes of action, as well as perseverance, creative efforts and innovation. It was a philosophy of life and the art of self-practice. A scientific analysis of Uncle Ho's self-study path and learning spirit, will give anyone a useful applicable lesson, especially the young Vietnamese of today.
Firstly, it is a must to have a "learning-oriented" and "inquisitive" mindset. "Ăn vóc học hay" (eating healthily as well as learning well) or "đi một ngày đàng học một sàng khôn" (going out one day, and coming back with a basket full of wisdom).
Learning can be implement anytime and anywhere, combining both "learning" as regular and flexible learning, with "study" as in methodical and professional research
It is said by men of old that, "handwriting is a personal feature" and that each person's intelligence, qualifications and knowledge will determine his or her own position and role in an organization and community, which cannot be easily accumulated in a short time, but through daily learning.
Secondly, the spirit, will and energy to study must be kept continuously. Learning must be constant and nonstop, not hit and miss. The spirit of learning is a personal quality that is nourished, and even considered an important personal competency in frameworks built for employees of many current organizations. Learning perseverance has to be shown through daily determination and persistence instead of impossibly studying all at once, or learning for the sake of it without true interest. "Learning one thing to know only one thing" or just to talk is for laziness to be done in a short time and makes the spirit and interest in learning lessen; it is difficult to pull back from and people gradually become satisfied with their lot and lag behind.
The rapid development of science and technology makes the new quickly become old, with little effort or without updating, we can become obsolete immediately, falling behind the times, trends, and technology. In addition, the information flow and human knowledge store have become huge and easily accessible, a resource for anyone to exploit. However, we will never master this through purchasing, selling, or borrowing but instead we must learn to self-study and accumulate for ourselves, that is to work and live in the most meaningful way.
Thirdly, self-studying needs us to be actively and creatively doing, not just coping or racing for achievements. Knowledge cultivation is aimed for human values and contributions to society not for mere certificates of merit or degrees. Young people must use their brainpower to be smart in the process of self-studying at all times and places. Learn how to know, then inherit what you know after learning to innovate, create, and further develop new knowledge. Only this way, can the young generation of Vietnam be properly represented in the development of the country. As the motto of the Ho Chi Minh Communist Youth Union puts it: "Where the Party needs the youth to be, what is difficult the youth will deal with."
Fourthly, self-study also requires thinking and choices. Because knowledge is endless while time and human ability to receive it is limited. Young people are supposed to be ambitiously curious with the ability to constantly update and quickly absorb, so they need more mature thinking and wise choices in what, where, and with whom to learn. Learnable knowledge is a common property, just like open resources, but how to discover and absorb them depends on personal choices.
A careless choice without specific selecting and spending much time due to personal feelings can lead to wasted time, effort, and money. It is true that knowledge in any field is valuable, but it is necessary to prioritize the things that are appropriate, important and necessary for each person. Not to mention that if they don't think clearly and choose carefully, young people are easily attracted and lured to absorb the bad, harmful, and meaningless, even to embrace the opposite of fine customs and good social moral standards.
Fifth, in addition to self-studying professional knowledge, it is necessary to equip yourself with basic political, cultural and social knowledge. In particular, young people need to have a solid understanding of Vietnamese history, traditions, customs, practices and culture, and need to be fluent in their mother tongue before being good at other foreign languages.
Uncle Ho taught us: "Dân ta phải biết sử ta. Cho tường gốc tích nước nhà Việt Nam" (means "Our people must know our history. For the deep understanding of the country origin of Vietnam."). In addition, it is necessary to practice listening - learning - reading - walking to improve the understanding of a colorful life. It is necessary to firmly equip life skills and survival skills, for example: swimming and climbing; knowledge of fire prevention and fighting; basic first aid techniques; how to repair electricity, domestic water; knowledge about food safety and hygiene; knowledge of goods and market prices; the ability to take care of themselves and their families... Young people also need be pioneers in extra-curricular movements, social work and volunteering to bring personal insights gained through the process of studying, as well as self-study in activities of national benefit and to contribute to the community and the country.
Sixth, learning needs to go hand in hand with practice. Practice is always the best measure for all lessons. More practical hours should be included in classroom lectures. It is necessary to combine schools and organizations and companies to provide learning and experience models for students. For each person, depending on conditions and abilities, it is necessary to practice diligently and self-study. Working skills and practical skills are the key to creating personal capacity and advantages, because when born, "good words" must go hand in hand with "doing things," not just pursuing theory and books in the world to be applied in a mechanical way.
Seventh, learning and self-study is a process, a "lifelong learning," following Uncle Ho's example. Therefore, young people should not worry about "failure to achieve" and should not be too pressured, and make things difficult for themselves. It should be understood that human value lies a lot in personality, how to treat people and doing good deeds, not only in academic results, hierarchy, position in mass organizations, and reputation in society...
Each person has to strive, learn and perfect in his own way, and should not be too competitive in terms of education and status. Even, if it is necessary to practice and learn perseverance and patience, it is also necessary to equip yourself with good physical and mental health to increase your ability to overcome difficulties and overcome the stress and pressure of modern life.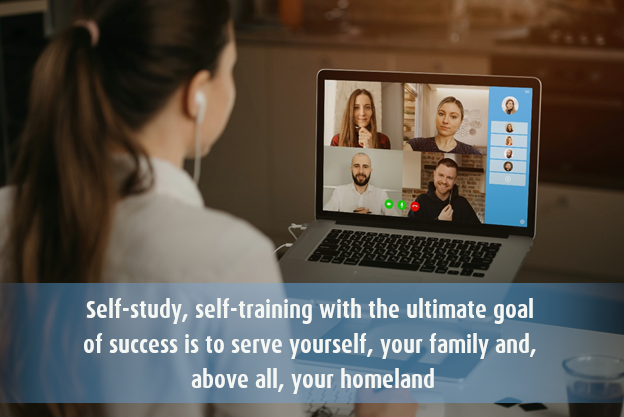 Eight, do not let the dark side of the internet and technology entice, or affect time, productivity, learning results, and labor. The rate of Vietnamese people using the internet and social networks is high today, leading to wasted study and working time with chatting, playing games, surfing the web, and distracting from tasks and wasting common resources. This is a matter of great concern to the whole society, including young people. Therefore, a generation of smart and brave young people needs to know how to exploit the advantages of technology, the mass information system, and social networks to serve learning, especially self-study, as well as to serve the needs of students; at the same time, we must know how to control and limit ourselves so as not to be dragged, lost and negatively affected by bad information channels, games and online trends. In addition, young people also need to learn and improve themselves in terms of language, communication style, and skills to deal with the surroundings, to avoid overusing online communication, to communicate in a virtual environment, to use acronyms, slang in "chat chit" that ignore the standard word system, ignore the actual social interaction, interact with real people.
Ninth, study, self-study, self-training with the ultimate goal of success is to serve yourself, your family and, above all, your homeland. When asked about what quality is considered the most necessary for the young generation of Vietnam today, many successful people mentioned four words, which is "love for the motherland". That love must be concretized into action. The results of the self-study and learning process must be turned into practical contributions, benefiting the country and the people, not just academic achievements. Especially for young people who soon study abroad and absorb many Western cultural forms; it is necessary to have a sense of returning to their homeland to bring their knowledge and understanding to contribute to the knowledge store of Vietnam, and apply it to the reality of productive labor for the country's socio-economic development.
Tenth, it is key to have the right learning methods and tools. Self-study methods are necessary to learn with the right people, in the right way, with the right content, at the right time. Gone are the days of learning as a teacher and many listeners in a concentrated classroom, where knowledge is being continuous acquisition through the process of self-study, self-discovery, self-reception.
Learning today is approaching a model of linking "theory" with "practice," "practice" with "experience, "in which experience is a new and effective trend. The core competencies required for personnel training and retraining should focus on soft skills, social skills and emotional intelligence. The current strong digital transformation process has helped learners to have more learning tools such as e-learning, mobile learning, collaborative/social learning, etc. Microlearning where learners can access content very quickly, anytime, anywhere and on many different media and tools (computers, tablets, phones...) should be utilized.
Instead of encouraging long learning in a short time, the new way of learning is encouraging short learning over a long period of time and with learning continuity. Today, individuals and organizations have much greater conditions and opportunities for self-study than in Uncle Ho's time, with the supporting of technology and the ability to access knowledge stores on the internet and virtual libraries. Young people have better conditions both materially and spiritually; if they do not improve the spirit of learning, self-study and self-training, they cannot become talented and useful people for the community and the country.