A wonderful day trip in Cat Ba National Park
Cat Ba Island has always been considered one of the must-see destinations of Vietnam with Cat Ba National Park being known as a tourist attraction to millions of domestic and foreign tourists. Here are schedules you can pick up to discover this destination in one day.
Cat Ba National Park was established in 1986, it covers some 17,362.96 ha, of which 10,912.51 ha are terrestrial ecosystems (islands) and 6,450.45 ha are marine ecosystems.
The Park is situated in the Cat Ba Archipelago which consists of 366 islands. It is about 45 km east of Hai Phong City, 150km south - east of Ha Noi and borders with Ha Long Bay to the north.
Cat Ba National Park is at the heart of the UNESCO Cat Ba Archipelago Biosphere Reserve and it shares the distinctive scenic beauty of the Ha Long Bay Area, a UNESCO World Heritage Site. The Park is also home to diverse range of terrestrial and marine life.
Photo: Daniel Hoherd
Coming to the Park, travellers can enjoy the beauty of the vast landscapes and seascapes. Visitors can choose to relax on isolated beaches in Lan Ha Bay, trek through primeval tropical rain forest or mangrove forest, discover many unique animal and plant species, and immerse themselves in the local culture.
Kim Giao and Ngu Lam peaks hiking trail
Most Cat Ba Tours include Ngu Lam Peak – Kim Giao Forest tourist trail in the itinerary that can appeal to nature lovers, mountain climbers, trekkers, or those that just simply want a challenging walk amid the pristine greenness. In particular, this trail is 3km and not easy for somebody.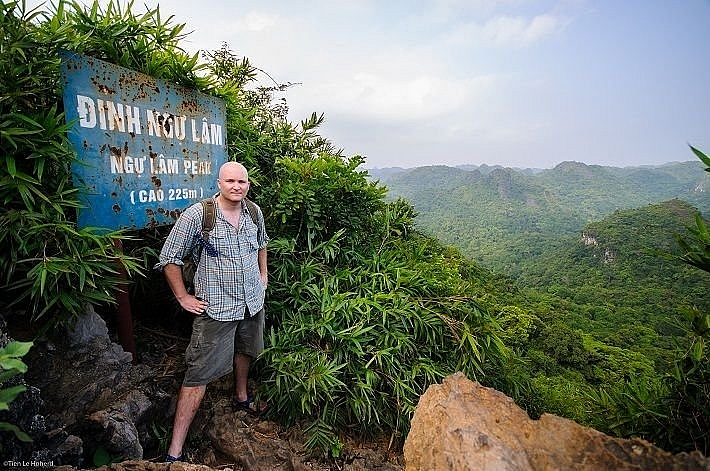 Photo: TienLe
To conquer the 3km trail, it takes around 3-4 hours and requires high assertion to reach the target. People will need to get through the small path challenged by rocks and slippery and humid road. Nonetheless, this does not discourage the tourists who want to a sense of victory and mingle with magnificent Nature.
First of all, it takes around 15 or 20 minutes to trek from Cat Ba National Park to Kim Giao forest. Trekking for the first 500m, you will approach the spacious botanical garden, home to more than 1.500 species of plants protected in the National Park. Step by step, you get to Kim Giao forest, just marvel at the straight, big, and age-old trees.
Scene from Ngu Lam Peak. Photo: Gavin White
The whole area functions like a peaceful and poetic garden or an ideal stop for all to meditate on life meanings. Take time learning about this species of conifer in the family Podocarpaceae! It's easy to notice a tree up to 30m tall, with a pyramidal crown. You might even listen to the songs of the wind and tree leaves. And if you go with a tour guide, listen to a true love story of "Mr. Kim" and "Ms. Giao."
Trekking on, the further you go, the closer you get to Ngu Lam Peak. At the height of 225m, Ngu Lam Peak will treat you with the wonderful panorama of the whole green landscape of Cat Ba as well as the fresh air. It is the perfect picture of Nature that convinces you of the praiseworthy adventure and that your effort is well-rewarded.
The ranges of mountains covered by trees will look like the green pyramids from the peak and the view seems to be infinite. The feeling of successfully conquering Nature will make your trip more meaningful and memorable.
Exploring Viet Hai Fishing Village
Situated entirely in the middle of the sea, surrounded by jungles and mountains, Viet Hai Fishing Village lies approximately 18 km from Cat Ba Island, belongs to Cat Hai district of Hai Phong City. This is a great place to escape from the noisy and bustling city, perfectly suitable for anyone who wants to find a new atmospheric space.
Photo: escapesails
For travelers who want an adventurous journey, you can depart from Cat Ba Island and do trekking about 17km through the jungle of Cat Ba National Park passing the Ao Ech Lake. En route, you will walk through the primary forest and follow adventurous trails.But if you are not strong enough and don't want to take those sheer cliffs, deep gorges and muddy ponds, you can take a 45 minutes private boat from Beo tourist dock.
Viet Hai village today is a tourism community site with natural, original and unique landscapes with friendly people who will bring tourists the best experience in this town.Viet Hai village is the most difficult commune of Cat Ba Island but the people here are optimistic, simple and hospitable. Just like their ancestors who had lived here for centuries, the villagers make a living by fishing, farming, and breeding.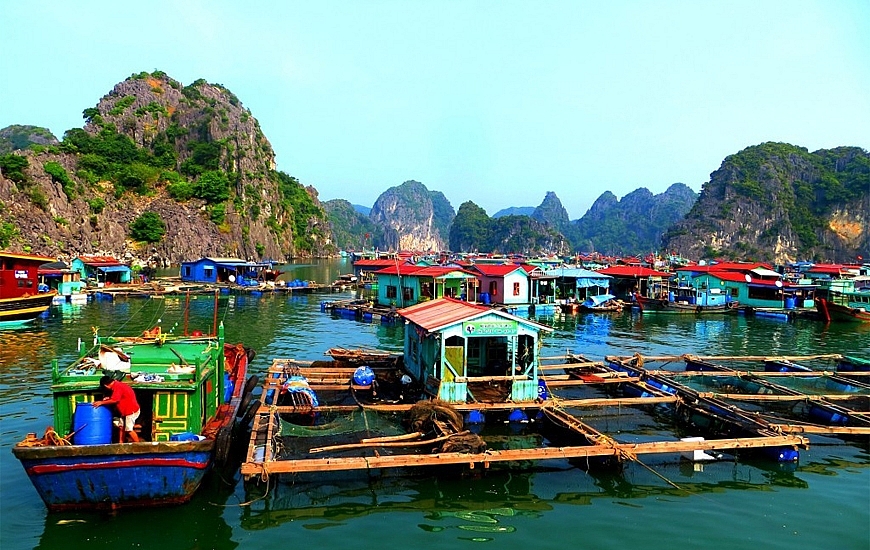 Photo: escapesails
As their sources of food and financial gain are from nature, they stand nice harmony to nature. People here are quite keen on choosing tourism. Some people went to Hanoi and Saigon to learn how to make tourism and apply it to their village. Here there is also a travel company named "Forest People" to serve tourists coming here.
The best time to visit Viet Hai Fishing Village is from April to September. The sunny weather will make it easier for trekking and you can observe the beauty of Lan Ha Bay more clearly.
An image of in Ao Ech. Photo: Mytour.vn
Boosting imagination with Trung Trang Cave and Quan Y Cave
Trung Trang Cave is located in the Trung Trang Valley, around 1km from the center of Cat Ba National Park. The local people appreciate this site very much as it embraces lots of interesting and unique highlights. Getting inside the cave more than 100m, you will access the hole featured with the sparkling stalactites which seem magical in the dim light conditions.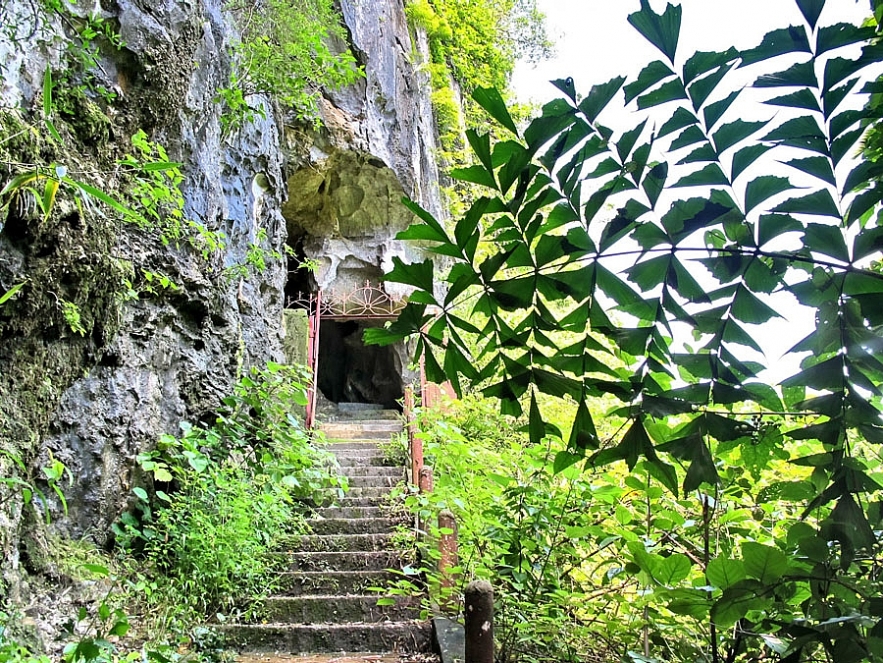 Trung Trang Cave in Cat Ba Island. Photo: lanhabaycruises
There, it's feasible to notice the interestingly-shaped objects that look similar to a crown, line of clothing, Gods of Happiness, Wealth, and Longevity, etc. The inside of the cave is also home to the mysterious ecosystem of fauna. It provides the living environments for bats, birds, insects, and reptiles. The interior of the cave has dim light to preserve the natural setting to facilitate wildlife.
After exploring the 300m-long cave, you will be in front of the magnificent entrance highlighted with the distinctive architectural artworks of Nature. From this area, start entering the green zones of the age-old trees and lianas. This is the largest cave that represents more than 150 grottoes of various sizes in Cat Ba Island.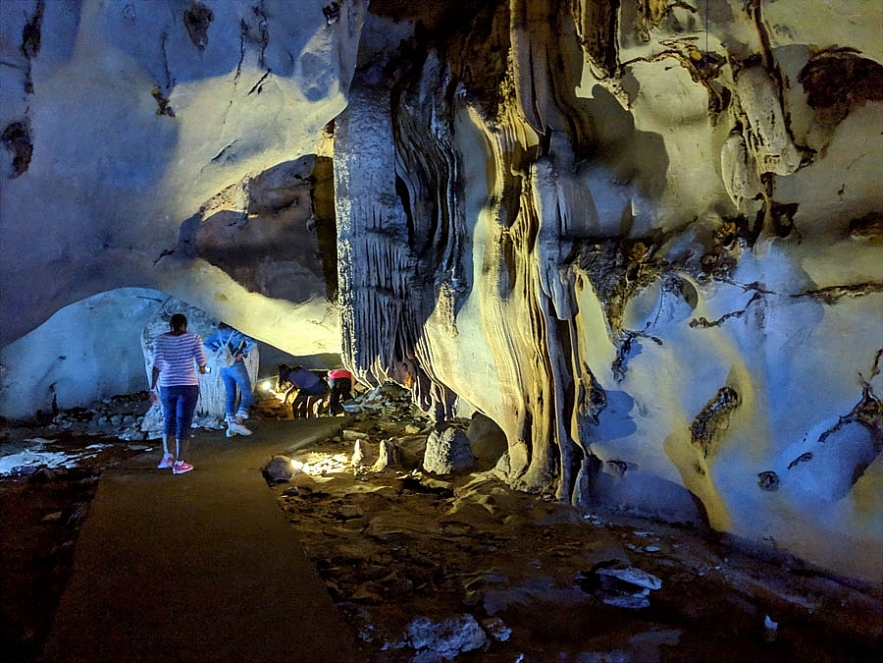 Trung Trang Cave in Cat Ba Island. Photo: Lanhabaycruises
There also found the fossils and stone tools of the former Vietnamese. It keeps the remnants of Vietnamese history during the war times. In the past, this place was called "bat cave or the cave of bats." In the period from 1964 to 1968, it was made a refuge and named as "Hai Quan" or "Sailor."
Quan Y Cave
Quan Y cave belongs to Khe Sau, Hai Son, Tran Chau, Cat Hai district. Previously, this cave is called the Hung Son because it was named as a general of Tran reign. In the American war, this cave is called Quan Y cave because since the 1960s, it became a modern hospital.
Quan Y cave is a masterpiece in the structure of the war because the construction is completely within the heart of a mountain. It is a hospital located in cave which can accommodate over 100 people. Located at the 100 meters height with the window overlooking the valley, Quan Y cave is the ideal place to become rehabilitation. It was built with the help of Chinese technical experts.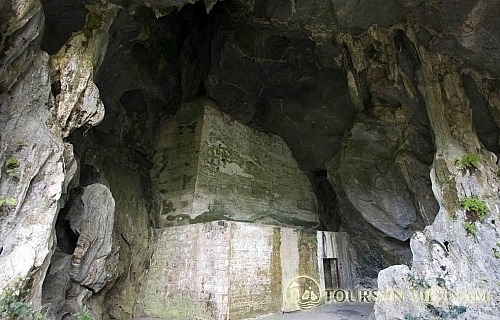 Photo: Toursinvietnam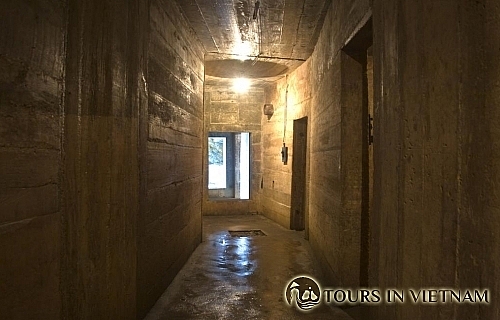 Photo: Toursinvietnam
In the cave, the hospital has 3 floors and 17 rooms, the roads system. Quan Y cave is the place where treats and rehabilitate for the army according to the model of a hospital. Since Quan Y cave was built in the war, this hospital has ventilation systems from within the cave to the top of mountain by zigzags to get fresh air and light easily and just avoid the bombs. According to people live in this area for a long time, the Quan Y cave is always the ideal place to avoid bombs of people and army.
Quan Y cave is the pride of not only Vietnam but also the people of Cat Ba Island. Up to now, when the hospital was moved from one place to another, the historical value and its facilities still exist. It becomes an ideal attraction of Cat Hai.
Relaxing at Hoi Lake Farmstay
Many groups of young people choose Hoi Lake as a picnic spot. This is an ecological resort located right in the national park, including bungalows, tables and chairs, bathing facilities rental, ... Families with young children can organize barbecue parties, picnics and relax for weekend.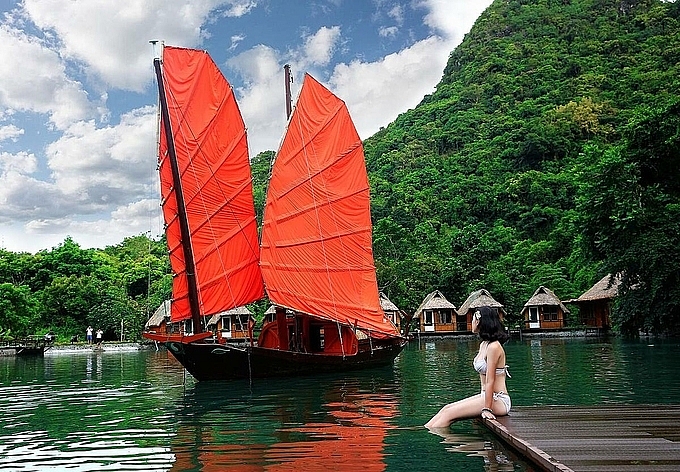 A tourist in Hoi Lake Farmstay. Photo: Booking
Young people often use kayaking, camping, dining, and renting a homestay to stay overnight. In the evening, there are cultural exchanges in Hoi Lake. The bar opens late so visitors can meet more new friends. Room charges is from US$ 6.9/person with dorm beds and about US$25.9 for family rooms. This cost includes breakfasts.
How to plan your trip to Cat Ba

Besides saving money on your accommodation, learning how to find cheap flights will help you to reduce your other big travel expense. Thankfully, there are ...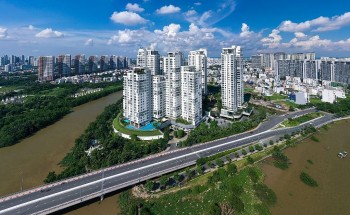 Economy
Vietnam Business & Weather Briefing (Sep 29): Vietnam among world's best performers in digital banking, Vietnam's new overseas investments surge 2.31-fold in nine months.