Achieving a Global Audience with Vietnamese Water Puppetry
Veteran artist Phan Thanh Liem sat down with Vietnam Times to discuss of the intricacies of a Vietnamese art form.
Artist Phan Thanh Liem was born and raised in a family with traditional water puppetry craftsmanship in Rach village, Nam Chan commune, Nam Truc district, Nam Dinh. He is the 7th generation in the family to practice this art form. He is also a successful design artist of water puppetry stages, a screenwriter, and a contributor to the research and creation of a lot of water puppetry.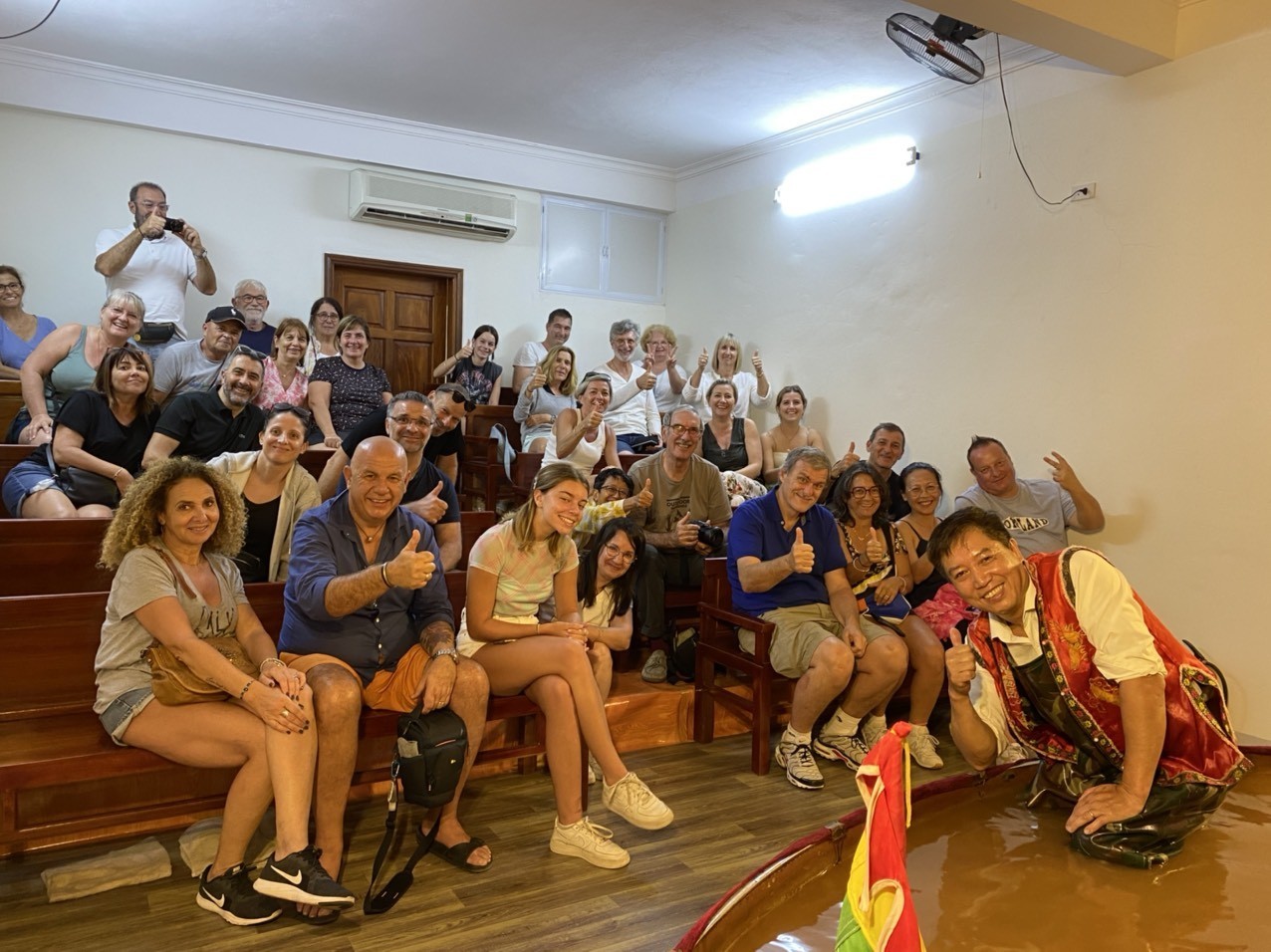 By hosting a mini show instead of the traditional form of water puppetry, which usually takes place in the village's community spaces, Liem welcomes many expats to experience this art at his own home. Photo courtesy of Phan Thanh Liem
One of his most famous traits is the miniature show. By hosting this show instead of the traditional form of water puppetry, which usually takes place in village's community spaces, Liem welcomes many expats to experience this art at his own home.
In Kham Thien Street (Dong Da District, Hanoi), Liem's house, most of the living space is for displaying his puppet collection. The 4-story house is his studio, workshop, and stage all at once
"The whole family of 4 stayed in a room of less than 10m2, designed with a loft, and every corner and remaining space of the house is sacrificed to puppets," said Liem, jokingly.
The 4th floor of the house is designed as a stage. This is where Liem does most of the mini water puppet performance. The space can hold 16 people. He has a wide range of audiences, of all ages and occupations. They come from all corners of the world to see authentic water puppetry.
The audience can try control the puppet with Liem's instruction (Photo courtesy by Phan Thanh Liem).
"Not only performing, I also introduced to the audiences the history and cultural characteristics of the country and people of Vietnam hidden behind the performances. After that, they can try to control the puppets with my instruction. I believe that has brought interesting and unforgettable experiences for them," said the water puppet master.
Besides his own home, there is another stage in Thach Ban that can welcome up to 40 guests. Liem claimed that thanks to having multiple stages, with advantages in compactness and convenience, water puppetry has become one of the most popular attractions for foreign friends while traveling in Vietnam.
"Guests are invited to come not only to watch performances but to have tea and talk. Many tourists who want to learn more can stay with my family to go to the market, cook and enjoy traditional dishes, and share interesting stories. They always want to visit again one day." said Liem about the way he make more people understand water puppetry, especially tourists.
He also brought the miniature water puppet stage around the world to perform. Over the years, artists have been continuously invited to participate in major cultural festivals in different countries and continents, making a significant contribution to promoting Vietnamese traditional culture to friends around the world.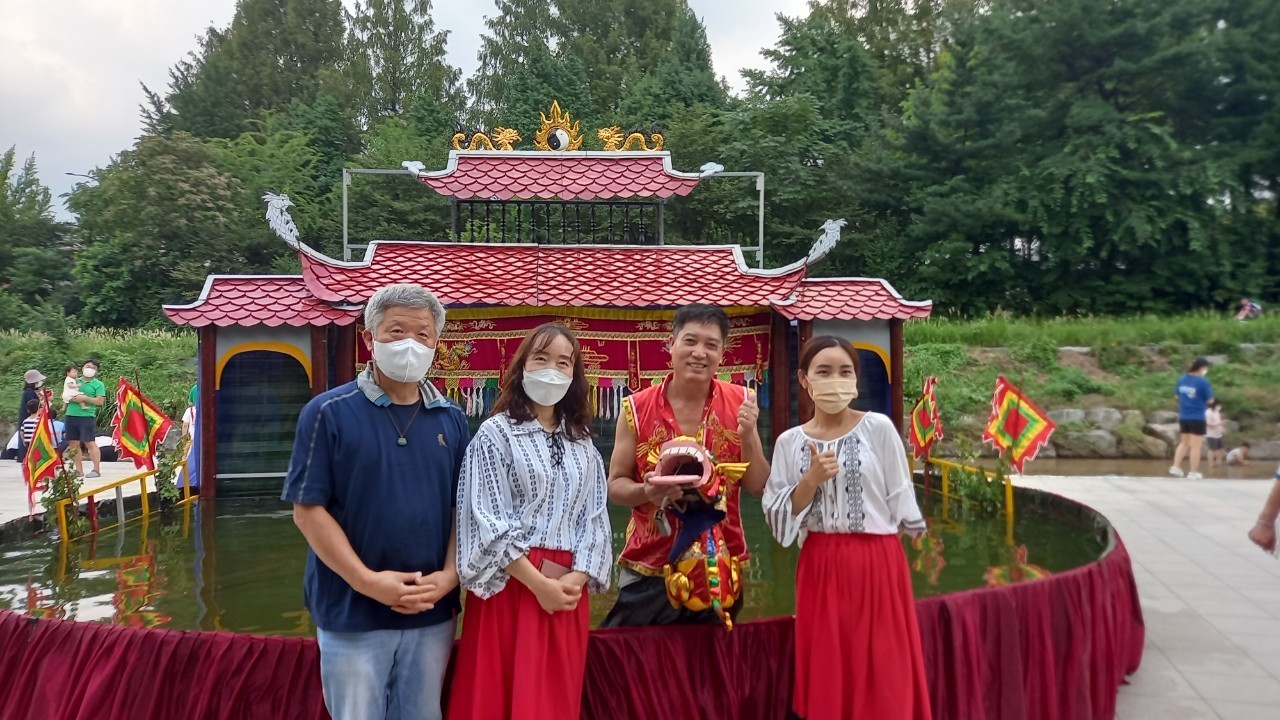 Liem (second from right) brought my miniature water puppet stage overseas (Photo courtesy by Phan Thanh Liem)
"I brought my miniature water puppet stage to America, the UK, Canada, South Kora, and China. Once there was an emotional performance in Japan. It was in the summer, and the audiences, old and young everyone sat quietly and even cheered under the hot sun," said Liem about his impression of foreigners' love for the traditional arts.
Performing overseas created unforgettable memories to Liem. He recalled the heavy rain during his visit to Korea
"The weather was fine when we performed in the morning but after 2-3 hours of the afternoon performance, it rained so heavily, the water flooded the props and puppets. We had to split up to look, and fortunately, we found some puppets. So we couldn't perform as many plays as we planned," said artist Phan Thanh Liem.
His performances attracted the attention of many Vietnamese - Korean multicultural families. Many Vietnamese brides in Korea have come with their families to see and excitedly introduce to their husbands and children the unique art form only found in Vietnam.
Liem's most recent trip was to bring water puppetry to the 2022 International Defense Exhibition. This helped Liem bring new ideas into the performances.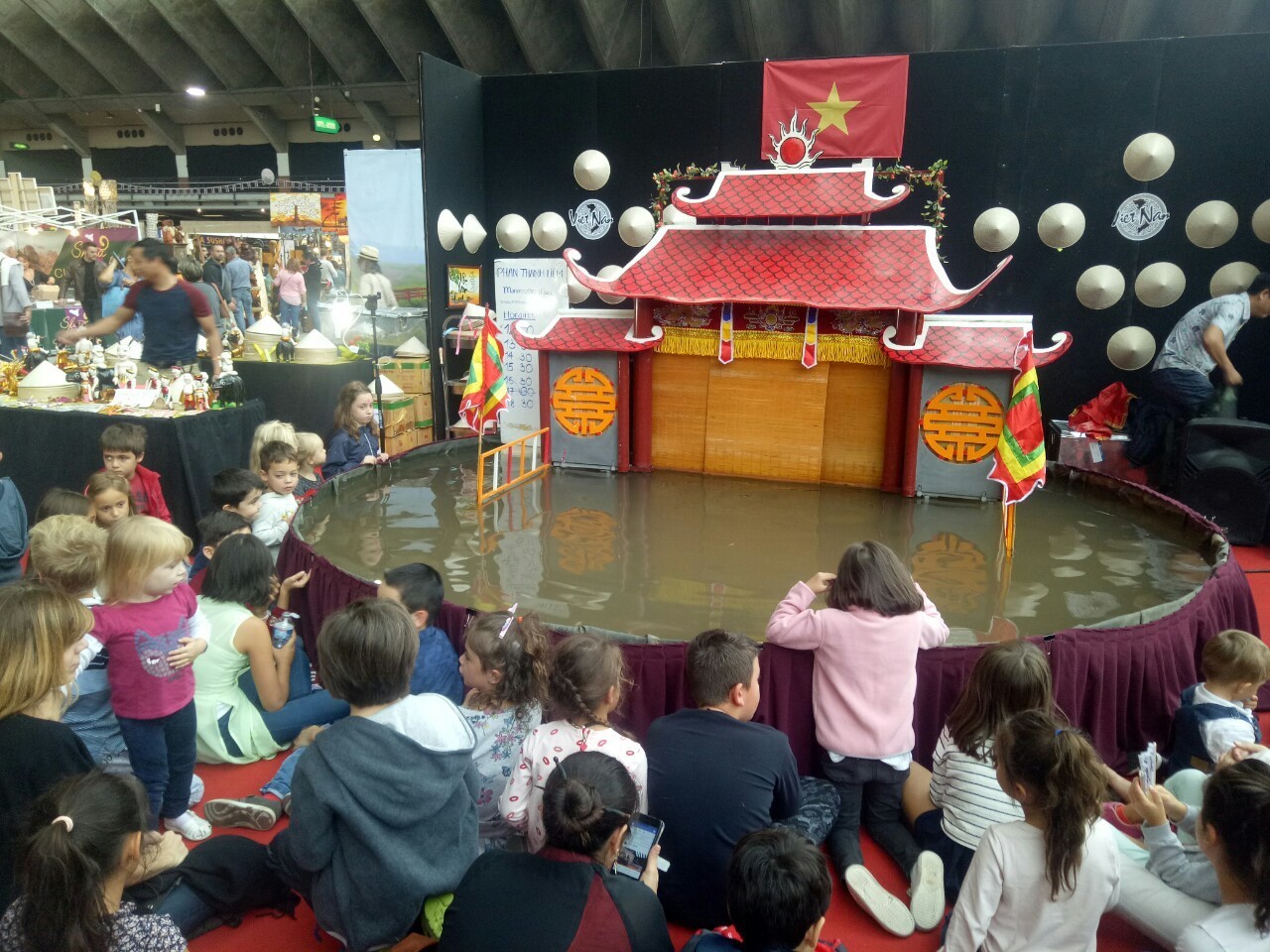 Young children love watching the water puppet show (Photo courtesy by Phan Thanh Liem)
"When I was invited to join, I was thinking of the idea of ​​bringing the military concept in [water puppet]. I do the military parades, armored tanks go around, and people love it. Military delegations of countries, including Russia, perform for them to see them clapping continuously, non-stop," exclaimed Liem.
After this experience, he is positive that water puppetry can continue to flourish and bring traditional Vietnamese cultural beauty close to international audiences.