ADB approves grant to build flood-resilient houses in Quang Tri
The Asian Development Bank (ADB) has approved a USD 620.000 (over VND 14.3 billion) grant to help Vietnam Government building houses for prevention and response to natural disasters.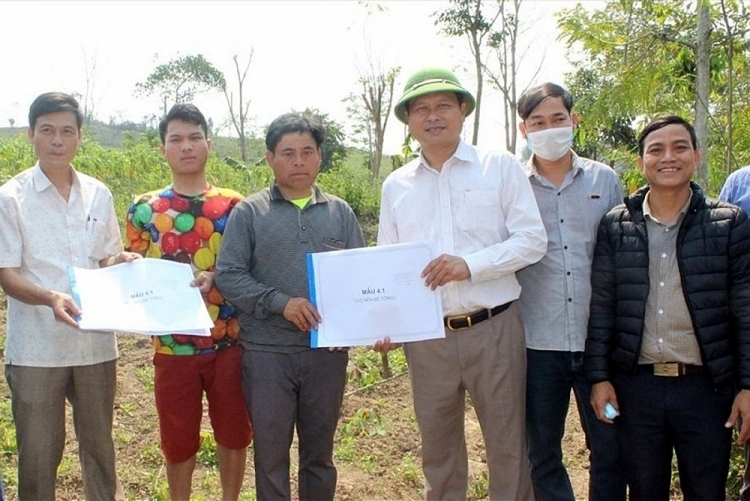 The Steering Committee for Natural Disaster Response and Search and Rescue presents the house design to the people in Huong Hoa district.
Le Quang Lam - Head of Provincial Committee for Natural Disaster Response and Search and Rescue in Quang Tri province, said that Quang Tri province has 106 poor households and near-poor households affected by natural disasters, supported with VND 140 million/household for house re-construction.
Particularly in the mountainous district of Huong Hoa, 37 families of ethnic minorities whose houses were completely collapsed and severely damaged in the late 2020 floods and storms received support. In which, families with completely collapsed houses received an average of VND 140 million/ household while families with badly damaged houses received an average of VND 138 million/household.
After receiving the support, all families have started the re-construction of their houses from February 22, 2021 and committed to complete the house construction before May 24, 2021.
"This is the biggest aid ever given to the flood-hit locals. More than 100 houses, when completed, will be home and safe places which can withstand storms and floods for people in typhoon-prone coastal areas," Lam emphasized.
Previously, through the Red Cross at all levels in Quang Tri province, the project "Responding to natural disasters in Vietnam" under the United Nations Development Program (UNDP) has supported hundreds of households in Quang Tri.
Since October 2020, the central region has experienced prolonged and heavy rains accompanied by strong winds, leading to severe floods and landslides.
Some 7.7 million Vietnamese people are living in areas affected by the floods. Of the total, 1.5 million people in nine central provinces have been directly impacted and some 380,000 houses have been severely damaged or destroyed.
Safe Houses Save Lives

The United Nations Development Programme (UNDP), Dan Tri newspaper, and the Vietnam Fund for Promoting Education on January 5 have officially launched a crowdfunding campaign ...