Ambassador visits OVs in Thailand's northeastern provinces
During his visit to three Thailand's northeastern provinces from December 11-15, Vietnamese Ambassador to Thailand Phan Chi Thanh has met overseas Vietnamese living in Chaiyaphum, Sakon Nakkhon and Nakkhon Phanom to learned about the life of people here, reported VNA.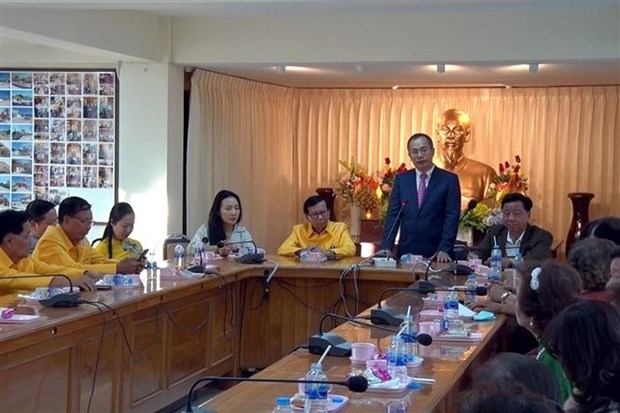 Vietnamese Ambassador to Thailand Phan Chi Thanh speaks to Vietnamese expats living in Thailand's northeastern provinces. Photo: VNA
During his met with leaders of the general association of Vietnamese people in Thailand and representatives of the Vietnamese community in the three provinces, Thanh urged overseas Vietnamese to contribute more to the development of these northeastern provinces and their homeland.
He briefed them on Vietnam's political and economic situation as well as its COVID-19 prevention and control, saying that Vietnam is among countries in the world that have brought the pandemic under control and it is also the only ASEAN member state to experience a positive economic growth this year.
He went on to hail the Vietnamese expats in Thailand for raising more than VND 4 billion (USD 173,215) in financial relief for survivors of the historic flooding in central Vietnam in November.
The bilateral relations are growing strongly with Thailand ranking 9th among foreign investors in Vietnam on the global scale and second in Southeast Asia, only after Singapore, he said.
The ambassador expected the Vietnamese expats will continue making contributions to the development of Thailand and at the same time, seek investment opportunities in Vietnam and contribute further to bolstering the bilateral strategic partnership.
Thanh also encouraged them to step up education of Vietnamese language and culture for young people to know more about their fatherland and stay connected with their roots.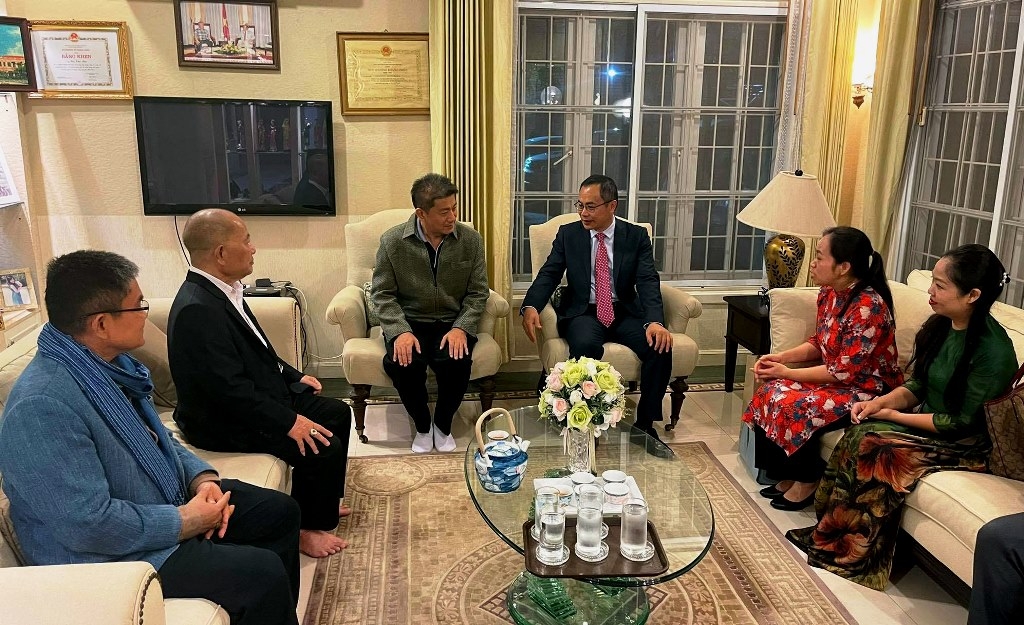 Vietnamese Ambassador to Thailand Phan Chi Thanh meets of Sakon Nakhon Monsit Paysanthanawat. Photo: NDO
Earlier, Ambassador Phan Chi Thanh also met with Governor of Chaiyaphum Kobchai Bunorana and Governor of Sakon Nakhon Monsit Paysanthanawat.
The provincial leaders highly appreciated the Vietnamese community in Thailand, regarding them as a united community that has complied with local rules and made great contributions to the provinces where they live.
The Vietnamese community has also played a part in strengthening the strategic partnership between the two countries, and they have not only obeyed local preventive measures against COVID-19 but also enthusiastically donated and supported local hospitals as well as Thai families affected by the pandemic, the governors said.
The governors said they want to expand cooperation with Vietnamese localities, especially those they share twinned relations such as Quang Binh and Ha Tinh. Governor of Chaiyaphum Kobchai Bunorana expected to boost ties with the central province of Ha Tinh in the coming time.
Thanh, for his part, thanked the provincial leaders for providing the local Vietnamese community with valuable assistance while asking them to continue supporting the community, particularly in legal issues./.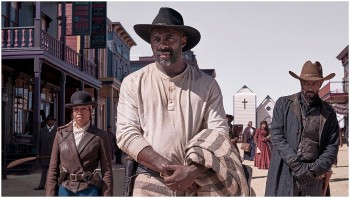 Handbook
November is coming close, and the cold outside makes us want to curl up inside our warm blanket and bing watch our favorite movies or shows. Here is the list of what is coming on Netflix in November, and some of the most expected Netflix originals for you to enjoy.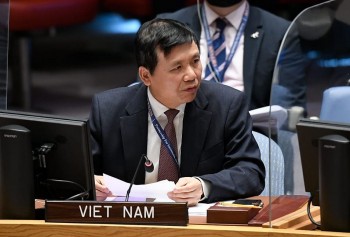 National
Vietnam welcomed the declaration of a unilateral ceasefire by the Central African Republic government at the United Nations Security Council (UNSC) meeting on October 18 on the situation in the Central African Republic.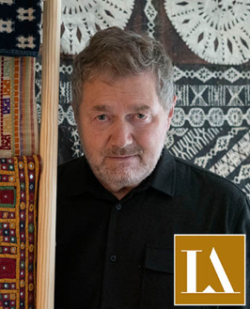 Economy
HONG KONG SAR - Media OutReach - 19 October 2021 - The DFA Awards is a flagship programme of the Hong Kong Design Centre (HKDC). It is comprised of five major awards to acknowledge leaders for their outstanding contributions to the design industry and celebrate projects at the forefront of design excellence with Asian perspectives.