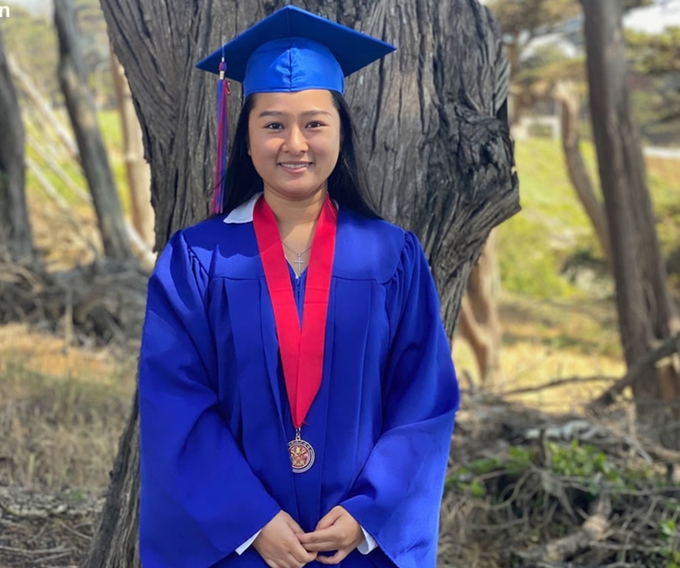 Freshman Phuc Bui Diem Nguyen. Photo: Abc7 News
Phuc Bui Diem Nguyen, a freshman at Laney College in Oakland, California, said she was looking forward to starting college and using her legal name after years of going by the nickname "May."
But on her second day of classes, she received a request from her trigonometry professor, Matthew Hubbard, via email to change her name to be more anglicized, or adapted for use in English.
Nguyen said "anglicized" wasn't a familiar term.
"I never heard that before. At that moment, I was surprised, so I Googled the meaning. I didn't know what it meant, so I called my best friend to ask him, 'What does that mean?'" she said.
The professor even referred to her as "P-Nguyen" later on during a Zoom class.
"I was shocked because growing up, there were problems with how to pronounce my name, but they would ask me how to pronounce my name ... He's being an ignorant person and not trying to learn my name," Nguyen said.
She responded to his email, saying she felt his request was discriminatory. In response, Hubbard said "Phuc Bu" sounded like "[expletive] boy," and used more crude language.
The student's sister shared the email exchange that happened between her and the professor on Instagram and it went viral. According to The New York Times, professor Hubbard was put on leave soon after the emails were made public.
According to the New York Times, on Saturday, Professor Hubbard issued an apology on his now deleted Twitter account. "I apologize for my insensitive actions which caused pain and anger to my student, and which have now caused pain and anger to an untold number of people who read my two inappropriate emails on the Internet," he wrote.
Professor Hubbard said Ms. Nguyen was in his online trigonometry class, which had about 30 students.
Professor Hubbard, who has taught at the college for 15 years, said in a phone interview on Saturday that there were two people in his class with the surname Nguyen. He said he sent his initial email on Wednesday night partly to prevent confusion with the other student, and partly because he was uncomfortable using Ms. Nguyen's name.
Seeing that another student had changed his online name inspired Professor Hubbard to ask Ms. Nguyen if she would do the same. Eventually, he asked all of his students to change their Zoom names for Thursday's class to their last name and their first initial, he said.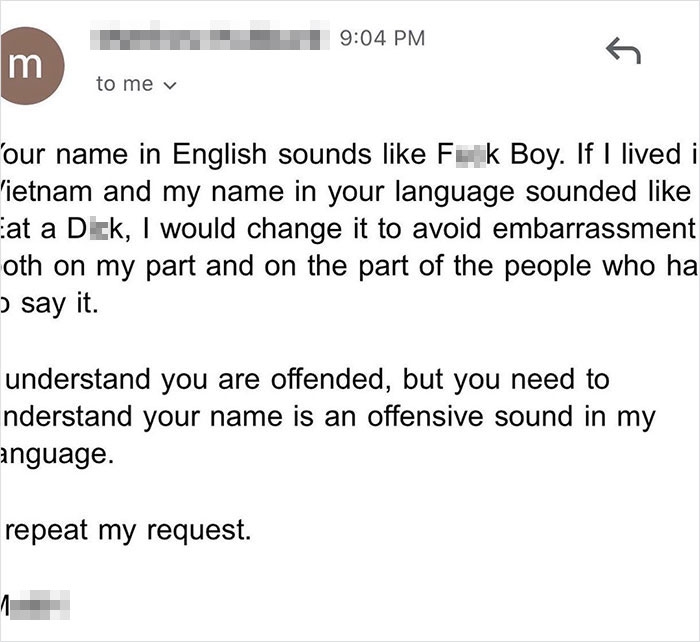 Screenshot photos.
John C. Yang, president and executive director of Advancing Justice — AAJC, a nonprofit organization that works to advance civil and human rights for Asian-Americans, said he was "deeply offended" by the professor's actions.
"A person's name is core to their identity," Mr. Yang said on Saturday, adding that he strongly objects to "the notion that unless you have an American- or English-sounding name, you are a foreigner, and that somehow you have to prove your worth in the United States."
Mr. Yang said that in the 1970s, Asians who immigrated to the United States felt the need to Anglicize their names or adopt an American name to fit into society. Nowadays, people feel more at liberty to choose names that they see fit for their family. "Names are about who we are as a family, who we are as people," he said.
He added that the school should make it clear that behavior like Professor Hubbard's was inappropriate and harmful.
Ellen Wu, associate professor of history at Indiana University Bloomington, said the incident "disgusted" her.
The exchange between Professor Hubbard and Ms. Nguyen was of a piece with larger currents in the country, she said. "Ever since people from Asia have come to the United States as immigrants, as refugees, many Americans have viewed them as foreigners, as culturally too different to be true Americans," Professor Wu added. "And those ideas have stayed in American culture and popular thinking."
Mr. Yang emphasized that it was important that people understand the harm that incidents like this can cause.
"Some people might think of this as some microaggression or something small that students should just get over it," he said. "But the reality is, students and adults of Asian descent have to go through this all their lives."
Jennifer Tran
The New York Times