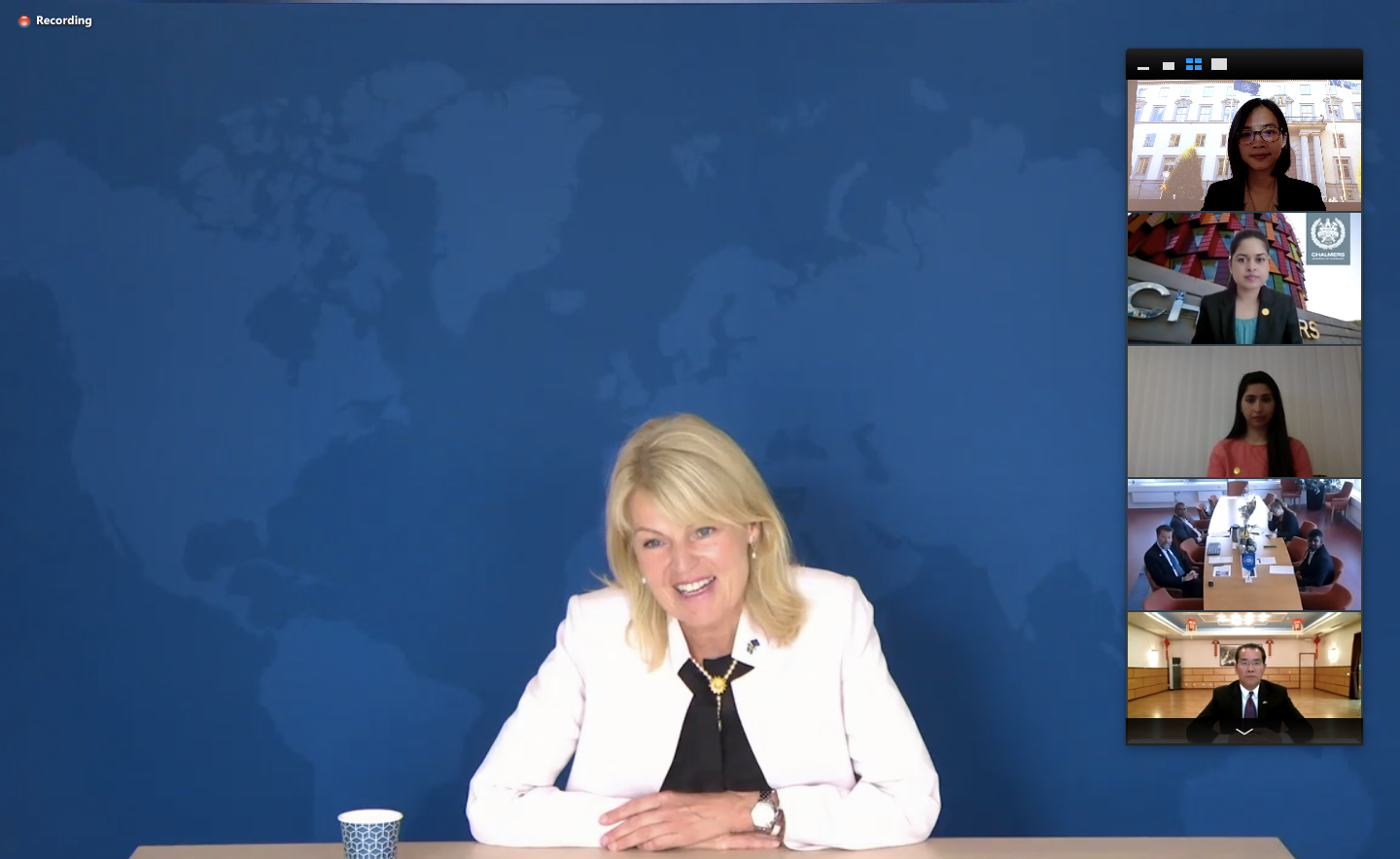 Anna Hallberg, Minister of Foreign Trade and Nordic Affairs greets the scholars.
Nineteen international students from 16 different countries were recognised as "Global Swedes" and received an award at an online ceremony at the Ministry of Foreign Affairs from Swedish Minister for Foreign Trade and Nordic Affairs Anna Hallberg.
Recipients of the award are good Ambassadors both for Sweden and their respective home countries.
Quyen Nguyen from Vietnam was among the "Global Swedes" this year.
The motivation for her nomination said; "Ms. Quyen Nguyen is an excellent student enrolled in the MSc in Business & Management at the Stockholm School of Economics. She is a very energetic, engaging, and communicative student genuinely interested in innovation, technology, and entrepreneurship and aspiring to be an entrepreneur in tech. Her excellent academic performance, as well as her engagement in the program, community, and business makes her a great Global Swede. Quyen has been a great ambassador for SSE and education in Sweden".
The 19 awarded students from 16 different countries were celebrated in an online ceremony held by the Swedish Government and Institute on May 28.
"The Global Swede Award is our way to express our sincere appreciation to some of the most outstanding international students graduating from Swedish universities. We thank them for choosing Sweden, and at the same time welcome them into our global alumni network as friends and ambassadors," said Anna Hallberg, Swedish minister for Foreign trade and Nordic affairs.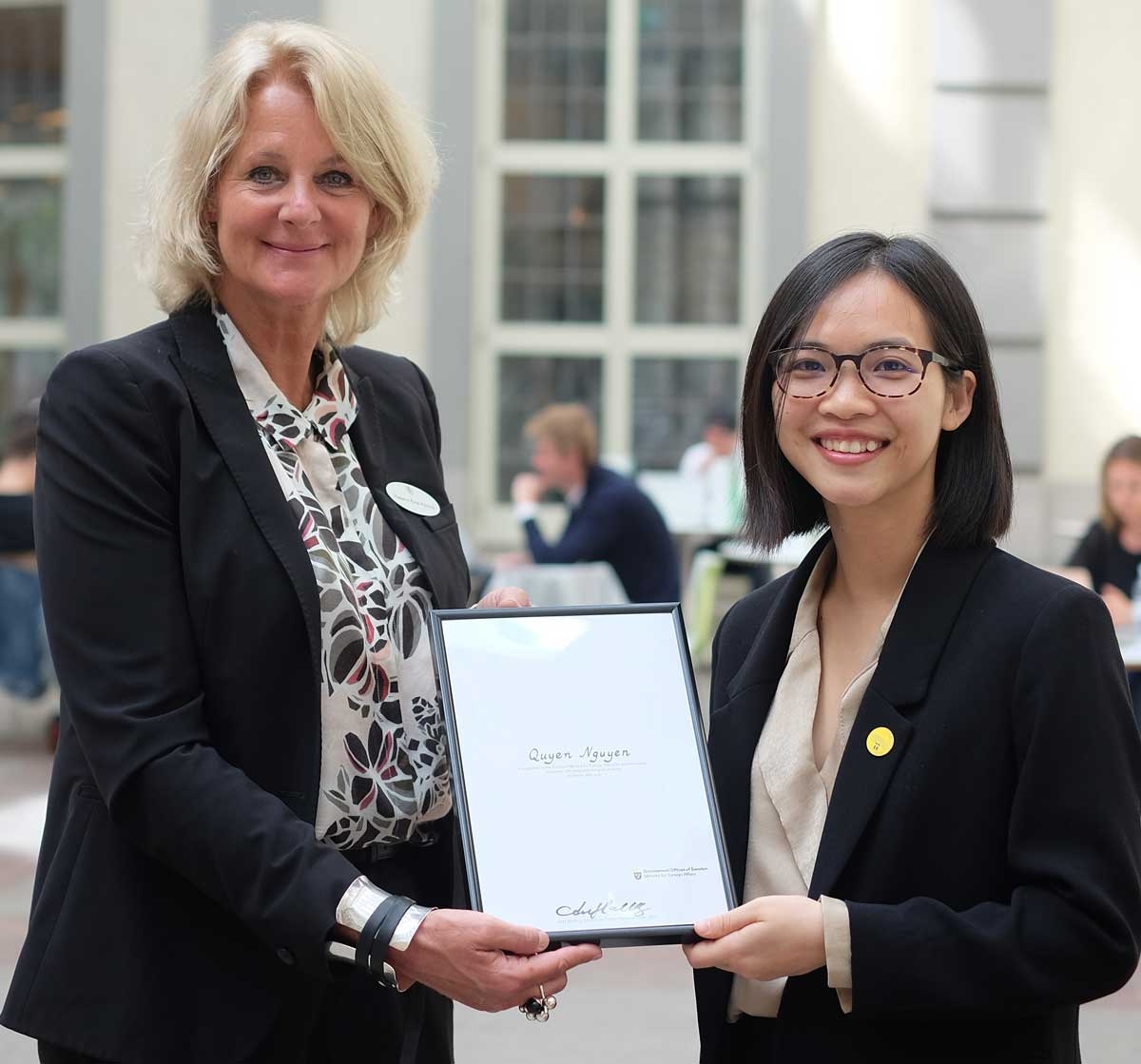 Helena Kvist Åslund, SSE Master of Ceremony, and Quyen Nguyen. Photo: Duc Ahn Bui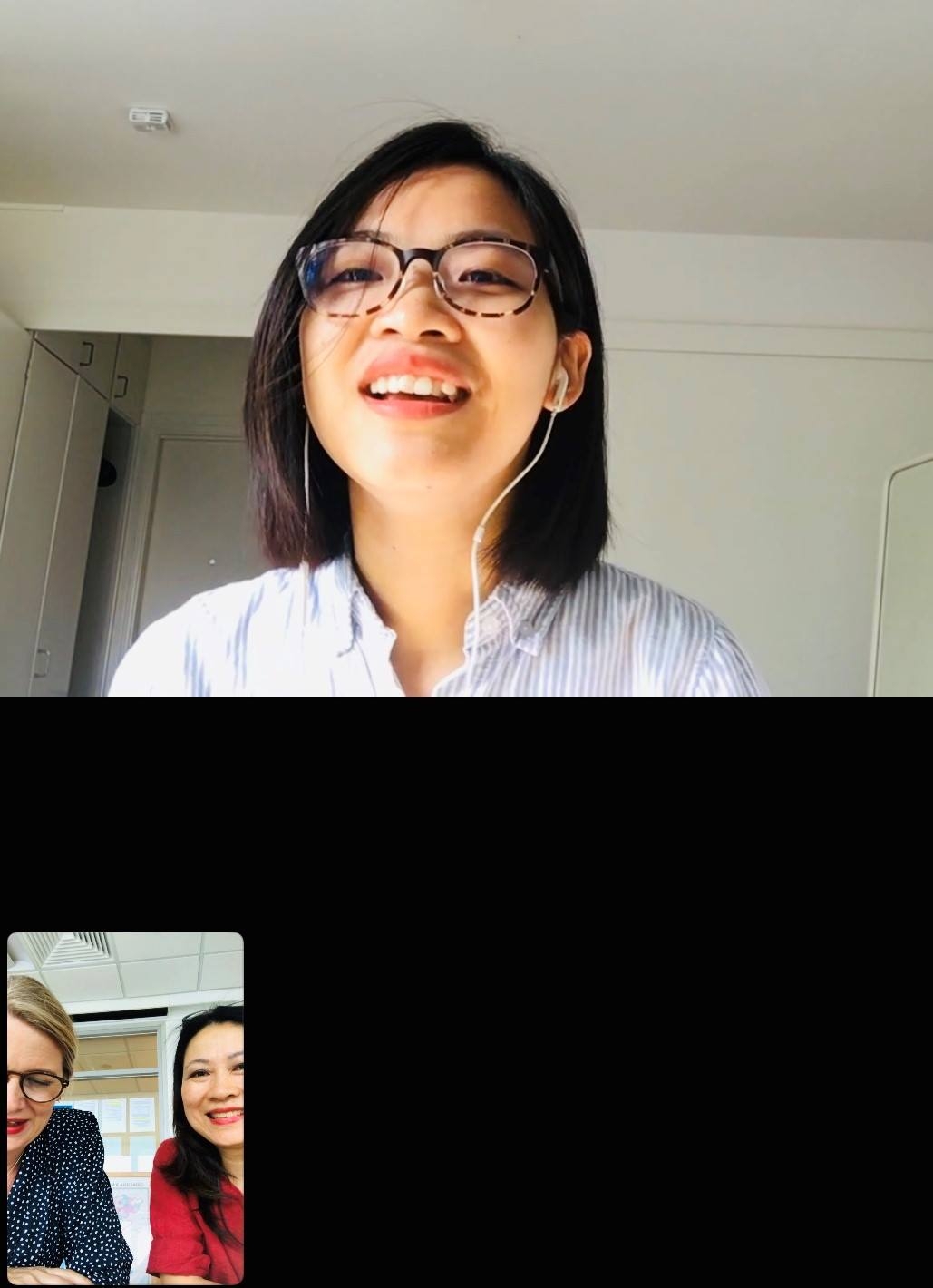 Swedish Ambassador to Vietnam Ann Måwe sent congratulations to Quyen on a phone conversation.

Photo courtesy of the embassy
Quyen was happy to receive this honourable award for her outstanding achievements. She shared how Swedish innovation, entrepreneurship as well as gender equality and sustainability had influenced her way of thinking and her lifestyle. For example she was eating more vegan food and was interested in working with sustainability. Together with a friend, she was looking into the possibility of transforming second-hand clothing shopping experience. When she was asked if this concept could be brought to Vietnam she was not sure. There would certainly be interest, but hard to scale up.
Regard what Sweden could learn from Vietnam in the field of sustainability. Quyen then reflected on how vegetables and rice are wrapped in leaves in Vietnam, instead of plastic. She had been shocked to note how much plastic she consumed in a week now when she was separating her household waste every day.
Quyen Nguyen loves travelling and noted the debate about "flygskam" in Sweden (the notion that flying extensively is something to be ashamed of, because of the negative effect on the climate). She didn't think this aspect was much discussed in Vietnam yet, being a country with a growing middle class enjoying travelling. Before COVID-19 Quyen had been travelling to all major cities in Sweden. She also visited Kiruna, in the northernmost part of Sweden, went climbing Kebnekaise (the highest mountain in Sweden), and experienced the midnight sun.
They then discussed the current situation in Vietnam and Sweden with regard to COVID-19. Her mother was worried because of the spread in Sweden, but Quyen - who loves outdoor activities - was happy that she could go out trekking and running in the forest (she's a marathon runner and had run the Stockholm marathon). However, because of the recommendations to the public in Sweden she studied at home, practiced online yoga or had drinks with friends via zoom. But she emphasized that there still are certain things that you must do in real life: "you can not have a real fika on zoom"./.
Hannah Nguyen