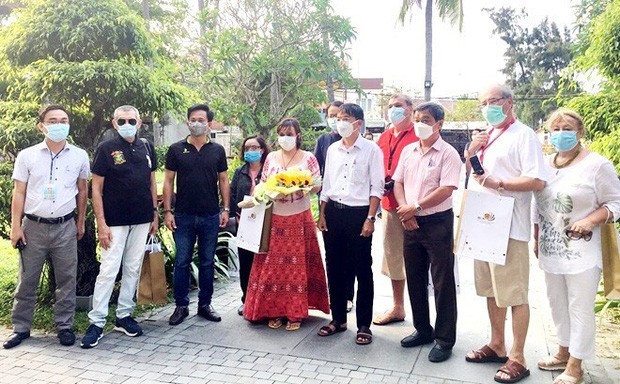 The group of tourists completed the 14-day quarantine
Cristina Daus (Romanian) wrote this thank-you letter as she was flying to return home.
She is the tour leader of the 15- Romanian- visitor group that was quarantined at the Hoi An Beach Resort due to COVID-19.
During the isolation period, the group were taken care of with all the affection and the sharings by the local authorities, police forces and resort staff.
On March 28, this group of tourists completed the 14-day quarantine and were assisted to the airport to return to the country. Before leaving, the guests expressed touched by what they received in the last 14 days.
The letter of Cristina Daus:
"My name is Cristina Daus and I am the tour leader of the 15 people Romanian group that was hosted for 9 days at the Hoi An Beach Resort for the quarantine.
As I am writing this email to you, we are already flying above Vietnam to go back home.
I just want to send you a letter of appreciation for your wonderful staff who have greatly taken care of us in what we will remember as "Vietnam confinement days" and a very particular experience.
To what your staff is concerned, we couldn't have asked for better help, your staff was truly amazing in solving- fast, above all – each of our problems. Always with a smile (you can feel the smile, even behind the mask). Your staff maybe government employees or police force, but they handled everything with the softness of a 5-star service! We felt really good taken care of!
It's my 3rd time in Vietnam but the first time I interacted with the same people for a number of days and I can say all of you were representative of your country. Even the most upset tourist had to admit that and wondered where else we could have gotten same great treatment in this situation.
As Hoi An is by far my favorite cultural place in Vietnam and because I especially love the time of the Full Moon festival, I just can hope that this virus-madness will stop soon so I can be back with new groups to show the beauty of your country.
Again, on behalf of all my tourists, thank you so much for everything…!
Best regards,
Cristina Daus
VNT