Tips to Cook Vietnamese Chicken Noodle Soup With Sweet Broth
Check out the simple recipe to cook Vietnamese chicken noddle soup with savoury-sweet broth and juicy strips of chicken.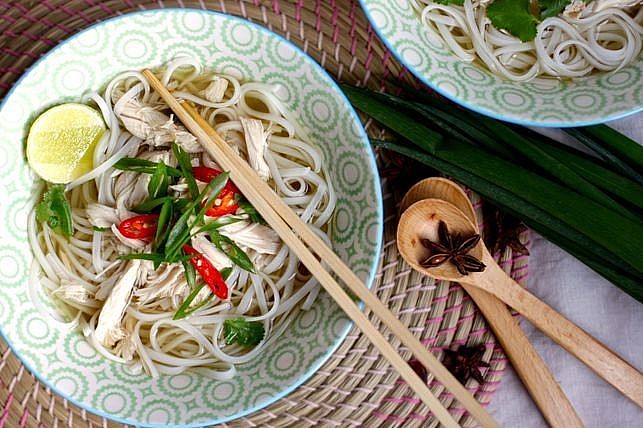 Chicken noodle soup is a must-try dish when you visit Vietnam. Photo Recipe Australia
Cooking time: 2 hours
Serving: 4-5 people
Total energy: 3,400 calories
Ingredients: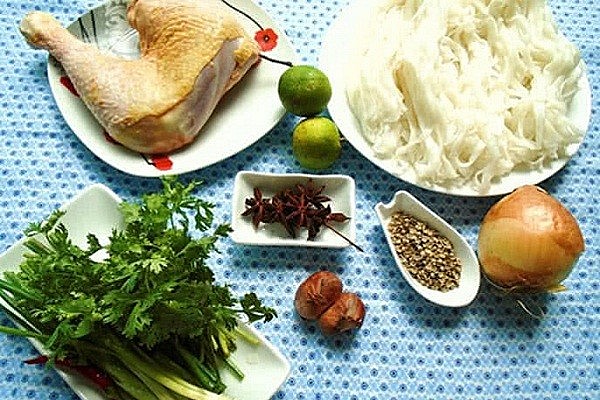 Photo Web Nau An
1 chicken, preferably a hen weighing 1.4 - 1.5 kg
1 fresh onion roughly chopped
2 small pieces of ginger, grilled
4-5 dried onions roughly chopped
1 - 1.2 kg of fresh noodles (or you can boil dry noodles)
Vegetables: coriander, scallions, lime leaves, bean sprouts
Seasoning: Fish sauce, salt, pepper, dried coriander seeds
Let's get started!
1. Washing the chicken:
Wash and rub chicken with salt and lemon. Fry the chicken fat (in the belly) with a little turmeric powder to get the fat yellow.
After boiling the chicken, put a layer of chicken fat on the skin.
2. Boiling the chicken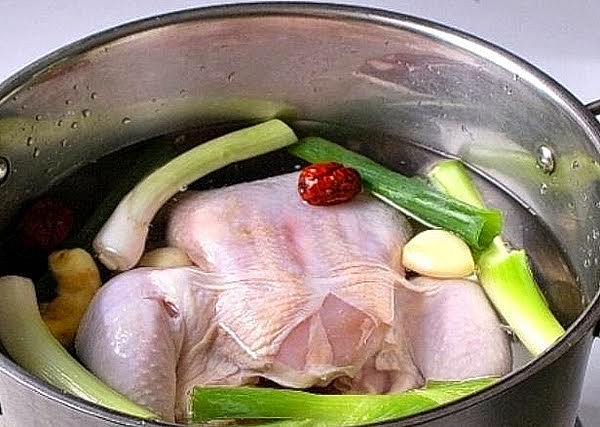 Photo Web Nau An
Put the chicken in a thick-bottomed pot.
Fill the pot with water covering at least two-thirds of the chicken.
Add crushed dried onions, one small ginger branch and one tablespoon of salt to the pot.
After the water boils, lower the heat and continue to boil the chicken for 10-15 minutes.
Turn off the heat, cover the pot with a lid and keep the chicken in the pot in for 25-30 minutes depending on the size of the chicken.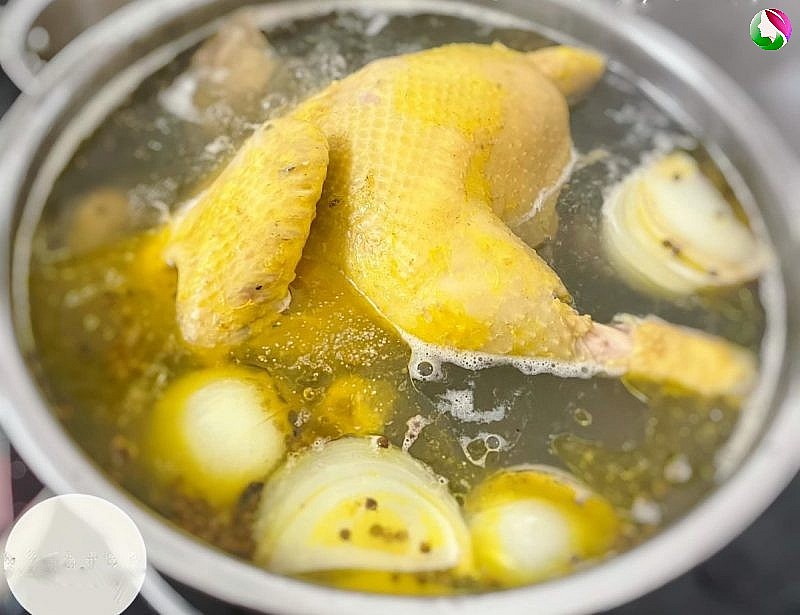 Photo Blog Nau An
3.Shredding the meat:
Take out the chicken and soak it in iced water to cool it and make the skin crispy.
After the chicken cools down, take it out and add a layer of the turmeric chicken fat to create a beautiful golden color.
Discard skin and bones. Slice or shred the meat.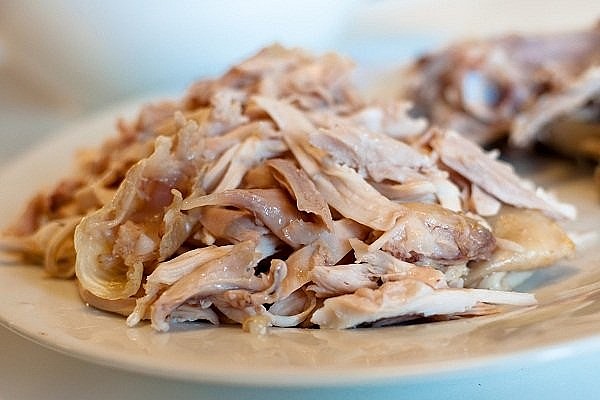 Photo Web Nau An
Photo Blog Nau An
4. Purifying broth:
After the chicken bones are removed from the meat, put it in the broth and continue to simmer. Add roasted onion, ginger and coriander seeds, simmer over a low heat, and skim off impurities on the surface.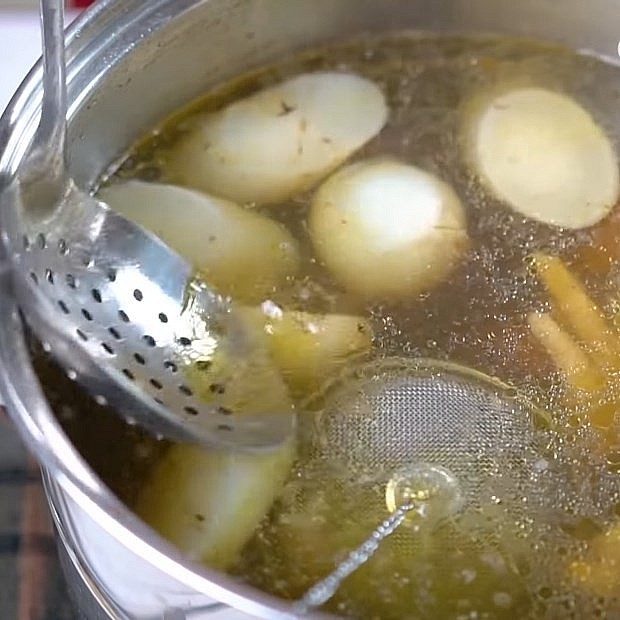 Photo Dien May Xanh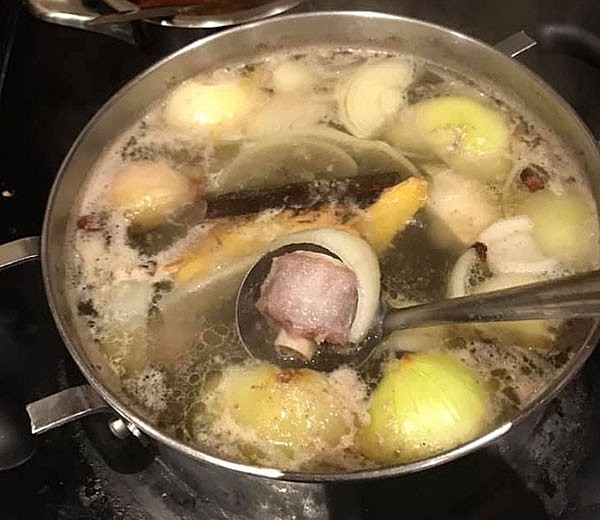 Photo Eva
5.Serving time: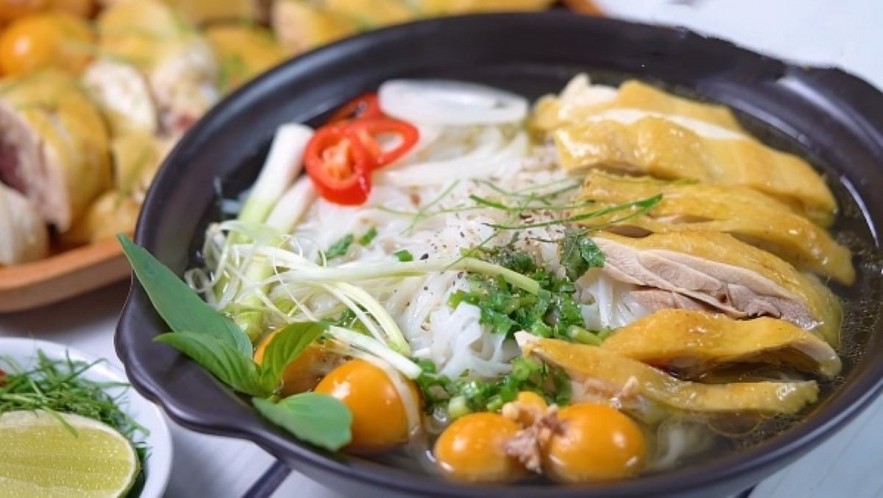 Photo Dien May Xanh
Put the noodles into a bowl, add topping: meat, chopped green onions, coriander, blanched bean sprouts and lime leaves and then enjoy!
Watch this video to learn how to make Vietnamese chicken noodle soup (Pho Ga)
Chicken boiling tips:

-After tuning off the heat, soak the chicken in the broth to make the meat juicy, the stock savoury-sweet.

-Secret to make the broth free-of-impurities: boil the chicken with low heat and half open the lid.

-You can add sugar candy to sweeten the broth.

Hanoi-styled chicken noodle soup mainly takes the light scent from roasted coriander seeds. Southern chicken noodle soup has cinnamon and star anise.