Aquarius Horoscope August 2021: Monthly Predictions for Love, Financial, Career and Health
Aquarius Horoscope August 2021: The month of August will bring mixed results for Aquarius natives.
Your career will be full of ups and downs in the first half of the month. You may not be able to focus at work, which may give an invitation to mental stress. Interruptions at work may also occur. Career path will improve in the latter part of the month. The amount of hard work that the natives do on the job will be given accordingly.
Monthly Planetary Horoscope
If you have had any issues with your partner or any close relationship during the past few months, August is the time for it to end. With the Mercury and Sun conjunction that happened on the last day of July in your 7th house, you will be blessed with celestial mediation. Listening and understanding will come easier regarding your relationships, putting you in a comfortable spot to heal any power imbalances in your love or social life. There is nothing more satisfying than having someone get what you mean right away without the need for further clarification. This month will be an easy-going month where, despite your Aquarian eccentrics, you will be much more relatable in the eyes of your loved ones. With the Sun opposing your Natal Sun sign, you will have the space to do what you gotta do without the need for justification.
Adding to this solar vigor, Mars will be transiting through the sign of Virgo in your 8th house all month long. This can be a slightly uncomfortable transit as your frugality and a need to spend come clashing against one another. Mars in the 8th house becomes impulsive and disregards the Virgoan systematic approach to finances. Alternatively, this could also symbolize somebody in your life who is an overspender (possibly your partner if you have one). You might feel the need to cover up their slack with your tendency to want money matters to never be a problem. In this case, it is important to know when to let somebody deal with the consequences of their actions, even if you will end up being inconvenienced by their lack of discipline. Some people only learn by making their own mistakes, and if you keep attempting to fix these people's errors, they will never learn. The 8th house also deals with recovery, and a Mars transit might cause a reckless need to get back to your tasks before you are fully healed. Either way, this transit is about taking a step back, even if you do not feel like it.
Another major influence from Mars is the square it will make with the Lunar nodes from the 7th to the 14th. Last September, we started a new nodal cycle as the North Node entered the sign of Gemini. This happened in your 5th house, which means you might have felt a significant shift in the way you had to deal with your self-expression. This Leo season will be a pivotal moment for that development as the Sun in Leo brings our awareness to our identity and how we are presenting ourselves. Especially with the node in Gemini, you might have been challenged to take your creative ideas out of your head and into the paper. This Mars square transit will push you even further to assert your voice and your right to have a fulfilling and joyful life. You must be careful not to get carried away with all this potency Mars brings to the table. Yet, don't be afraid of stepping into your inner warrior and chasing the joy and excitement you know you deserve. Your creativity is your only limit.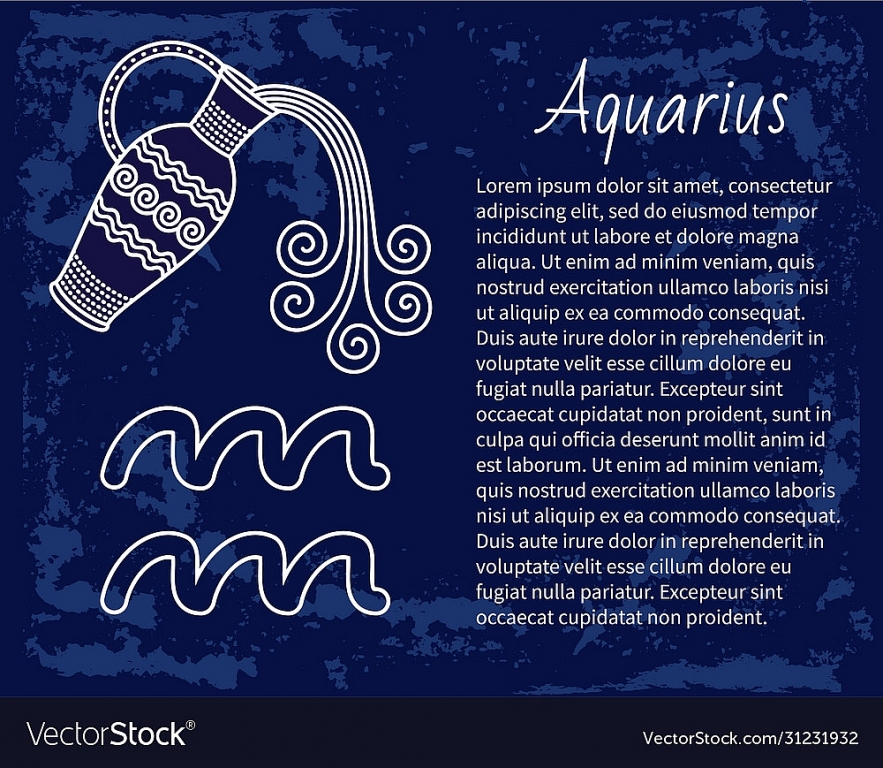 The New Moon in Leo happening in your 7th house will likely get you feeling sexy and desired. For the single Aquarius, this is an excellent time to go on a date as you will be standing out from the crowd. On the other hand, the Aquarius who are already in a relationship will be driving their partners crazy as you become almost irresistible during this lunation. This sounds all good and fun, but there is something that you should keep in mind. During this New Moon, Uranus, who is approaching half of a 7-year Taurian cycle, will be squaring the moon in your 4th house. The transit has likely been slowly chipping away at transforming your living situation. If it is still currently unstable, a lot of the stress from a move, mortgage, or a family member staying over for a while could hamper the sensual atmosphere that this moon is bringing. This could trigger your relationship's adventurous explorations, which could prove to be exciting, but be careful not to go too wild.
The monthly Full Moon will be happening in your own sign allowing you to showcase your personality's best traits. At this time, you may feel invigorated. If you have been sick or dealing with any bodily dysfunction, this could signify a conclusion to your troubles or at least a breath of fresh air. One thing that is important to be aware of, though, is your issues with idealism. Though the Full Moon is the trigger for many endings and transformations, you have to exercise patience and avoid being too fixated on what is not going according to your plans. Letting go is called for here as a Saturnian Full Moon calls for patience as the good things in life come with time. Be thankful for the progress you made and for your greatness. Life keeps going on, and there's always time to polish up the little kinks in your plans. You may be afraid people can see all your mistakes, but it's really all in your head.
Aquarius Monthly Horoscope
At the same time, this time will be very good for those doing business. There will be tremendous possibilities of profit. This month is expected to be very good in terms of education. There are chances of success in higher education and competitive examinations. The dream of studying abroad can also be fulfilled. Family life will not be very pleasant. You may have to stay away from family due to work. This can increase stress.
This month will have mixed effects for love birds. Relationships will fluctuate. Time is good for married people. The husband and wife will have good coordination. Married life will be happy. The winds of romance will flow in married life. From an economic perspective, this month may be a bit tight. Income will be less and expenses will be more. This will increase anxiety. Stop spending your hands this month. This month will not be very special from the health point of view. Thoughts of lust will come to mind, so there is a need to control yourself.
Aquarius Monthly Love Horoscope
This month will offer mixed results for couples who are in love. The beginning of the month will be hunky dory. Your relationship will induce warmth. You guys will spend time with each other and be satisfied. But after this, the relationship status is expected to fluctuate.
There will be no bitterness in the relationship,but it will require a little discretion. In delicate times, keep your behavior balanced, be careful in negotiating, so that the dignity of the relationship does not go awry. Try to avoid the futile debates. On the other hand, this month will be pleasant for married natives belonging to Aquarius. The seventh house is the house of marriage and partnership, and there is the presence of Mars and Venus in it.
As a result of this conjunction, intimate relationships will increase in married life. Husband and wife will increase their affection towards each other. The presence of Mars and Venus in the seventh house can be claimed auspicious, along with this, Devguru Vrihaspati is also aspecting the same, which is a very good position for married life.
The harmony between husband and wife will be very good. However, with the arrival of Mercury in the seventh house on August 9, the situations may change slightly. There can be some disputes between the husband and wife. But the situation will not be out of control. Mercury will transit in the eighth house on 26 August, as a result of which the situation will become very pleasant again.
August 2021 Horoscope for love relationships of Aquarius people suggests that they will be extremely natural with their partners. You can expect plenty of excitement. There will be an element of caution while getting into new relationships.
Aquarius compatibility will face some hassles at the beginning of the month. But things will cool down and harmony will be established quickly. Relationship will become stronger and enjoyable with good scope for a pregnancy.
Single persons will face turmoil while getting into love relationships. There are possibilities of falling in love suddenly. It is important to reduce your thinking and take action if you want to be in a relationship. Do not lose your mental balance by thinking too much.
Aquarius Monthly Money Horoscope
Aquarius Zodiac Finance Horoscope for the month of August 2021 predicts a depressing scenario for business activities. Planetary aspects are not beneficial and all business activities will end up in financial losses. Even traders and exporters fail to make reasonable profits.
Businessmen should desist from starting new business ventures. Speculations and investments will not give the expected profits. Financial institutions will not provide you with the necessary finances.
Others among you would be prone to indulge in speculative activity again, for quick profit. There is a good chance that they would face serious losses. Quite obviously, you must take the hint and stay away from all varieties of gambling. Not an auspicious period for investment and new ventures either, and such plans, should be shelved for the moment.
The economic life of Aquarius natives can be challenging this month. Earnings will not be special, so you will have to control and keep a tab on your expenses. Shani Maharaj or the planet Saturn is sitting in the twelfth house of expenditure and losses, due to which expenditures will be huge. Also, the sixth house is being resided by the Sun and Mercury.
On August 11, Venus will move into the eighth house, which can unnecessarily increase expenses. Resources can get wasted on a worthless item. Any contingencies may come up that you had not thought of. There can be loss of money in investment etc., spend your money very thoughtfully.
The transit of Suryadev will be in the seventh house of your sign on August 17, after which there will be some improvement in your income and you will get some relief from financial stress.
Aquarius Monthly Career Horoscope
Forecast for the month of August is extremely promising for career development of professionals. Astral aspects are encouraging and this will induce a harmonious environment at the workplace. You will also get the benefit of support from your social circle. All projects will be executed as per the schedule and you will be rewarded for your hard work.
You will have sufficient time for charitable work and spiritual activities. This will enhance your mental well-being.
Though you would tend to work quite hard, the gain would more than which your effort. Expected gains would be realized. Travel also would generate gainful results, and any sojourn to the south would be particularly helpful. And finally, the handing of your juniors in a manner enabling you to derive optimum benefit from their services would be your most important achievement.
For Aquarius natives, August is going to offer mixed results in terms of career. It is very important to maintain complete focus on your work, because according to the position of the planets in your horoscope, your focus will not be stable. In the first half of the month, the mind will wander in various directions.
Due to this, there is a possibility of disruptions in work. If there are interruptions in work, then naturally the results will not be good. High officials may also have to become hostile to the job. Conditions will improve in the second half of the month. If you work with diligence and perseverance, then you will definitely get the benefit.
The latter half of the month is likely to be very good in terms of business. Whatever you do, you will get success in it. Planets are stating that this time is going to increase business. Keep up with the hard work as you will definitely benefit then.
Aquarius Monthly Health Horoscope
The month of August will prove to be fluctuating from the health point of view. Saturn is sitting in your twelfth house. Sun aThe month of August of Aquarius people will also prove to be fluctuating from the health point of view. Saturn is sitting in your twelfth house.
Sun and Mercury are present together in the sixth house. Apart from this, there is the presence of Mars and Venus, the commanders of the planets in the seventh house. This state of the planets cannot go well in terms of health. You may have some health problems, although there is no possibility of any serious illness. In this challenging time, do not let the lust filled thoughts come to your mind, do not think much about the activity. Keeping distance from such thoughts will be good for you. Take care in your food.
Avoid the market's chili-spicy, fried foods. Make ready meals at home and give nutritional value instead of taste. If need be, do not hesitate to take the advice of a doctor, otherwise even a simple disease can cause trouble. Sun and Mercury are present together in the sixth house.
Apart from this, there is the presence of Mars and Venus, in the seventh house. This state of the planets cannot do well for your health. You may have some health problems, although there is no possibility of any serious illness. In this challenging time, do not let sensuous thoughts come to your mind. Keeping distance from such thoughts will be good for you.
Take care of your diet. Avoid extremely chili-spicy and fried foods. Make handy meals at home and focus on nutritional value instead of taste. If need be, do not hesitate to take the advice of a doctor, otherwise even a simple disease can cause major troubles.
The stars are in a mood to favor your health, and as such, you do not have any serious worry during the ensuring period. The somberness of temperament would be mellowed, giving way to greater cheerfulness. Further, any predisposition to chronic disorders like rheumatism or irregularities like flatulence and excess of wind in the digestive tract would be significantly relieved, provided, at least, normal caution is maintained.
In fact, it would be quite important for you to be careful about not consuming any unclean food. This could easily in turn create a bothersome situation, even food poisoning. Apart from this, nothing much to worry about, since it is extremely unlikely that you would face a serious health problem.
Aquarius Important numbers: 2, 7, 14

Aquarius August important dates: 4, 19, 21, 22, 28

Horoscope August special note for Aquarius

"You have the opportunity to enrich your home budget, so do not let it take advantage of it. Despite the injection of cash, try to be economical."