AstraZeneca's Covid-19 vaccine: The link to a dangerous type of blood clot
A dangerous type of blood clot should be listed as a "very rare side effect" of the AstraZeneca's Covid-19 vaccine.
A "very rare" side effect
According to The Washington Posst, AstraZeneca has billed its shot as "a vaccine for the world." Cheaper and easier to store than others on the market, there are plans to roll it out in more than 140 countries through Covax, a program designed to ensure equitable distribution. But about half the global population is under 30, according to United Nations figures, and many low-income countries have limited ability to diagnose and treat the complicated and potentially serious side effect.
Concerns center on a rare condition called cerebral venous sinus thrombosis, or CVST, a clot that stops blood from draining from the brain, which has occurred among those vaccinated at a rate above that normally expected in the population.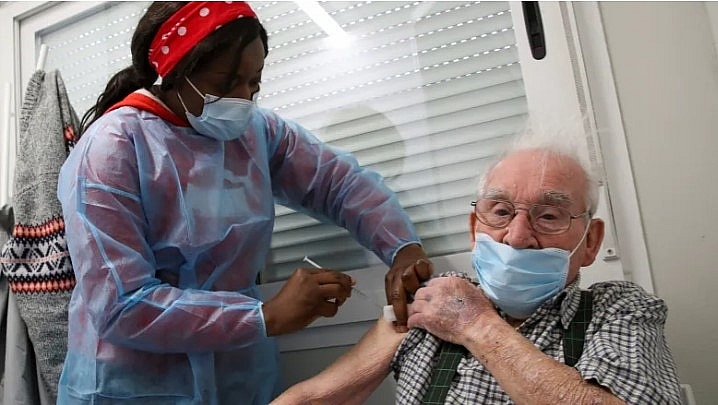 A man receives a dose of AstraZeneca COVID-19 vaccine Wednesday in Ronquieres, Belgium. European and British regulators provided more context on a rare blood-clotting disorder that has been reported in a number of people who've received the shot across the continent. (Yves Herman/Reuters)
A total of 169 cases of CVST have been reported among 34 million people given the AstraZeneca vaccine across continental Europe and Britain as of April 4, the EMA said. In addition, there have been 53 other cases of rare blood clots. Although incident rates have differed from country to country, the regulator said that could reflect different reporting standards and estimated the overall risk to be about 1 in every 100,000 shots, in line with rates seen in Germany.
Europe's medicines regulator found a possible link between the coronavirus vaccine developed by AstraZeneca and the University of Oxford and rare blood clotting issues, CNBC reported.
Unusual blood clotting with low blood platelets will be added as a "very rare" side effect to the vaccine's product information, along with a slew of other possible adverse reactions, Emer Cooke, executive director of the European Medicines Agency, said in a televised news conference Wednesday.
The warning comes after the regulator's safety committee reviewed extremely rare cases of unusual blood clots in some people vaccinated with the Oxford-AstraZeneca shot. Most of the cases occurred in women under 60 within two weeks of the shot, officials said. The EMA hasn't yet identified specific risk factors that contributed to the phenomenon.
"This case clearly demonstrates one of the challenges posed with large-scale vaccination campaigns," she said. "When millions of people receive these vaccines, very rare events can occur that were not identified in the clinical trials."
Separately, the U.K.'s medicine regulator said on Wednesday that it also identified a possible link between the shot and the rare blood clots. The Medicines and Healthcare products Regulatory Agency, or MHRA, similarly said the benefits of the Oxford-AstraZeneca vaccine outweighed the risks for most people.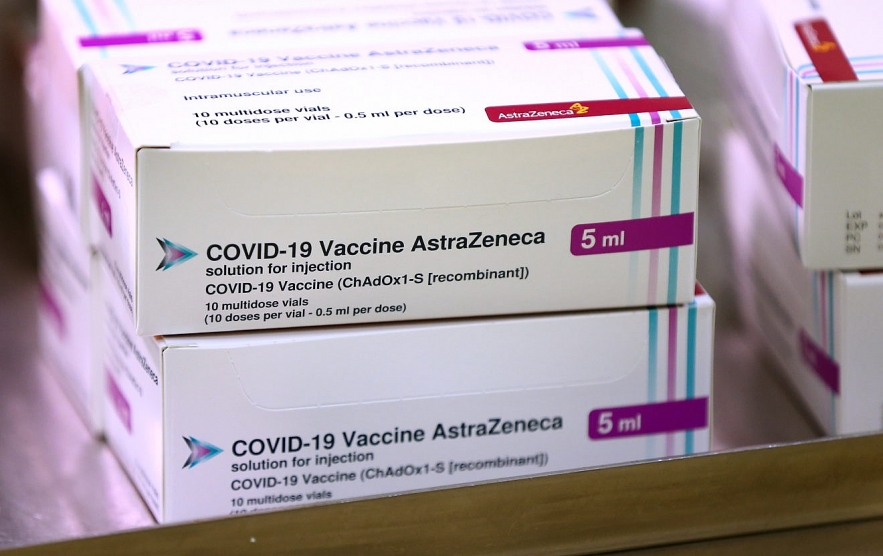 The EU's medicines regulator backed continued use of the Oxford/AstraZeneca vaccine in all adults | Pool photo by Gareth Fuller/ WPA via Getty Images
The EMA, which flagged other possible side effects, added that it was of "great importance" that health-care professionals and people receiving the Oxford-AstraZeneca vaccine were aware of the risks and to watch for possible symptoms that typically occur in the first two weeks after inoculation.
The European Medicines Agency's assessment comes after a panel of experts reviewed reports of unusual blood clots occurring in some vaccine recipients. Officials stressed these events are rare and said that while they appear to be more common in women under the age of 60, there is not enough available evidence to confirm specific risk factors such as age, gender or previous medical history.
They said it is important for health care providers and the public to be aware of the signs and symptoms of these unusual events — which include shortness of breath, persistent abdominal pain and leg swelling — and that the vaccine's product information will be updated to list them as a possible adverse reaction. They are still recommending its use and emphasized the vaccine has been proven to prevent severe disease, hospitalizations and deaths, as reported by npr.
New setbacks as the benefits outweigh the risks
The World Health Organization, the U.K.'s medicines regulator and the International Society on Thrombosis and Hemostasis have all said that the benefits of administering the Oxford-AstraZeneca shot far outweigh the risks.
The regulators, as reported by The Washington Post, said that AstraZeneca has been asked to conduct more laboratory tests and to provide data from closed clinical trials in an attempt to get a better idea of risk factors.
Peter Arlett, head of pharmacovigilance at the EMA, said J&J's vaccine "uses a similar technology," but there have been just three cases of blood clots accompanied by low platelet counts among 4.5 million recipients of that vaccine that "have some similarities" to those seen following AstraZeneca.
Regulators emphasized that for most people — especially the elderly — it is far better to get any safe and effective vaccine than not.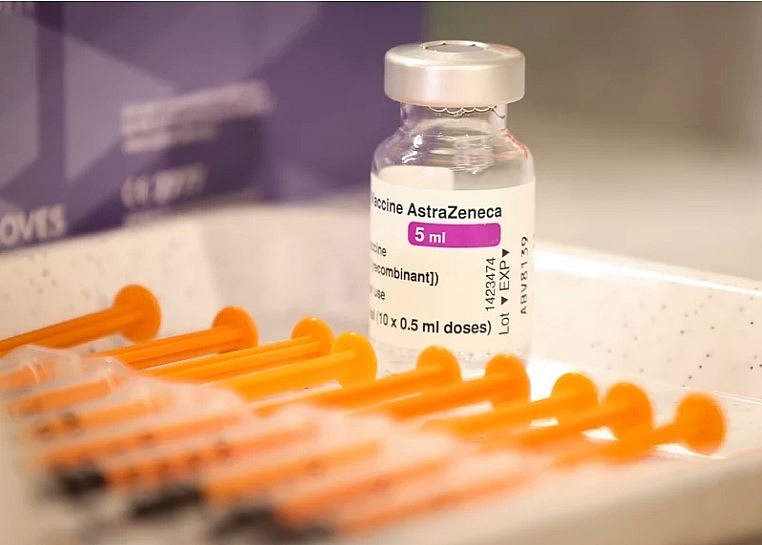 The European Union's drug regulator on Wednesday announced its findings into the possible connection between AstraZeneca's COVID-19 vaccine and rare blood clots. Jaap Arriens/NurPhoto via Getty Images
"This vaccine has proven to be highly effective in preventing severe disease and hospitalization, and it is saving lives," EMA chief Emer Cooke said of AstraZeneca. "Vaccination is extremely important in helping us in the fight against covid-19, and we need to use the vaccines."
The head of Britain's medicines regulator, June Raine, said the benefits outweighed the risks for the vast majority, but were more balanced for younger people - for whom the risks from coronavirus infection are, on average, lower.
Wei Shen Lim, COVID-19 Chair for Britain's advisory Joint Committee on Vaccines and Immunisation, said it was preferable for adults under 30 with no underlying health conditions to be offered another vaccine.
Italy and Belgium also put new restrictions on the vaccine for people under 60 and 55 respectively, bringing them in line with other European countries, including Germany and France.
AstraZeneca has said its own studies have found no higher risk of blood clots in those vaccinated than in the general population, Reuters reported.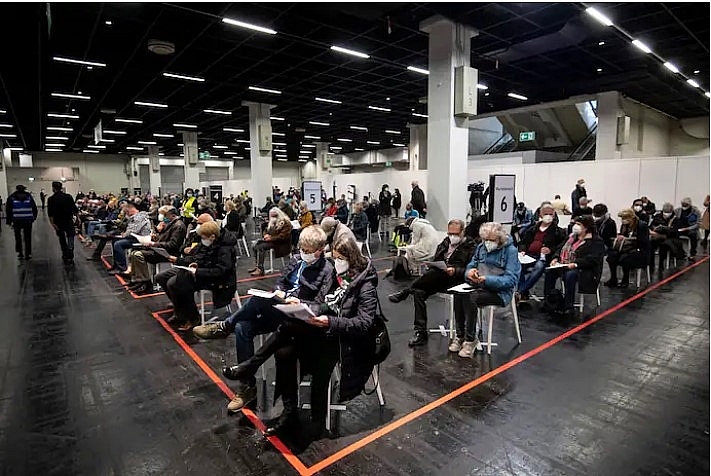 People wait in a vaccination center in Cologne, Germany, where there has been high demand for AstraZeneca shots in people 60 and over despite concerns about blood clots in younger people. (Marius Becker/AP)
The AstraZeneca vaccine has been approved by many countries across the world, and its affordability — at just $4 a dose — and minimal handling requirements make it ideal for global use, as NPR has reported.
The WHO in February approved the vaccine for emergency use to be rolled out globally through COVAX, an international effort to help low- and middle-income countries combat the pandemic. And the Biden administration said last month it was finalizing plans to loan millions of doses to Mexico and Canada.