Beets by Tu Anh: Vietnamese Expat Grows Giant Produce in Australia
A Vietnamese woman living in Australia plants large size fruits and vegetables in her 1,000 sq.m garden. The fruits and vegetables are a source of nutritious food for her family and also help bring her family members closer.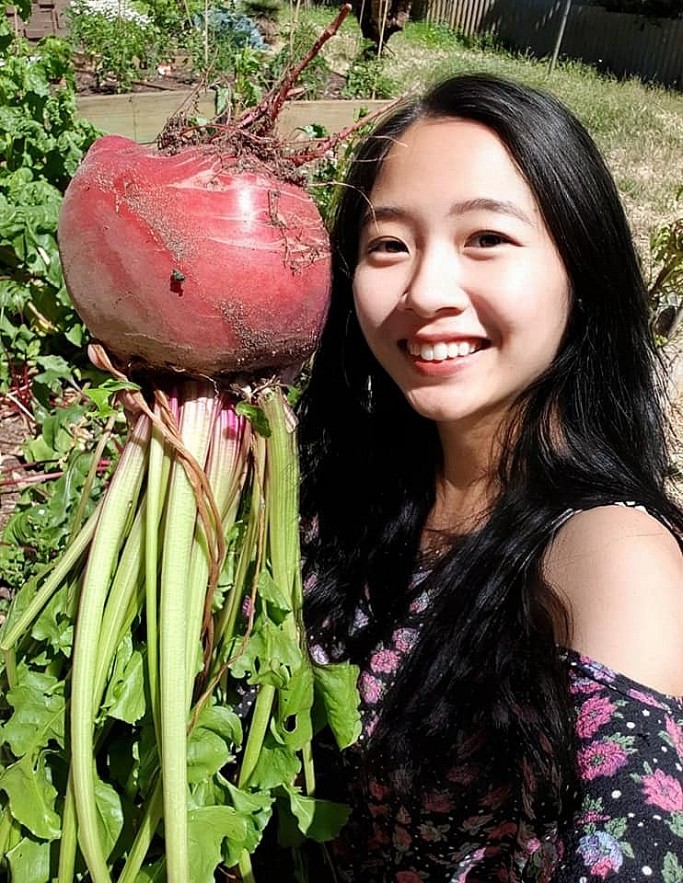 Tu Anh and her big beet . Photo Zing News
Beets bigger than an adult's hand, two-meter high kale plant, nearly-10kg watermelon and many other "giant" vegetables, tubers and fruits are what can be found in the garden of Hoang Tu Anh, a 32-year-old woman hailing from central province of Nghe An and living with her family in Perth, Australia.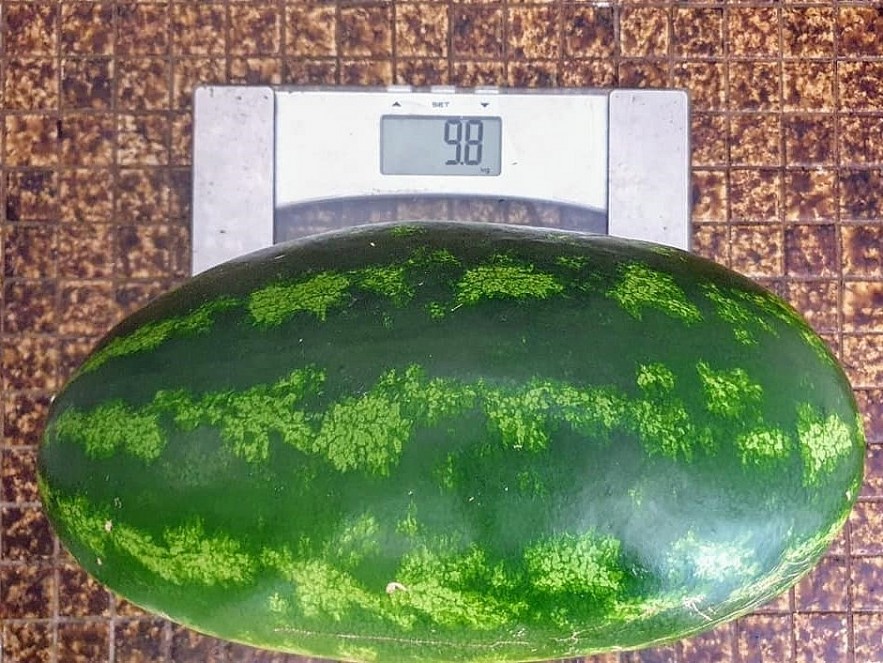 A nearly-10kg watermelon that Tu Anh grows. Photo Zing News
She is humble to say she herself was not an agricultural expert but only plants fruits and vegetables for passion.
"All of fruits and vegetables in my garden are organic. Thanks to a proper caring method, they grow much faster and have bigger size than normal," she told Zing News.
"My family is almost self-sufficient with all kinds of vegetables. Vegetables harvested in the garden are clean and nutritious. More than that, planting trees is the bonding time of my family after work," she said.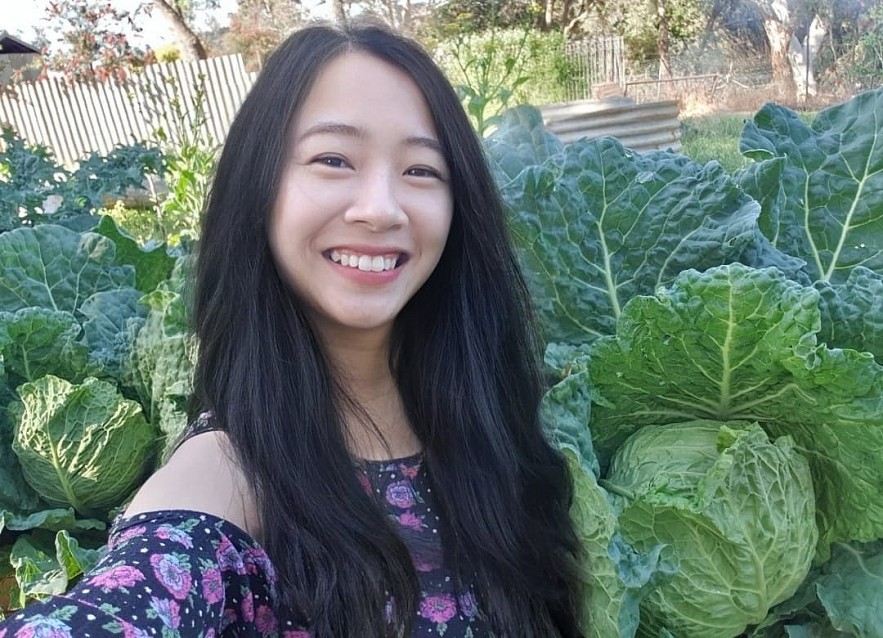 Tu Anh and her 'giant' cabbage. Photo Zing News
Tu Anh started her life in Australia in 2015 when she took a Master degree. In 2019, she went back to Vietnam and then decided to return to Australia to settle down in 2019.
The soil in Western Australia is arid and not suitable for growing vegetables and fruits. At first, due to lacking experience, plants she grew all died.
Drawing lessons from failure, she realized that land cultivation is the most important step. The young mother composted the soil with sheep, chicken or horse manure for a year to enrich it with nutrients before planting.
At the end of the vegetable crop, she let the soil rest for a few weeks, added nutrients and then continued to sow the seeds.
To keep the plants hydrated, her husband made an automatic system which waters vegetables daily at 6am and 9pm.
Tu Anh made green manure from kitchen waste (except fish meat and bones) and worm farming.
Tu Anh said insects were part of the garden's ecosystem. She alternates crops to both limit the expansion of insects and boost crop productivity. For example, she grows marigolds and several types of chrysanthemums in each line or combines vegetables with basil and spices to repel insects.
"Gardening is hard at first. When everything has stabilized, I just need to pull the weeds, prune and fertilize at the weekend. Every day when I need something for my meals, I just need to visit the garden and pick it up."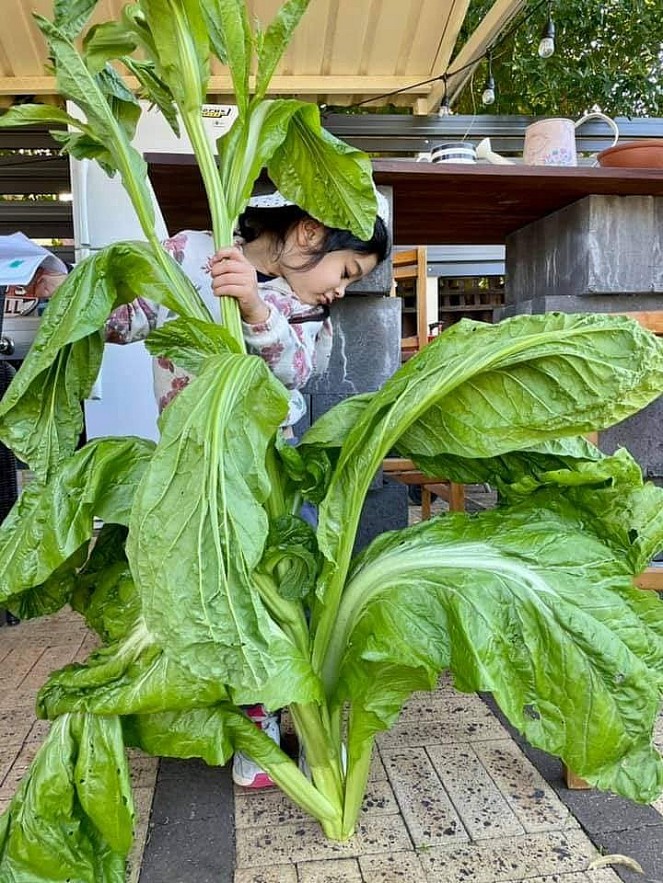 A kale plant which is higher than a three-year-old girl. Photo Zing News
Tu Anh plants various types of flowers in her garden such as roses, lavender, rosemary and other fruits such as plums, grapes, strawberries, oranges, lemons, blueberries, olives, mangoes.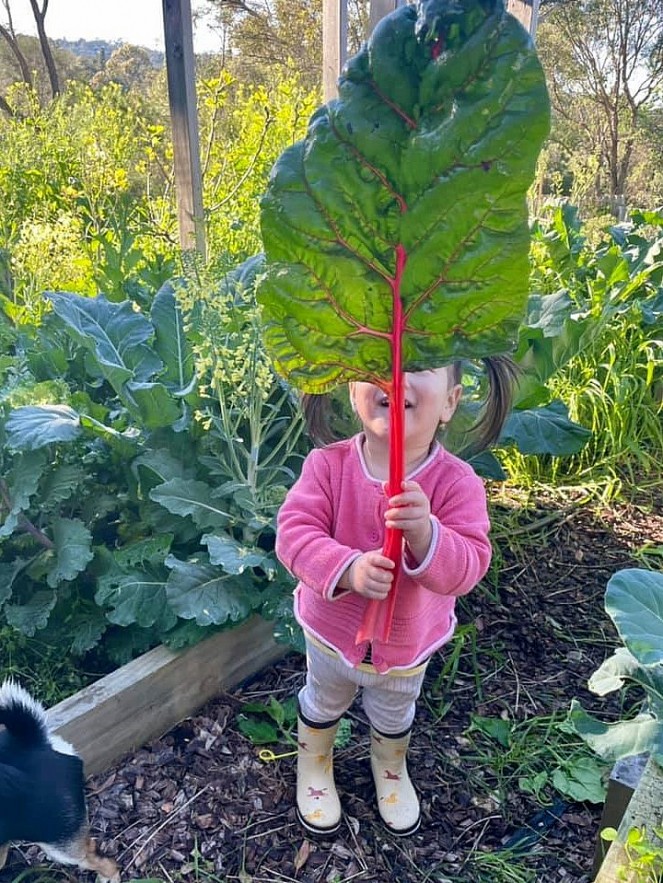 Photo Zing News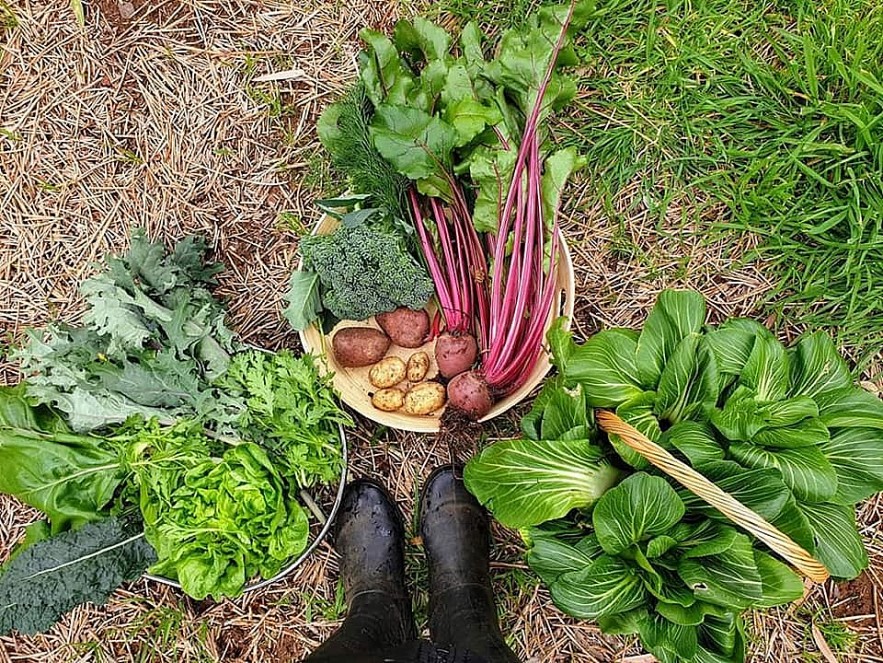 Vegetables and tubers including cauliflower, cabbage, rainbow radish, tomatoes, peppers, potatoes are also available in her garden. Photo Zing News
"All the vegetables and tubers I sow are of normal types. They grow with oversize shapes thanks to intercropping and having enough water and nutrition," she said.
Sharing is caring
Gardening is a sharing job of Tu Anh's family. Each member has a single role. Her husband is in charge of heavy work such as cultivating, pouring soil, and managing the water system. Tu Anh is responsible for caring and harvesting vegetables.
In her living area, almost all households have gardens. They often exchange chemical-free vegetables and fruits they grow with each other.
Tu Anh's two little daughters, one two years old and another three years old often help mother to bring vegetables and fruits as presents to passersby and neighbors.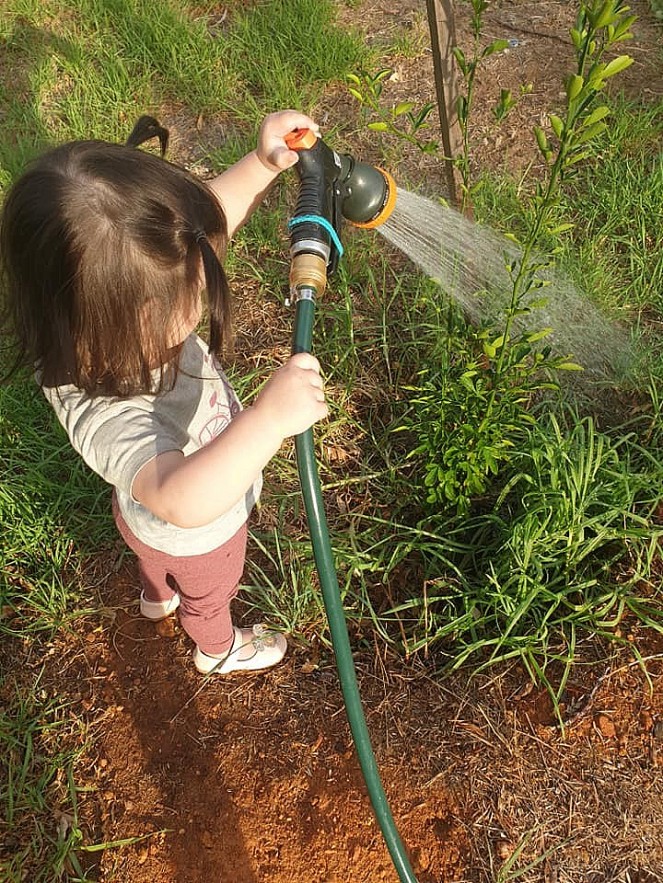 Tu Anh's little daughter helps mother to water plants. Photo Zing News
"I usually bring vegetables to the alley and share online to let everyone around my area to know and come pick it up. After getting what they need, people leave a bag of lemons, a small flower pot or a thank you note. I feel very warm," she said.
Tu Anh makes leftover vegetables and fruits into different dishes and essential items such as pickles, essential oil, lotions, soaps, teas, lipsticks, and medicines. This hobby makes her always find joy in gardening.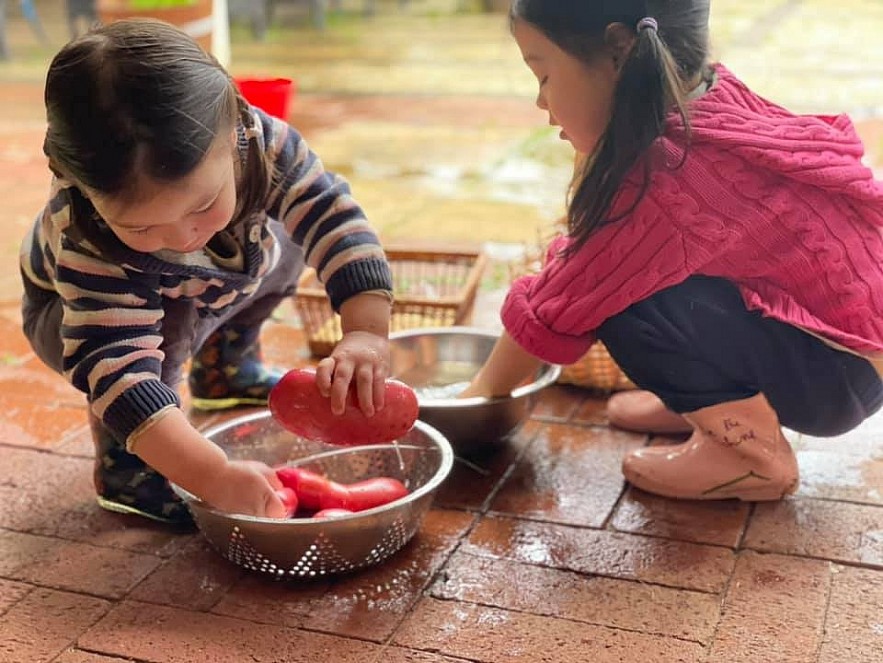 Tu Anh's daughters help her clean fruits. Photo Zing News
The garden is also a place for herself and the children to play and nurture their souls.
Gardening helps Tu Anh balance emotions. It provides positive energy and helps her feel relieved each time of stress. She also considers farming as a test of patience.
"When we don't go out at weekends, my family gathers and shares the work in the garden. My children love animals, including insects and reptiles. In their eyes, the animals are cute, fragile and need to be protected," she said.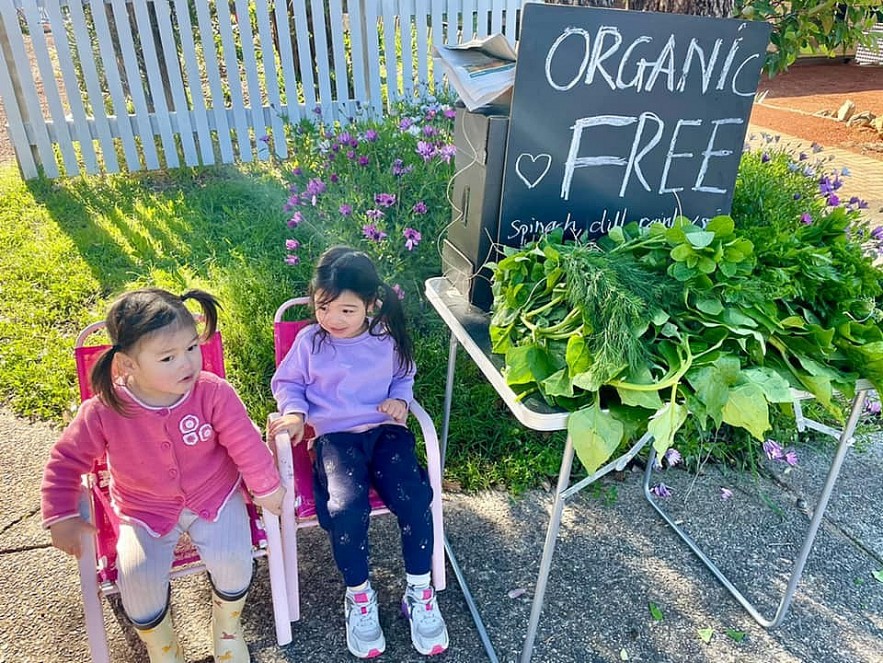 Tu Anh's daughters help her bring vegetables and give them for free to passers by and neighbors. Photo Zing News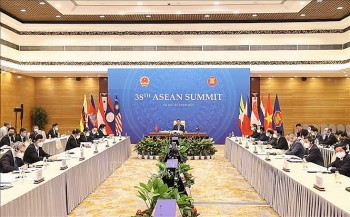 National
Vietnamese participation in upcoming ASEAN Summits also clearly displays the nation's desire to unite with the bloc to overcome difficulties, maintain solidarity, the community building process, and promote regional linkages