Belgian – Vietnamese Couple Brings Vietnamese Flavors to Ostend
With the love for Vietnamese cuisine and determination to start their own business in Belgium, Dang Thi Phuong Mai and Paul de Leulenaer opened Pho Sure, the first Vietnamese restaurant in the coastal city of Ostend.
Ostend is a coastal city located to the west of Belgium, about 120km from the capital Brussels. A favorite of tourists in summer, the "Queen of Seaside Resorts" Ostend offers cuisines from diverse cultures as the city attracts people from all over the world.
In August, the list of Asian restaurants in Ostend became longer with the addition of Pho Sure, a Vietnamese restaurant owned by the Belgian – Vietnamese couple Paul de Leulenaer and Dang Thi Phuong Mai.
Starting new business in Ostend
Pho Sure is located on Alfons Pieterslaan street, just some minutes away from the beach. Mai and Paul are determined that they would start their own business with Pho, a specialty of Mai's fatherland and Paul's second home.
Few people know that Mai was the designer of the restaurant and the one who named it. As such, Pho Sure has a unique style that leaves a deep impression on customers when they set foot in the restaurant.
"Pho is one of Vietnam's most famous dishes and in life we need sureness to bring stability and sustainability," Mai explained about the origin of the name Pho Sure.
Born in the Thai Binh province of Vietnam, Mai was the eldest child in a poor household. Growing up in a loving family, she has nurtured perseverance, a sensitive soul and an imaginative mind despite hardship.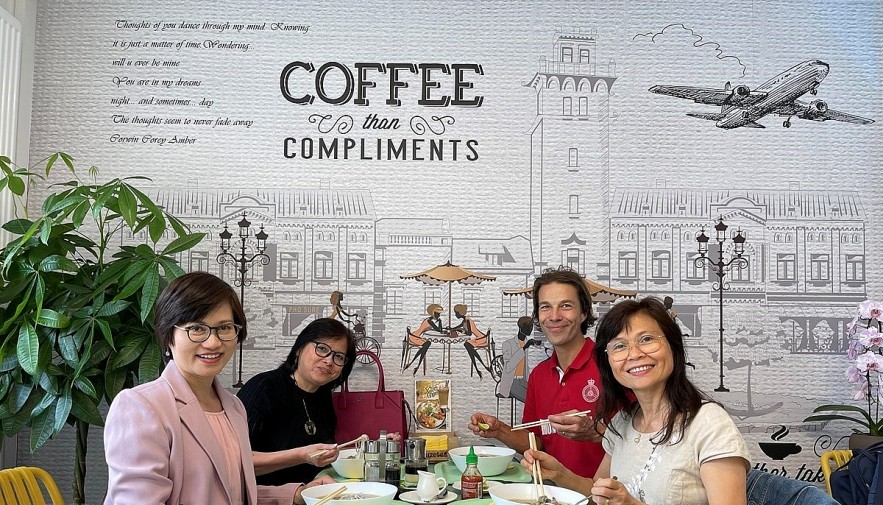 Diners enjoying Pho at Pho Sure. Photo: Vietnam+
Mai worked in Ho Chi Minh City after graduating from the Ho Chi Minh City University of Architecture. By chance, Mai met her now-husband Paul, who was an English teacher at a center in Hai Phong. They married in 2005.
Paul and Mai came back to Paul's motherland, Belgium, at the end of 2016. They had two sons at the time and were expecting a third child. They lived in Blankenberge, a small town in the province of West Flanders, for a year.
Mai and Paul both hoped to work in F&B as Paul had experience opening food establishments in Israel and the Netherlands. They decided to move to Ostend, a city with impressive seaside resorts that they visited 4 years ago.
Mai enjoys interior design, so she was in charge of designing their little restaurant. She is also Pho Sure's chef, while Paul serves as the restaurant's manager and bartender. His Vietnamese coffee is a particular favorite of customers coming to Pho Sure.
Both Mai and Paul believe that starting a business is not hard if the goals are clear. Before opening the restaurant, they tested the menu with their friends and family.
Pho Sure has enough spots for about 20 guests at a time. When the weather allows, they can sit outside.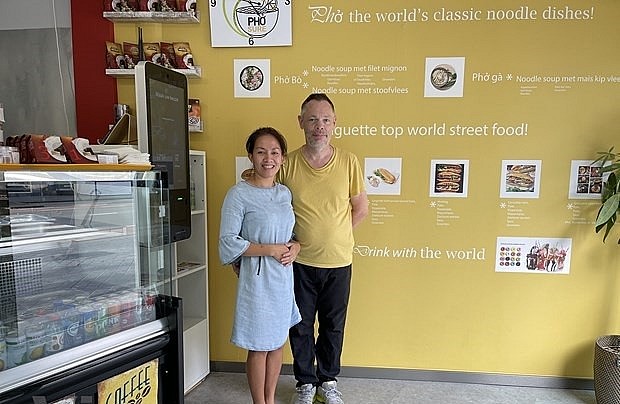 Dang Thi Phuong Mai and Paul de Meulenaer, owners of Pho Sure restaurant in Ostend, Belgium. Photo: Vietnam+
Pho Sure mainly serves Pho with chicken or Pho with beef. Fresh ingredients and typical Vietnamese seasonings are what make the restaurant's dishes a favorite of visitors. Mai also makes spring rolls and Vietnamese baguette with char siu pork, steamed pork paste, pate, pickled carrots and coriander as the fillings, which are also praised by Belgian customers.
Bringing Vietnamese cuisine to Ostend
Pho is the highlight at Pho Sure. The quality of Pho is decided by the broth, which Mai makes from scratch by herself using chicken or beef bones. Just a piping hot bowl of Pho, adorned by the attractive aromas of grilled ginger, cinnamon, star anise and cardamom, flavorful homemade beef balls and rich broth full of umami flavors, is enough to create an unforgettable Vietnamese corner in the bustling seaside city in Belgium.
To reduce contact during the Covid-19 pandemic, Mai and Paul place a self-serve electronic kiosk so customers can make orders and pay for the meals by themselves. This method is quick and convenient for the couple, who have to prepare the food and drinks and serve customers at the same time.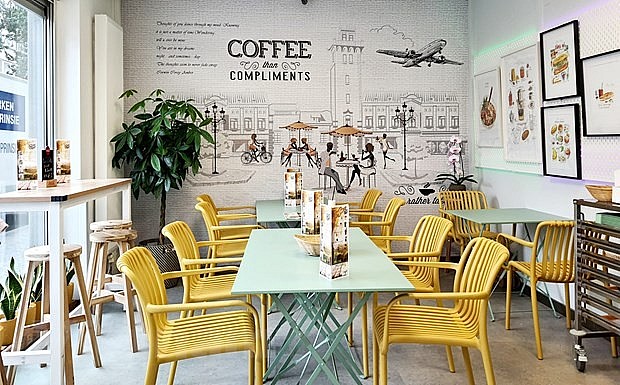 Pho Sure's interior is designed by Mai. Photo: Vietnam+
Ostend is a safe and peaceful city with very few Vietnamese. As Pho Sure was opened just a month ago, it has attracted mostly tourists and Ostend locals who are curious about the Vietnamese cuisine or have been in Vietnam.
Pho Sure is gradually building up its reputation in the famous seaside city. A customer even told Mai and Paul that "thanks Pho Sure for bringing me the flavors of Vietnam, a country that I have deeply fallen in love with."
With their efforts, Mai and Paul are contributing to promoting Vietnamese cuisine across the world.