Beloved Vietnamese Restaurant Charms Hamburg Residents
After over a year of selling traditional Vietnamese dishes in Hamburg (Germany), Lam is happy that not only overseas Vietnamese in Germany but many Germans are also enjoy banh mi. This dish has quickly become a "best seller" and the pride of this restaurant.
The "Vietnamese taste" in Germany
Kinhdo supermarket, run by Nguyen Thi Lam (36 years old) and her husband, has been visited by many Vietnamese customers and many indigenous people for more than a year now. The reason is that this is one of the most famous Asian restaurants in Northern Germany.
Lam's supermarket, which opened last year, specializes in distributing Asian products and selling traditional Vietnamese dishes. Inside the aforementioned supermarket, more than a year ago, Lam opened a processed food counter, specializing in selling traditional Vietnamese dishes such as beef vermicelli, pho, vermicelli with grilled pork, spring rolls, and especially banh mi.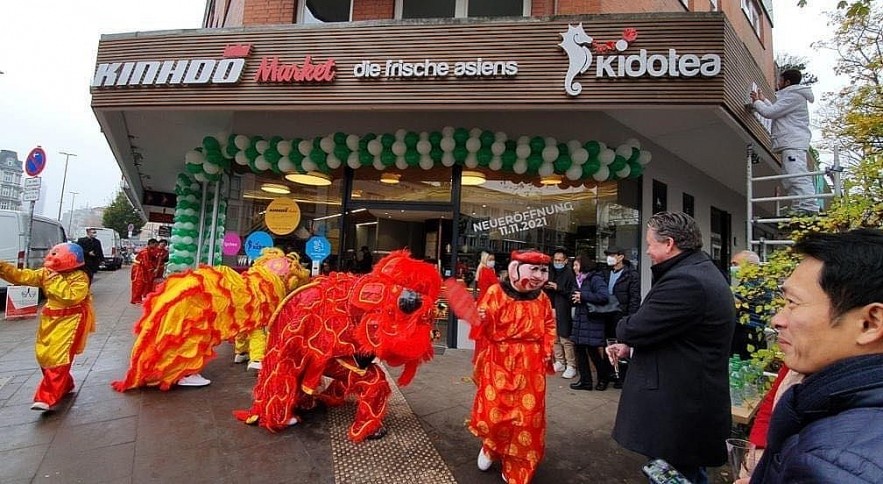 Photo: NVCC
However, not everyone knows that the owner and her family members have moved from Hai Phong to Germany to live and work for more than 20 years. In the first days of her arrival in Hamburg, she went to school and worked as an employee for a restaurant specializing in food and beverages. Also from here, her love for food and business also spawned.
"Many Vietnamese friends, especially newcomers to Germany, stop by my place to eat," said Lan. "After a meal, they often feel less homesick, which also makes them emotional. Therefore, I am even more motivated to cook Vietnamese dishes to serve everyone, because the Vietnamese community in Hamburg and in Germany at this time is also larger than before and more connected with each other."
When she had enough economic potential 7 years later, Lam opened her first restaurant in Germany, but at that time the dishes she sold were mainly traditional German dishes to serve the local people. Location is key, because according to her at the moment, the Vietnamese community in Hamburg is not as large as it is today.
Photo: NVCC
She decided to combine with Kinhdo Group (founded by Mr. Hung Nguyen in 2007 in Hamburg) specializing in importing and exporting food products from Vietnam to Europe in November last year. She opened a supermarket in the system of Kinhdo company to widely promote food and especially banh mi for local people.
Since then, with the abundant source of Vietnamese ingredients that supermarkets can import for distribution, she came up with the idea of opening a food stall to sell traditional Vietnamese dishes.
"All dishes sold here are made according to my own recipe, from memories of traditional Vietnamese dishes that I used to eat as well as suggestions from relatives. Fortunately, we have been receiving good feedback not only from the Vietnamese community here but also from the Germans. Here, customers can find a very Vietnamese taste in Germany," she proudly said.
The special taste of Vietnamese banh mi
The food counter in the supermarket is open from 11:00 a.m. to 19:00 p.m., Monday to Saturday. However, Vietnamese banh mi is a dish that is sold almost every day instead of being served alternately like some other dishes, because customers love this dish. Banh mi has become one of the best-selling dishes here.
Here, Lam sells 2 types of banh mi, including banh mi with grilled meat and banh mi mixed. Each banh mi costs 5.5 euros. Banh mi is spread with a paste made according to Lam's own recipe, with char siu meat, vegetables, sour foods, and sauces to create a unique flavor.
According to her, despite having our own banh mi product, customers still clearly feel a "very Vietnamese" flavor in it. She is happy because many Vietnamese in Germany have eaten at her restaurant, and even some people who are far away from home still have the opportunity to visit her place to eat banh mi, to feel the taste of their homeland.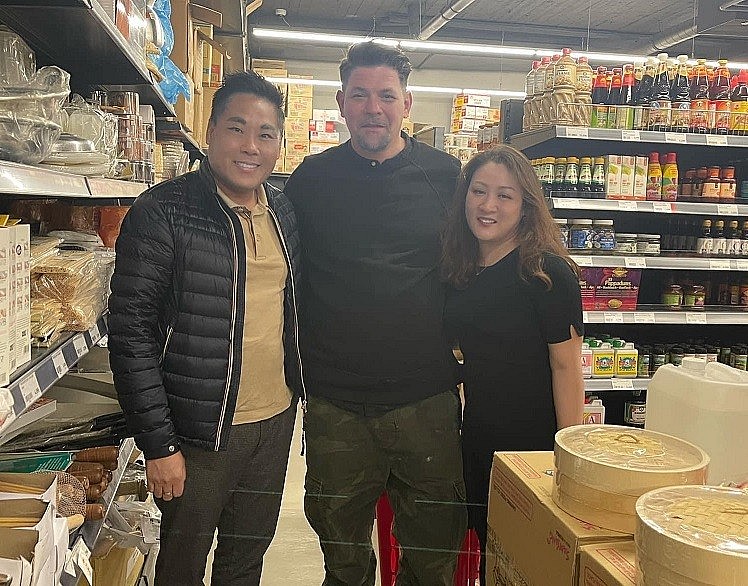 Photo: NVCC
Lam confided that most of the German guests come here to buy banh mi because they have known the popularity of Vietnamese banh mi before, or have relatives who are Vietnamese and were introduced. Some people, out of curiosity, also came to try and "match" the taste of banh mi with meat.
"Whoever comes to buy and eat also praises Vietnamese banh mi. They commented that although it is a foreign dish, it is very easy to eat and is a rich combination of all the ingredients. Many German customers claim that Vietnamese banh mi is unique and unlike any other in Germany, because it has meaty shumai and strange paste inside," said Lan, proudly.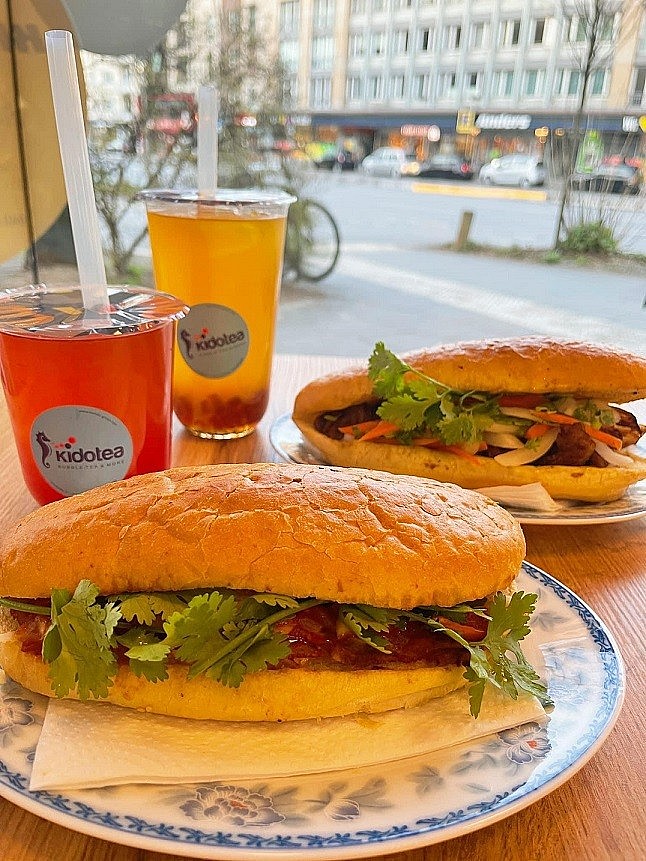 Photo: NVCC
Truong Van Kieu (39 years old, Lam's husband) is the one who accompanies her to run the supermarket's activities. He said that he is mainly in charge of distributing Asian food to restaurants in Germany and the surrounding area, while his wife is in charge of the kitchen processing area. "Bringing Vietnamese dishes here, sticking with it every day is my joy and happiness," he said.
In the coming time, Lam and her husband plan to continue to expand the menu of Vietnamese dishes, especially banh mi, such as selling more vegetarian banh mi, to serve the diverse needs of customers. That is also how the hostess shows her love for Vietnamese cuisine in a beautiful city in the heart of Germany.