Blood donation by foreigners in Vietnam - humanitarian value and interests of life
Blood donation activity inspired many foreigners in Vietnam to participate in for not only saving blood to humantarian values but devoting themself to the community of love.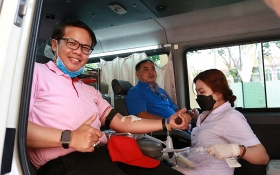 Chinoros Benjachavakul - a Thailander - the foreigner with the most blood donated times in Vietnam
Chinoros Benjachavakul - a Vice General Director of Vietnam C.P Breeding Joint-Stock Company has marked his 50th blood donation and the 25th time in Vietnam.
Blood donation volunteer form in English supports foreign friends to complete neccessary procedures (Photo: Baohanoimoi)
An native English teacher named Wayne Worrell living in Hanoi placed a status on his Facebook that :" Vietnam need you right now" to call for volenteer of blood donation. Wayne said that many blood banks in Vietnam was lacking blood, many volunteers stopped their donation due to their fear of Covid-19 infection. So, he affirmed this moment would be the right time for people to stand and support together.
His call inspired so many people including a lot of foreign friends to partricipate in the volunteer team of donating their blood at the address No 26 Luong Ngoc Quyen street.
Sean Marry (British nationality) said that he and many friends were inspired by the call to join the activity and highly appreciated Hanoi's effects on contain Covid-19 disease which was claimed by him that still hadn't been done in his country yet.
A medical volunteer staff tests Sean Marry's body temperature (Photo: Baohanoimoi)
"I think that some people are too self-proud or keeping high personal ego when refusing quarantine requirements for disease preventation, they deserved to be accused. I am feeling secure and confident to live in Hanoi this time." said he.
Jeremy Chan (Australia) volunteer to donate his blood and cheered by his friend team to do together
Regarding to Staci Loeffel (an American) was so excited to devote herself partially to the native community. She shared that she hadn't donated blood before until this time's inspiration because of her recognition of its neccessary and humanitarian meaning. Staci contributed her 350 ml of blood - the maximum allowed - on 19 March as much as a guy did.
A medical staff tests Staci's health and blood (Photo: Baohanoimoi)
Many foreign friends such as Sean, Staci...has shared and expressed their happiness and excitement in contributing to Vietnam and Hanoi where they are visiting or living and working. Sean stressed: " Hanoi and Vietnam bring us many interests, it's time for us to devote our part to the life for thanks"
Lim Cheolhwi (Korean) looks relaxed when a medical staff is taking his blood (Photo: Baohanoimoi)
Doctors working for the blood donation affirmed that almost foreigners, especially Westerns had their strong constitution to easily meet requirements for blood donation. Besides, amid the complex development of Covid-19, the foundation of blood donation at No 26 Luong Ngoc Quyen str has equiped standardized facilities with full of preventive measures including body temperature test, previous 14-day travel monitoring and hygienic intensification with antiseptic solution.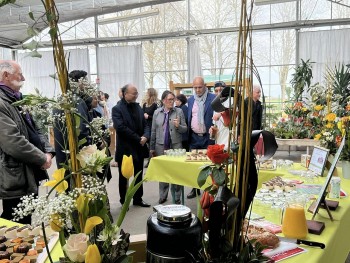 Overseas Vietnamese
Vietnamese Ambassador to France Dinh Toan Thang recently paid a working visit to Saintes, a city in southwestern France, to promote cooperation between the city and Vietnamese localities and attended the Vietnamese Culture Day, VNA reported.