Body of Vietnamese trainee missing in Typhoon Haishen found
Two Vietnamese trainees have gone missing after Super Typhoon Haishen swept through Kyushu Island, southwest of Japan. The body of one trainee was found on the riverbank three kilometres downstream from where the mudslide occurred, the Japanese broadcaster NHK reported.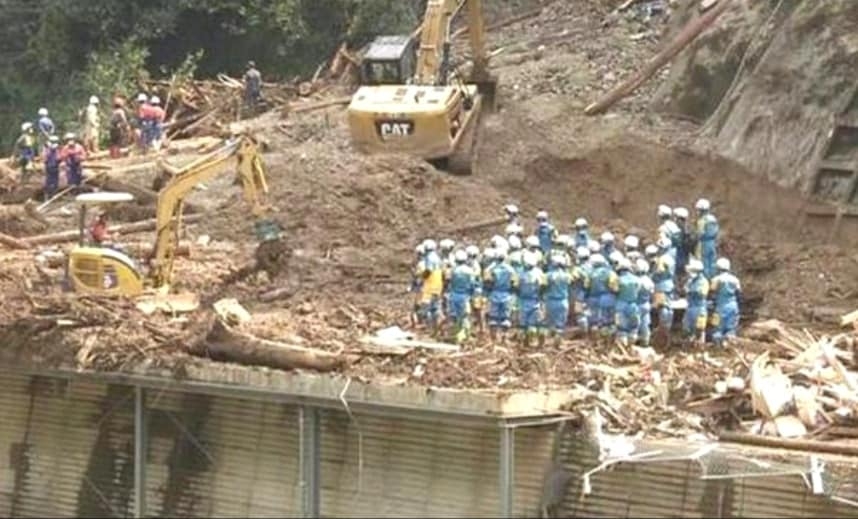 Japanese rescue forces at the site of the mudslide. Source: NHK
Japanese search and rescue forces on September 17 have found the body of a Vietnamese trainee who went missing in a mudslide triggered by Typhoon Haishen.
Local police said the body was of Nguyen Huu Toan, 22 years old, one of the two trainees working for Aioigumi JSC in Miyazaki prefecture who went missing after the typhoon.
The landslide that happened in the Miyazaki Prefecture village of Shiiba in early September swept away the company office and the director's house. The two Vietnamese male trainees, together with the director's wife and son, went missing as a result. Meanwhile, the director in his 70s suffered broken ribs and was hospitalised.
The search for the remaining three victims is continuing near the location where Toan's body was found.
According to Vietnamese Consul General in Fukuoka Vu Binh, the Consulate General will continue with citizen protection measures and complete necessary procedures to bring the victim home, while further coordinating with Japanese competent agencies in searching for Tran Cong Long, the remaining trainee.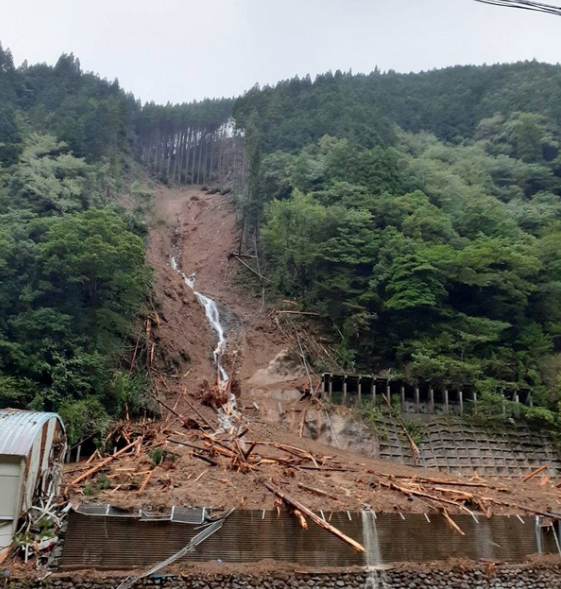 This image provided by a local resident shows the area where a landslide occurred in the Miyazaki Prefecture village of Shiiba, leaving four people missing, on the morning of Sept. 7, 2020. Source: Kyodo News
Haishen triggered deadly landslides, flooding and caused widespread power outages when it hit Japan.
Haishen, which means "god of the ocean" in Chinese, developed far south of Japan on September 1. The Japan Meteorological Agency (JMA) issued warnings well ahead of its approach as it was forecast to hit Japan with unusual strength. It rapidly intensified when the central pressure dropped from 970hPa to 925hPa within 24 hours on September 3. The lower the pressure, the stronger the storm. Measurements the following day had it at 920hPa, making it the strongest tropical system on earth this year.
Haishen plowed through the southwestern islands of Japan with full force on September 6. It then passed west of Kyushu island while gradually weakening. The Goto Islands in Nagasaki experienced wind gusts of 214kph, the strongest on record for the area. Miyazaki Prefecture received 522.5mm in 24 hours, more than the average rainfall for the entire month of July./.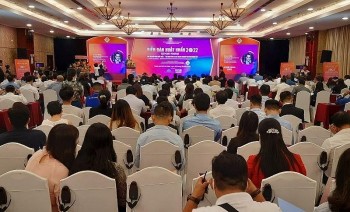 Focus
Vietnam News Today (Dec. 9): Vietnam - Singapore innovation centre helps firms transform production; HCM City among most searched destinations by travelers; Vietnamese digital technology industry's revenue estimated at 148 billion USD in 2022; Two Vietnamese films up for consideration at Oscars.