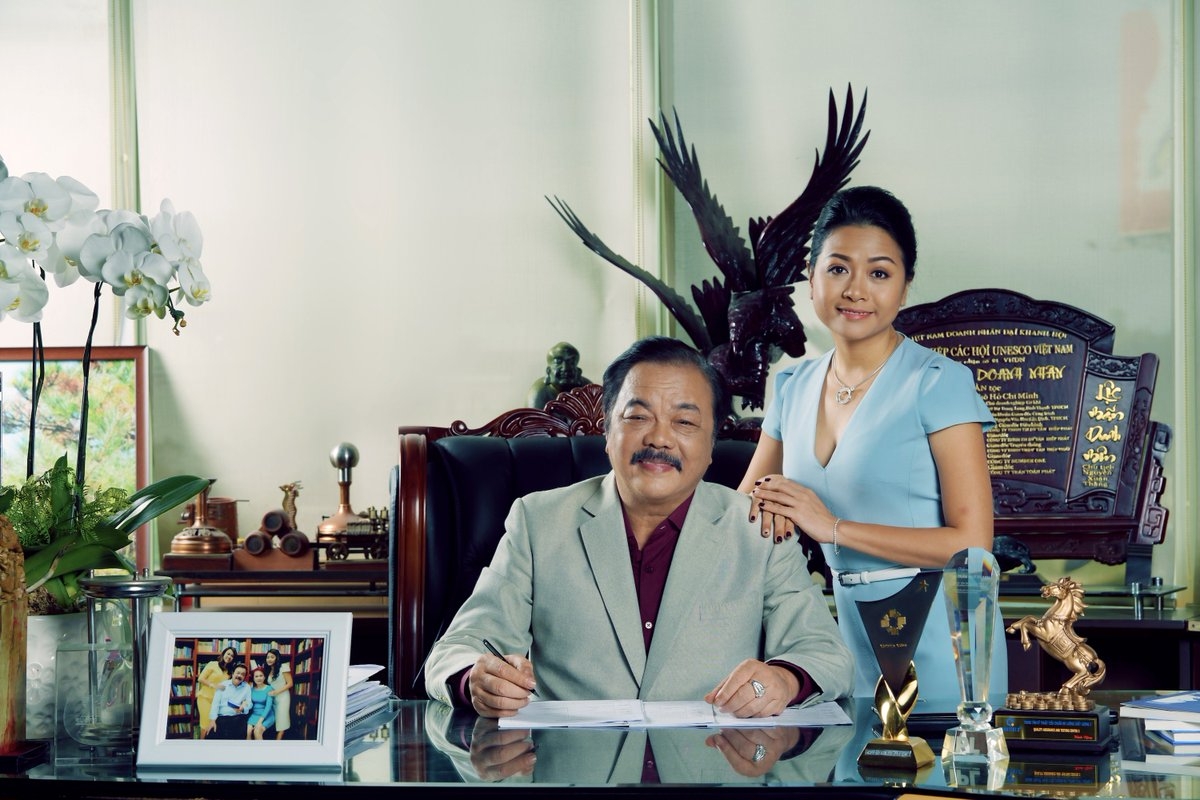 Phuong Uyen Tran and her father
This also relates to the country's geography and experience with natural disasters. Communities that do not work together survive. We want to encourage that through our branding message.
And it has worked. Dr Thanh Herbal Tea still holds a virtual monopoly in Vietnam's herbal tea category. In 2010, it joined Number 1 Energy Drink and Zero Degree Green '16 in being recognized as a national brand by the Vietnam Value program. This was set up by the government in 2003 to promote national brands and it 6, done a great job helping local companies understand why branding is so important.
In its 2016 annual report, Brand Finance said many Vietnamese companies still do not understand the role branding plays in shaping their future business. But it did note that Vietnam is the fifth-fastest -growing nation among the one hundred it surveys.
My father does not agree with this. He thinks most companies are well aware of how important branding is they just do not know how to go about it or are afraid of spending the money to get in front of consumers.
In the past, Asian companies were not renowned for producing brands with global recognition,, either. That is now changing. South Korea has Samsung and China has Lenovo. Vietnam wants to take its place on the top table as well. THP is helping to lead the way.
In the past, Asian companies were not renowned for producing brands with global recognition, either. That is now changing. South Korea has Samsung and China has Lenovo. Vietnam wants to take its place on the top table as well. THP is helping to lead the way.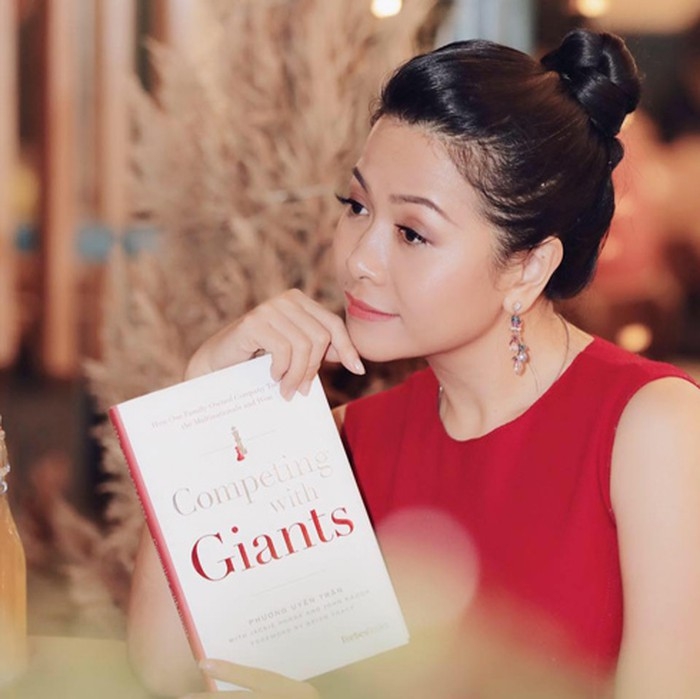 Phuong Uyen Tran and her book "Competing with giants"
At the time it was assumed that consumers were simply not willing to pay for something they were accustomed to getting for free from any street stall (quần cóc) or high-class restaurant across the country. Iced tea is particularly popular in the south where the weather is much hotter. Northerners tend to prefer hot tea: sometimes so strong they joke that you can almost stand a toothpick in it.
And yet, many of the world's biggest beverage companies had already persuaded millions of consumers to buy bottles of a commodity they could easily get from simply turning on a tap. If consumers were willing to buy bottled water, why not bottled tea as well?
The key, as ever with any great brand, is product positioning. In Vietnam, THP had a head start because tea is an essential part of the country's national identity.
Some of the tea bushes along the Chinese border are more than one thousand years old, and Vietnamese culture is (so to speak) steeped in it. Many folk songs ("Dan Ca Quan Ho") are about tea.
Unlike other Asian countries, where elaborate tea rituals are associated with the aristocracy, Vietnamese tea originated as an everyday peasant drink. Leaves would be plucked straight from the bush, boiled, and then served in an earthenware bowl to family and friends. Even today, the first thing a Vietnamese person will offer a visitor is a cup of tea.
PepsiCo and Lipton failed because they did not show the Vietnamese people why it was more beneficial to drink bottled tea instead. They just presented it as a new form of tea.
We have a saying in our country "đáng đồng tiền bát gạo". In English, this literally translates as, "It's worth spending more money, trading rice." What it means is you may have to spend but you will get good value or g The value et your money's worth.
Number 1 Energy Drink My father turned global localization to his advantage when he developed the first of THP's three core brands in 2001: Number I Energy Drink. At that point, he was looking for new avenues to diversify away from beer, where margins are lower than other kinds of drinks. (This is partly because of higher taxes and partly because it costs more to produce beer, as it needs to be fermented for twenty or more days and incurs other costs relating to storage.)
Red Bull had already come to Vietnam. But my father thought it was a typical example of an international company trying to impose a generic brand across many different countries, albeit one which has some historic links to our country. Urban legend has it that gluronolactone, one of the ingredients in many energy drinks, was first developed by the American government to help GIs stay awake wring Vietnam War.
In the past few years, especially in 2018, Tan Hiep Phat and Tran Uyen Phuong are among Vietnamese names in the field of business that appear the most on international media because of their stories inspiring co-startups as well as millions of consumers around the world.

That Forbes first published the book "Competing with Giants" by a Vietnamese businesswoman has help promote the name of "rich man" Tan Hiep Phat.

Afterwards, in the minds of many consumers, each water bottle is not only a drink but a crystallization of the desire to overcome difficulties and the spirit of entrepreneurship, an organic trend and Vietnam of miraculous stories.

And also from this book uncovered the aspirations of Tan Hiep Phat, as Mr. Hiroshi Otsuka, President and CEO of Musashi Seimitsu said: "An unmissable insight into how and why Vietnamese businesses are quietly growing into global players."
About author Phuong Uyen Tran
Working as a powerful businesswoman, Forbes published author, Phuong Uyen Tran is a model of success in Vietnam. Phuong Uyen Tran is also a special contributor for Vietnam Times. Her writing, including "Competing with Giant" book, and her latest articles are to advise and inspire young people to start-up, overcome challenges and reach out to the world. It is the story of a little girl taking the great responsibilities for a corporation and devoting herself to society.
Read More: a prominent female millionaire and an emotional author
Tan Hiep Phat's promotion campaign

"As a product is being readied for launch, the third "P"—promotion—kicks in. It is no good having a great product if nobody knows about it", ...
Phuong Uyen Tran