Tan Hiep Phat's promotion campaign
"As a product is being readied for launch, the third "P"—promotion—kicks in. It is no good having a great product if nobody knows about it", Phuong shares her business perspective in her post.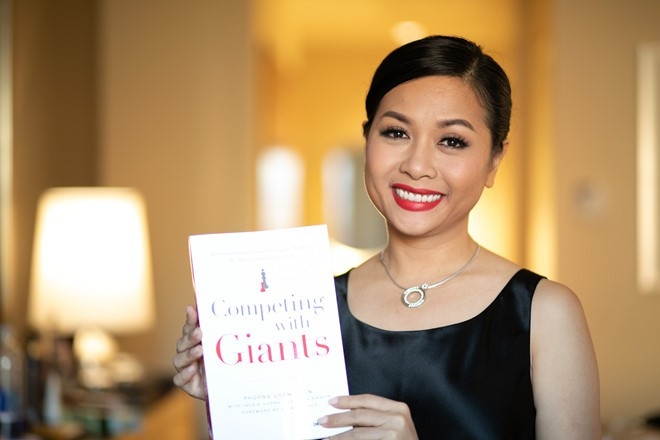 Phuong Uyen Tran and her book "Competing with Giants"
Promotion embraces all methods of persuasion, which a marketer uses to motivate customers to buy the product. It comprises elements such as advertising, public relations, and sales promotion.
These days, social media represents a growing share of any company's promotion budget, particularly when it comes to targeting Millennials (born after 1980) and Generation Z (born after 1995). However, Vietnam is a fairly traditional market, although this is changing fast. TV is still the lead medium.
As a result, THP still spends about 60 to 70 percent of its advertising budget on TV. In developed countries like the US, companies typically spend about 40 percent or less, because the market has become so fragmented. Western consumers have multiple TV channels to choose from, and many have switched to streaming services like Netflix where there are very few adverts.
Advertisers in Vietnam's consumer-goods sector also need to take a second consideration into account. They not only have to Persuade the end consumer to buy their product but also the vendor.
(Photo: Lioness Magazine)
"My sister and I also owe a lot to our parents. Their story is an inspiration to us, and I would like to share a little of it because it is impossible to understand how THP became the company it is without getting to know them."
People often say great companies are the ones that understand their market and customers, but the truly great companies nearly always have an inspirational leader who creates and embodies the brand. Yet that does not mean the brand cannot survive when the leader is gone.
Apple is a perfect example of a company that has continued to bestride the tech world since Steve Jobs's death with its new CEO Tim Cook at the helm. Apple is still the world's most valuable company, but the company is what it is today because of Steve Jobs: his vision, his talent, and his steely determination.
In the past few years, especially in 2018, Tan Hiep Phat and Tran Uyen Phuong are among Vietnamese names in the field of business that appear the most on international media because of their stories inspiring co-startups as well as millions of consumers around the world.
That Forbes first published the book "Competing with Giants" by a Vietnamese businesswoman has help promote the name of "rich man" Tan Hiep Phat.
Afterwards, in the minds of many consumers, each water bottle is not only a drink but a crystallization of the desire to overcome difficulties and the spirit of entrepreneurship, an organic trend and Vietnam of miraculous stories.
And also from this book uncovered the aspirations of Tan Hiep Phat, as Mr. Hiroshi Otsuka, President and CEO of Musashi Seimitsu said: "An unmissable insight into how and why Vietnamese businesses are quietly growing into global players."
Shouldering heavy responsibility as the successor of Tan Hiep Phat, Tran Uyen Phuong keeps traveling continuously to many countries around the world, attending talk shows, interviews. She is referred to as the world famous woman from a US$ 5 billion business. However, Uyen Phuong almost never mentioned this but only focused on inspiring entrepreneurship, introducing safe and healthy natural beverages (organic) to consumers. Not only that, every year Tan Hiep Phat welcomes dozens of foreign delegations to visit - including famous names such as former Samsung CEO or other multinational corporations.
About author Phuong Uyen Tran
Working as a powerful business woman, Forbes published author, Phuong Uyen Tran is a model of success in Vietnam. Phuong Uyen Tran is also a special contributor for Vietnam Times. Her writing, including "Competing with Giant" book, and her latest articles are to advise and inspire young people to start-up, overcome challenges and reach out to the world. It is the story of a little girl taking the great responsibilities for a corporation and devoting herself to society.
Read More: a prominent female millionaire and an emotional author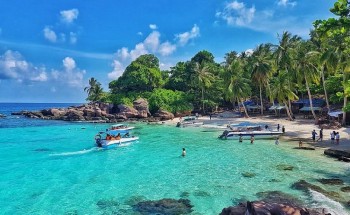 National
Vietnam News Today (Jan. 18): Vietnam confirms 21,691 new local Covid-19 cases; Logo marking 30 years of Vietnam-RoK diplomatic ties unveiled; Phu Quoc represents golden hope for Vietnamese tourism rebound; Int'l searches on Vietnam tourism reopening on the rise.