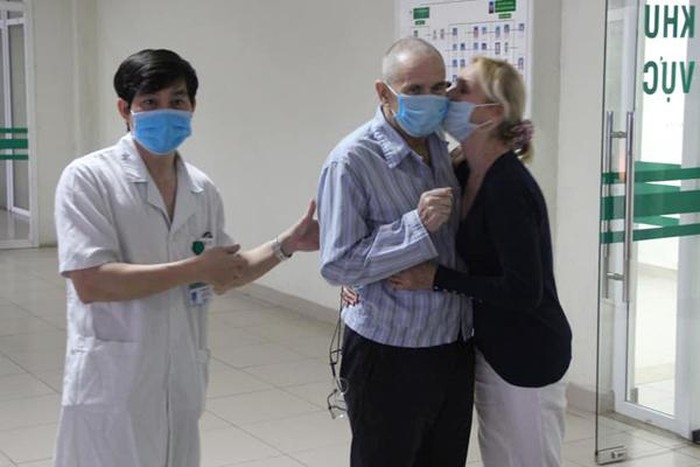 D.J.G and Shan on releasing day (Photo: VNT)
"My husband and I flew to Vietnam to meet our son who is living here. But we haven't met him yet and were sent to the hospital for COVID-19 treatment. My husband was in critical condition, but you know, Vietnamese doctors are wonderful, they have saved our lives. If it's not Vietnam, we might have died. This was way beyond my imagination", Bao Moi cited Shan Coralie Barker, 67-year-old, as she was thanking Vietnamese medics before being released from the Central Tropical Disease Hospital.
Shan's husband, Dixong John Garth, 72 years old, known as "patient 28" in Vietnam was one of the three heaviest COVID-19 patients in the Central Tropical Disease Hospital. He was discharged from hospital one day earlier at the request of the British Embassy and his family "to fly home on April 13".
The couple traveled to Vietnam on March 2 and onboarded the same flight with two passengers who later tested positive for the novel virus.
Shan also contracted nCoV, but her condition was not as severe as her husband and was treated at the Central Tropical Disease Hospital. Shan told Bao Moi she thought she would have died due to severe shortness of breath during the first days with the disease. But "thanks to the dedication of all medical staff in the Central Tropical Disease Hospital, I was given the second chance to live. I was discharged in late March", Shan recalled.
However, she asked for a longer stay in the hospital to take care of and meet her sick husband, whose condition was worsening, once or twice a day, even though she had completely recovered.
"I've been working as a nurse for some 40 year nows, I know how serious my husband is", Shan told VNT. "I just wanted to be with him. I wanted both of us to be discharged on the same day".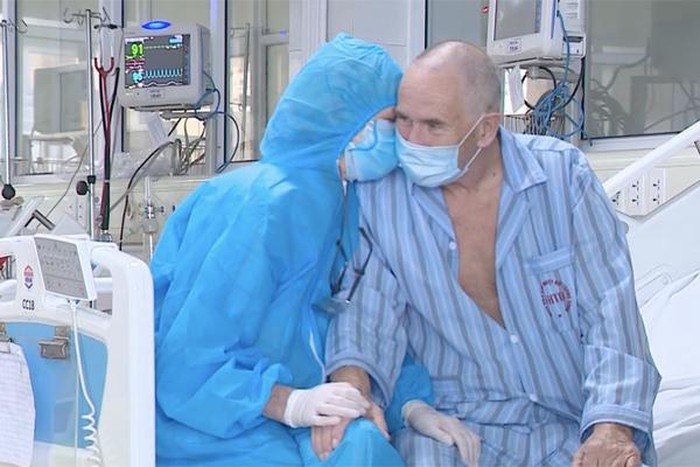 Shan chose to stay in the hospital to meet her sich husband once or twice every day (Photo: VNT)
According to Dr. Dong Phu Khiem, Deputy Head of the Department of Positive Recovery, patient 28 has a 10-year history of lymphoma (leukemia).
The patient was quarantined in Quang Ninh, Northern Vietnam on March 6. His test result came out positive one week later. He was then transferred from Quang Ninh to the Central Tropical Hospital for treatment.
He suffered from respiratory difficulties since March 22 and was sent to ICU for further treatment. His condition, however, worsens quickly. There were times when doctors had to do chest compressions and other emergency interventions as he had arrhythmia and stopped breathing.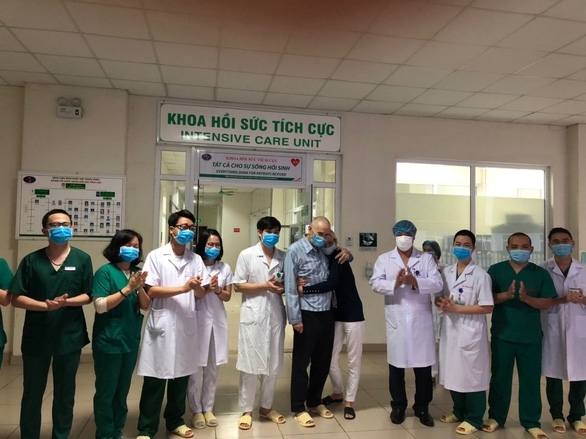 The couple and medics at the Central Tropical Hospital on April 13 (Photo: BVCC)
D.J.G'd gradually recovered since early April, his respiratory system gradually gained its function. His test result on April 13 came out negative for the fourth time, qualified enough to be discharged.
As of April 14 early afternoon, Vietnam has a total of 265 patients, in which 145 patients have been discharged, including both Vietnamese nationals and foreigners.
Jasmine Le