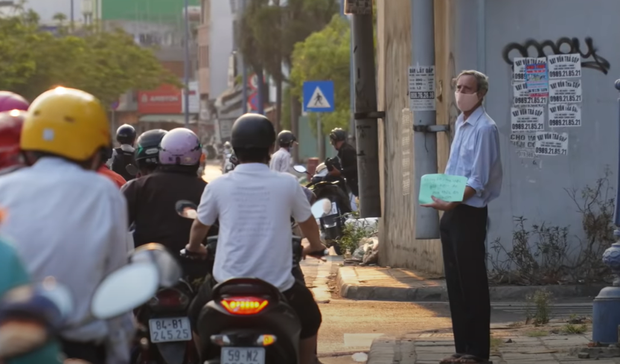 John with a board on his hands writing in Vietnamese "No job. Help me to buy food. Thank you!"
Following the article "British teacher in Vietnam 'begs for meal' during COVID-19 outbreak" published April 13 on Thanh Nien newspaper, Vietnamtimes (English version) and shared widely on Vietnam's social network, Mr. John has received a great number of supports from kindhearted people.
On the evening of April 13, hundreds of people came to his hostel in Ho Chi Minh city to give presents, hoping to help him through the difficult period.
Standing in front of the teacher's house, Ms. Vu Thi An (56years old) was thinking how to help him properly.
"I like to help those who are in difficult. I'm not rich. This just comes from my heart. Vietnamese people are very kind. When knowing someone is in difficult, they offer help voluntarily", said the middle-aged woman.
The darker it was, the more people came to John's house to offer help. Gifts were given to him with sincere affection.
"I'm fine, please give this help to others''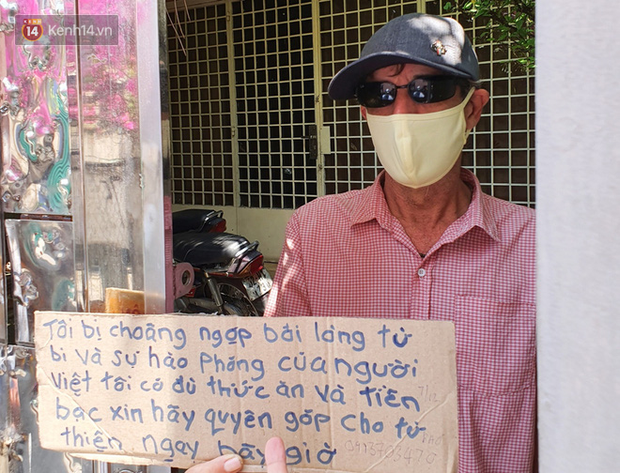 "I was overwhelmed by the kindness of Vietnamese people. I got food and job. Please help others", John wrote on the board
"I'm really fine. Today I received a lot of assistance. Even, now I'm being offered so many jobs that I cannot take them all. I would like to refuse this help. Please give it to other people with difficulties" John said.
Mr. John said, since he couldn't take all offered jobs, he would like to share them with his foreign friends who are also struggling during the crisis.
"I'm very grateful to Vietnamese's kindness. Lots of people offer to help me through phone conversations. And I'm really sorry to not meet them directly. Maybe I will turn off the phone in a few days to prepare for my work," John said.
Ms. Luong Ngoc Ha (68 years old), John's acquaintance, said he is a self-respecting person. He refused to accept money and gifts from helpers for not wanting all these supports given to only him. There are millions of people affected by the COVID-19 pandemic who also need help.
"Mutual support is always needed in life. But I'm fine now. Everybody, don't worry about me. Please help others," said teacher John.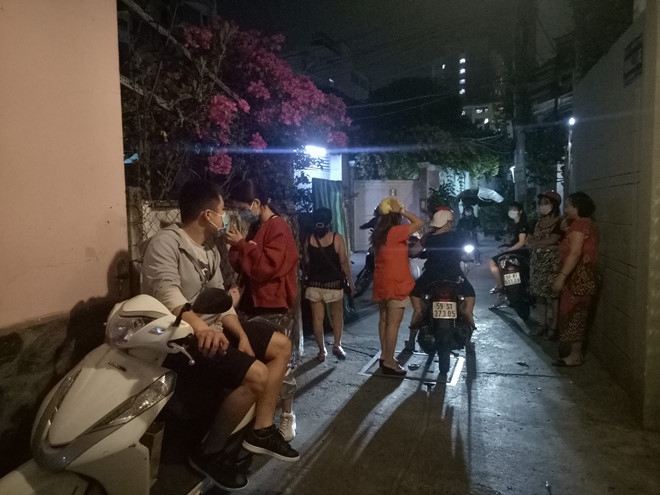 On the evening of April 13, hundreds of people came to John's house to offer help. Photo: Trinh Thanh
John returns donated money to help other people with difficulties
Mr. Phong Le (Ho Chi Minh city) – the first person to upload John's pictures on Facebook said John today (April 14) transferred him VND 36,3million donation, asking him to redistribute it to other disadvantaged people, VTC news reported.
This is the amount of money kindhearted people have donated to John since his pictures were posted.
"I'm fine now, got a job. I would like to receive a little food and some money only. The rest I desire to send to others." John told Phong.
"John had gone begging once to twice per week. Each time, he just asked enough for buying canned fish and bread, no begging futher. Receiving the VND48.3 million donation, he wanna to spend VND 12 million on two-month house rent. For the rest, he asked me to send to the poorer people," Phong said.
"Who wants to ignore self-esteem to go begging? But in his case. I think he has no other way," Phong sympathetic.
Jennifer Tran