'I nearly died, but the doctors saved me', COVID-19 patient recovered in Vietnam
30 more COVID-19 patients in Vietnam had successfully recovered and were discharged from hospitals today, March 30.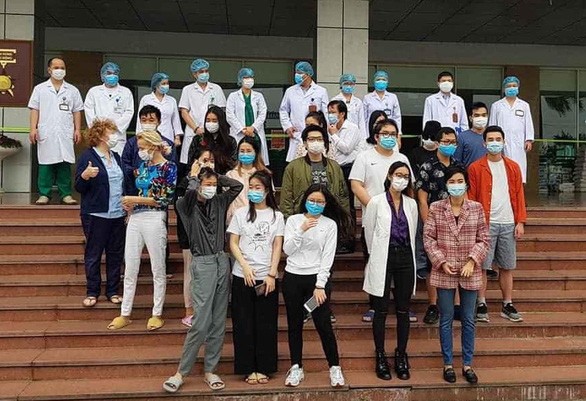 Patients have a photo taken with doctors and medical workers at the National Hospital of Tropical Diseases on Monday. — Photo courtesy of NHTD
The National Hospital for Tropical Diseases announced this morning 27 COVID-19 patients had recovered. Among them, 19 cases are Vietnamese, 8 are foreigners.
The 27 patients released were numbered 17, 22, 24, 27, 39, 46, 47, 51, 55, 56, 58, 59, 60, 62, 69, 70, 71, 77, 85, 88, 93, 110, 112, 113, 130, 140 and 187.
The hospital's director Pham Ngoc Thach said they were in stable conditions.
"Most of the patients were in a panic at first. Along with treatment, we needed to encourage and help them meditate. After they tested negative for the first time, they cooperated better with us," said Doctor Trần Văn Giang from the Department of Viruses and Parasites.
On the same day, Cu Chi Field hospital also announced 3 patients had recovered and were discharged from the hospital. The patients were numbered 53, 75 and 89.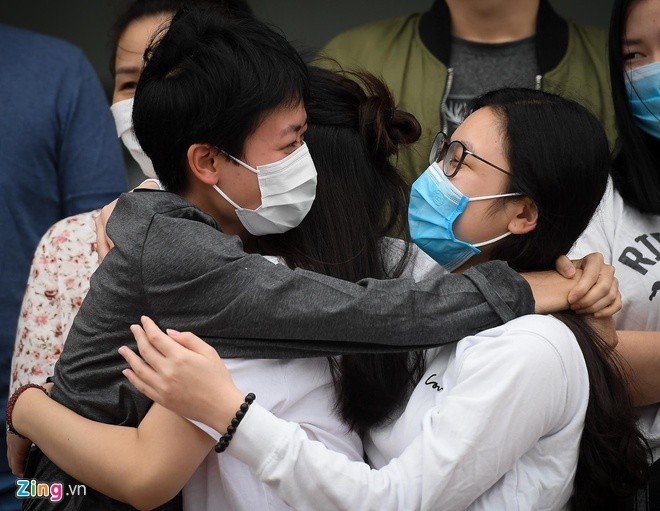 The patients were joyful as recovered from the disease. Photo: Viet Hung
All these 30 patients have tested negative for SARS-COV-2 virus more than twice and will have follow-up health checks in the next 14 days.
They could not hide their joy and expressed their appreciation for the care of the medical staff during treatment at the hospitals.
Patient No.24 (British, a passenger on flight VN0054 from London to Noi Bai airport) cried tears of joy.
"Because I am a retired nurse, so I knew I was dying. I'm very grateful for you! Your doctors are amazing people, and the nurses! You're wonderful people! Thank you! I nearly died, but the doctors saved me. All of the doctors. They are wonderful people, and saving many lives. I cannot thank you enough, you make me cry.", she said
"But my husband, he is very ill. He is on a life support machine but the doctors are making him better, I hope", she added.
Patient No. 53 (Czech) "Thank you to Vietnam, thank the doctors who treated me. I feel blessed and very happy. If I have the opportunity in a better situation, not the disease, I will visit them again."
As of Monday, about one-third of COVID-19 patients in Vietnam had recovered.
The country had reported 194 cases of COVID-19 as of Monday morning.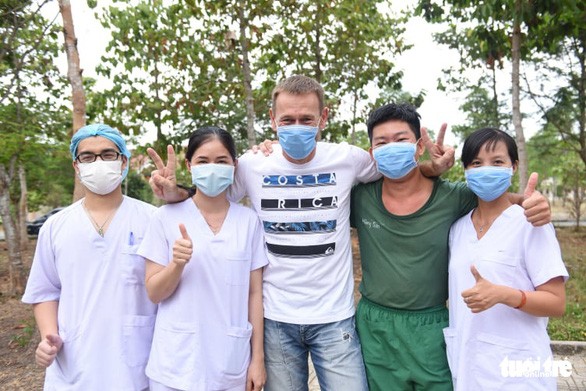 Patient No.53 (Czech) expressed joy in being discharged from hospital. Photo: Duyen Phan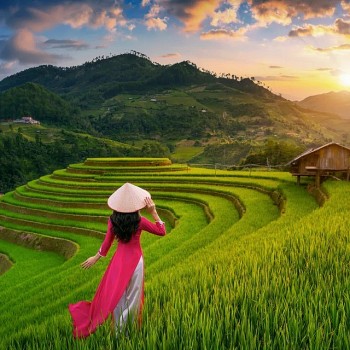 National
UK travel magazine Expedia has named Vietnam among the top five international destinations that visitors should visit this summer.