Foreigners send thanks to Vietnam COVID-19 front line via touching photos
Expats in Vietnam are sending heartfelt messages of gratitude to those who are on the front line of the COVID-19 battle.
"Vietnam We Thank You" is a mini project initiated by Wayne Worrell, a British teacher living in Hanoi. Through touching photos, expats in Vietnam they would like to send a message of thanks to the doctors, nurses, military personnel, police and volunteers for their ultimate sacrifice to keep everybody safe.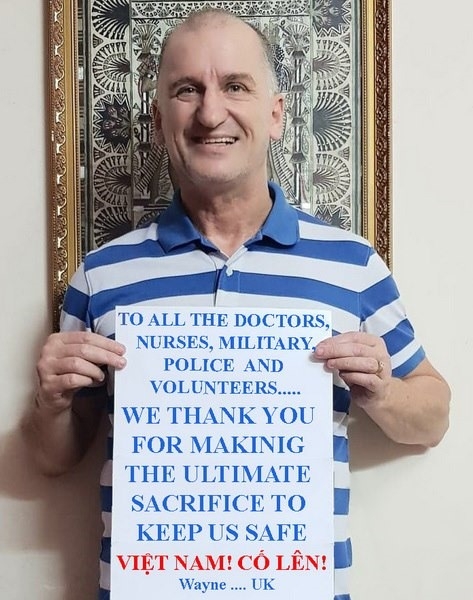 Mr. Wayne Worrelll, a British teacher living in Hanoi, who initiated the series, sent the message ''To all the doctors, nurses, military police and volunteers,… We THANK YOU for making ultimate sacrifice to keep us safe."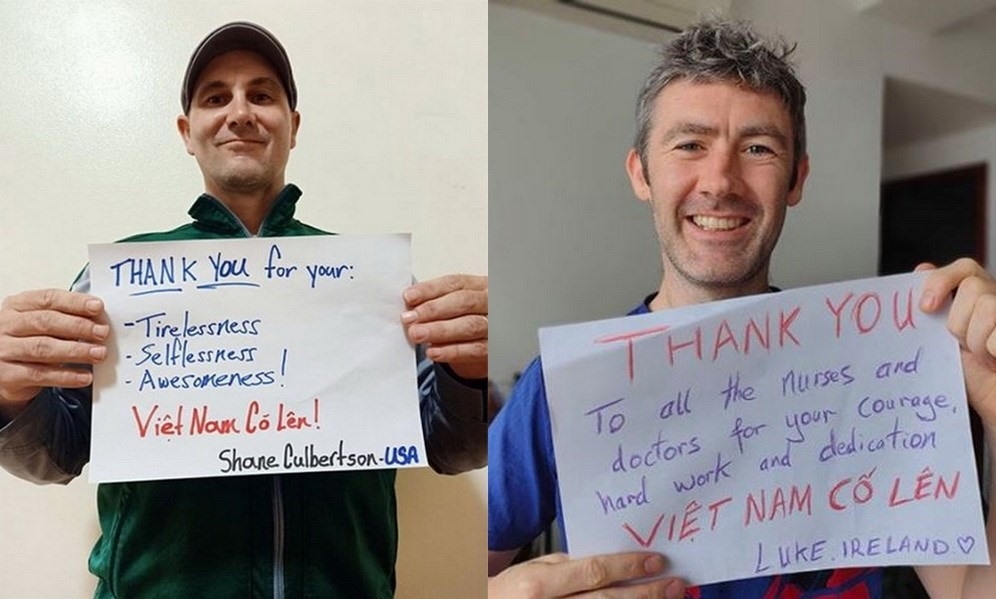 Shane Patrick Culbertson (left), retired American writer and Luke Kenny (right), Irish teacher based in Hanoi, with the message of thanks for the efforts of the medical staff.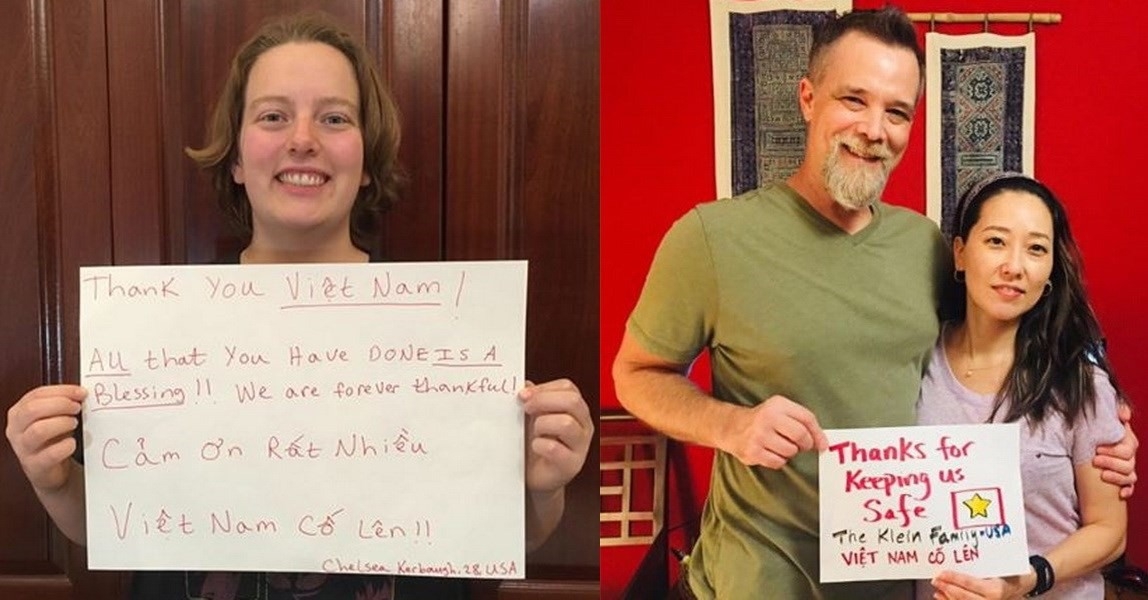 Thanks from US citizens living in Hanoi: Music teachers Kerbaugh Chelsea (left) and the couple (right) -Dan Klein, educational consultant and Maggie Klein, primary school teacher.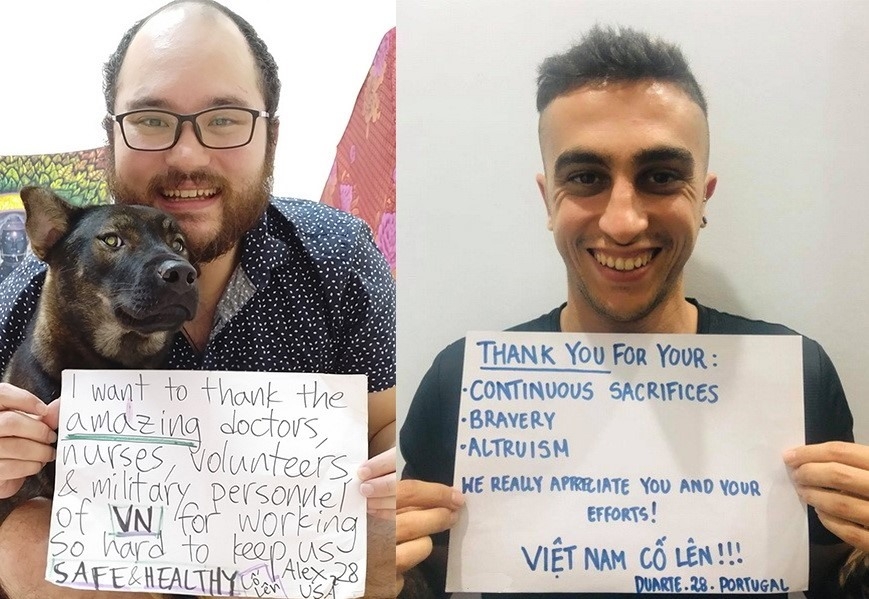 Two English teachers in Hanoi, Alex Pike (left, American), and Duarte Mendes (right, Portuguese), with the message of gratitude for the efforts and sacrifices of doctors and medical staff.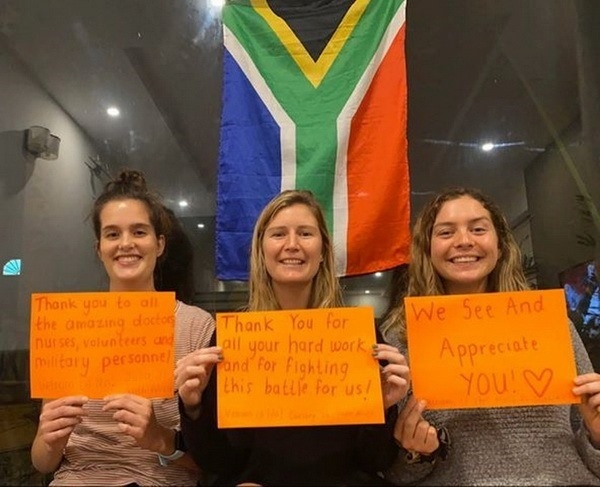 'Thank you for to all the amazing doctors, nurses, volunteers and military personnel' , "Thank you for all your hard work', 'We see and appreciate you' are messages from three South African English teachers in Hanoi: Julia Meyer (left), Courtney Jordaan (middle) and Molly McMiles (right).
Two American English teachers: Skip Carver (left) from Bac Lieu province and Oscar Olson (right) from Ben Tre

"Because of your strength I was fearless" – shared by Elyciah Klaartjies (left), a South African English teacher in Hanoi. While Ed Brown (right), an English teacher in Hanoi, thanks "To those who continue to go out to work to provide the essential services we need and help us to stay safe".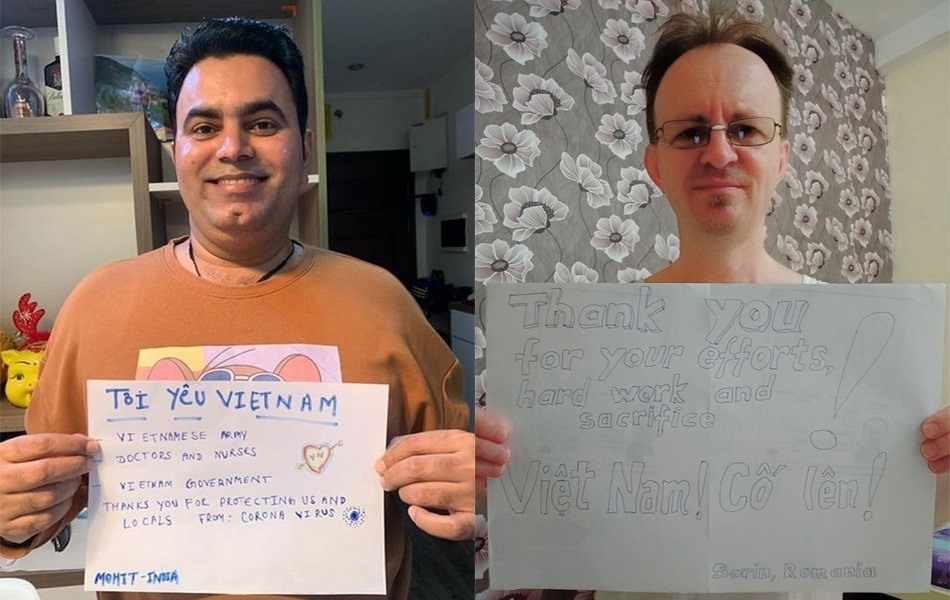 "I love Vietnam" - Mohit Sharma (left), an Indian trader in Hanoi, said. And Sorin Parlea (right), a Romanian English teacher in Ho Chi Minh city thanked the Vietnamese medical team.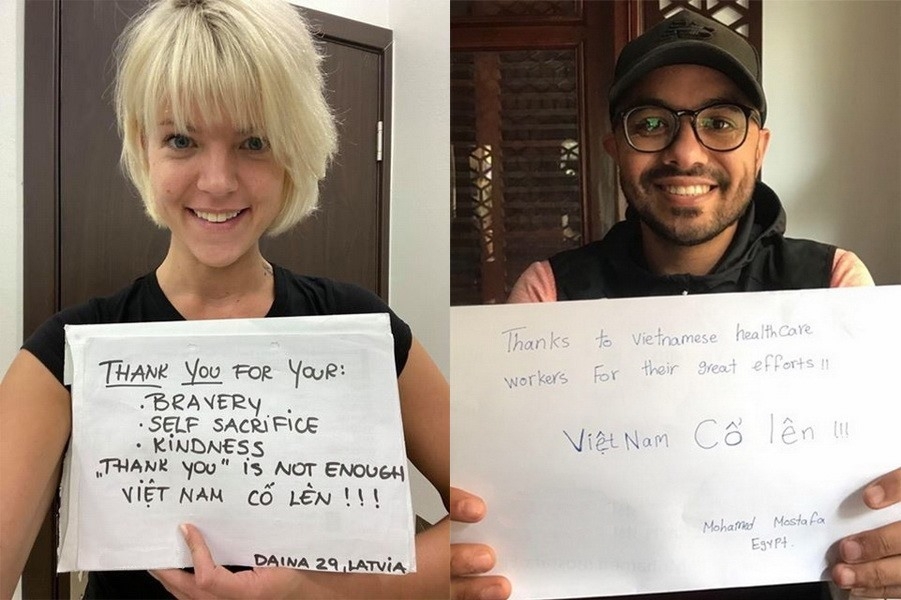 Latvian CEO L'Oasis in Hanoi - Daina Raiskuma (left) said that thanks are not enough for the bravery, sacrifice and kindness of Vietnamese medical staff. Mr. Mohamed mostafa Shaaban (right), an Egyptian-owner of a restaurant in Hanoi, thanked the excellent efforts of Vietnamese health workers.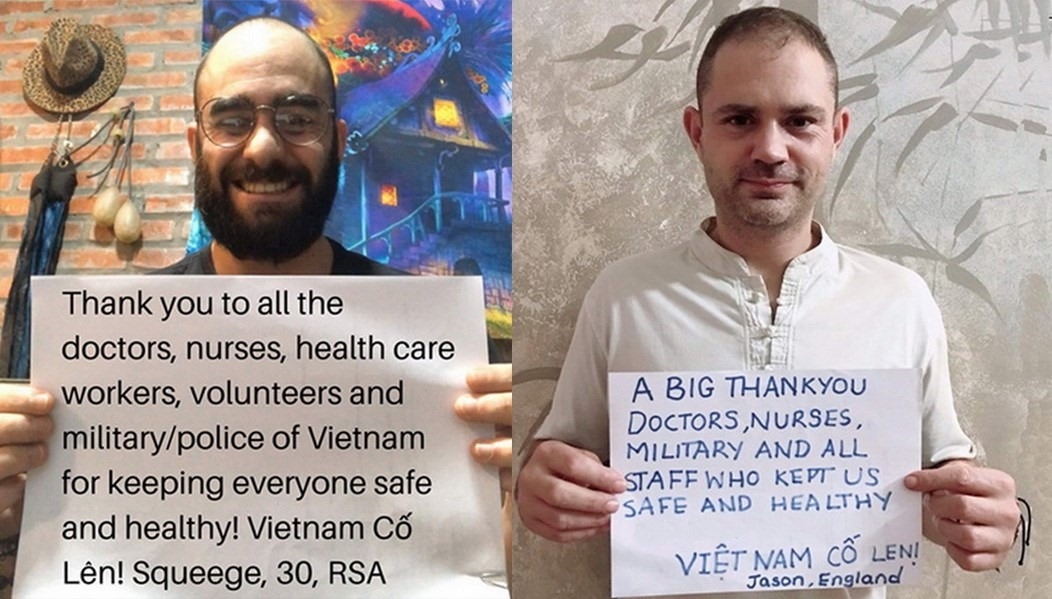 Messages of thanks from Gianluigi Squeege Nicolosi (left), South African, co-founder of Earth Key English and Jason Bonne-Gray (right), English teacher.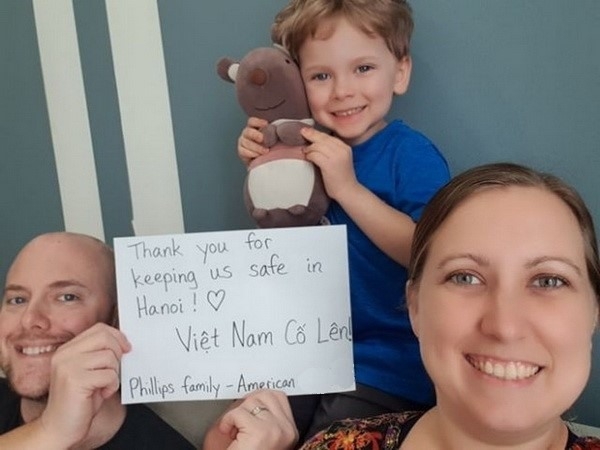 "Thank you for keeping us safe in Hanoi" is message from Joe Phillips, an American in Hanoi with his wife Becca Phillips and son Scotty Phillips.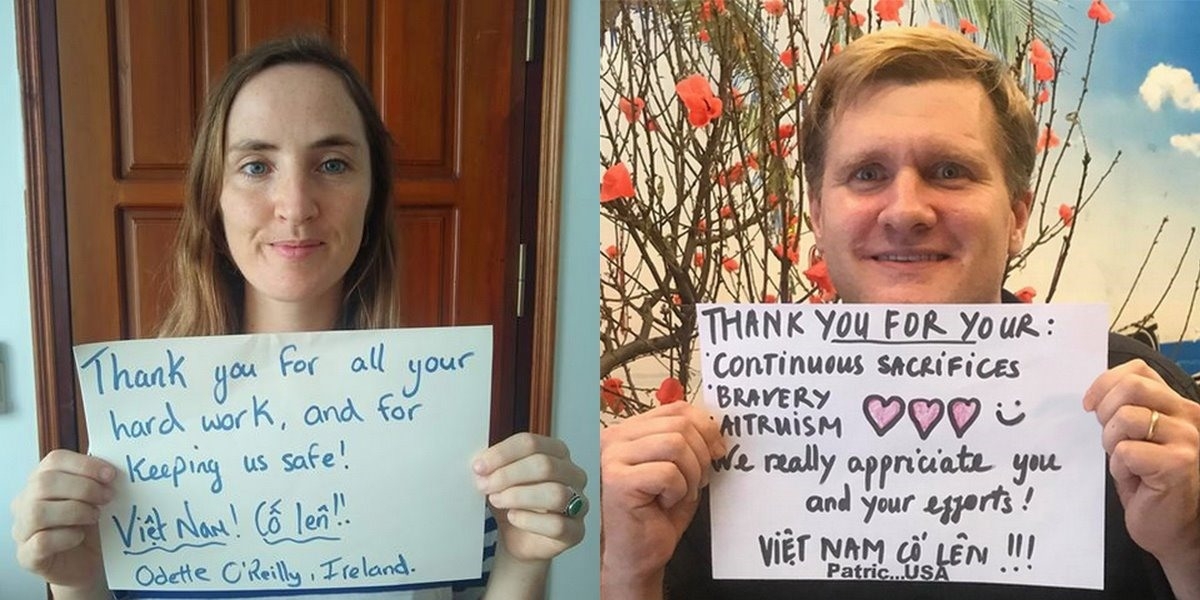 Messages from Odette O'Reilly (left) Irish English teacher in Hanoi and Patrick Furman (right), former American soldier who also lives in Hanoi.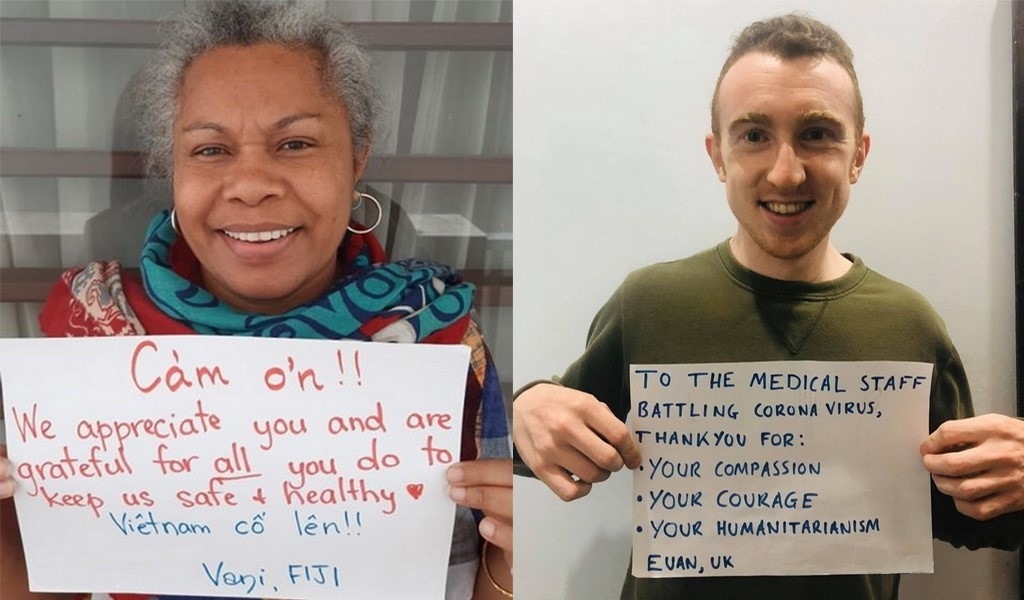 Two English teachers in Hanoi: Ms. Vani Veikoso (left) from Fiji and Euan Craig (right), British national send message of gratitude to Vietnamese medical staff.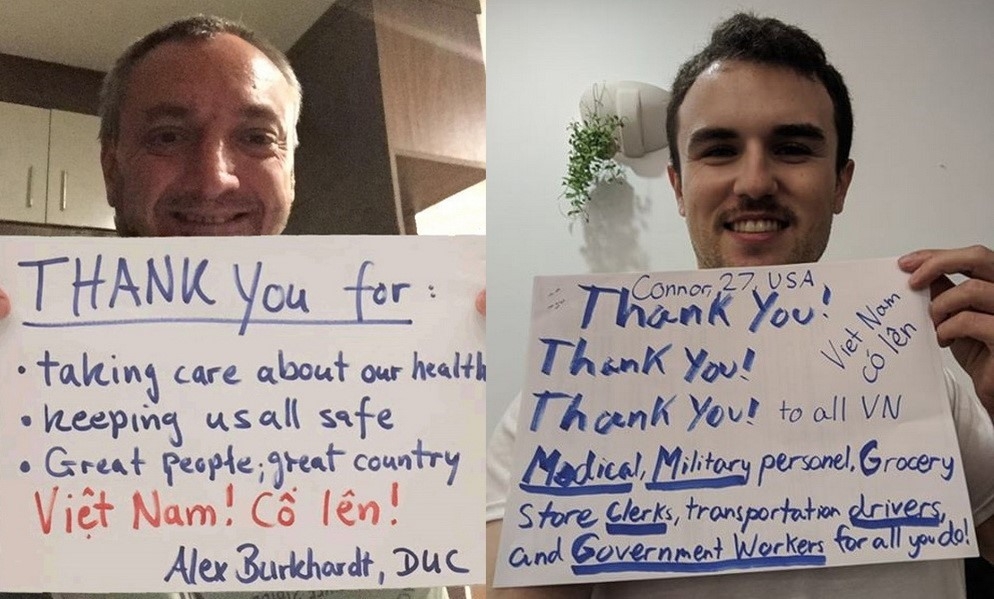 Alexander Marco Burkhardt (left), German - warranty service manager Piaggio APAC and Connor Sims (right), American IELTS teacher in Hanoi.
(Photo by WAYNE WORRELL)
Source: Lao Dong (Vietnamese version)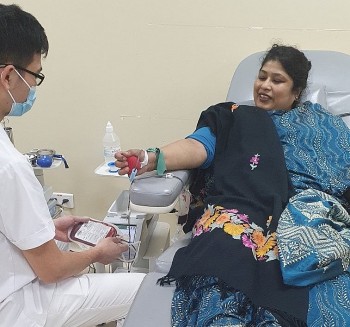 Focus
Blood donation campaigns launched by embassies amid shortages due to Covid-19