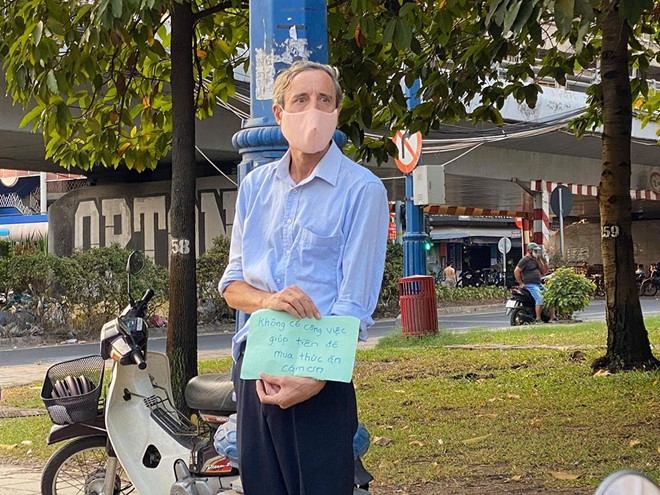 Due to COVID-19 crisis, Mr.John had to ask for help from stranger. Photo: Trinh Thanh
Schools closure due to COVID-19 outbreak left Mr. John, an English teacher in Ho Chi Minh city unemployed. No money to live, he had to beg for help from strangers.
Recently, Thanh Nien newspaper published an article about a foreign teacher, standing at the corner of Vo Van Kiet – Nguyen Tri Phuong street with a board in his hand writing (in Vietnamese) "No job. Help me to buy food. Thank you!".
He is John (53 years old, British). He came to Vietnam in 2003, worked in Ho Chi Minh city for 6 years then back to the UK. In 2015, he returned to Vietnam to continue working as an English teacher. However, since the COVID-19 outbreak, he has been in difficult situation as there is no way to earn for living.
"I'm ashamed, but I don't know what else to do"
Mr. John shared "I just came up with this idea last weekend when the savings were exhausted. I stood in the street for about 2 hours. Some people left when they saw me, some gave me VND20,000 – 50,000 (USD 0.86-2.1). With about VND200,000 (USD 8.6), I went home to buy food."
"The only reason I can do this is because I'm wearing a face mask. People do not recognize who I am. Honestly, I'm ashamed but no longer know what to do. I have to live," said J.
Mr. John said he worked at a private educational unit in Ho Chi Minh city. For nearly three months now, he has not had any income because all schools and language centers have been closed due to the COVID-19. With the remaining money in his account, John had to pay the visa and the rent, so he could not afford to buy food.
"My income from teaching is about VND20 million per month. I paid the rent VND6 million/month and the visa fee VND4 million/3 months. But now, I'm only spending money, not earning any money. I really have no other choice," Mr.John shared.
British Embassy in Vietnam was informed about the case
Talking to Vietnamnet in the afternoon of April 13, an employee of the British Embassy in Vietnam said that the embassy had been informed about the case.
"The embassy's consular section has contacted to this British citizen and is providing him with consular support," said the Embassy official.
A journalist in Ho Chi Minh city said he had introduced Mr. John to an online school and was being considered.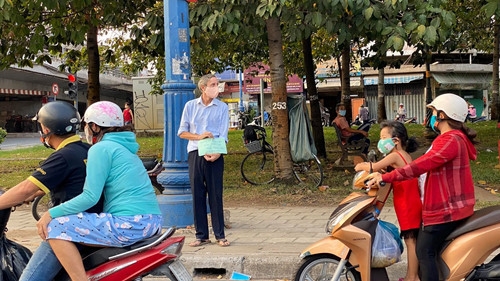 He must ignore pride to survive. Photo: Phong Le
Desire to return home
Mr. John. said that many of his foreign friends in Vietnam are in the same situation because of the Covid-19 crisis, so he could not ask them to help. He said: "My friends in the UK have sent money to help me but they are currently facing difficulties. Things were blocked so they couldn't send me money constantly."
On April 12, a principal of a primary in Ho Chi Minh city confirmed that Mr. John.D had taught at the school in the first term last year. Since Tet holiday, the school has closed due to the COVID-19.
Meanwhile, the representative of the English center where Mr.John collaborated, said "He is a part-time teacher of the center. The center was closed due to the pandemic so he did not have a salary. This is also the same situation of part-time teachers here".
The representative also said the center has a policy of supporting full-time teachers. Particularly in the case of Mr. John, if the center knows his situation sooner, they will have support. "I also hope the sponsors can support and help Mr.John," he said.
Reportedly, Mr. John is not married; His parents in the UK both died long ago. His married sister also had financial difficulties.
"I want to go back to my hometown but I cannot pay for the plane ticket now, "he said sadly. . "The restaurant is closed, without money, I have to cook to save money," he added.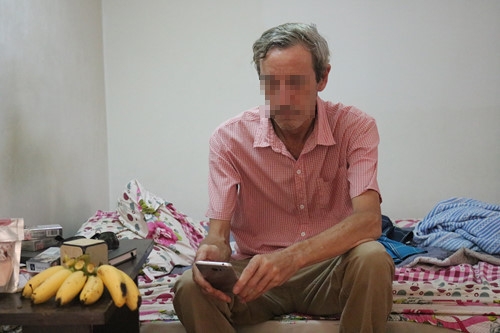 After the photos were shared, Mr. John received a lot of support. Photo: Phong Le
Sympathy from the Vietnamese
Following the article in Thanh Nien newspaper, Mr. John received a lot of attention.
Most showed sympathy and wanted to help him in many ways. Some want to hire him as a tutor. Some ask for his bank account to donate. Some want to get his address to help directly.
Bich Nguyen said "! Hope that we soon win the COVID-19 battle so he can return to his normal life."
Duong Thi Bach Yen said "Hope the authorities will have supporting policies for foreigners in Vietnam who are affected by the COVID-19 pandemic. We Vietnam, no one is left behind."
Tran Tam said "May everyone join hands to help him to overcome difficulties."
Anh Duy Nguyen Dinh said "Kindness are borderless. Vietnamese people are very warm. Best wishes."
Jennifer Tran