Cancer Monthly Love Horoscope: December 2021
Cancer Monthly Love Horoscope, December 2021: Cancers will be emotionally unstable in the last month of the year. You will need to spend time with family and friends much more, and you will be more caring.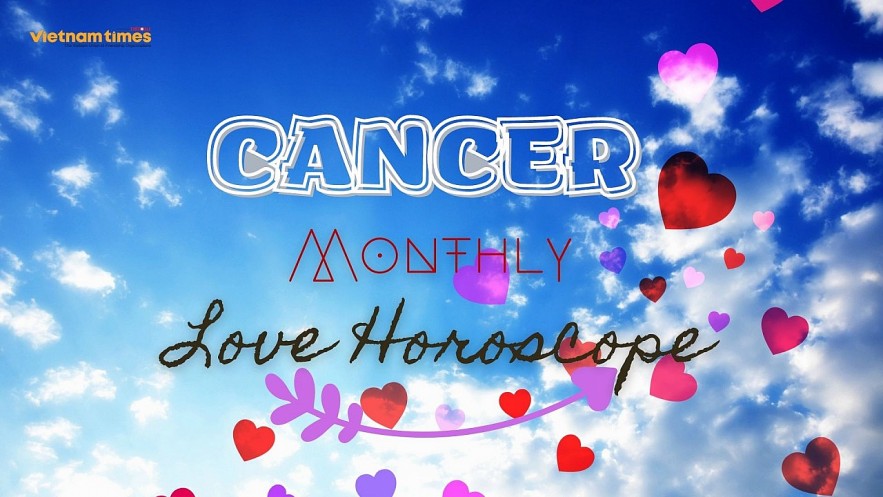 Cancer Monthly Love Horoscope December 2021. Photo: vietnamtimes.
Cancer's Love Style
Sensual, passionate, and super in tune with their bodies, Cancers are highly attuned to love and physical sensation—as long as they can trust enough to let down their barriers and allow another person into their world. Cancer can be cagey about the dating game, and engaging in the getting-to-know-you game, either on text or through conversation, can feel like torture for sensitive Crabs. Cancer much prefers discovering and checking out potential partners in low-stress settings, such as in a class, as neighbors, or at a local coffee shop.
As horoscope reported, Cancers sometimes get frustrated that their partner doesn't know everything that's going on in their internal life, and they can easily put up walls and say it's all good when everything is clearly the exact opposite. In order to truly connect, Cancers must be patient with their partner and voice their emotional needs—and these lessons can have a steep learning curve for this sign. Crabs want a partner who can bear witness to their emotional ups and downs, yet they can lash out if their partner tries to "fix" things. Sometimes, all Cancer needs to do is vent.
In bed, Cancer is happiest with long, passionate lovemaking. While props, toys, and shower sex can all be fun, Cancer's absolute favorite is any position that allows plenty of eye contact with his or her lover. Crabs want to cuddle after sex (if they feel trusted and in love), and they're always up for a lazy day spent entirely under the covers.
This sign plays for keeps, and believes in in his or her partner. Sometimes, Crabs may struggle with letting a relationship end, and their breakups may have to happen several times before they accept that it's really over. On the flip side, Cancer takes loyalty very seriously, and a breach of loyalty, however small it seems, can be a deal-breaker for a Cancer.
According to bustle, Cancer's romantic traits make them some of the most devoted and nurturing lovers of the zodiac. They're protective of their feelings and don't open up to others easily, but once they do, they enjoy pouring themselves into an emotionally-involved relationship and tending to their partner's needs. They're capable of being deeply committed in love. Because they're creatures of habit, they appreciate a reliable and even routine-oriented relationship dynamic. Cancers have a tendency to live in their memories, so they may feel wistful about past relationships, even long after they're over.
The signs most compatible with Cancer are fellow water signs Scorpio and Pisces, as well as earth signs Taurus and Virgo. Cancers love to be comfortable and appreciate privacy, so if you're looking to impress one, plan your dates in cozy, intimate spaces that aren't too loud or hectic. Cooking dinner at home and cuddling on the couch for a movie is also an ideal romantic evening for a Cancer.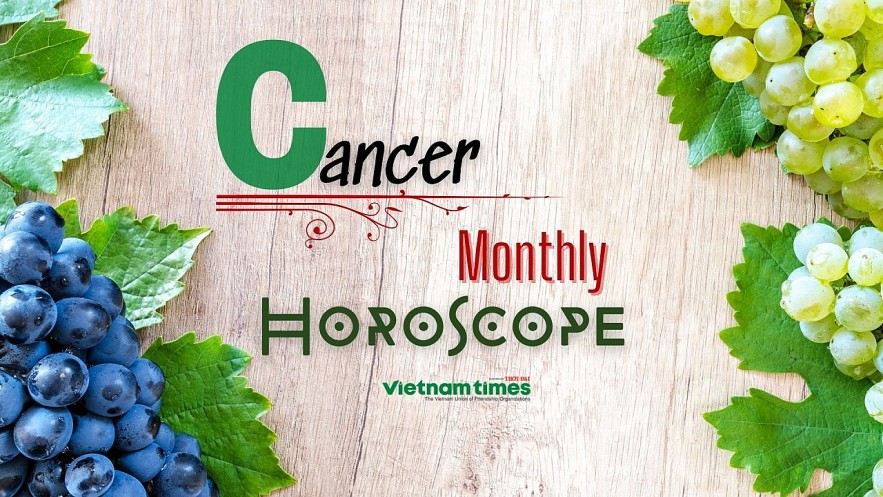 Cancer Monthly Horoscope December 2021. Photo: vietnamtimes.
Cancer Monthly Love and Relationship Horoscope
Cancer Love Horoscope
Love seems happy and active this month. On the 21st you begin a yearly love and social peak. Your love planet Saturn is moving forwards and all systems are go when it comes to love. Singles will date more and have happy romantic experiences. Wealth attracts you these days. You're also attracted to people who share your strong family values. Singles have many love opportunities.
Cancer compatibility will be full of passion this month, as sunsigns reported. You are natural and you should be careful while you are vocal about love relationships. Your charisma will attract love easily.
Love life of married people will be full of dynamism and relationship with your spouse will become stronger and permanent. You expect the same commitment from your spouse when you are planning to have a baby.
Single persons will have many encounters of love. Some of them will be short-lived and some will last longer. You should not be carried away by your feelings and should know how to control them. The whole atmosphere will be full of love.
According to spiritnavigator, the planet of love, Venus, is with you and you can expect that your quests will grow, but you have to stay behind some boundaries in order not to become too demanding. Be polite, charming and do not miss the chance to show off your intelligence. Your actions will not be well appreciated if you are hasty. Expect to be in one of your most sociable and truly delightful moods. If you have plans you need to discuss, you need to be sensitive and feel your way through. Decide whether you are sure in the exactness of your actions. The moment is ideal for traveling in the company of friends. Put into effect the useful changes in your life. Everything will happen on its own when it is needed.
Romance is in the air for the natives born under the sign of the crab as the position of the fifth house lord Mars in the fifth house is indicative of auspicious happenings on this front during the month of December 2021. The position of Mars in your fifth house throughout this week indicates that any differences in the relationships that occurred in the past are likely to get resolved during this month.
However, Mars positioned in the fifth house makes you protective and warm in love matters, but, sometimes it makes us a little too possessive for our partner. This may discomfort them and can create unnecessary problems in otherwise good relationships. So, try and work on this tendency of yours to achieve better results this month.
Eligible natives are likely to get a match of their choice during this month, also, those of you may be a little hesitant to share your feelings with the person you like, may feel confident during this month. So, we can say a good month for lovers. In terms of marital life, those of you looking to expand their brood are likely to get good news during this month. The movement of Venus in your seventh house during the second week of December till the end of the month will be very favorable. This indicates that you are going to achieve great benefits and profits from your spouse during the month.
However, as astrosage reported, sometimes Venus present in this house of desires can tempt one to have a relationship outside their marriage, which can create problems in marital life. So, be careful and try to spend as much quality time with your beloved as possible. Overall, barring a few ups and downs, a favorable month for the married natives.
December awakens a lot of emotions in Cancer. During this period, you will be very sensitive, sometimes maybe even oversensitive. However, this is not a bad thing; try to get the most out of it. As a very sensitive person, you will be able to recognise how people around you feel so you can help them, or you can easily assess what you can say in front of them and how. At the same time, this skill brings a lot of creativity to life. Because you know how you feel about things or events, you can easily set your goals and become happier.
Cancer Relationship Horoscope
For the Cancer Moon sign, family affairs are governed by the Sun, which will be positioned in the fifth house along with Ketu at the start which indicates that right from the start of the month of December 2021, there will be obstacles in your domestic environment. The presence of Mars also in your fourth house during the first week also indicates that some past unresolved issues may come on the surface leading to arguments and clashes in the household.
During the second week, the presence of the second house lord the Sun and third house lord Mercury both in the "Paap Kartari" yoga, indicating that there could be some clashes with the relatives or within the family over some land dispute or financial matters. However, it is suggested to avoid indulging in unnecessary arguments and clashes, otherwise, they are going to be a cause of mental worry and anxiety.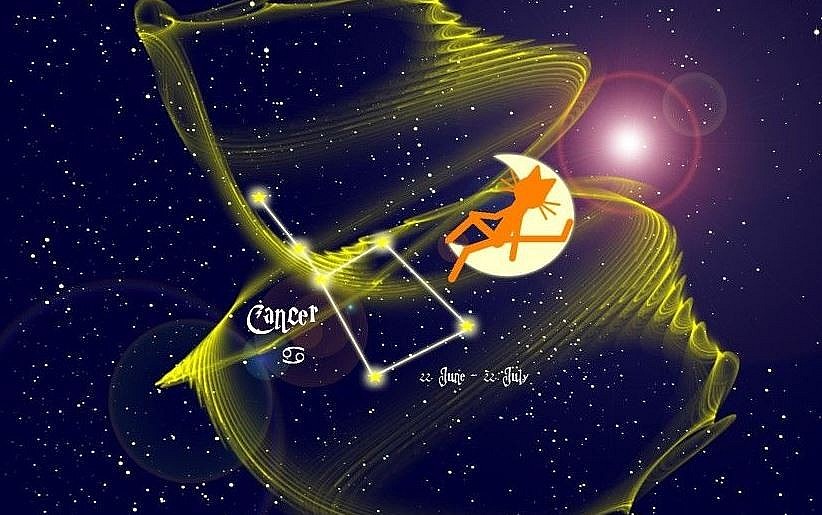 Cancer Zodiac Sign. Photo: wallpapertag.
However, it is a good month to spend quality time with siblings and listen to their grievances and problems, this will help you build great friendships with them. Though you are going to make new friends during this duration and your old friends will remain supportive of you during this month of December 2021.
Your mother will provide you with great comforts and luxuries, so try and maintain proper decorum while dealing with them. Overall, a mixed result when it comes to family life.
Monthly horoscopes do not augur well for family relationships for the Crabs. The family environment will be full of strife and discord. Relationship with your siblings and family members will be very much tenuous. You should make serious efforts to restore peace in the family atmosphere. Planetary aspects are auspicious for the activities of children and they will shine in their activities. They will make excellent progress in their studies. Commerce students will have no problem pursuing their courses. Similarly, if they are into fine arts, their performance will be commendable.
Cancers will be emotionally unstable in the last month of the year. You will need to spend time with family and friends much more, and you will be more caring. Moreover, you will try to get along with the new family members, who you are likely to meet at family celebrations. You should try to control yourself so that they don't find you intrusive, as skyhoroscope reported.
You will also experience melancholy in December. Additionally, you will reflect on the goals you have set for this year, but you haven't achieved them yet. However, don't worry about the past and instead look ahead.
According to pandit, there is little cheer for your family welfare this month, in the augury from the stars. There is a distinct possibility that some of you would develop strained relations with your brothers, leading to extremely unpleasant situations. You must draw on your reserves to remain calm and refuse to be provoked into any kind of confrontation.
The family atmosphere would also leave much to be desired and your relations with your maternal relations could particularly come under strain. The affairs of your children would require closer security and you should devote more time and energy to this.
This month the children of many of you may well go on to make significant achievements, since the stars are quite favourably disposed on this score. Those with leadership qualities could become team captains in some sport, or get elected to an important office in their institution.
Students of accountancy would also fare quite well. Those pursuing the fine arts may similarly have an excellent spell of creative activity. In fact, most of them would fare quite well in their studies or extra- curricular activities. There is little doubt that at least some of you would set some records.
Best Days Overall: 1, 2, 10, 11, 19, 20, 21, 29, 30
Most Stressful Days Overall: 5, 6, 12, 13, 27, 28
Best Days for Love: 5, 6, 7, 8, 14, 15, 17, 18, 24, 25, 27, 28
Handbook
Yoga has recently become one of the best exercise methods that bring many health benefits to people, but it also requires a lot of technique and training to avoid injuries. There are several ways to practice it home, and will still help you achieve your goals.