Cáy cake, culinary highlight of Thai Binh province
Cáy cake, a traditional specialty of Thai Binh province – around 120km Southeast of Hanoi boats typical flavors and used to be served as imperial food generations ago.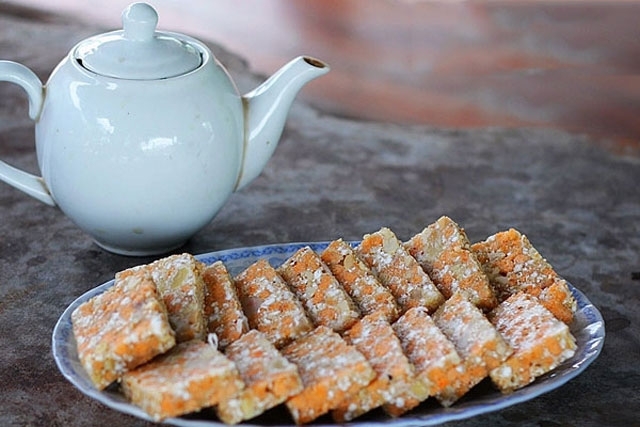 Eating cay cake with some green tea is considered the most ideal way to enjoy the specialty (Photo: Vietnam Tourism)
People in Nguyen Xa Commune, Thai Binh's Dong Hung district were the first ones to make Cáy cake. Since then, the cake has been wowing generations of food lovers with its sweet, greasy taste as well as the crunchy, chewy and sticky nature. It would be best to enjoy the cake with sips of hot green tea, especially when it's turning cold, as the tea's warmness combined with the cake's hot and spicy taste will surely become a calming therapy after days of hard work.
Legend has it that in the old days, Cáy cake was made by Nguyen Thi Tan, a daughter of the Nguyen Cong clan, and served only during the Lunar New Year. Tan was born in 1724 and ordained as a mandarin in 1739. She created a new cake with five spices to offer to the King who later named the cake "Cáy" because it is the color of a fiddler crab's egg, according to Nhan dan online.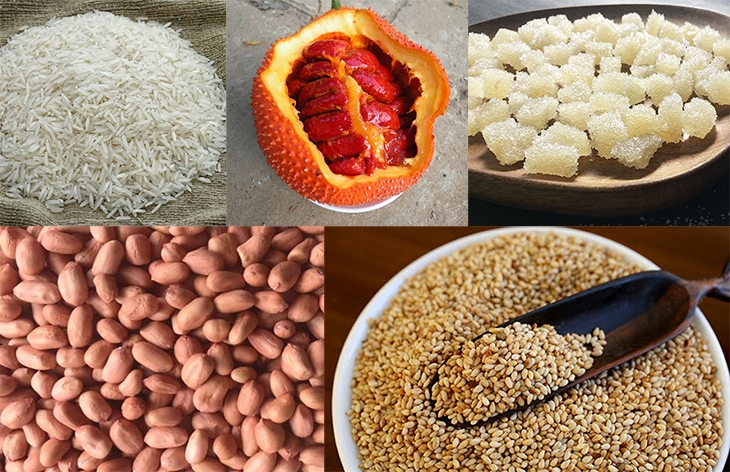 Cáy cake is made from rustic, simple ingredients (Photo: Dien May Xanh)
Cáy cake is often mistakenly believed to be made of Sesarmidae – a kind of crab and is also called "cáy" in Vietnamese. However, the cake is in fact made from a kind of glutinous rice named "nep cai hoa vang" that is very fragrant and delicious, sesame, peanuts, and some types of leaves and fruits – which colors the cakes. Under the skillful hands of locals, such simple ingredients are made into the chewy, fragrant cakes that can hardly be found anywhere else outside Thai Binh province.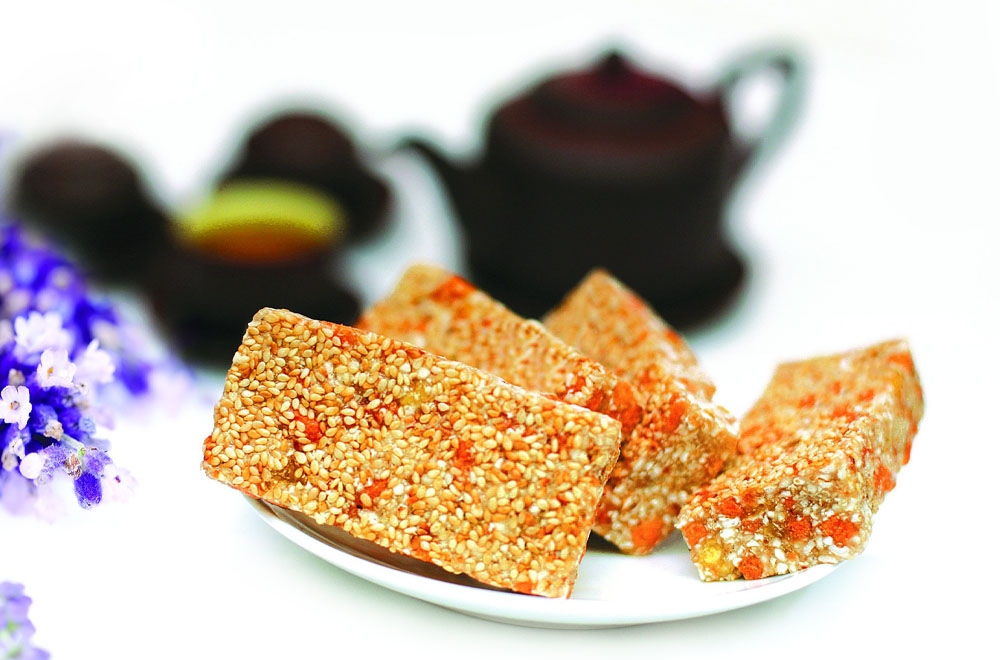 The cake used to serve as imperial food for the King (Photo: Dien May Xanh)
Cáy cakes are normally elaborately made. The rice is half cooked into sticky rice (xôi) with baby jackfruits' flesh to make it red, half with "danh" fruit to make it yellow. The sticky rice is then pounded, cut into small bars and deep-fried in oil until it turns crunchy. Side ingredients such as peanuts, sesame, carrots, etc., are all mixed and cooked with sugar. They are then pressed in a mold and can only be taken out when it's stiff enough, My tour describes.
Packing "fiddler crab" paste into a nylon bag for 6 months before using will make the cake more delicious. The paste is fried in pork fat until it rises and becomes slightly soft.
Flavorful specialties in Central Vietnam

Bridging the North and the South, Central Vietnam is both the paradise of stunning landscapes and diverse cuisine, which will surely touch every tourist's heart.